The pucker up-February 2017 fab bag looks quite similar to the Jan 2016 fab bag except that this time the print is different. I like these quirky prints as they give an impression of my likings and add sophistication to the pouch. The pouch has kind of a plastic feel to it but it is quite sturdy and can easily be carried as a clutch.
February 2017 fab bag is a nice mix of makeup, skincare, and hair care. It contains four products- 2 of them are full sized products and 2 are decent sample sized. Let's have a look at the products in more detail.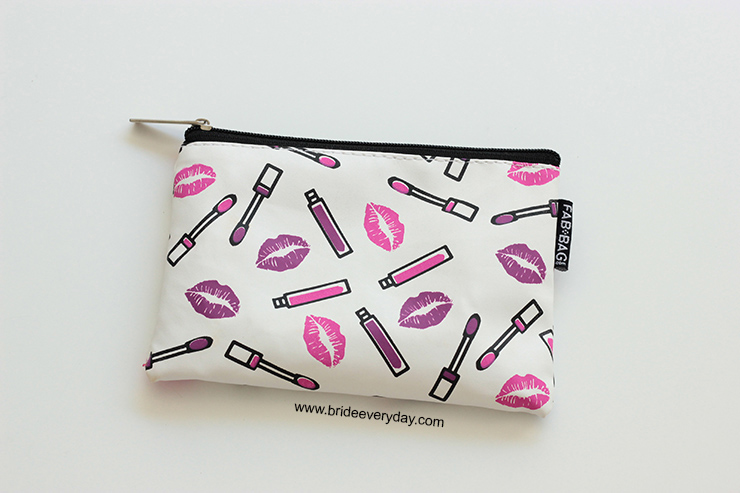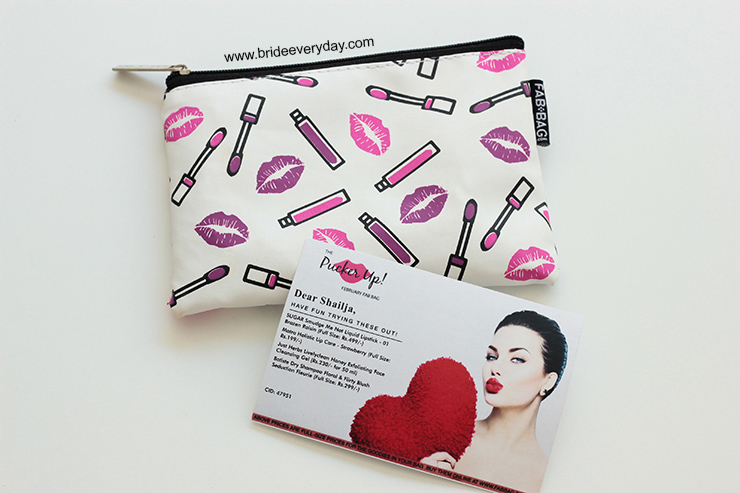 Sugar Cosmetics Liquid Lipstick Smudge Me Not- Sugar cosmetics have recently launched their liquid lipsticks in 11 stunning shades. In my February 2017 fab bag, I got the shade Brazen Raisin, which is kind of a burgundy shade. I did not have this shade in my vanity so when I got an email from fab bag crew to choose one of the products of Feb 2017 fab bag I did not take any time to decide that this was the shade I wanted to go for. I am super excited to try this lipstick as I have read that Sugar liquid lipsticks are highly pigmented and have long staying power. You will soon see a fully fledged review on this lipstick, so keep an eye on my blog. By the way, the bag contains the full-size product which is priced at Rs 499.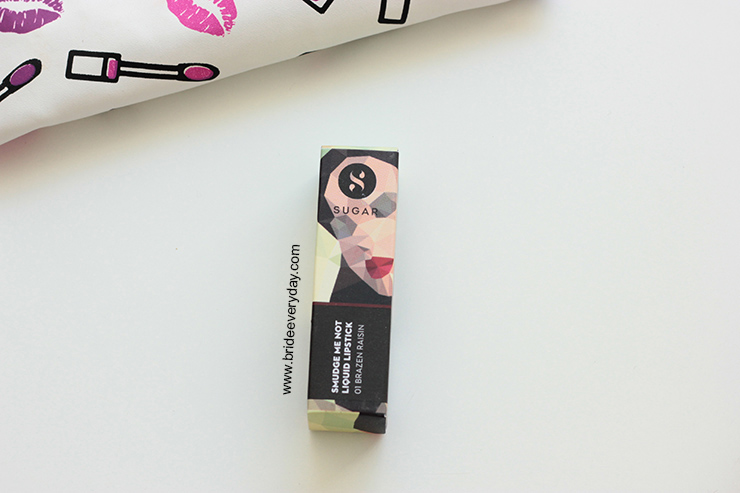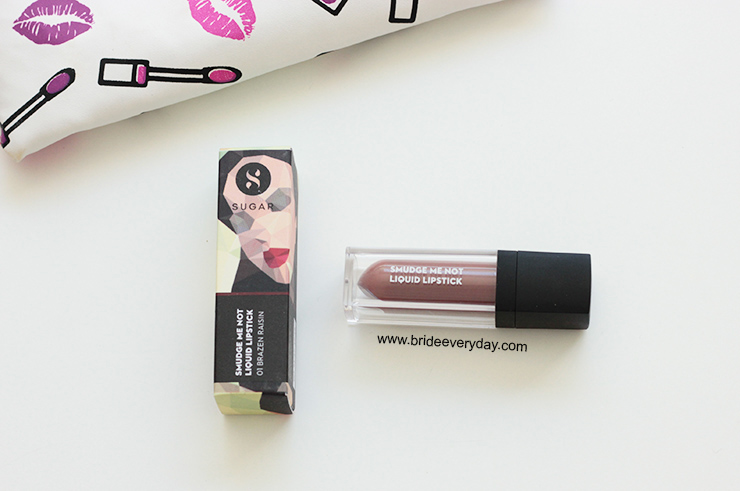 Batiste Dry Shampoo Floral & Flirty Blush in Cherry- The next product in my Feb fab bag is the dry shampoo from one of the famous UK brands – Batiste. A few sprays of this dry shampoo will instantly refresh the hair and leave it clean. Being a dry shampoo, it does not require water and provides effective results when you are on the go or avoiding contact with water. I know I am going to need this product very much in next couple of weeks. Wondering why? Well, you will get to know about it. Stay tuned to my social media pages. The bag contains 50 ml sample bottle that is priced Rs 299.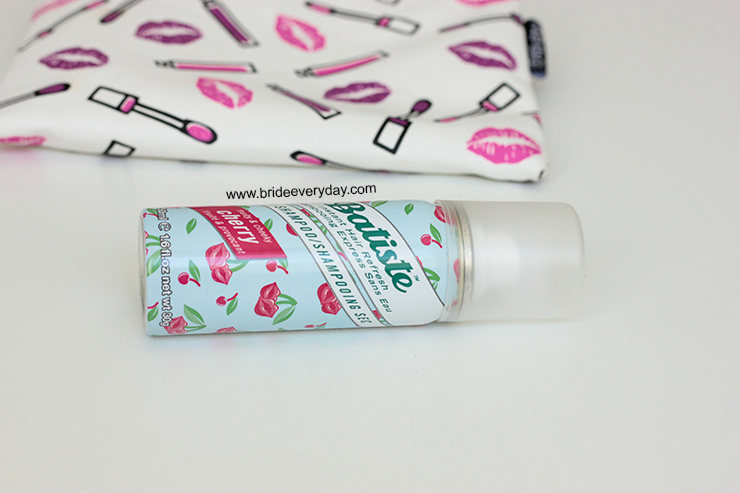 Just Herbs Lively Clean Honey Exfoliating Facial Cleansing Gel- Next is the Just Herbs exfoliating cleansing gel. I have used Just Herbs products before as well and my experience with them has been satisfactory so far. This exfoliating facial cleansing gel is enriched with neem, holy basil, and turmeric. Looking at the ingredient list, this cleansing gel seems like a nice option for combination skin that is prone to acne. The bag contains 50 ml sample, which has a price tag of Rs 230. The price of the full-size product that contains 100 ml quantity is Rs 345.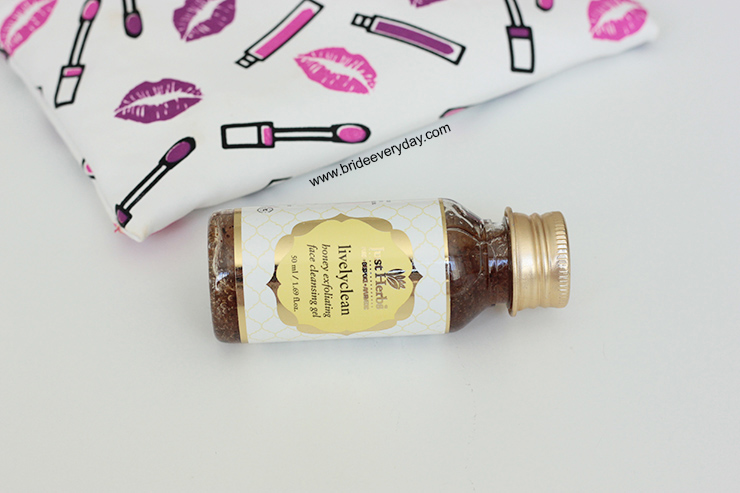 Matra Holistic Lip Care Balm- The fourth product is from a brand named Matra. This is the first time I have heard of this brand, going by the description on Fab bag website- Matra makes luxurious natural skin care products that are pure and non-toxic. Currently, the brand makes different flavored lip balms. The one I have got is in Kiwi flavor and I am looking forward to using it. The bag contains full-size product that has a price tag of Rs 199.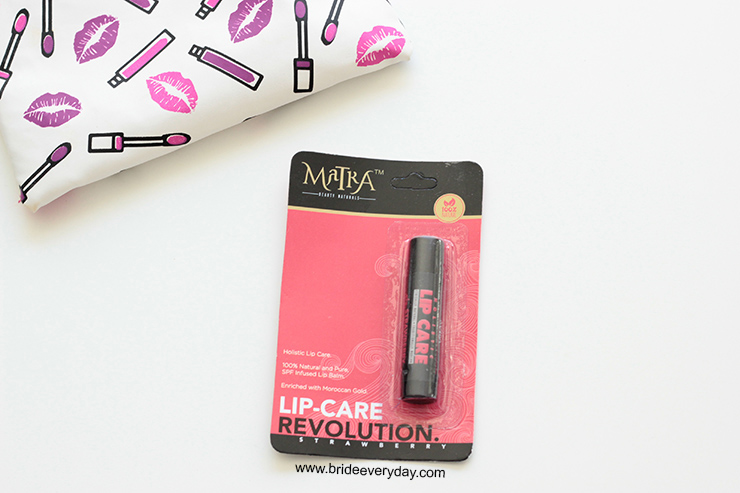 Overall, I like the products of Feb 2017 fab bag. Products like Sugar cosmetics liquid lipstick and Batiste dry shampoo are real deal breakers, and I am planning to use them immediately. The other two products are also herbal in the formulation so I am hoping to start using them soon. The monthly subscription of fab bag is Rs 599 and I really think that this month's bag is totally worth it. You can buy the February 2017 fab bag by clicking on this link.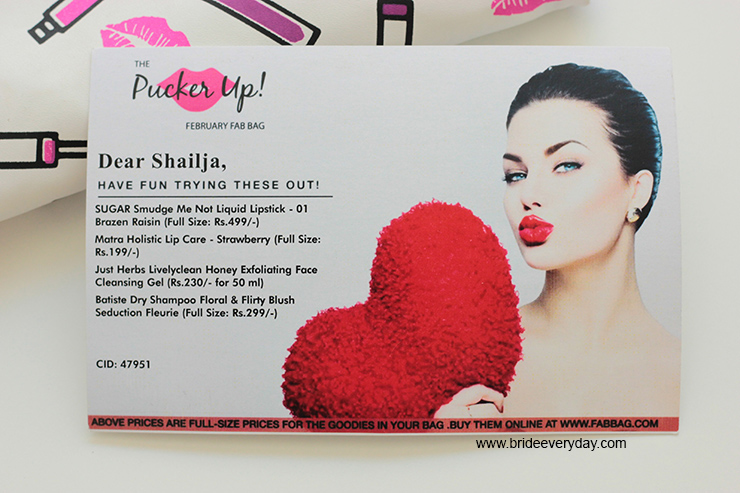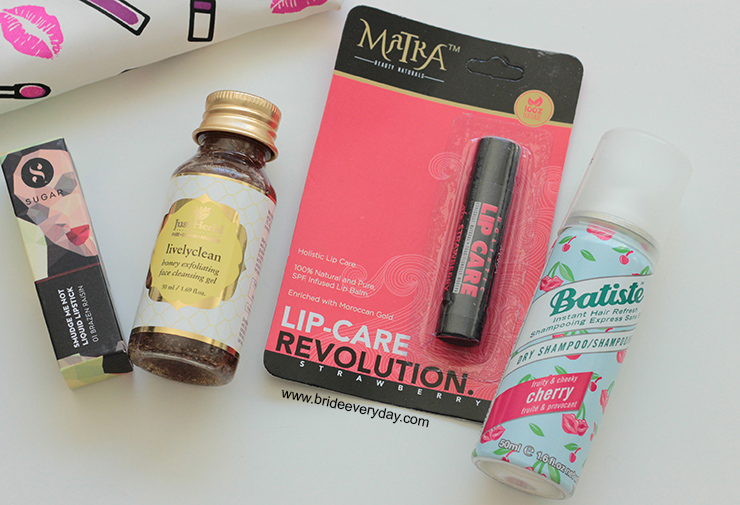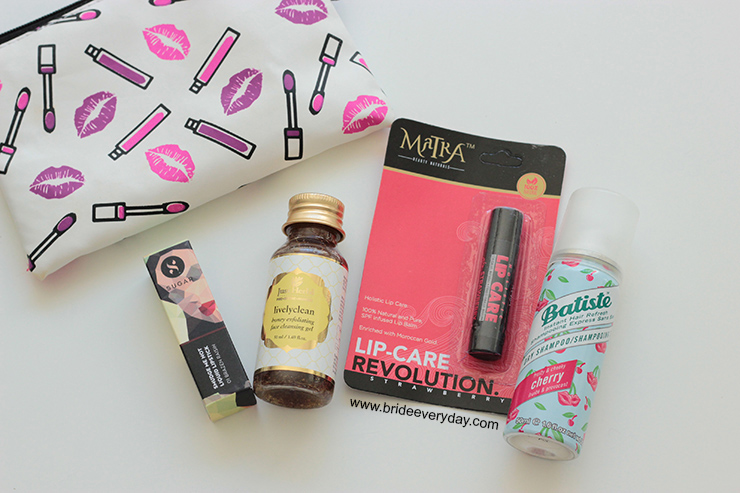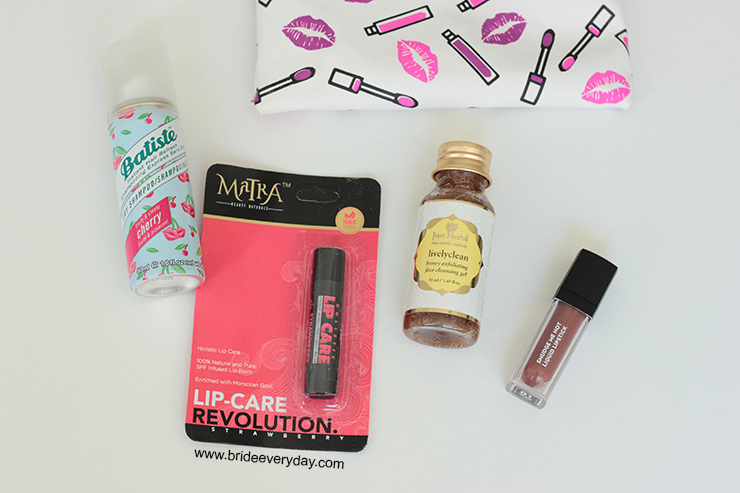 Disclaimer: This is an editorial review. The product is sent by the brand for consideration. However, my review is genuine and I am not being paid for publishing my experience with this product.
You might also like reading these related topics:
The Partyholic-December 2016 Fab Bag Review
Ready Set Glow-November 2016 Fab Bag Review
The Festive High-October 2016 Fab Bag Review
What The Chic-August 2016 Fab Bag Review
The Hello Gorgeous-July 2016 Fab Bag Review
The Beauty Addict-June 2016 Fab Bag Review
The Summer Escapade-May 2016 Fab Bag Review
It's A Spring Thing-April 2016 Fab Bag Review
More Power To you-March 2016 Fab Bag Review
The Love And Makeup-February 2016 Fab Bag Review
The Beauty Resolutions-January 2016 Fab Bag Review
Party All Night-December 2015 Fab Bag Review
Up Your Game-November 2015 Fab Bag Review
Get Set To Celebrate-October 2015 Fab Bag Review
3rd Anniversary-September 2015 Fab Bag Review
Cast A Spell-August 2015 Fab Bag Review
Red Carpet-July 2015 Fab Bag Review
Revealing The Unrevealed-Sun, Sand, Sexy May 2015 FAB BAG Review
The Nine to Nine April FAB BAG 2015 Review
Take Charge-June 2015 Fab Bag Review