On when side where monsoon bring relief, excess of continuous downpour is bad too. No matter how much I love rain, the flooding situation in parts of the country definitely needs to be taken care of. The NGOs that are providing food and shelter to the flood hit people are doing a fabulous job. It is because of organizations like these that help the government we see speedy retrieval from natural disasters. Well, my today's post is not about an NGO, I just want to thank those hundreds of people who are still keeping humanity alive and helping the individuals. A big salute to them!!
Today, I will be reviewing the July 2016 fab bag. These days fab bag crew is sending the bags pretty earlier in the month. I was out of town for couple of days so could not review the bag earlier but now as I am back the first thing I am doing is publishing this review. This month's bag is navy blue in color with red colored lip impressions. It has a leathery feel to it and looks like a quality bag. I would love to carry it individually or in my handbag. For the products, it contains 4 products – 2 are full-sized and 2 sample-sized. Let's have a brief look at the products.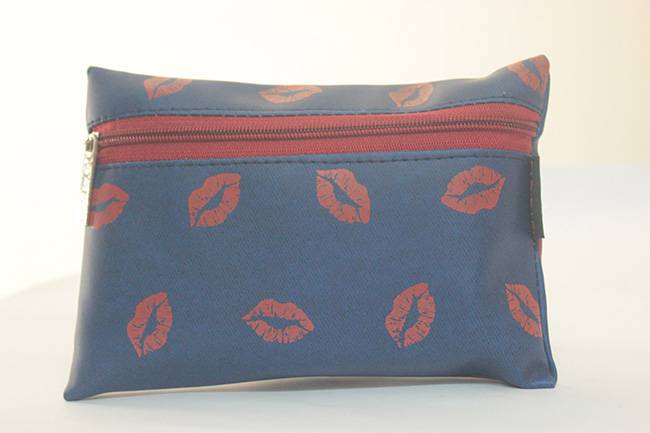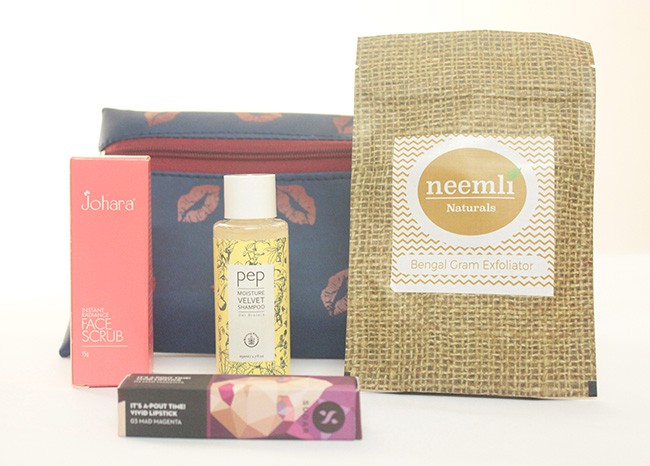 Sugar It's A Pout Time! Vivid Lipstick- This is the self-chosen product. Every month 'Fab Bag' sends an email that has a list the products from which the user can choose one product pf her choice for the coming month's bag. I chose Sugar lipstick in shade Mad Magenta. This is beautiful pink shade that brightens up the complexion. You will soon be seeing it exclusive review. Sugar pout a time lipsticks are prices at Rs 599.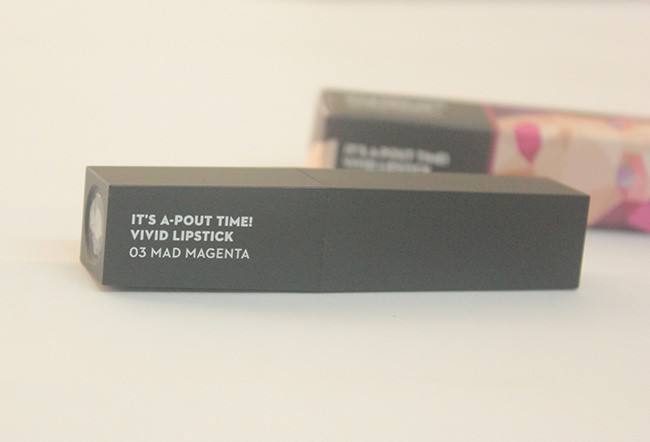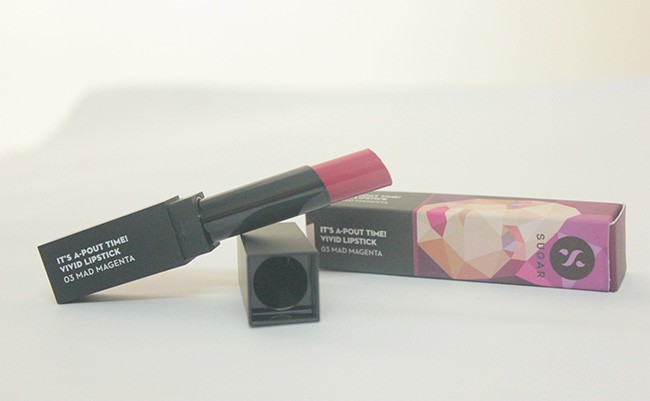 Neemly Bengal Gram Exfoliator- Bengal gram also known as 'Chana daal' is good for exfoliation. It naturally exfoliates the skin and triggers the formation of new cells. This exfoliator pack contains rice flour, turmeric, sandalwood powder and multani mitti in addition to the Bengal gram. All these ingredients work well for the skin and their combined efficacy would be unimaginable. I am excited to try out this exfoliator so expect its review soon. It is the full size product priced for Rs 425 for 50g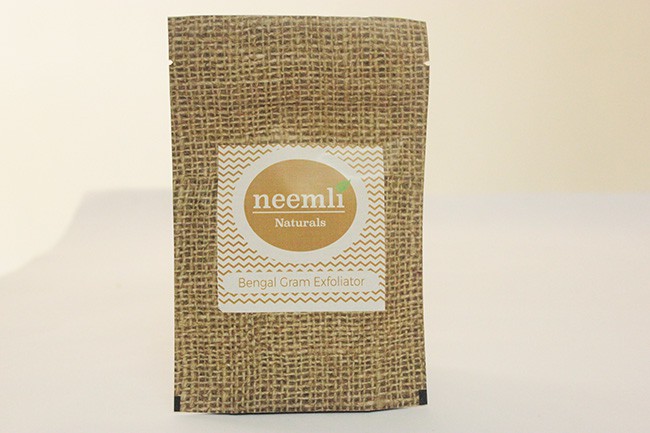 Pep Moisture Velvet Shampoo– Third product is the Pep moisture velvet shampoo. It is formulated with oat protein milk and provides extra nourishment to hair. This will be nice for monsoon season as hair tends to get frizzy and unmanageable in this season. The July fab bag contains the sample size of around 35 ml but the full size of 50 ml is priced at Rs 119. For this price, it is quite reasonable. I will try it out and post the mini review.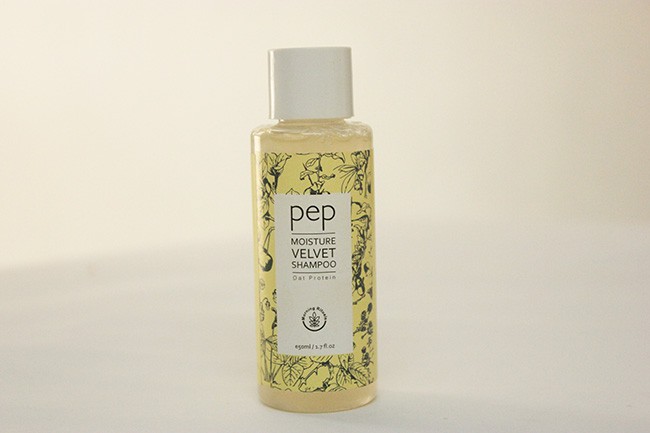 Johara Instant Radiance Face Scrub- It is formulated with natural exfoliating ultra-fine walnut grains and a blend of lemon peel extract and neem oil. It claims to gently remove dull skin layers and impurities, and promote natural cell exfoliation. Brighten up lackluster skin with this creamy formula enriched with Cococin, a nutrient rich extract from green tender coconut water to rejuvenate skin to leave skin feeling clean, smooth and toned for a simply radiant complexion The bag contains 15 g sample of the product, and the full size of 100 gm is priced at Rs 500.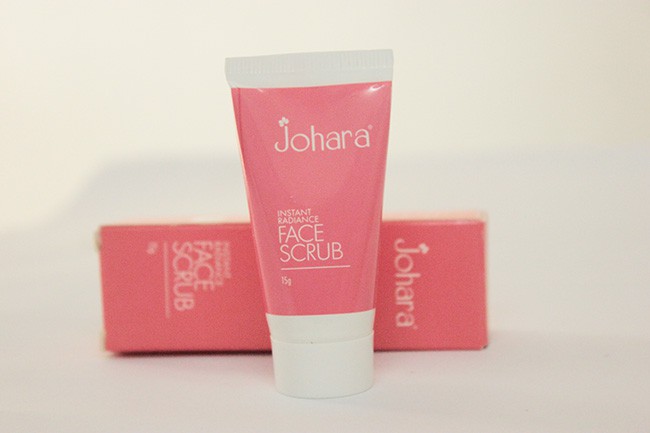 Overall, I like the quality of this month's fab bag and my two favorite products are Sugar lipstick and Neemly bengal gram exfoliator. Their prices sum up to Rs 1024 which almost doubles the cost of single month's subscription, and it seems beneficial. If you like the July fab bag, you can place an order here.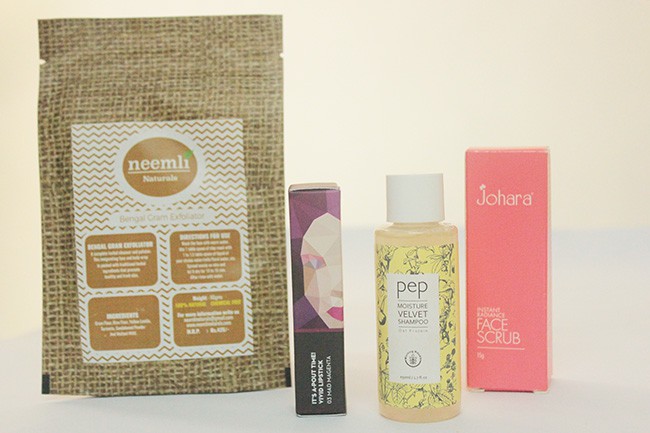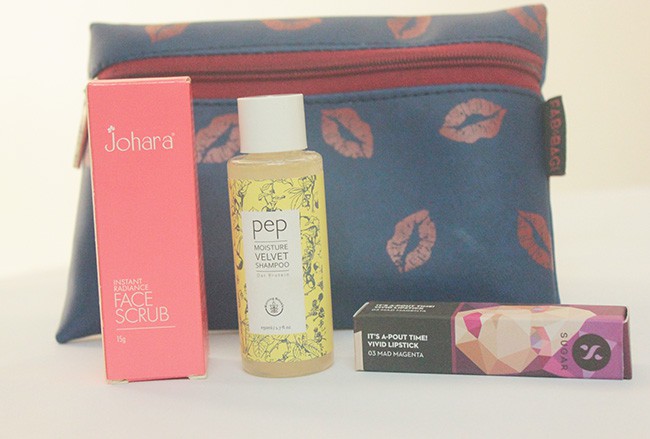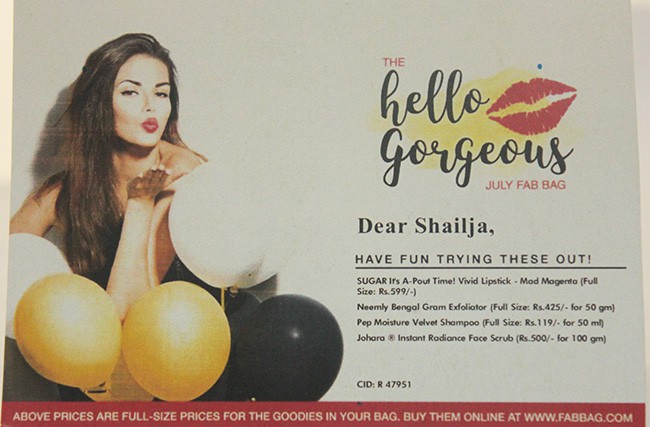 You might also like reading these related topics:
The Beauty Addict-June 2016 Fab Bag Review
The Summer Escapade-May 2016 Fab Bag Review
It's A Spring Thing-April 2016 Fab Bag Review
More Power To you-March 2016 Fab Bag Review
The Love And Makeup-February 2016 Fab Bag Review
The Beauty Resolutions-January 2016 Fab Bag Review
Party All Night-December 2015 Fab Bag Review
Up Your Game-November 2015 Fab Bag Review
Get Set To Celebrate-October 2015 Fab Bag Review
3rd Anniversary-September 2015 Fab Bag Review
Cast A Spell-August 2015 Fab Bag Review
Red Carpet-July 2015 Fab Bag Review
Revealing The Unrevealed-Sun, Sand, Sexy May 2015 FAB BAG Review
The Nine to Nine April FAB BAG 2015 Review
Take Charge-June 2015 Fab Bag Review