Hi Everyone,
The much awaited May FAB BAG has arrived. The crew had some scheduling problem so the shipments were delayed but I still appreciate the prompt delivery, which was on the very next day of shipment. Again, I started my day with a bag full of surprises. Literally, this time it was sheer surprise as no reviews or pictures of the bag were on internet because of the change in schedule.
Now coming to the composition, as compared to April Fab Bag, which has five products, May Fab bag contains four products. This May month's FAB BAG seems to focus on beach/summer theme. The bag is designed in a soothing combination of blue and white horizontal stripes.There are two skin care products that are geared to save the skin from sun-tan and dullness. The only makeup product that is made a part of this bag sounds to sing for summer vacation. Yippee, vacation is just at stone's throw- it is time for refueling and rejuvenation.
Nevertheless, let's take a look at the products of May 2015 FAB BAG.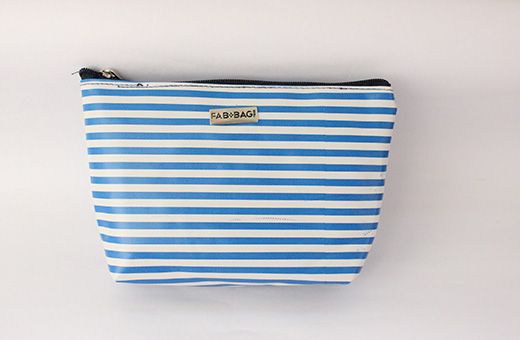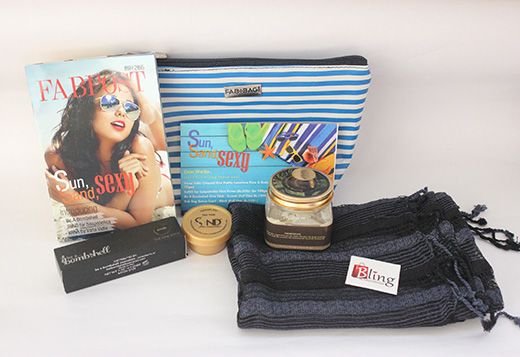 Be A Bombshell The One Stick: This stick comes in eight different shades; I got it in shade sunset. It is a multi-purpose product that can be used for lips, cheeks and eyes. An all-in-one product if you are planning a travel with restriction on luggage. The packaging is sturdy, and it seems to contain good quantity. Do not forget to pack it in your handbag if you are heading for a holiday. This is a full size product priced at INR 1300.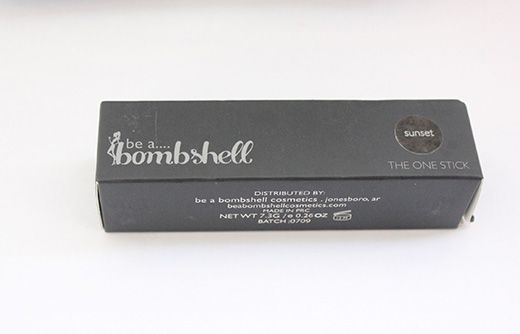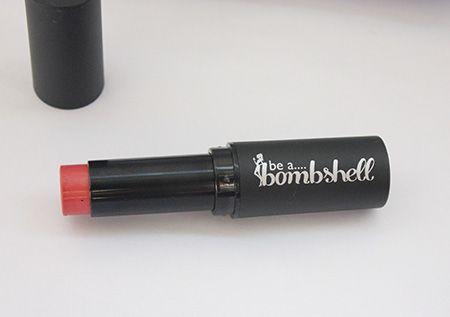 Vana Vidhi Oriental Rice Paddy Face & Body Scrub: The luxurious scrub is made from brown rice that is considered a boon for the skin. It is soap free scrub that claims to exfoliate the skin and combat aging, wrinkles, pigmentation, tan, while adding an exuberant shine and illumination to lack luster skin. It is priced at INR 1599 for 70 g of the product. The bag contains 70g so there would be ample usage to test the efficacy and take a call before buying the full size.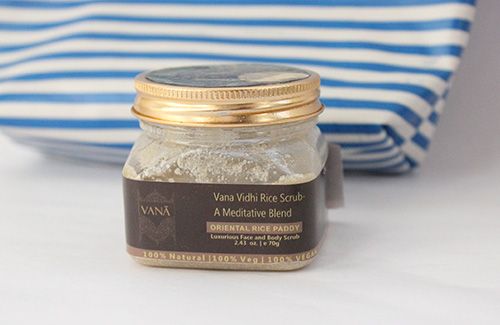 Sand For Soapaholics Face Puree: This is actually a puree of the color of red tomatoes but slightly gritty. As per the ingredient list it contains lotus extracts, oatmeal and red clay in addition to tomatoes. The soap is said to absorb all the toxins from skin leaving it smooth and glowing. The full size product is priced at INR 500 for 100 g. The bag contains its sample size.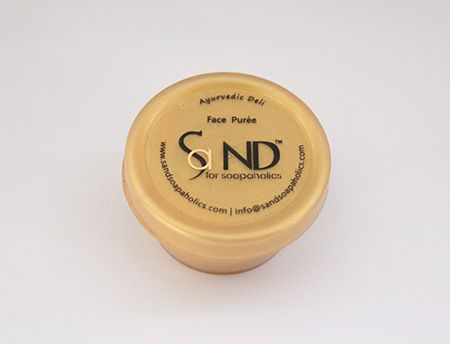 Fab Bag Bonus Scarf: The fourth product in the bag is a navy blue scarf. It is a very ordinary looking scarf, and to be honest I am not that impressed with its quality. It cannot serve as a protection from the scorching sun but can definitely add some style quotient to your attire. It can make its way in your holiday stuff because of its multipurpose uses as stole or head scarf or hair tier. It is priced at INR 500.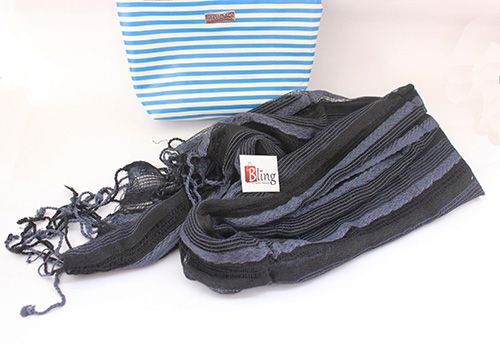 Overall, I like this month's ensemble except for the scarf. Being a makeup freak I am excited to use the BAB the one stick. Likewise, to save my skin from the ongoing tanning I can't wait to start using the Vana Vidhi rice scrub. These two products have gotten my attention as far as May Fab Bag is concerned. Stay tuned for their reviews.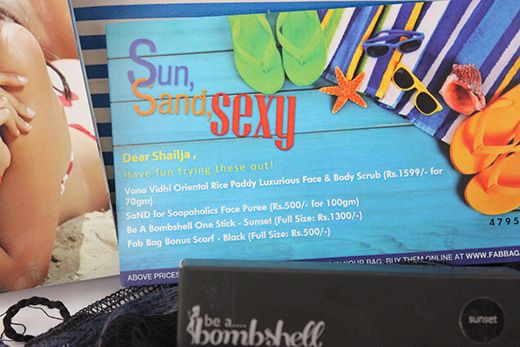 For FAB BAG subscription, you can check this link. Here are its subscription plans, the longer the economical.
1 month: INR 599
3 months: INR 1499
6 months: INR 2699
12 months: INR 4799
In my opinion, this is a good way to try the sample sizes of newly launched products. If you like the samples go for the full sizes, rather than investing huge chunks of money and not liking the products afterwards.
P.S: Product is sent by the brand for consideration.
You may also like reading these related topics