Here is the much awaited December Fab bag. I am happy that I got it early this time, and as per Fab bag's notifications they are shipping December bags early to make them on time for the upcoming holidays. Much to the jovial December mood, the December fab bag is themed around party. To make your mark in the party, in addition to eye-catching dress, accessories and shoes, you have to have good skin and makeup. So this is what this bag is going to provide you.
My December 2015 Fab bag contains five products that are a mix of skin care and makeup. Three of these five are full size products, and all of them are housed in a heart-shaped black bag. This is the same bag which was distributed in the month of love i.e. February. I was given an option to choose December bag so I selected this one as it was unique and can be easily carried because of the strings. I assume the fab bag crew is giving this selection privilege to all the subscribers, so hope you get your shortlisted bag soon. For now, let's have a look at this month's products.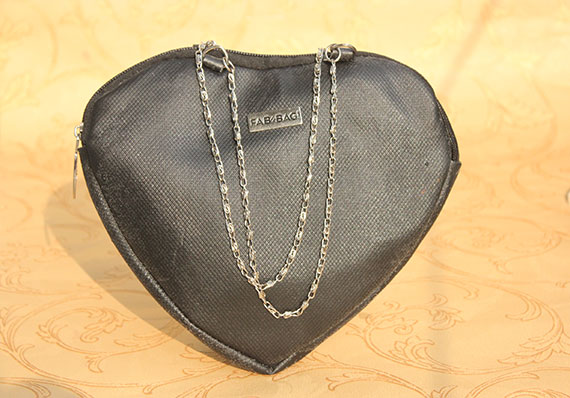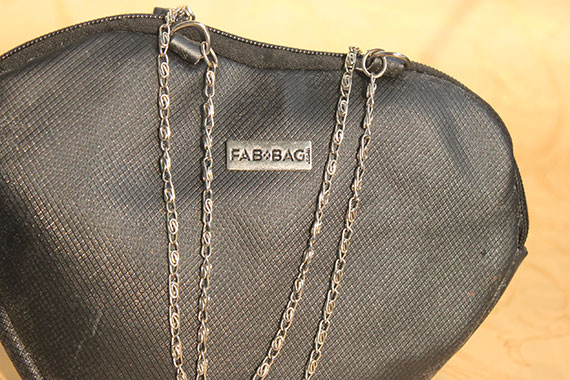 Sugar Matte As Hell Crayon Lipstick- Crayon lipsticks are new launch by Sugar cosmetics. They have matte finish yet creamy texture that make them glides on to the lips smoothly without causing any heavy, sticky or stretchy feeling. They are available in 4 shades – Holly Golightly, Mary Poppins, Poison Ivy & Scralett O' Hara. I have already reviewed Holly Golightly so you can check out the post for full details. Now in December bag, I have got Posion Ivy shade, along with a Sugar Cosmetics sharpener. It is a nice shade for bold dramatic looks; stay tuned for my detailed review on it. There crayon lipsticks are priced at Rs 799 for 2.8 g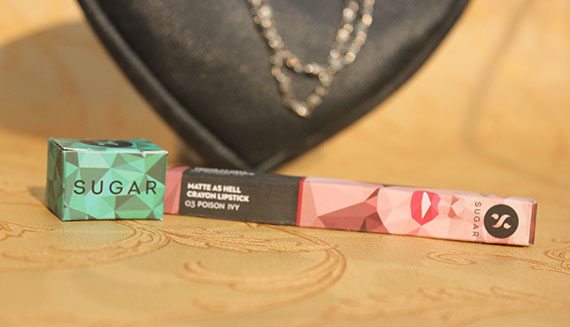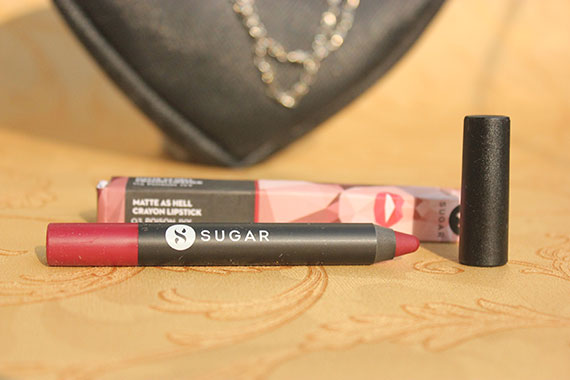 Kronkare The Frizz Kiss Cooling Explosion Lip Balm- This lip balm is my first ever product from Kronkare, and I guess it would be perfect for winters (except for the cooling part) if it does what it claims. It asserts to repair damaged tissues and leave your lips looking morning-dew fresh. Exactly, what winter lip care products should do to save the lips from getting dry and chapped. The bag contains full size product which is of 10 ml and priced at Rs 95.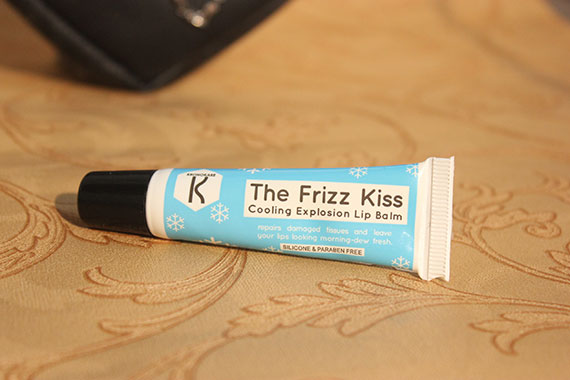 Just Herbs Gatukola Indian Ginseng Rejuvenating Beauty Elixir- It is my second bottle of the product, and both came via fab bag. To introduce you to the ingredient list, it contains ginseng, wheat germ oil and naagkesar that are considered beneficial for the skin. I have not posted any review on it yet, but you would expect it pretty soon as I am about to finish the first bottle. It is priced at Rs 985 for 15 ml, and the bag contains it full size version.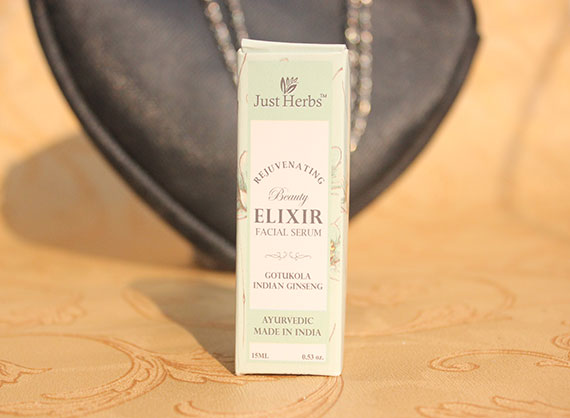 Lever Ayush Headache Naashak Roll-on- The next product sounds therapeutic as it has an Ayurvedic ingredient list. It claims to ease headache within 15 minutes, you might need this to get relief from party-all-night hangover :P. Well, it is a roll-on pain reliever, and its fragrance resembles to that of Vicks vaporub's. If you experience headache and do not like taking medicines, you just have to apply it gently on the forehead. The bag contains 2ml sample but the full size (10ml) is priced at Rs 199.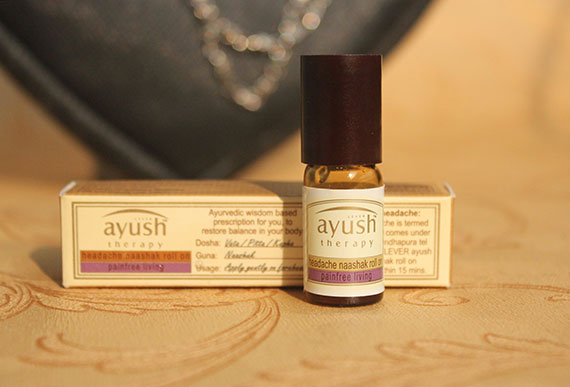 Bioderma Sensibio H2O Micelle Solution- This is the much acclaimed makeup remover from Bioderma. It does not only remove makeup but also cleanses the skin. I am glad I got a 10 ml sample to try, would order the full size product if I like it. By the way, the full size that contains 250 ml of product is priced at Rs 860.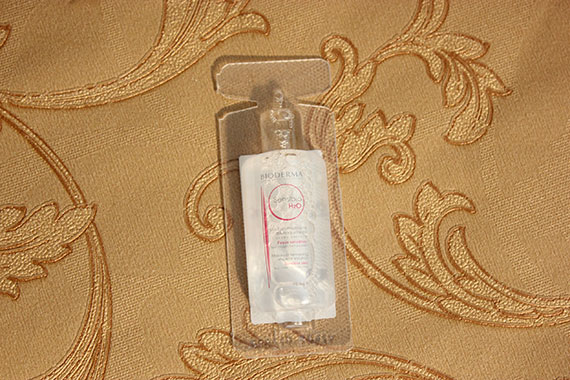 Lastly, the fab post has makeup and post-party skin care tips. So in case you end up exhausted, you know how to take care of your sore feet! In addition, there are some discount codes on skin care/makeup products that will come handy if you are using or planning to use those products.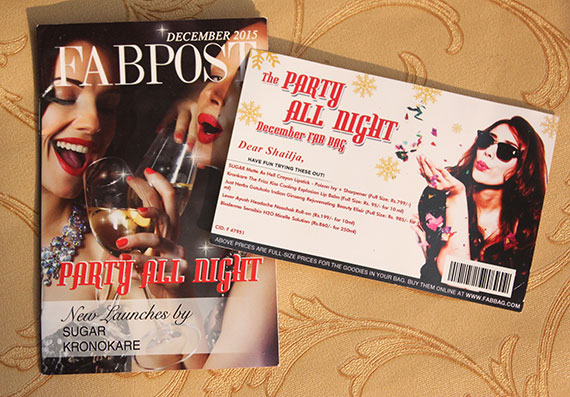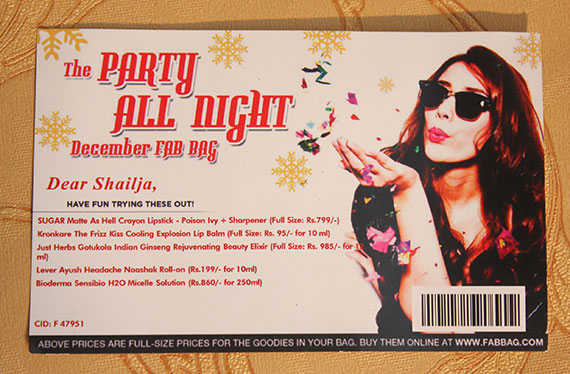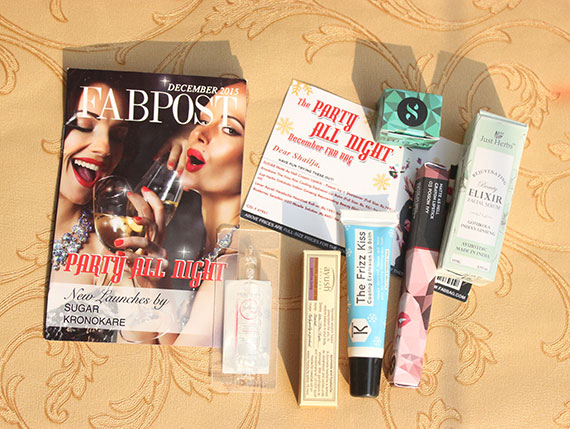 Overall, December Fab bag is quite a deal – you get three full sized products (worth Rs 1879) and two samples in just Rs 599. So you do the math and decide whether it is worth making an investment or not. For subscription, click on this link.
Happy Holidays !!
You might also like reading these related topics
Up Your Game-November 2015 Fab Bag Review
Get Set To Celebrate-October 2015 Fab Bag Review
3rd Anniversary-September 2015 Fab Bag Review
Cast A Spell-August 2015 Fab Bag Review
Red Carpet-July 2015 Fab Bag Review
Revealing The Unrevealed-Sun, Sand, Sexy May 2015 FAB BAG Review
The Nine to Nine April FAB BAG 2015 Review
Take Charge-June 2015 Fab Bag Review