When it comes to lipsticks, I like trying new shades and formulae. Though pinks, n*udes and reds are my all-time favorite yet at times I muster the courage to carry bold shades such as intense plum, berry with black undertone. No, I am not going to review a bold shade today. If the introduction is misleading let me straightforward come to today's focus. I am reviewing 'Sugar Cosmetics Matte As Hell Crayon Lipstick Holly Golightly'. The name is very much self-explanatory, but still there are things as shade-description, formula, texture, finish, price, blah blah that you need to know before making your mind for this lipstick. Why wait, read on to know all that about this new launch!
My Take on 'Sugar Cosmetics Matte As Hell Crayon Lipstick Holly Golightly'
As the name says it is a crayon lipstick that is housed in a cardboard packaging. Everything such as shade name, ingredient list, etc is mentioned on the outer packaging. Once you open it you will see a black crayon with matte finish. The bottom of the lipstick is color coded to depict the shade. Speaking of shade, there are 4 shades in this range – Holly Golightly, Mary Poppins, Poison Ivy & Scralett O' Hara (I assume it comes from Gone with the wind). Not many color options to choose from but yes, the brand has ensured to launch a shade from every major color family.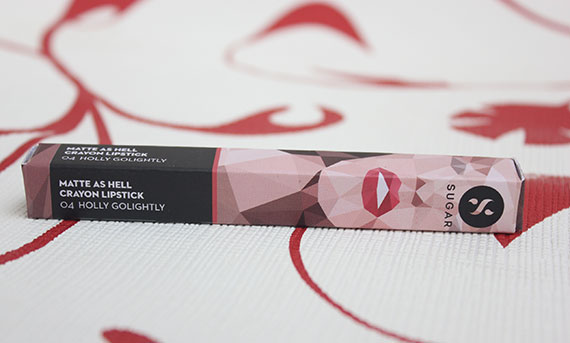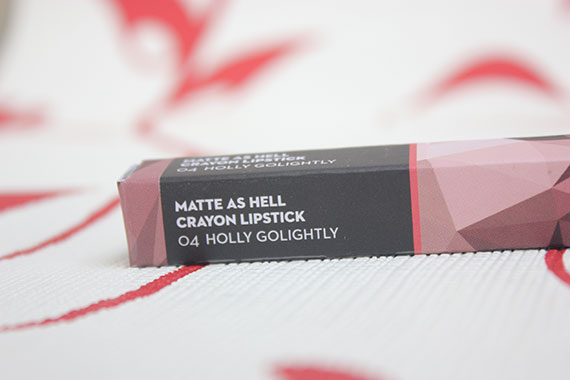 Holly Golightly is a n*ude shade with peach undertone. It is an easy-to-carry daily wear shade that is perfect for day time. I love wearing such shades, and that's reason I want them to last for long. But being a crayon lipstick, this has to be sharpened that in my opinion leads to wastage of product and thus reduces its life. If it had based on roll on mechanism, usage would have been lot more convenient and economical.
It has soft creamy texture that makes it glide smoothly on to the lips. But still I would recommend exfoliating your lips before you apply this crayon lipstick. Doing so will make your lips more comfortable while you have this lipstick on. It is not like it makes the lips dry or stretchy but as winters are approaching exfoliation will be another precaution to save lips from getting chapped.
It is an odorless lipstick, and also does not make you feel a thing when it is on the lips. But sometimes I do find it accentuating fine lines. So if you have many fine lines you may not want to skip the exfoliation step. Other than that, it does not settle into fine lines or accumulates at the corners.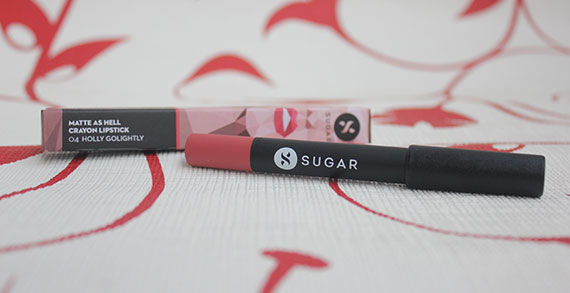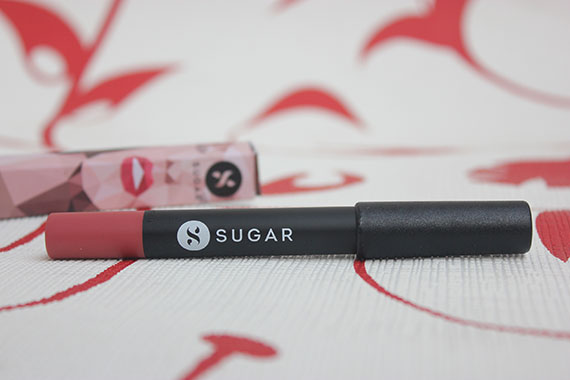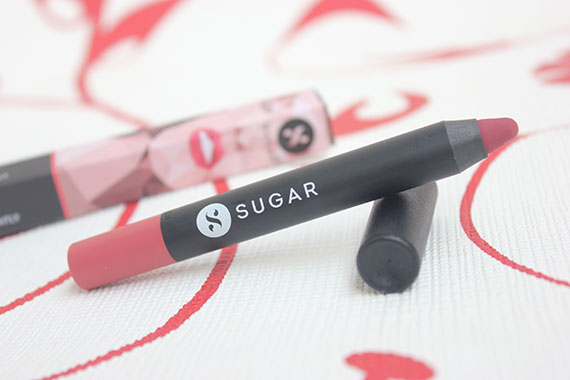 As far as pigmentation is concerned, it gives enough color payoff in one swipe and that is sufficient to make the lips look natural pink/peach. But it is not a buildable shade, which means if you want to make it darker you won't be able to do so irrespective of how many times you swipe the crayon. I do not take it as a con because if you are looking for a natural lipstick shade you won't want to make it look darker.
It has a matte finish that makes this n*ude shade even more awesome. Because of the finish you might take it as a drying lipstick but that is not at all the case. It keeps the lips comfortable without any annoying feeling. Be it stickiness, dryness or heaviness it keeps all these things at bay, and gives the lips a pretty hue.
It has good staying power. On me, it stays on for good 4-5 hours with intermittent meals without any need of touchup. It does not transfer any color so that also aids in long staying power. Even if you need to reapply it, just a quick swipe will be enough to reinstate the color.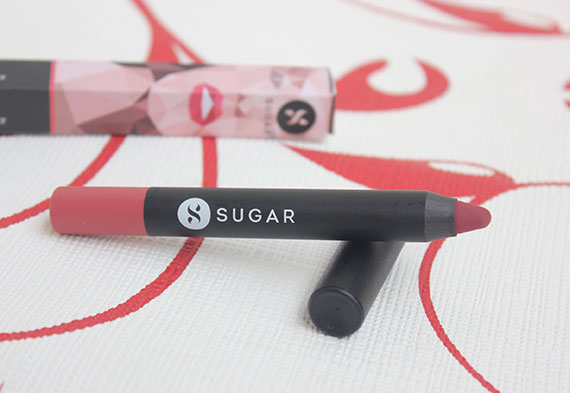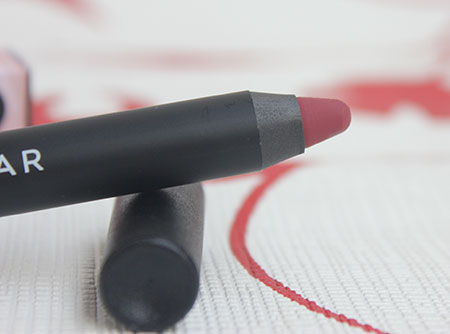 What I like about 'Sugar Cosmetics Matte As Hell Crayon Lipstick Holly Golightly'
– Nice daily wear shade.
– Appropriate for most of Indian skin tones.
– Negligible color-transfer to cups.
– Does not bleed or feather out.
– Glides easily without settling into fine lines.
– Excellent staying power.
– Fragrance-free.
What I do not like about 'Sugar Cosmetics Matte As Hell Crayon Lipstick Holly Golightly'
– Slightly heavy on the pocket.
– Has to be sharpened that leads to product wastage.
– Being a matte crayon, it accentuates fine lines.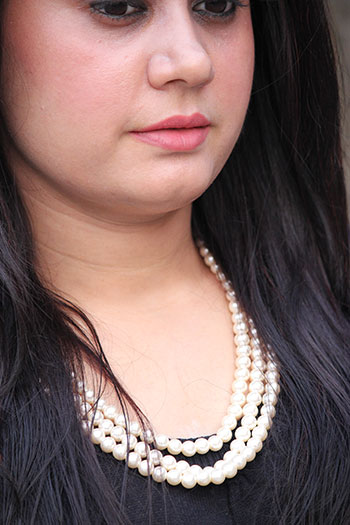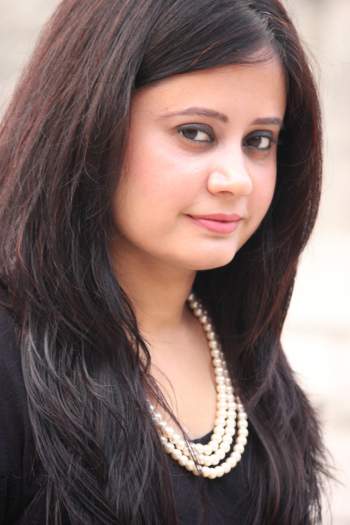 Price of 'Sugar Cosmetics Matte As Hell Crayon Lipstick Holly Golightly'- Rs 799 for 2.8g
Ingredients of 'Sugar Cosmetics Matte As Hell Crayon Lipstick Holly Golightly'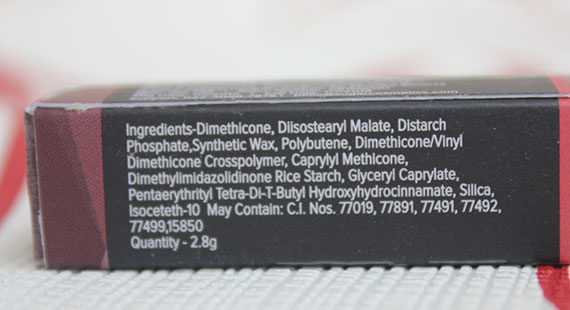 BABE Rating: 4/5
Final Word: If you are looking for a natural pink/peach lipstick with a matte finish, 'Holly Golightly' is a nice option. It is easy to apply, stays on for long and does not make the lips uncomfortable. Price tag might be a concern for some, but if you do not mind that as well you should give it a try.
You might also like reading these related topics
Sugar Cosmetics Matte As Hell Crayon Lipstick Poison Ivy Review Swatches FOTD
L'Oreal Colour Riche Lipcolour Taffeta 861 Lipstick review
Revlon colorstay overtime Neverending Nude lip color review
Revlon Colorburst Lipstick (Rosy Nude – 065) review