Red Carpet-July 2015 Fab Bag Review
Hi Everyone,
Since I have seen July Fab Bag's sneak-peek teasers, I could not stop myself from dreaming about the contents. Now that it is delivered, I am happy to share the contents of this gorgeous bag. As you must know, 'Red Carpet' is July fab bag's theme, and a single glance at the bag is enough to convince it truly justifies the red carpet look.
Unlike previous fab bags, this one is more like a clutch with foldable top supported with buttons and zip. The golden fabric is soft and elegant; the vertical golden lines enhance its beauty. This is the sort of clutch that is truly meant for special occasions. Even the size is good enough to carry your indispensable belongings as phone and few makeup products for touch-ups.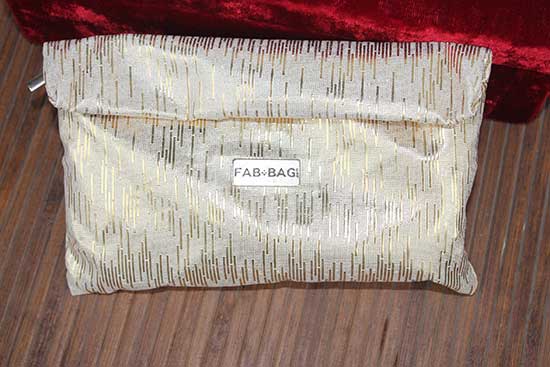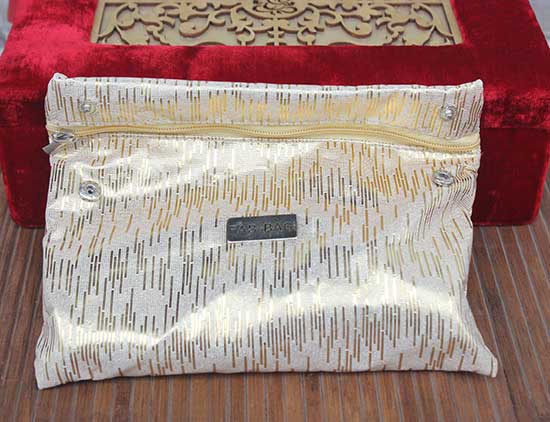 Other than exponentially improving Fab Bag's look, the crew has introduced two new brands Sugar & Ayorma in this month's bag. The bag contains 5 products- 2 of which are full size makeup products, 2 are tiny samples for face care and 1 is medium skin care product. Let's have a brief introduction on all these products.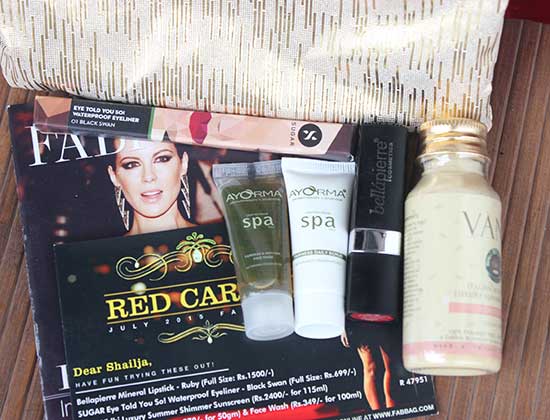 Bellapierre Mineral Lipstick – These lipsticks come in 14 stunning shades, and I have got the beautiful Ruby red in this month's Fab Bag. Formulated with natural waxes, mineral pigments, iron oxides and antioxidants such as Vitamin C and Vitamin E, Bellapierre mineral lipsticks deliver long-lasting nourishing color. They do not contain lead, lanolin, parabens, or other harmful ingredients. The pricing is INR 1500, and the lipstick weighs 3.5 g. Using code FABJUL30, you can get 30% off on the July collection.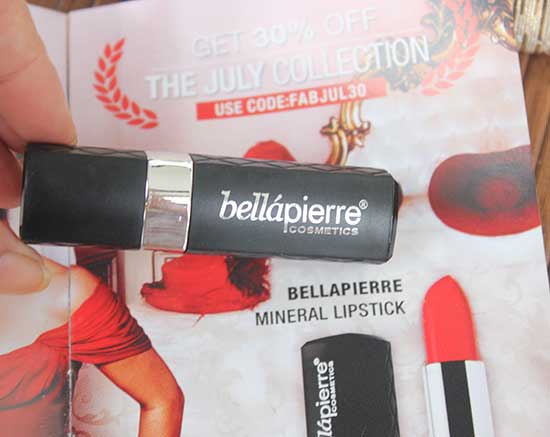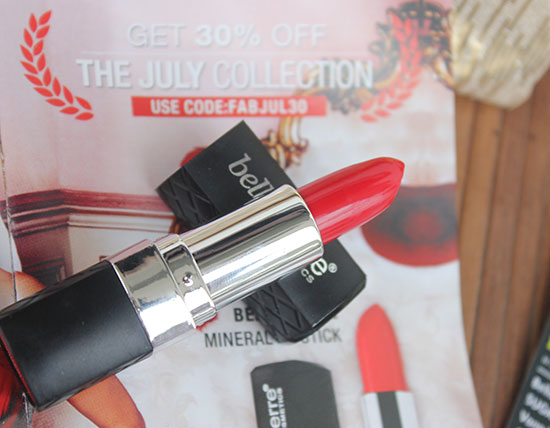 Sugar Eye Told You So ! Water proof Eyeliner – I got this liner in shade black swan from the newly launched 'Sugar' brand. It is a liquid eye liner in a pen format with long brush holder. The liner claims to stay on for 24 hours (a lot longer than I can actually wear it ) and peel off easily just with some warm water. I have not used it yet, but you will soon be seeing its detailed review. The bag contains full size product that is priced at INR 699. ABove everything else, I like the name of this eye liner, say it in one go and you will feel the warmth.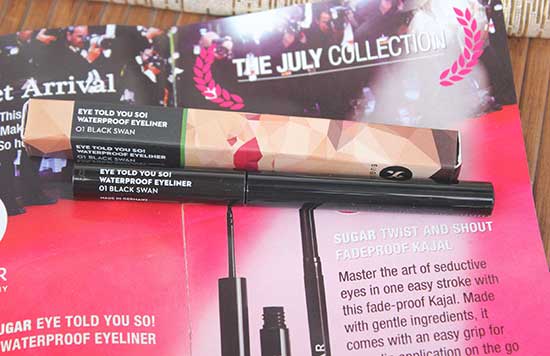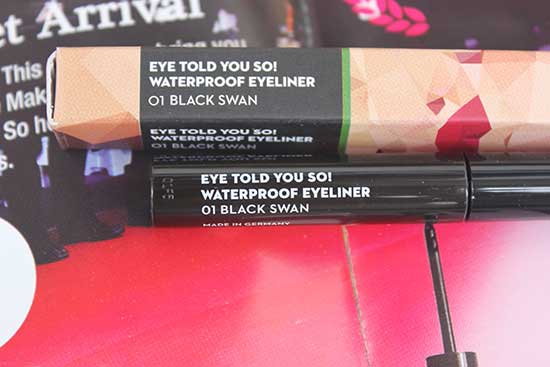 Vana Vidhi Luxury Summer Shimmer Sunscreen – This sunscreen is different from all the sunscreens I have used so far, and it is because of the shimmer particles. It should be applied over areas where light would reflect naturally such as shoulders, collar bone, and cleavage. A perfect product if you are planning for a beach holiday or a highly lit party. The bag contains 60 ml bottle of this sunscreen, and its full size is 115 ml, which is priced at INR 2400. I know it is quite heavy on the pocket, but you can make it lighter by using FABJUL 40 code to get 40% off.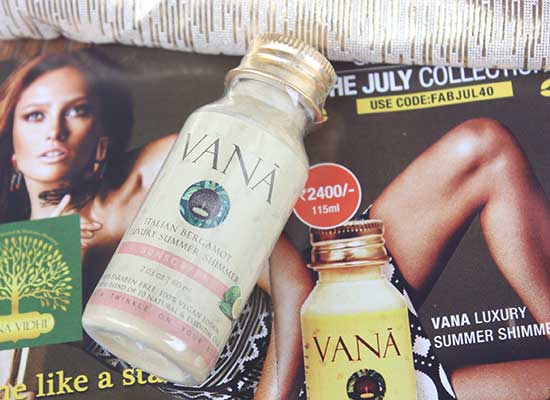 Ayorma Sap Daily Scrub- Enriched with essential oils and herbal extracts, this fairness scrub claims to moisturize and nourish skin. A tiny 8 ml sample is included in this month's Fab Bag. The full size 50 gm product is available for INR 279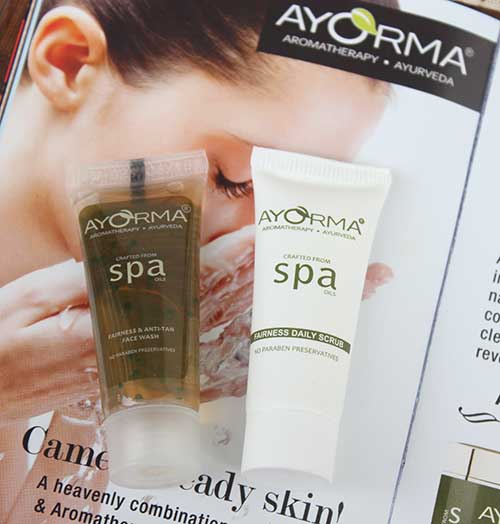 Ayorma Spa Face Wash– This is a fairness and anti-tan face wash, which claims to provide post-spa like invigorating bliss. It is formulated with natural extracts and whitening components that removes tan to reveal brighter-looking skin. Full size product is 100 ml at INR 349 Price. The bag contains 8ml sample of this product. You can use code FABJUL15 to avail 15% off on the MRP of these two products.
On the whole, I heartily like everything about July Fab Bag, and believe it is worth every penny.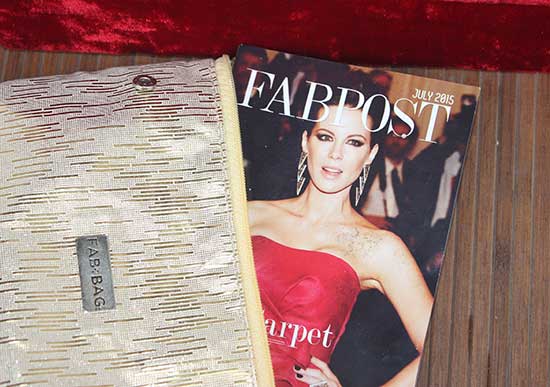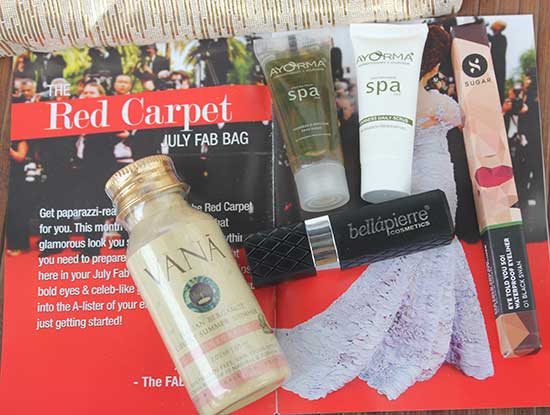 For FAB BAG subscription, you can check this link. Here are its subscription plans, the longer the economical. BABE readers can avail 10% discount by using coupon code BRIDE10, this code is valid till 31st July only.
1 month: INR 599
3 months: INR 1499
6 months: INR 2699
12 months: INR 4799
You may also like reading these related topics
Revealing The Unrevealed-Sun, Sand, Sexy May 2015 FAB BAG Review
The Nine to Nine April FAB BAG 2015 Review
Take Charge-June 2015 Fab Bag Review