Finally, I got my hands on May 2016 Fab Bag. Ever since I saw it reviews online I have been looking forward to get hold of it, especially the Seasoul eyeshadow duo. The bag got late in transit as it was mistakenly shipped to my old address and all these corrections took time and hence, delayed the review. Quickly coming to this month's bag, the pouch is unique and different from previous 'Fab Bag' pouches. This one is a fluorescent green pouch with mesh on outside and plastic on inside. It is more of a transparent travel pouch and I am sure it can contain many travel sized products or even a couple of full sizes. Right now it contains two full size and two sample size products. Let's have a look at the contents in detail.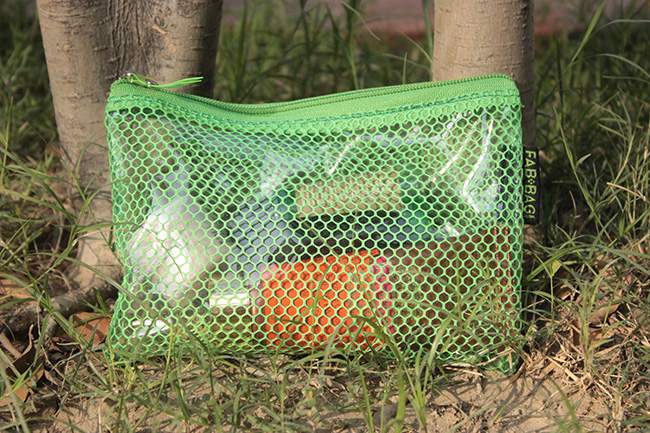 Nyassa Tea Tree Face Wash- Tea tree is beneficial for all skin types that are prone to breakouts. Especially, on combination to oily skin this anti-microbial agent shows its magic of mattifying the skin and treating pimple and acne. Nyassa tea tree face wash contains green tea extract along with tea tree oil. Green tea extract is known to have deep cleansing properties and it also aids in firm and elastic skin. I have not used this product yet but I have used similar tea tree products and they proved good for my skin. The bag contains 30 ml sample of this face wash; the full size of 145 ml is priced Rs 400.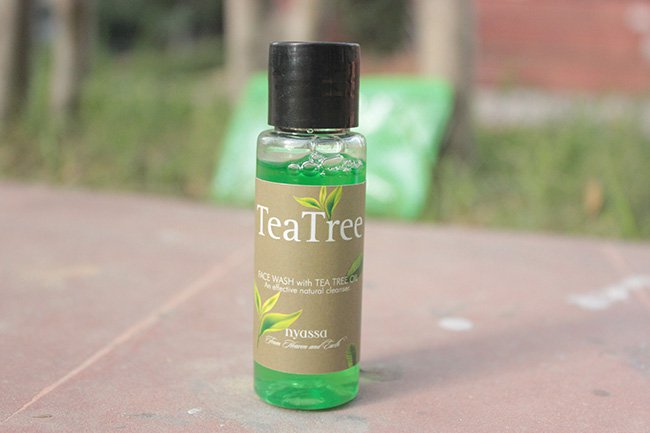 Seasoul Makeup Dual Eyeshadow Palette SS11- This is the STAR product of May 2016 fab bag. It is the cutest eyeshadow duo I have come across. The palette was bubbled wrapped to avoid damage in transfer. The shade I have got is SS1, which is a beautiful combination of dark purple and light shimmery purple. It also contains a mirror. I can't wait for an occasion to start using these colors so you will soon see a full review on this palette. It is priced Rs 900, and of course, the bag has the full size product.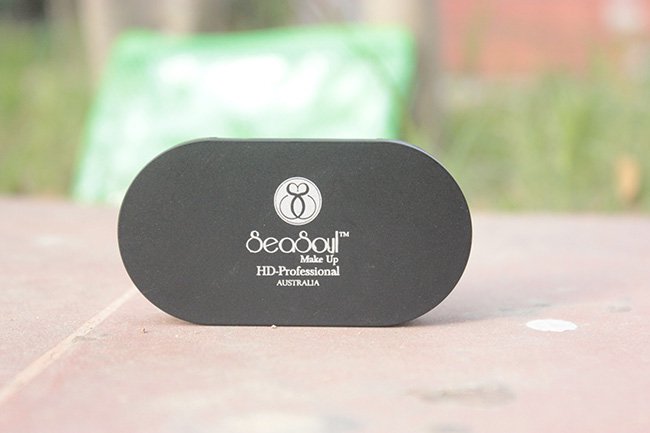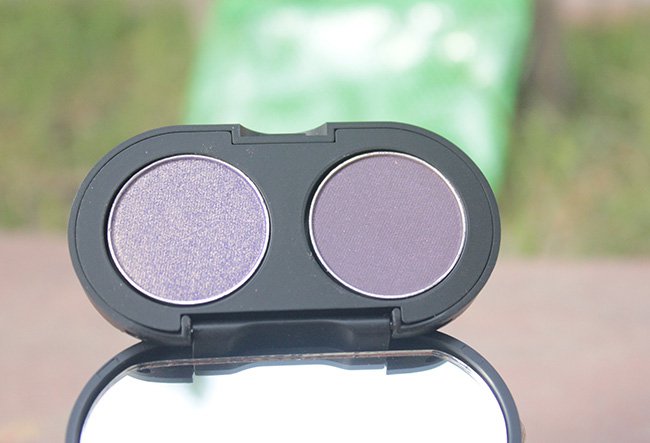 Inveda Sunscreen Cream Gel SPF 30- This is another full size product in May fab bag, and this is the most appropriate product for this month. Since the sun is at its peak we should slather a good amount of SPF whether we stay indoors or outdoors. It is enriched with Gotukola & Cucumber that protects the skin from harmful UVA/UVB rays. It is said to be suitable for all skin types and priced Rs 225 for 75ml. If you have sensitive skin and you like this cream you can also go for the SPF 50 version.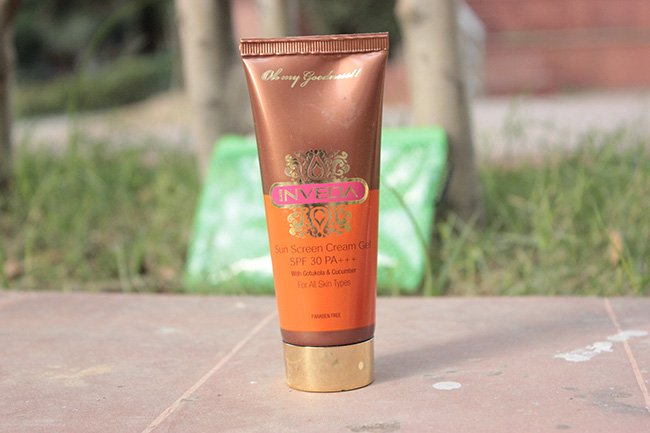 The Nature's Co White Tea Night Cream- I felt nostalgic to see this cream in this month's fab bag. Two years ago when I had just started blogging I got this product for review. This was one of first few products I reviewed in collaboration, so after seeing this cream I went few years back. Anyway, the cream fared well on my combination to oily skin and I was satisfied with its efficacy. You can check the detailed review here. The bag contains 20ml sample that should last for a week or so. The full size, containing 50 ml, product is priced at Rs 895. (The brand has not changed the price since then).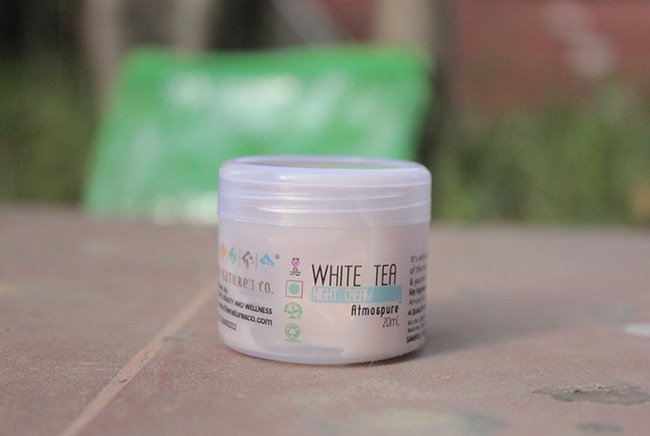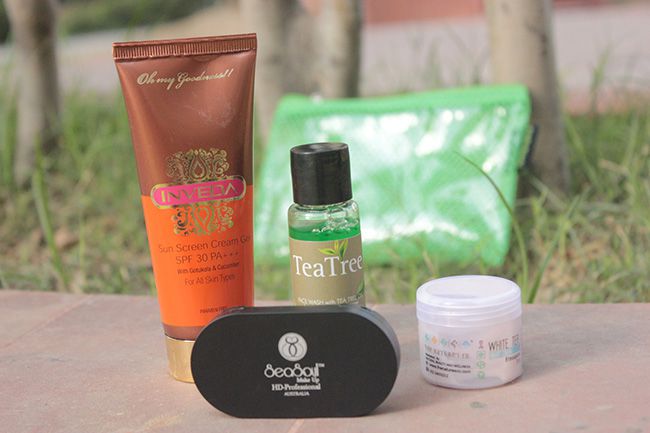 Overall, I like May fab bag. Its pouch and contents are perfect for summer season. It is very thoughtful of 'fab bag' crew to customize this bag considering the needs of Indian skin in scorching summers. Summing up the price of just 2 full size products the figure is coming out Rs 1125 while the 1 month subscription just costs Rs 599. And, do not forget the eye-catching travel pouch, tea tree face wash and TNC white tea night cream that top up the value. So, if you like this bag, you can click on this link and select the subscription plan you find more economical (longer the plan more economical it is).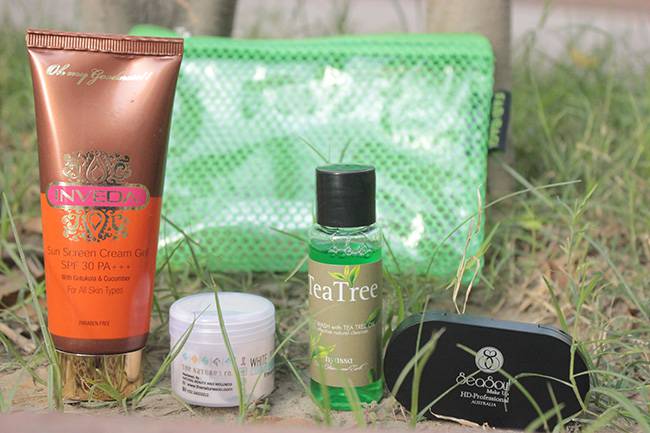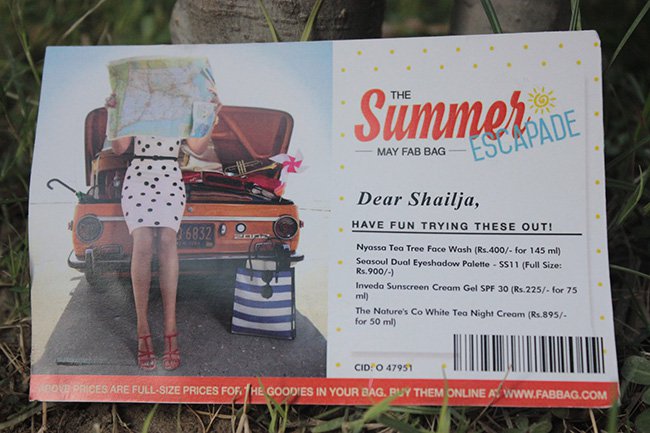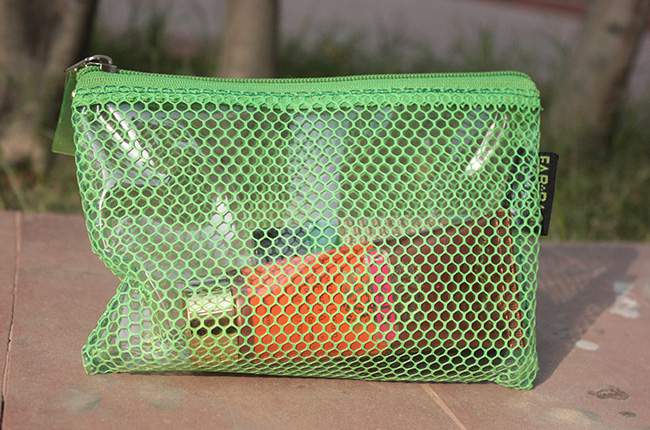 You might also like reading these related topics:
It's A Spring Thing-April 2016 Fab Bag Review
More Power To you-March 2016 Fab Bag Review
The Love And Makeup-February 2016 Fab Bag Review
The Beauty Resolutions-January 2016 Fab Bag Review
Party All Night-December 2015 Fab Bag Review
Up Your Game-November 2015 Fab Bag Review
Get Set To Celebrate-October 2015 Fab Bag Review
3rd Anniversary-September 2015 Fab Bag Review
Cast A Spell-August 2015 Fab Bag Review
Red Carpet-July 2015 Fab Bag Review
Revealing The Unrevealed-Sun, Sand, Sexy May 2015 FAB BAG Review
The Nine to Nine April FAB BAG 2015 Review
Take Charge-June 2015 Fab Bag Review