How did this '1 in 4 years' February month go for you? For me, it has been an emotional month full of lots of work. My little sister got married on 22nd of February, on one side where I am ecstatic that she has got the man of her life on the other side I am afraid that she when will be busy in her new life she won't get much time to spend with me. The good thing is unlike 2 decades ago, in this modern century people stay connected with each other even when they live oceans apart. It's been like four days now since she has moved to Austria and we have already kept ourselves abreast with what is happening in our lives… the credit goes to the digital world. I really wish the same enthusiasm continues for the days and years and decades to come.
Coming to the February 2016 Fab Bag, I know I am late in posting this review. I was so busy in making wedding arrangements that I could not take out time to click the photos or even write a word for the blog. Now, as I am back in Delhi the first thing I am doing is writing this review for you all. I think it will still take a couple of days to unpack and bring things back on regular track. Anyways, February 2016 fab bag is based on the love and makeup theme. I hope the title of the bag is self-explanatory – 'love' because February is a month of love and 'makeup' as the bag houses makeup products. The products come in textured fabric bright red pouch, which is good for storing stuff while travelling. The contents of the pouch are a good mix of skin care and makeup products. It contains five products, 2 out of which are makeup, 2 skin care and 1 hair care product.
Let's quickly have a look at all the products.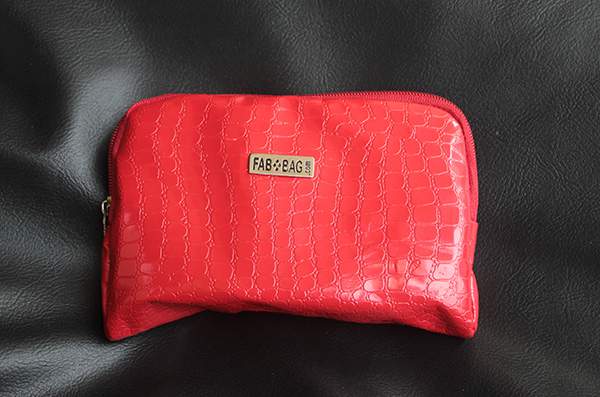 Chamki Nail Polish- I have never heard of this brand before so assume this is a new launch. I got the shade 'Haseena', which is a mix of pink and orange and just like the brand name Chamki this nail polish has lots of glitter. The consistency looks thick; I might have to put some nail polish remover in it to bring it to a workable condition. It will be a nice shade for parties. The nail polish is priced at Rs 250 for 11ml.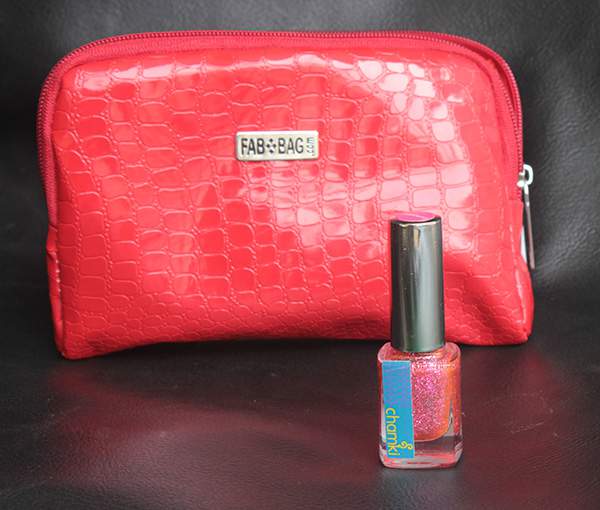 Hikari Cosmetics Blush- This is another new brand launch. Hikari cosmetics have launched blushes and lip crayons. I have received the blush in shade harvest, which is a dark plum shade. The packaging does not contain any mirror or blush brush so you need to carry those separately. If you talk about the blush range, there are three more shades – cameo, sun kissed and desire, and all of them look quite different. These are powder blushes designed to highlight complexion for a dramatic look. The bag contains full size product priced at Rs 1000 for 6g.
Just Herbs Liquorice Shea Lip Butter Balm- This is a smoothening lip balm made from organic beeswax and cold-pressed oils. It smells yum, and claims to impart moisture and hydration to coarse and parched lips without clogging pores. The packaging is compact and travel friendly. You just need to dip your finger in the small tub to use the lip balm. It has got a good shelf life of 3 years, and costs Rs 345 for 8g.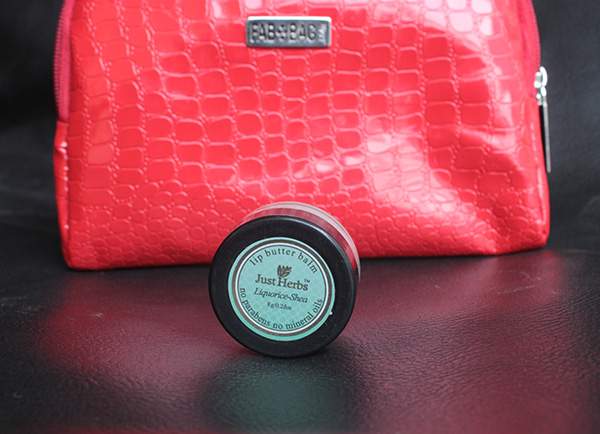 Nyassa Foaming Face Scrub-Oceana- The Oceana Foaming Face scrub claims to give your skin an enriched cleansing. It creates luxurious and fragrant foam that cleanses thoroughly leaving behind a fragrance that lasts long. It has semi-runny consistency and foams a lot. It works both as a cleanser and exfoliator. It has a price tag of Rs 600 for 200gm. The February fab bag contains 30g sample, which is sufficient to test the efficacy of the product before going for the full size bottle.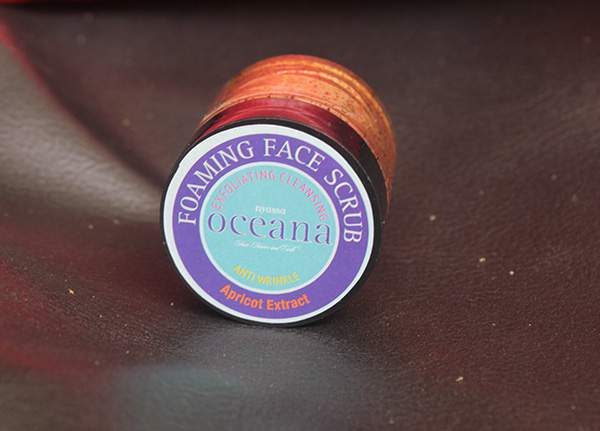 Livon Moroccan Silk Serum- This product has been the talk of the town for quite long, and I was really wishing to get my hands on it. I am glad that the fab bag crew sent the 30ml packaging. It contains Moroccan argan oil, the exotic ingredient that has numerous benefits. It claims to detangle hair and prevent breakage. I will try this out and post my review on it soon. Its 30ml pack is priced at Rs 149.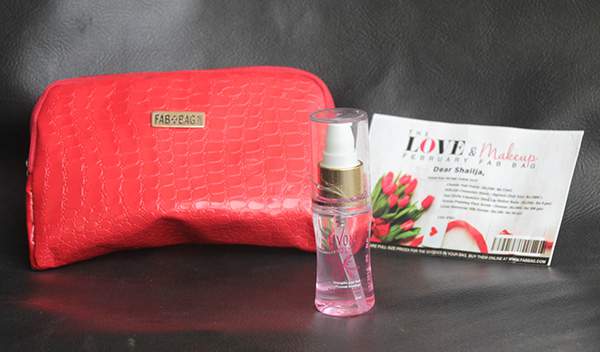 Overall, February fab bag contains four full size products and one decent sample size. I did not get any fab post this time, but the booklet was really useful as it used to contain tips and discount codes. Anyhow, you can get this fab bag, which is worth more than Rs 1744, at a price as low as Rs 416. If you wish to subscribe, click here.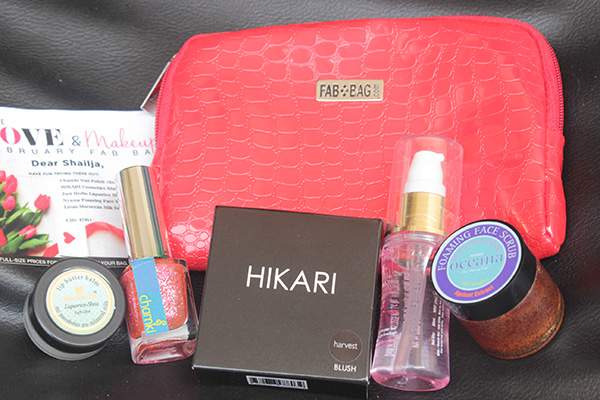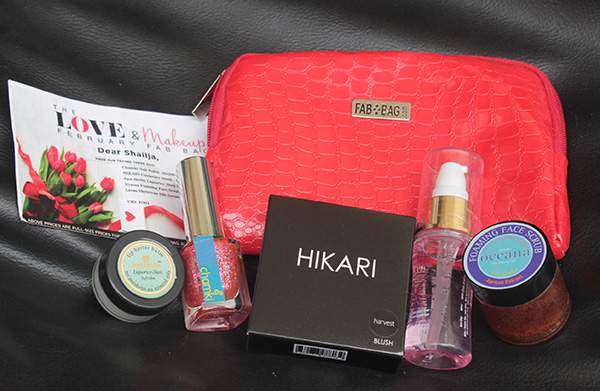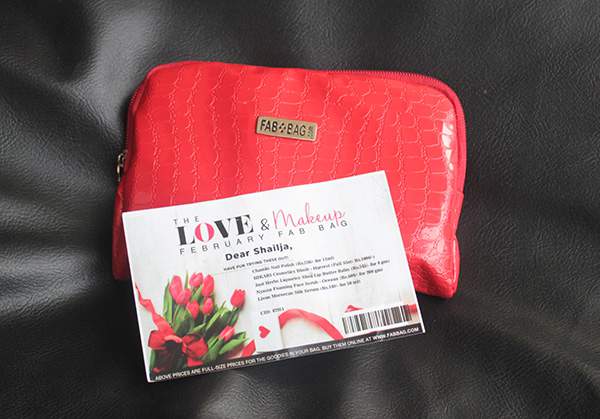 You might also like reading these related topics
The Beauty Resolutions-January 2016 Fab Bag Review
Party All Night-December 2015 Fab Bag Review
Up Your Game-November 2015 Fab Bag Review
Get Set To Celebrate-October 2015 Fab Bag Review
3rd Anniversary-September 2015 Fab Bag Review
Cast A Spell-August 2015 Fab Bag Review
Red Carpet-July 2015 Fab Bag Review
Revealing The Unrevealed-Sun, Sand, Sexy May 2015 FAB BAG Review
The Nine to Nine April FAB BAG 2015 Review
Take Charge-June 2015 Fab Bag Review