The onset of a new year brings hope, positivity and zeal to do better than before. I feel this new start with focused mind and sky-high aims helps us improve as human beings. We all make new-year resolutions related to job, personal life, health, etc, and strive to adhere to them but for how long? I made four resolutions last year but unfortunately could accomplish just one. What happened to the other three? Do not even ask! One of them was to learn car driving, I did try a couple of times but every time I got stuck amidst Delhi traffic all my enthusiasm to be an independent driver plummeted sharply. I will definitely give it another shot this year and preferably at less congested place. Well, this was about non-beauty resolutions but I am usually able to achieve my beauty resolutions – be it following a particular skin care/hair care regimen, loosing few pounds or strict adherence to diet-plan. And the biggest reason that helps me in achieving these resolutions is my interest in them. So the key point is if you love doing something you will be able to excel in it one day.
Anyways, speaking of beauty resolutions, January 2016 Fab Bag has the same theme "The Beauty Resolutions". So as it is focused on the basic needs of beauty, it has skin and hair care products. There are five products in January fab bag, four of which are related to skin & hair and the fifth is the personally chosen one. Every month 'fab bag' crew send out an email with a list of products, and ask you to choose the one that you would like to have for next month. I personally like this practice as it gives the end users a chance to choose their favorite products. A couple of months back they also gave a choice for the fab bag pouches, and I chose the cute heart shaped valentine month's bag. This month's bag is also cute and different from the previous bags I have received. It has all sorts of makeup products such as lipstick, mascara, nail polish, blush, compact powder, etc, imprinted on a beige base. The bag is attractive and straightaway gives an impression that the owner is a beauty freak 
Now, let's take a look at January, 2016 Fab Bag products.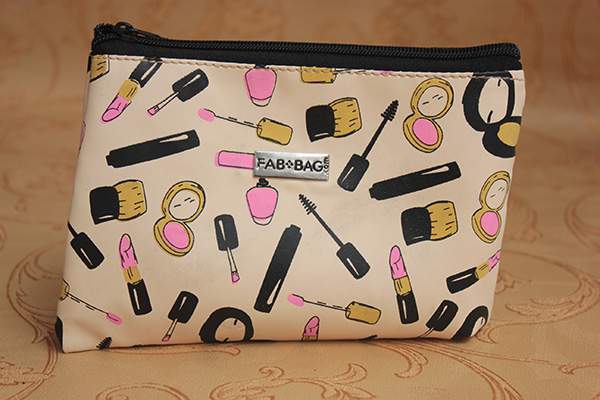 Votre Face Serum – Votre face serum is enriched with virgin cold-pressed oil and herbal blends. It claims to reduce fine lines giving a younger and brighter looking skin. It can be used alone or with moisturizer or foundation. Per fab tip, if you add a drop of Votre face serum to a pea-sized amount of foundation you will get glowing even skin. The bag contains full size of the product which is however quite less (just 12ml) but priced exorbitantly- Rs 1670 for 12ml.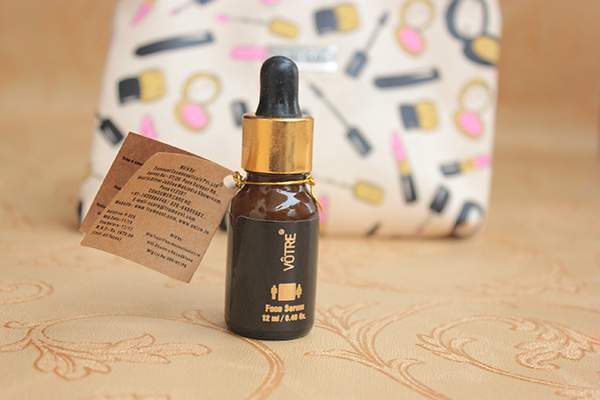 Natural Bath & Body-French Red Clay Mask – Natural bath and body is the new brand of New Year. Going by the name and ingredient list, it seems to be an organic brand. The bag contains two products of this brand: French red clay mask and Vitamin E whipped cream. The clay mask is in paste form, and claims to be a powerhouse of iron and minerals. A 20g sample is included in the fab bag; if you like the sample you can buy the full size of 100 ml for Rs 450.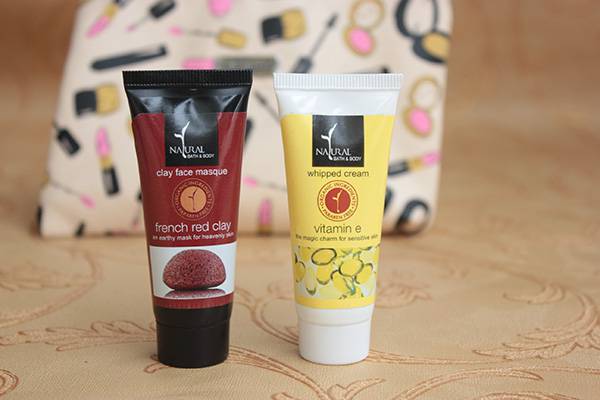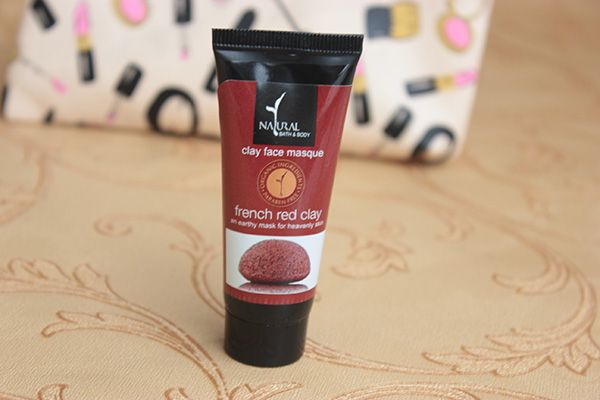 Natural Bath & Body-Vitamin E Whipped Cream – As the name says this cream is loaded with the goodness of Vitamin E. In addition to that, it is also enriched with Argan and Avocado oils. Being whipped, it has fluffy texture that makes it easy to spread. The fragrance is heavenly, and it claims to make the skin smooth and soft. The bag has 20g sample, and the full size (50ml) is priced at Rs 275.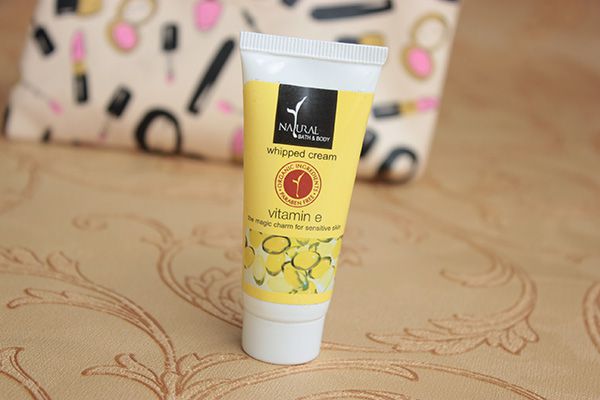 B-Blunt Spotlight Hair Polish – If you are going from bad hair days because of winters or lack of sufficient nutrients this product might be useful for you. It is specially created for Indian hair and weather to make hair look lustrous and healthy. The bag contains 30ml sample, and the full size of 150ml is priced at Rs 550.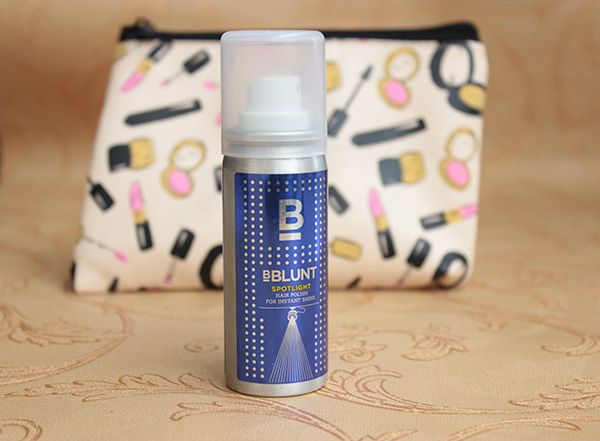 NYX Auto Eye Pencil- This is my chosen product; I never tried an NYX Eye pencil so thought giving it a shot. It is in shade Sapphire, and based on retractable mechanism. The pigmentation looks great, but I will test it thoroughly before saying anything else. It is priced at Rs 275.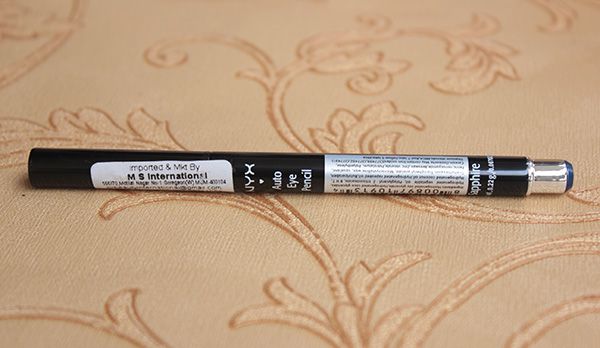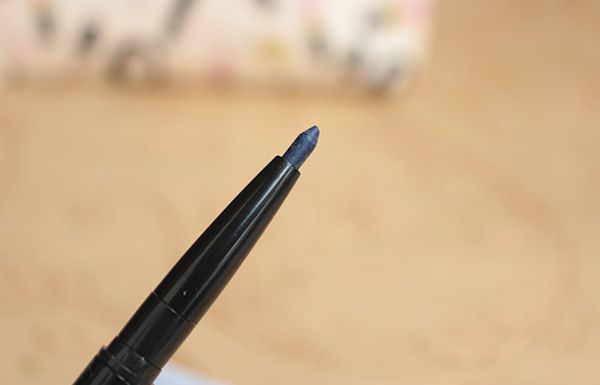 So, January 2016 Fab Bag has 2 full size products worth Rs 1945, three samples and a cute pouch. The products are true to the theme of 'Beauty resolutions' and can help make your skin & hair better. You can order the Jan fab bag here.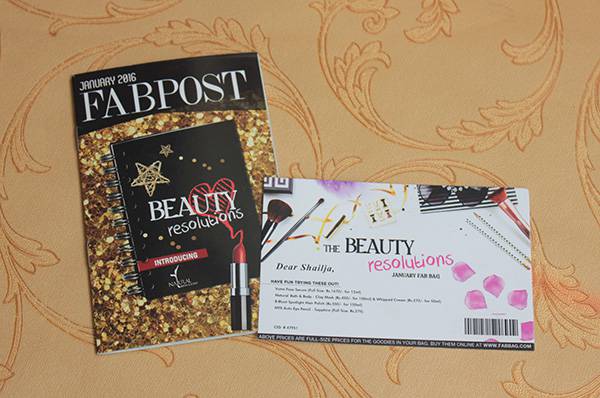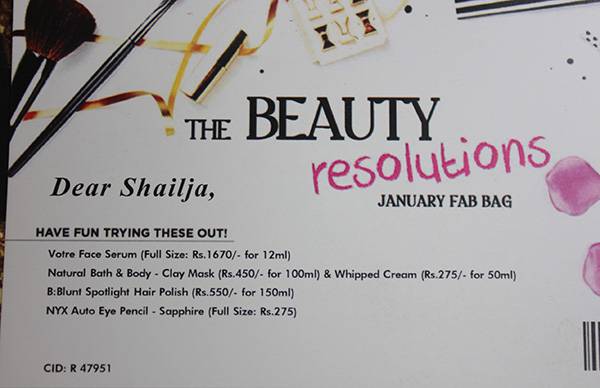 You might also like reading these related topics
Party All Night-December 2015 Fab Bag Review
Up Your Game-November 2015 Fab Bag Review
Get Set To Celebrate-October 2015 Fab Bag Review
3rd Anniversary-September 2015 Fab Bag Review
Cast A Spell-August 2015 Fab Bag Review
Red Carpet-July 2015 Fab Bag Review
Revealing The Unrevealed-Sun, Sand, Sexy May 2015 FAB BAG Review
The Nine to Nine April FAB BAG 2015 Review
Take Charge-June 2015 Fab Bag Review