March fab bag has come early this time. The moments after I got the shipment notification, the courier boy rang the doorbell and delivered this beauty bag. It was like he had sent the email just before ringing the bell. Considering the timing of my February's fab bag's review post this month's review has come way sooner. Why not! After all this is a women oriented month, and I so want all of you to do the things you truly love – not just in March but every single day of your lives.
It seems like the same has been contemplated by the fab bag crew, and that's the reason they have curated March Fab Bag around theme 'More Power To you'. The silver pouch with square texture is so eye-catching, and made of superior quality fabric. The moment I laid my eyes on the pouch I fell in love with it. This is the kind of bags that you would love to flaunt, not just use for storing stuff. Along with the WOW factor, it is spacious and sturdy so you can easily put your mobile and few makeup essentials. Speaking of the contents, it is a mix of color cosmetics and hair care products. As usual there are five products- 1 full size and rest deluxe size samples. Let's have a look at all these products.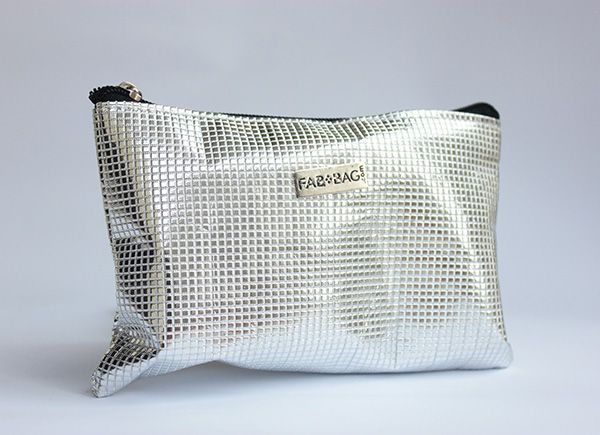 Sugar Cosmetics It's A Pout Time ! Vivid Lipstick –Breaking Bare- The brand has launched another new range of lipsticks in four shades: The big bang berry, breaking bare, mad magenta, Caroline in the city. I have got the shade 'breaking bare', which is a rose pink shade. These lipsticks have creamy consistency that moisturizes and spreads evenly on the lips. The stunning shades are highly pigmented and light-weight, providing maximum coverage in a few swipes. The packaging is pure black matte and quite different from classic lipstick packaging. You will soon see a full review on this lipstick. The bag contains full size that is priced Rs 599 for 3.5g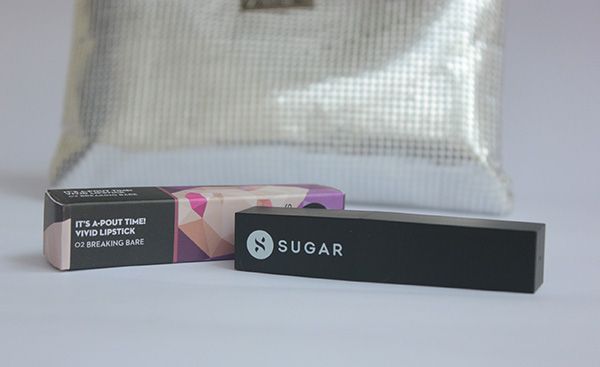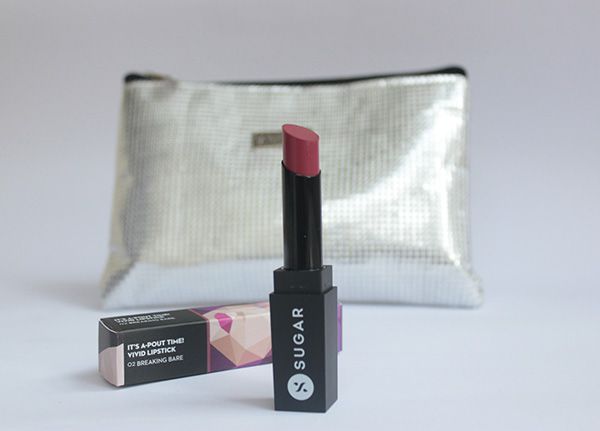 Suganda Neem Green Tea Plant Mask- With summers approaching, this mask can be beneficial for oily acne prone skin. It claims to reduce redness and heal acne without leaving scars. It is a dry mask in powder form, usage instructions are not mentioned on pack but here is how it has to be used "Take 1 TSP powder, Mix with warm water to activate herbs. Apply on face without scrubbing, wait for 2 minutes to let it dry. Apply honey to soften face mask, for moisturizing effect. Wait for 2 mins and wash off with cold water. It can be used 5 times a week at a stretch, and after that give a break for 2 days before reusing." It can be used as a face cleanser cum mask in the morning or evening so you do not really require a face cleanser before or after its application. The full size has a price tag of Rs 750 for 50 g but the bag contains 25g sample.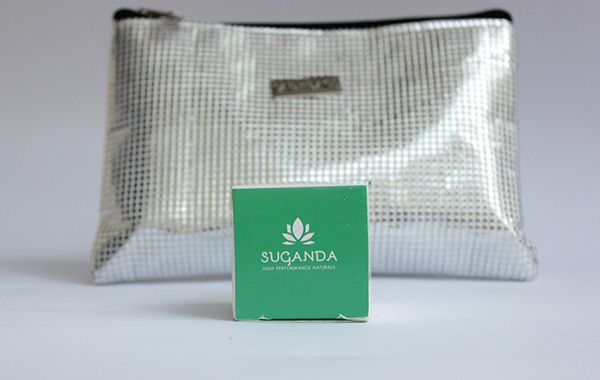 Wella Professionals Elements Renewing Mask & Shampoo- These products claim to contain no paraben and sulphates. They restore and preserve the natural inner structure and strength of hair. I love hair masks so I am really excited to use this renewing mask, will post a mini review once I get to test it thoroughly. They are available in 3 sizes: mask in 30ml, 150ml and 500ml and shampoo in 30ml, 250ml and 1000ml. The bag contains 30 ml sizes of these mask and shampoo in tube form, and I think these sizes are sufficient to judge the efficacy. The renewing mask is priced Rs 1075 for 150 ml, and the renewing shampoo has a retail price of Rs 975 for 250 ml.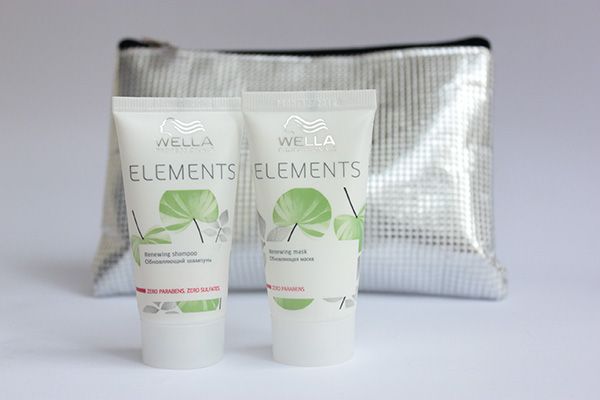 Nykaa Nail Enamel Strawberries n Cream- I have been wishing to try Nykaa nail paints for long but never really got a chance. So this is another product I am looking forward to use, though the shade is almost similar to the Lotus Herbals nail polish in shade peach perfect. but the quantity is different. The Nykaa polish is a 5ml sample (first time I saw a nail polish sample) that can fit in pocket as well. The full size nail polish of 10ml is priced Rs 149. After seeing this small size, I think it would be better if nail polishes start coming in such small volumes as that will decrease the price and allow us to use them fully before they get dry.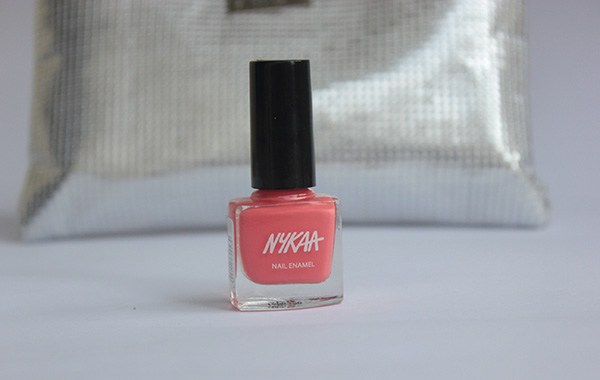 Again, there is no fab post and I am missing it a lot. It used to be like a mini magazine full of beauty tips and discount codes. Nonetheless, March fab bag has got fancy silver pouch along with some useful beauty products. In my opinion, this month's beauty bag should not be missed. If you wish to get it but have not subscribed to fab bag yet, click here.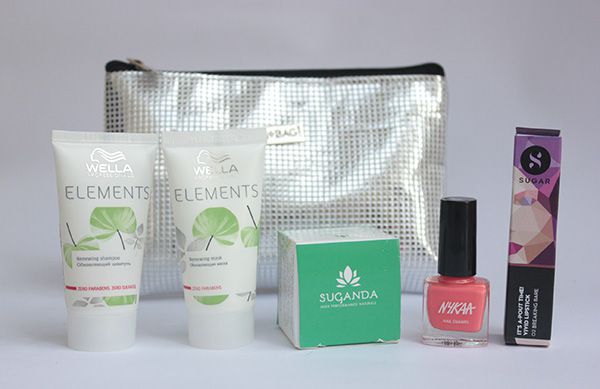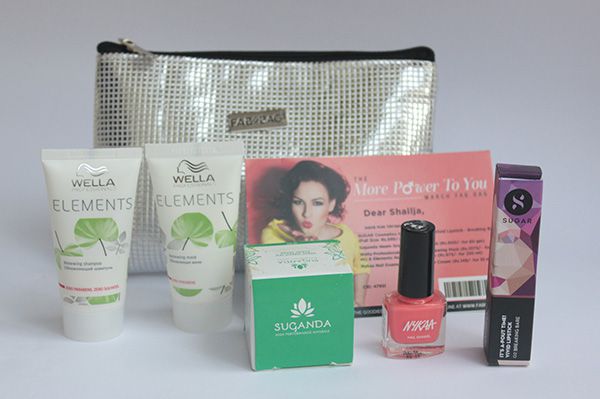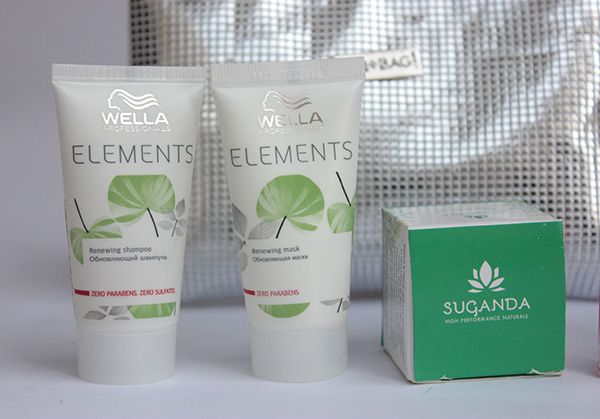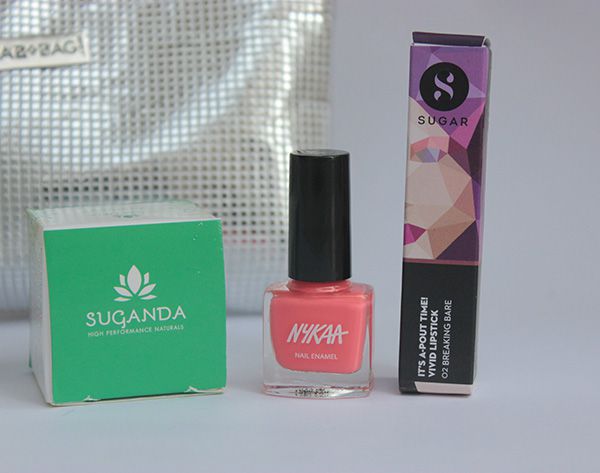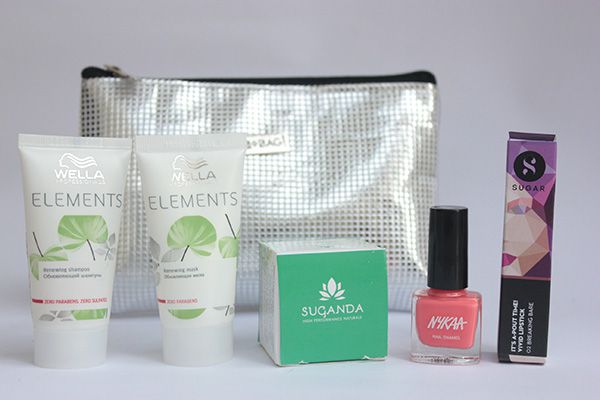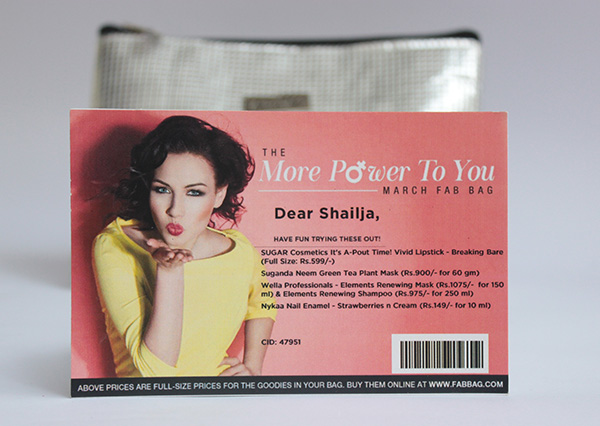 You might also like reading these related topics
The Love And Makeup-February 2016 Fab Bag Review
The Beauty Resolutions-January 2016 Fab Bag Review
Party All Night-December 2015 Fab Bag Review
Up Your Game-November 2015 Fab Bag Review
Get Set To Celebrate-October 2015 Fab Bag Review
3rd Anniversary-September 2015 Fab Bag Review
Cast A Spell-August 2015 Fab Bag Review
Red Carpet-July 2015 Fab Bag Review
Revealing The Unrevealed-Sun, Sand, Sexy May 2015 FAB BAG Review
The Nine to Nine April FAB BAG 2015 Review
Take Charge-June 2015 Fab Bag Review