A couple of weeks ago, I saw coral crush from Maybelline color show range. That nail polish shade seemed so summer appropriate that I so desperately wanted to add it to my summer collection. However, that Maybelline counter did not have a fresh bottle so I had to drop the idea. Luckily, after a couple of days when I again went to the GIP mall I got allured by Lotus Herbal nail polishes. While I was doing nail swatches, one nail shade 'peach perfect' reminded me of MCS's 'coral crush' shade. I would not say that 'peach perfect' is a dupe of 'coral crush' still it has the same color base, and it fits perfectly into my collection of summer appropriate polishes. Till that day I had never ever tried Lotus nail shades, 'peach perfect' is first to make it to my Lotus Herbals nail polish collection. Read on to know my first encounter with it.
My Take on 'Lotus Herbals Colour Dew Nail Polish Peach Perfect 99'
Lotus Herbals nail polishes come in a different packaging. As I am addicted to MCS nail polishes so that makes me accustomed to seeing the same type of bottle shapes. The farthest I have gone with new trials was with Lakme and Revlon only. These brands also house their nail polishes in somewhat similar packaging. So when I was coloring my nails with this Lotus nail polish, even my husband spotted the packaging difference and looked intrigued 😉 . Well, it comes in a tall cylindrical shaped glass bottle, which is capped with a cone-like screw cap. The long cap resorts to long brush holder that further ensures ease of application. Because of this length, the application comes clean without any fear of messing up the edges.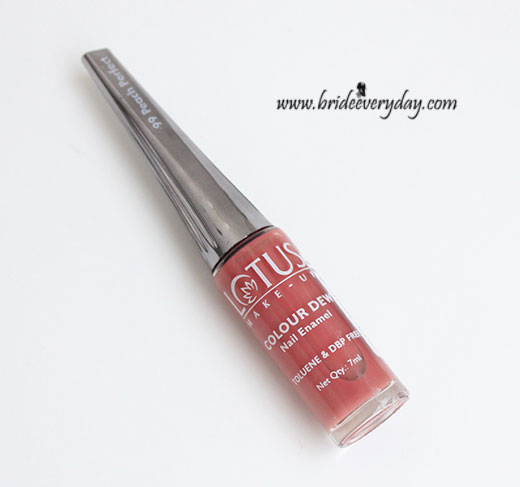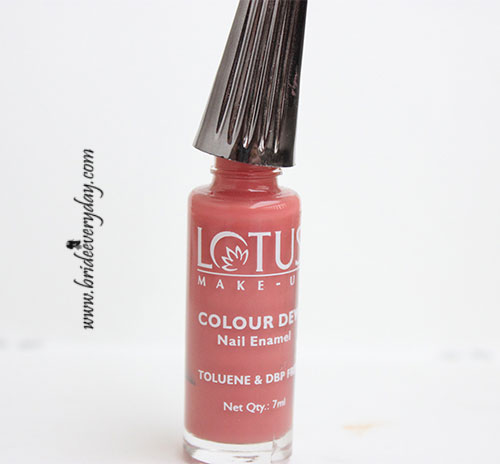 Peach perfect is a beautiful glossy peach shade with brown undertone. The gloss is creamy and salon like. I love adorning this nail polish as it is neither too bright nor too dull color – just congruous enough to add sophistication and glamor to your nails. This is the kind of shade that would look color rich on medium to fair skin girls.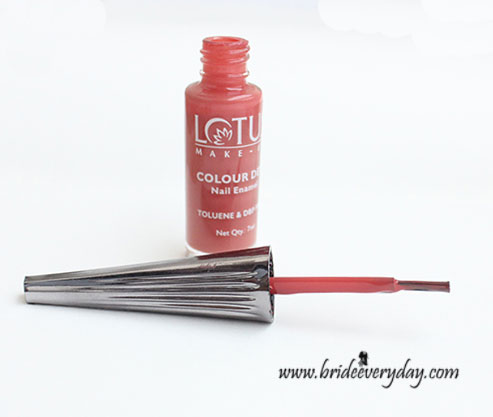 This nail polish is formulated to give creamy smooth application. Just in one coat you will be able to get an opaque look. But I still prefer to go for 2 coats as doing so enhances the longevity and intactness. Talking about longevity, it can stay on for 3-4 days without much chipping. The glossy sheen does not fade even when you do water involving household chores. On my nails, it lasted till 3 days and that speaks of the entire span I wore it for.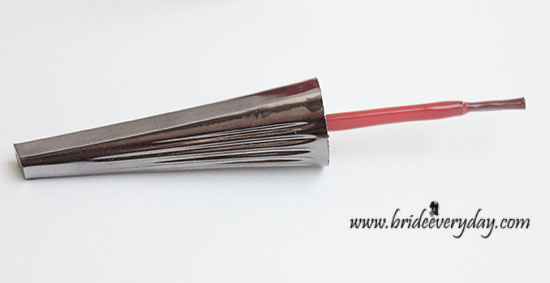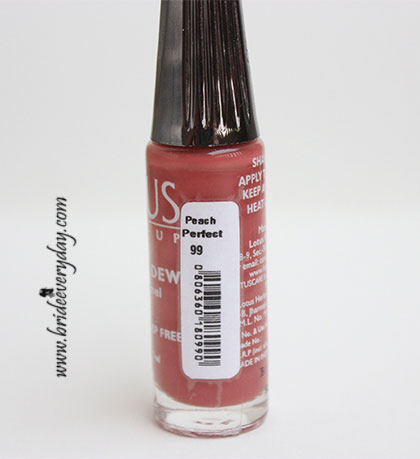 The only thing that requires some thought is the time it takes while drying. One coat is not much of a problem, but two coats require 15-20 minutes of time for complete drying. In case you are applying it at night make sure you keep your nails away from fabric to avoid patterning.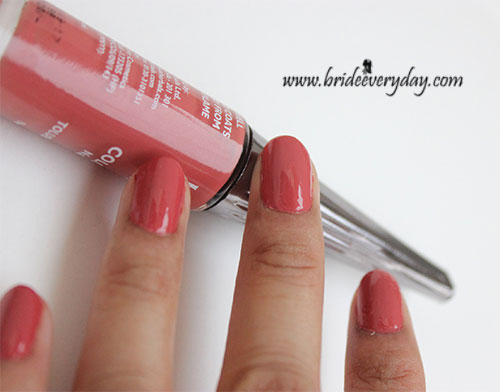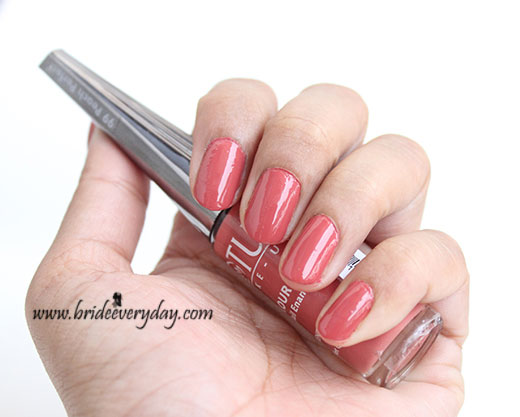 What I like about 'Lotus Herbals Colour Dew Nail Polish Peach Perfect 99'
– Long brush holder that ensures convenient application.
– Perfect nail polish shade for summers.
– Salon like glossy finish.
– Easily lasts for 3-4 days without chipping.
– The glossy sheen does not start fading until day 3.
– Brush does not leave any marks behind.
– DBP and Toulene free.
What I do not like about 'Lotus Herbals Colour Dew Nail Polish Peach Perfect 99'
– It takes time to dry.
Price of 'Lotus Herbals Colour Dew Nail Polish Peach Perfect 99' : INR 120 for 7ml.
BABE Rating: 4.8/5
Final Word: I love the smooth creamy texture of this nail paint. The perfect peach shade adds liveliness and classy look to hands. Plus, the salon like shine gives a rich look. The longevity of intactness and sheen is also remarkable. The only concerned thing is that you should apply this nail polish when you have 20-25 minutes of free time.
You may also like reading these related topics
5 Different Nail Paint Shades In Brown And Golden
Lakme True Wear N236 FreeSpirit Nail Polish Review Swatch
Maybelline Color Show Nail Polish Moon Beam 103 Review Swatch
Maybelline New York Color Show Nail Paints
Maybelline Color Show Nail Polish Keep Up The Flame 215 Shade Swatch Review
Maybelline Color Show Nail Polish Crazy Berry Review Swatch
Maybelline Color Show Nail paint Nude Skin (015) Review
Maybelline Color Show Glitter Mania Nail Paint – All That Glitters (601) Review
Carry Newspaper On Your Finger Nails Using Newspaper Nail Art
My Recent Favourite Nail Paint Swatches – Volume 2
How to do blended nail art using sponge at home
My recent favorite nail paint swatches – Volume 1
How to do nail art designs at home – Tutorial
MAC Nail Lacquer Morange Review and Swatch
Revlon Nail Enamel Polish in Shade Cherry Berry 421 Review Swatch
Wet n Wild Megalast Salon Nail Color- 213C On A Trip Review