Hey Friends, hope you are doing great. I know I have not been able to publish many posts since last week. Actually, my sister was in India so I was busy gossiping with her. We had our haircuts lately and lots of fun shopping and pampering ourselves. And when all these good things are going on in your life some things take a back seat. My apologies for not being regular with the posts but I hope now I would be able to maintain the publishing frequency. Now, coming back to today's topic. I am reviewing December fab bag. As you all know December is the party month so fab bag crew has thoughtfully curated this month's bag around that theme. It's titled The Partyholic-December 2016 Fab Bag.
It is a black and white hologram pouch which is quite different from the previous bag I received. The quality is good and it can be easily paired up with party attires. It contains four products, which are a blend of makeup and skin care. Let us have a look at what all it contains.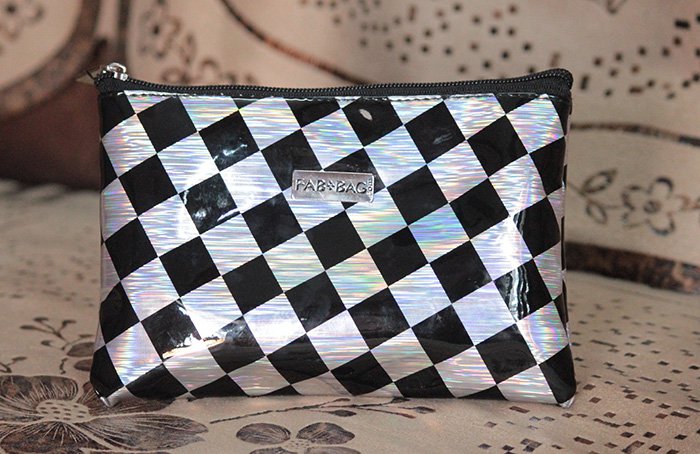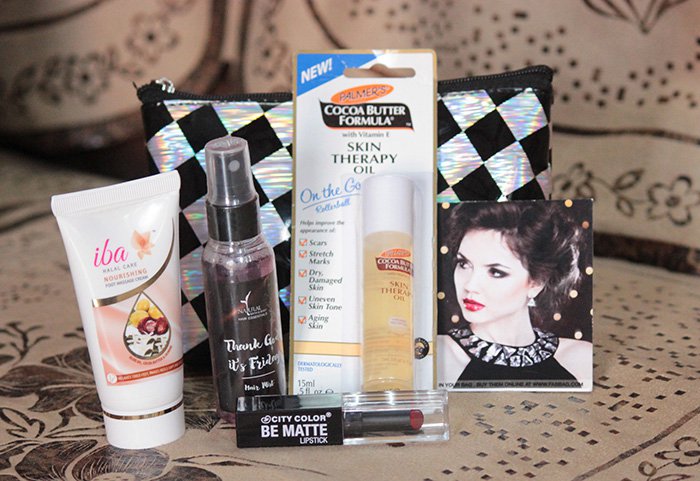 City color be matte lipstick- In November fab bag I got Lana shade of City color be matte lipstick range. So this time when I was given the option to choose my own makeup product I went ahead with the shade Lola from the same range. I have already reviewed the Lana shade; you can go through it by clicking on the above link. Shade Lola is not much different except for the maroon hint. My mom loves maroon lipsticks so I thought why not order something for her this time. Well, it is a full size product priced Rs 500.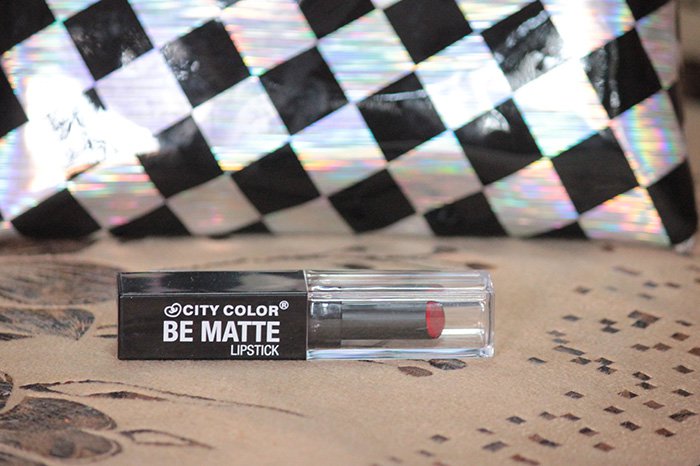 Palmer's Cocoa Butter Formula Skin Therapy Oil- I was in dire need of a good stretch mark removal cream and I am glad that it came just right one time. This skin therapy oil does not only claim to improve the appearance of stretch marks but also the scars and aging skin. It is formulated with Canola oil, cocoa butter, Vitamin E, Sesame oil to name a few. All these ingredients are believed to work miraculously in recover skin health. I am quite eager to start using this product, and if I like it I will definitely order the full size. The sample size has 15ml product but the full size contains 150ml priced Rs 890.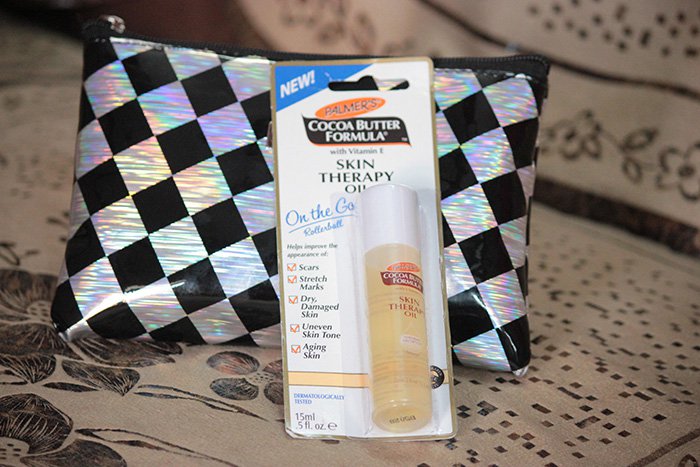 Iba Herbal Care Nourishing Foot Massage Cream- This is another well-timed product. In winter season, feet become dry and heels get cracked so using a good nourishing foot cream is essential. This cream is formulated with olive oil that nourishes the skin and replenishes it essential nutrients, cocoa butter that prevents dryness and cracks, shea butter that smoothens and softens the skin, and jasmine that gives a relaxing feel. I look forward to using this cream and hopefully you will see its review soon. The bag contains full size product of 50g priced at Rs 95.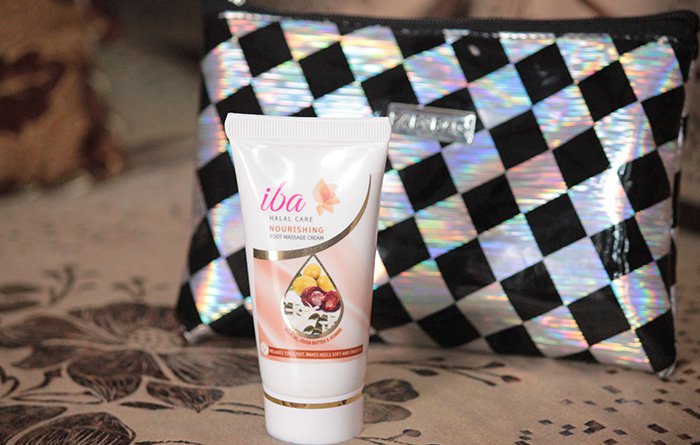 Natural Bath & Body Thank God Its Friday! Hair Mist- Again a very thoughtful inclusion to December fab bag considering dryness is knocking at the doors. This is a peppy hair perfume to give your waves and curls a refreshing sweet smelling aroma that lingers. It comes in a very travel friendly packaging that can be easily carried in handbag. Though I am not a big fan of hair serums and mists but I look forward to trying this product just because of its pleasant fragrance. The bag contains 50ml sample size but the full size is priced Rs 525.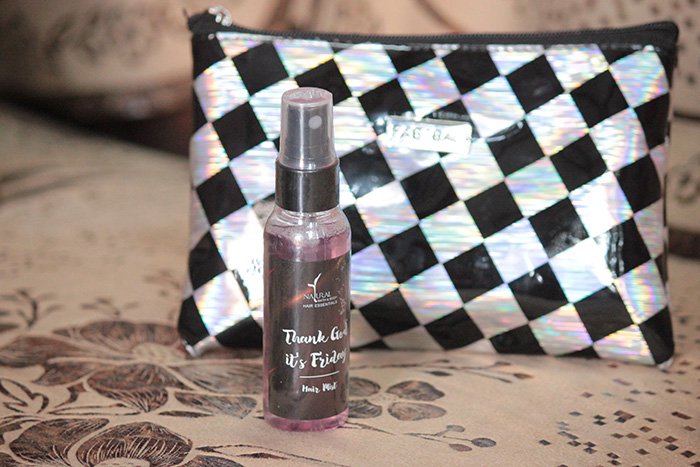 So overall, December fab bag is very thoughtfully assembled taking in consideration is party season and winter dryness. If you like even couple of these products or were already looking for them I would suggest giving a shot to this bag. It will help you in choosing the right products by spending only a fraction of your money. In case, you plan to order it visit fabbag.com.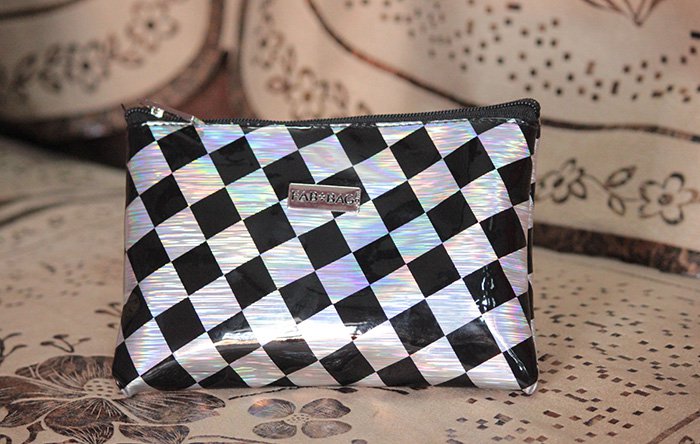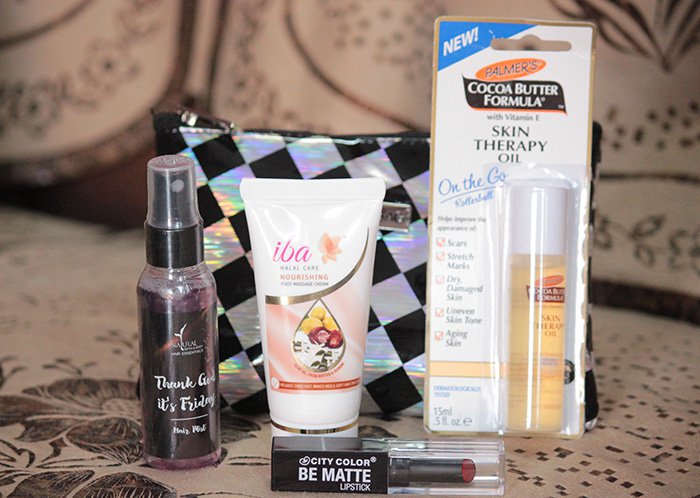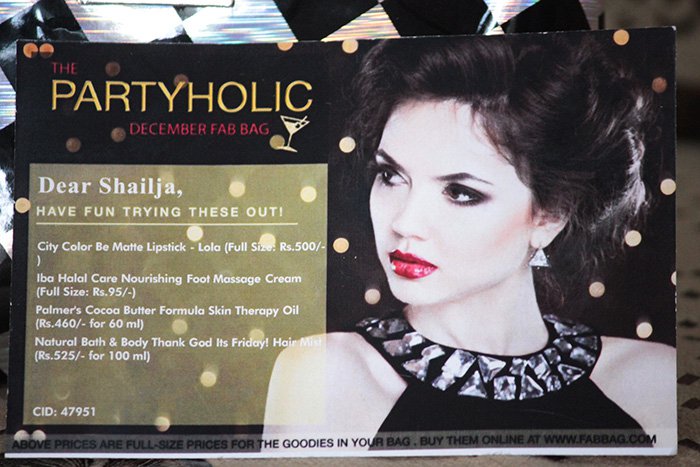 You might also like reading these related topics:
Ready Set Glow-November 2016 Fab Bag Review
The Festive High-October 2016 Fab Bag Review
What The Chic-August 2016 Fab Bag Review
The Hello Gorgeous-July 2016 Fab Bag Review
The Beauty Addict-June 2016 Fab Bag Review
The Summer Escapade-May 2016 Fab Bag Review
It's A Spring Thing-April 2016 Fab Bag Review
More Power To you-March 2016 Fab Bag Review
The Love And Makeup-February 2016 Fab Bag Review
The Beauty Resolutions-January 2016 Fab Bag Review
Party All Night-December 2015 Fab Bag Review
Up Your Game-November 2015 Fab Bag Review
Get Set To Celebrate-October 2015 Fab Bag Review
3rd Anniversary-September 2015 Fab Bag Review
Cast A Spell-August 2015 Fab Bag Review
Red Carpet-July 2015 Fab Bag Review
Revealing The Unrevealed-Sun, Sand, Sexy May 2015 FAB BAG Review
The Nine to Nine April FAB BAG 2015 Review
Take Charge-June 2015 Fab Bag Review