Still in the festive mood? Well, the Ready Set Glow-November 2016 Fab Bag continues the festive spirit. It is a maroon colored textured pouch with gaudy look. The size and shape of the pouch is similar to many previous fab bags I have reviewed but look-wise it is quite different. In my opinion, it will make a perfect pouch to carry essentials such as mobile phone, mirror and lipstick (for touch up) on traditional functions such as mehandi ceremony, ladies sangeet, etc. And with the marriage season coming up, I see a lot of utility of this pouch. Undoubtedly, it will team up well with ethnic wear.
Now, coming to the contents- November 2016 fab bag contains 4 products, which is slightly disappointing as I am used to seeing 5 products in every month's fab bag. The fab bag crew has always delivered above expectations so I am kind of used to that now. Anyways, of the four products one is full size, two are deluxe sample sized and one is average sample sized products. Let us have a quick look on the products.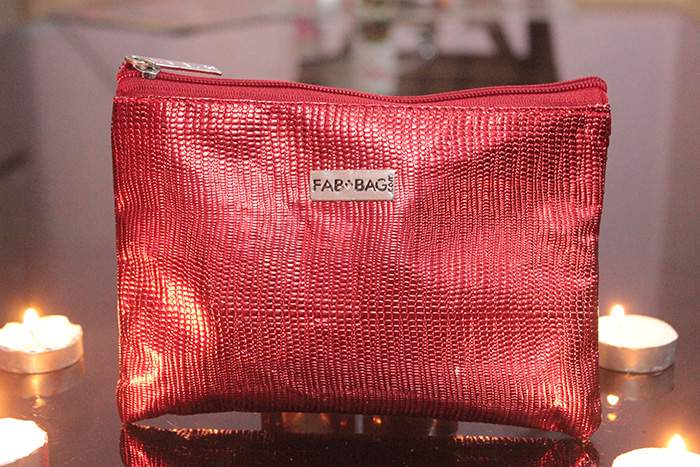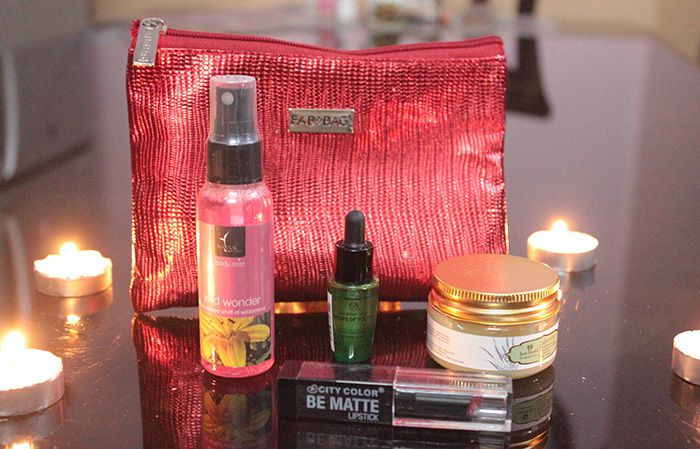 City Color Me Matte Lipstick- This is a self-chosen product. City color is not a new brand for me as I have already used City color blush, which was a part of April Fab Bag. So when I received the email to choose a shade from City Color Me Matte Lipstick, I chose the Lana shade. This is quite different from the usually red as it has a berry touch to it. It intensifies the depth of the shade and creates a sensual look. I am looking forward using this lipstick so you will soon see a full-fledged review. The bag contains full size product that has a price tag of Rs 500.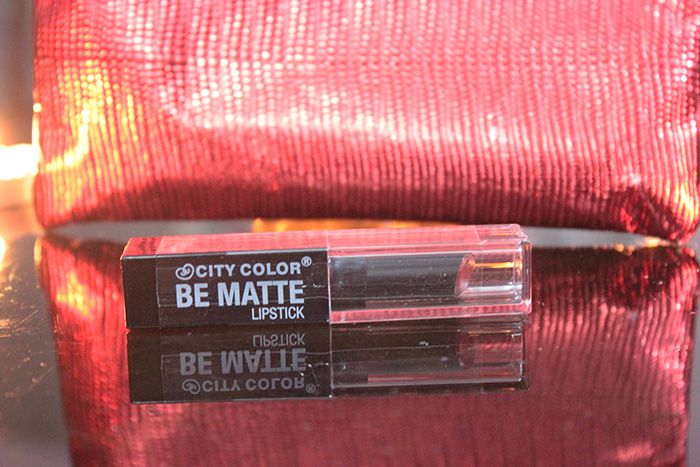 The Body Shop Drops Of Youth Concentrate- Couple of months back, The Body Shop launched Drops of youth concentrate. For a quite long time it remained the talk of the town but I did not have a chance to get my hands on it. Now, thanks to Fab Bag as I will get to use this sample size (7 ml) to see how it will perform on my skin. If I like the result I will go for the full size product of 30 ml at a price of Rs 2895. As it is a concentrate so it is one step ahead of the serum. It has to be applied even before applying the serum or you can skip the serum and directly apply this before moisturizer.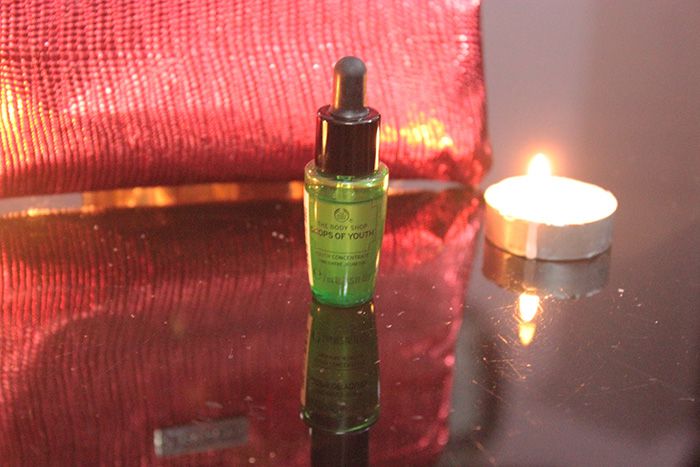 Just Herbs Aloe Vera Facial Massage Gel- Aloe vera prevents the over production of enzymes responsible for the breakdown of the collagen-elastin of the skin. For quite few days, I have been using the fresh Aloe Vera pulp and I see visible difference in my skin. Now that I have received this gel, I am planning it use it on regular basis. I will soon post its review on the blog. The bag contains 50g sample, which is a deluxe size. The full size product contains 100g and has a price tag of Rs 445.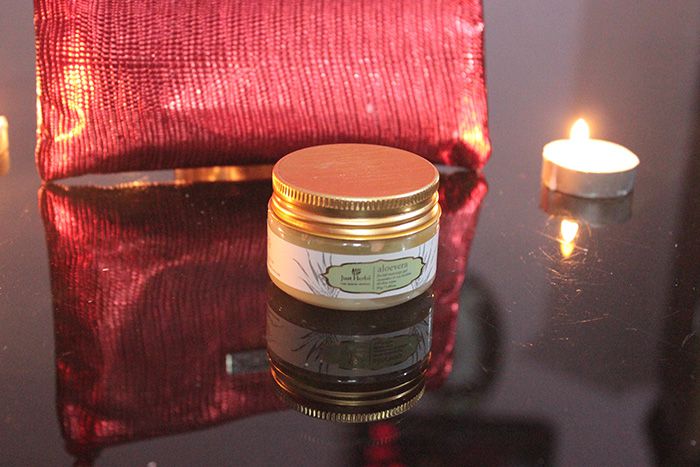 Natural Bath & Body Wild Wonder Body Mist- Though I am not a huge fan of body mists but this one has got an amazing fragrance. Its calming base notes are topped by a delightful wave of Aquatic aroma. It does not have long lasting staying power so needs to be applied frequently. The bag contains 50 ml sample, which is quite good for travelling purpose. The full size product contains 200 ml at a price of Rs 325.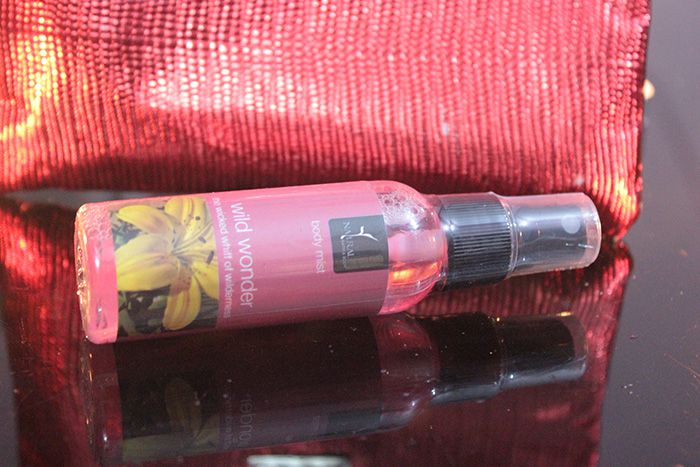 Overall, November 2016 fab bag is more towards the skin care side except for the City Color Me Lipstick. If you are planning to try any of these products before going for full their sizes you can order the bag from the link given here.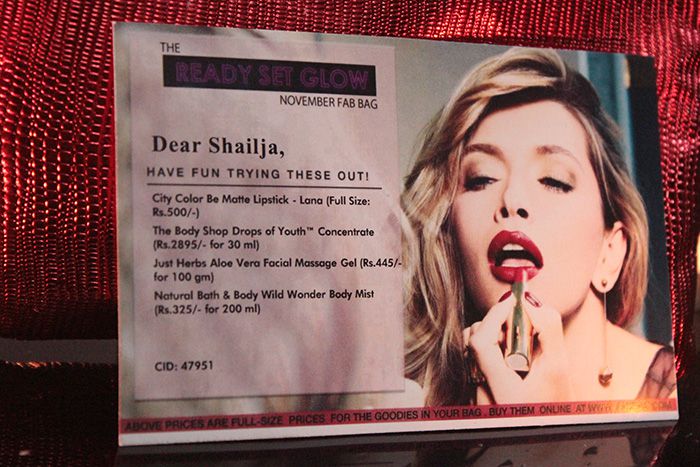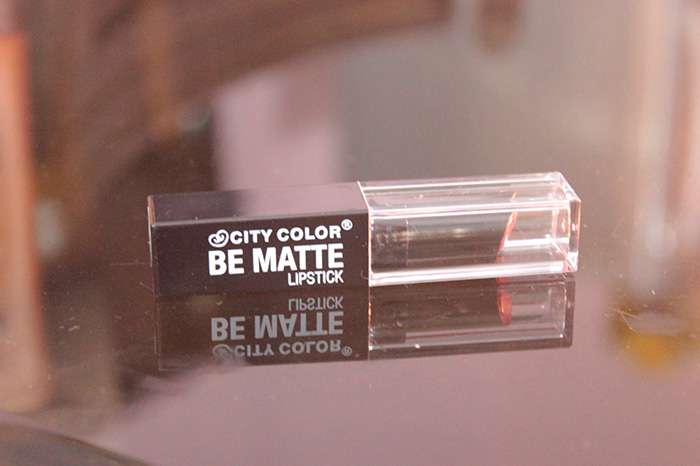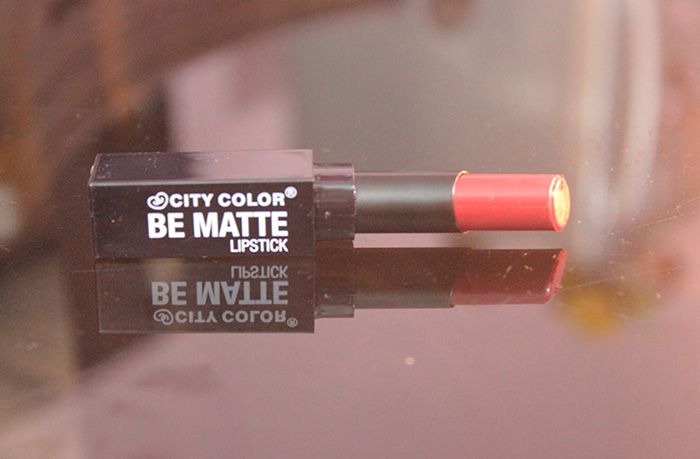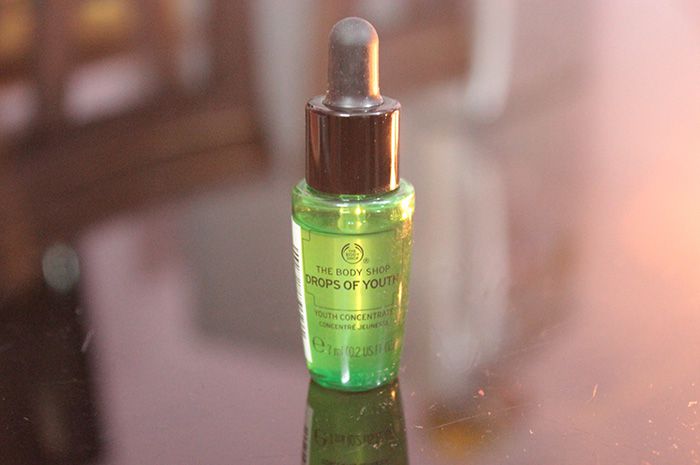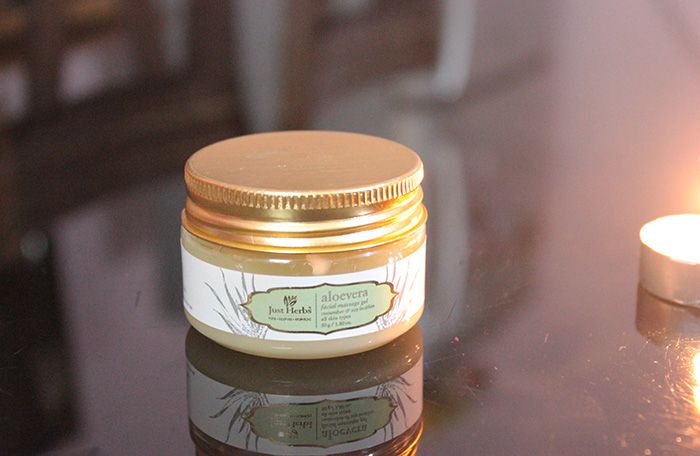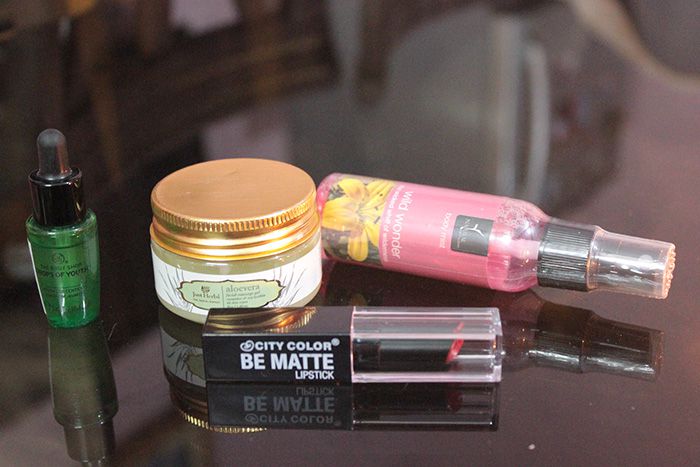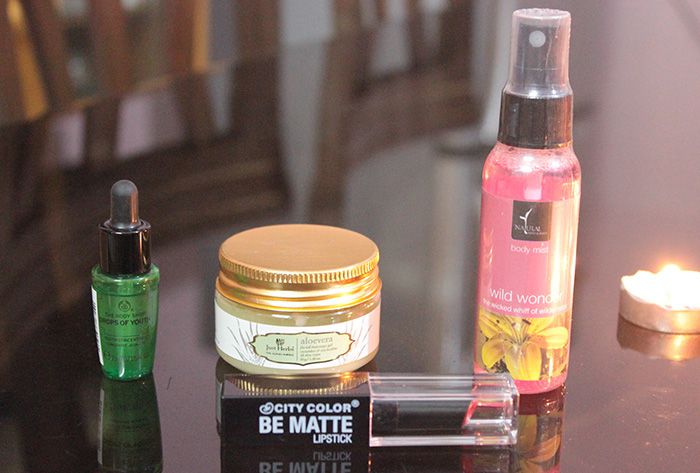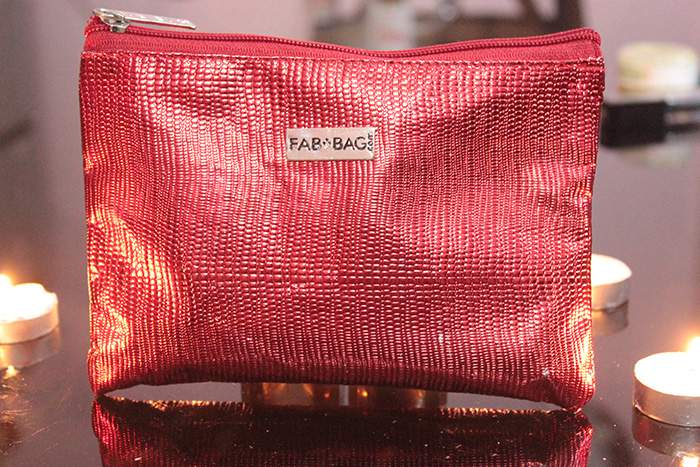 You might also like reading these related topics:
The Festive High-October 2016 Fab Bag Review
What The Chic-August 2016 Fab Bag Review
The Hello Gorgeous-July 2016 Fab Bag Review
The Beauty Addict-June 2016 Fab Bag Review
The Summer Escapade-May 2016 Fab Bag Review
It's A Spring Thing-April 2016 Fab Bag Review
More Power To you-March 2016 Fab Bag Review
The Love And Makeup-February 2016 Fab Bag Review
The Beauty Resolutions-January 2016 Fab Bag Review
Party All Night-December 2015 Fab Bag Review
Up Your Game-November 2015 Fab Bag Review
Get Set To Celebrate-October 2015 Fab Bag Review
3rd Anniversary-September 2015 Fab Bag Review
Cast A Spell-August 2015 Fab Bag Review
Red Carpet-July 2015 Fab Bag Review
Revealing The Unrevealed-Sun, Sand, Sexy May 2015 FAB BAG Review
The Nine to Nine April FAB BAG 2015 Review
Take Charge-June 2015 Fab Bag Review