Hi Everyone,
Hope you had a lovely weekend. I too had lots of fun meeting old friends and chit-chatting. I am working from home these days so seldom get to go out. Well, it is not that I am missing outings but what I actually miss is dressing up. So when my dear friends planned this get-together I saw a chance to dress up – particularly makeup. I made sure that I do not miss any step and thus followed every bit of doing the makeup the correct way- right from applying primer to contouring and highlighting. Usually, I do not usually wear bold looks but since I had not worn makeup for long I decided to sport a bold look and why not, being bold is the latest trend these days.
Here is the Makeup Breakdown
Base Makeup- My skin has started feeling the cold of winter so if I do not moisturise it looks flaky. Before applying anything I nourished my skin with Elizabeth Arden moisturizer . This moisturizer contains SPF and since I was going for a day meet this was much needed protection from UV rays. To start with the base makeup I applied a thin layer of Maybelline fit me foundation (warm n*de shade) using the Real techniques miracle complexion sponge. Earlier I used to apply foundation using a brush but from the day I have used this sponge I never use any other tool to apply base makeup. It gives even application and required coverage without dragging the skin. To set the base, I used L'Oreal mat magique powder (shade N6).
Eye Makeup- As I was going for dark lips so I kept the eyes little bit light. After applying the MUA primer I set it with L'Oreal mat magique powder. Setting the primer is important as it provides a smooth surface and helps the eyeshadows blend easily. I used Luxie beauty eyeshadow no 27 on the one third of the eyelid (from outer corner to the center)and bright golden shade from Revlon blissful girl palette from center to inner corner. No eyeliner was used as I wanted the soft look rather I used Maybelline colossal super black kajal on the waterline and smudged it using a spongy brush and lined the lower lash line using the same Luxie Beauty eyehsadow I applied on the outer corner. Finally, I finished the eye makeup by lifting the lashes with Elizabeth Arden grand entrance mascara – my favorite these days and defining the brows with the help of Luscious perfect brows tool kit.
Lips & Cheeks- Here comes the show-stopper product! On my lips you see L'Oreal Paris color riche moist matte lipstick in shade Arabian Nights . It's been one year since this lipstick has gotten a place in my drawer but because of lack of courage I could not wear it before. This time I wanted to do something really different so put it on. To complement the dark lip, I contoured and highlighted my face using Sleep makeup face contour kit and made the cheeks blush with L'Oreal Paris true match blush (shade honey).
I hope you like the look!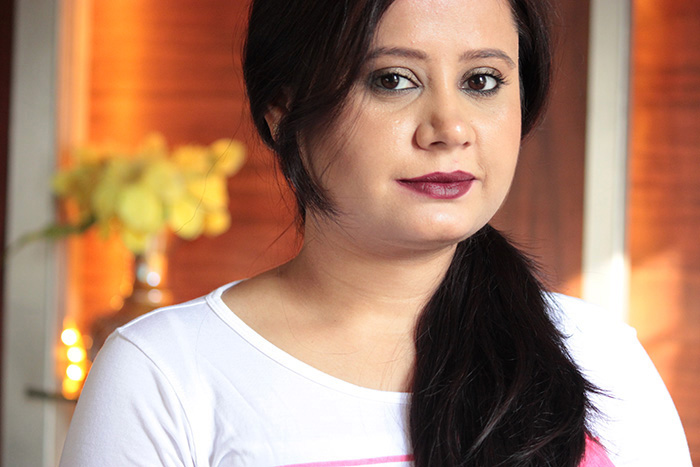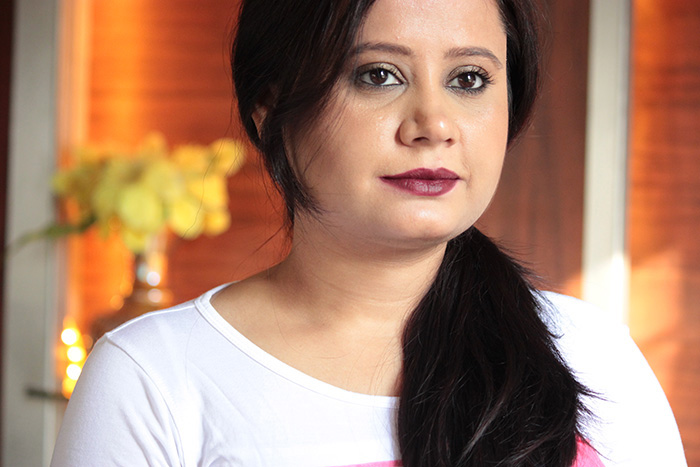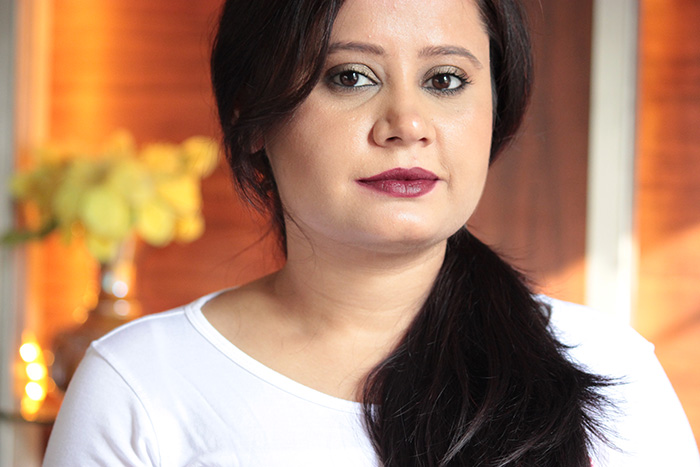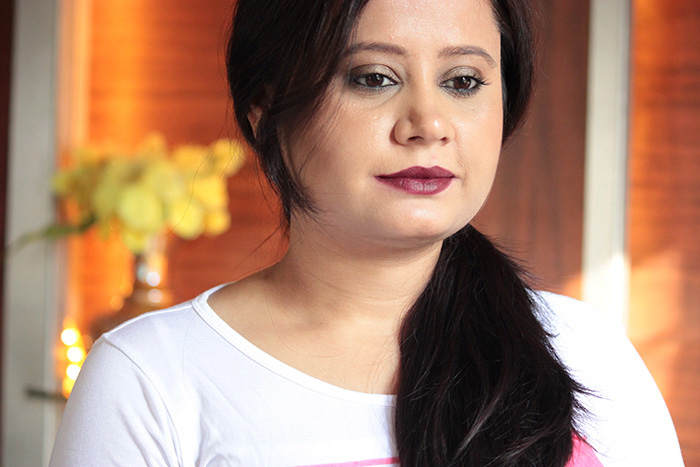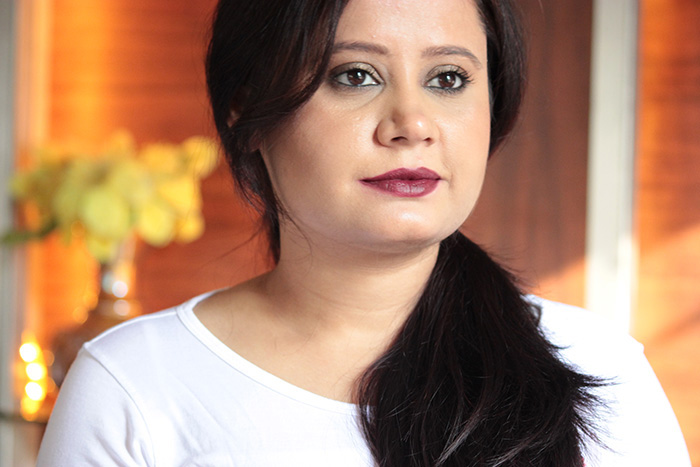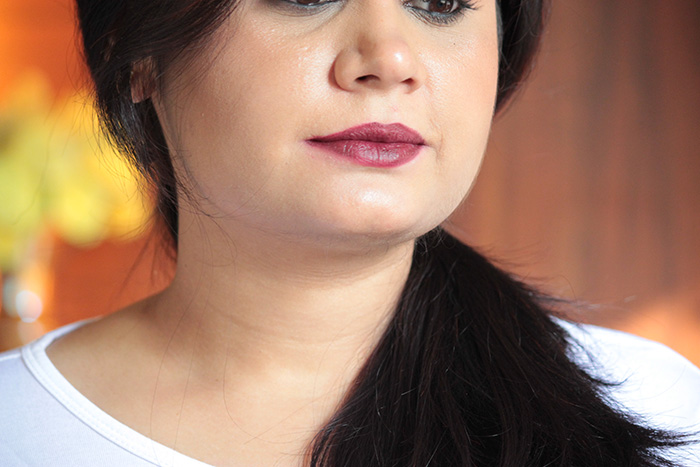 You might also like reading these related topics:
Makeup Look-Peacock Eyes With Rosy Pink Lips
Makeup Look-Matte Brown Eyes With Muted Lips
Makeup Look-Blue Eyes With Contrasting Fuchsia Lips
Indian Festival Makeup Look #1 –Metallic Eyes With Bright Red Lips
Indian Festival Makeup Look #2–Fuchsia Lips With Hint Of Blue On Eyes
Indian Festival Makeup Look #3-Bright Green Eyes With Soft Pink Lips
Indian Festival Makeup Look #4- Golden Eyes With Violet Lips
Indian Festival Makeup Look #5- Brown Smokey Eyes With Natural Lips
Makeup Look-No Base Just Eyes And Lips
Makeup Look-Bold Red Lips With Black Smokey Eyes
Makeup Look-Casual Daily Wear With Winged Eye Liner
Makeup Look: Go Glossy Using L'Oreal Paris Cannes Collection
Makeup Look: Soft and Warm Budgetary Fresher Party Look
Makeup Look: Blue Eyes With Pink Lips
Makeup Look: Black Smokey Eyes With Fuchsia Lips
Makeup Look: Metallic Grey Smokey Eyes With Orange Lips