Makeup Look: Go Glossy Using L'Oreal Paris Cannes Collection
Hi Everyone,
After matte look, here is the glossy look using L'Oreal Cannes makeup products. Unlike the matte one, on which I have to work upon during the weekend because of the bold lips (no matter how much I love dark lip shades, I cannot dare to wear them to workplace), the glossy one was easier to create and carry. Considering the hot summer season, my liking for light hues and the workplace culture, creating this look was a welcoming chore.
If I compare this look with my daily makeup routine, the only thing that differs is the base. On my regular day to day routine, I usually do not apply any base product such as primer and foundation mainly because of scarcity of time. But as this look had to be professional, I did not skip the base makeup.
Stippling is the key when it comes to base makeup; you can achieve that either by using foundation/ stippling brush or by using beauty blender. Beauty blender is an oval shaped makeup sponge that has the flexible material and angular shape to cover every corner of your face such as inner eye corners, nose corner, hair liner etc. The more you work on setting the base, the more flawless your end result will be. Plus, base makeup also increases longevity, which is very much required in this sweltering weather.
For the eyes, I used a gradient look that transitions from bold to soft as you go from outer corner towards inner corner. The blush was to highlight the apple of cheeks. The one thing that I missed doing here was contouring, which would have certainly given a more angular face. If you are planning to recreate this look, I would suggest doing contouring. It is not an essential step but would definitely be cherry on the cake. Never mind, the look was completed with L'Oreal coral encore lip gloss on lips.
For final finishing touch, I did not use pressed powder on entire face as that would have taken the dewiness away. Rather I just dabbed it on T zone, as that is oiliest area on my face, so as to avoid makeup melting down.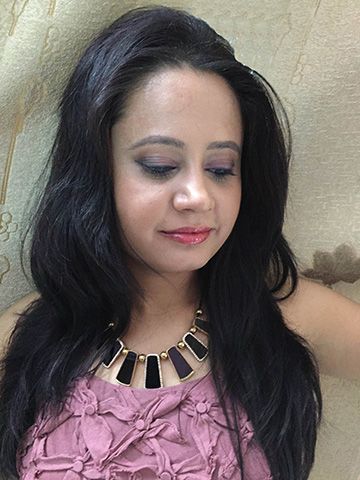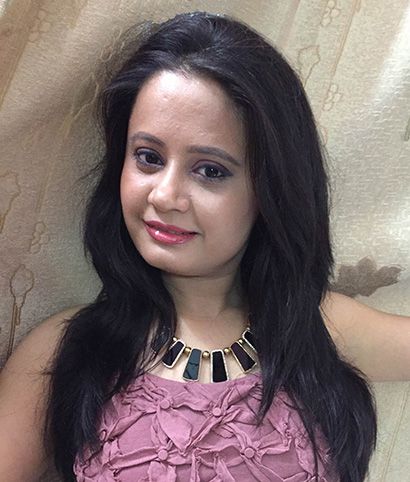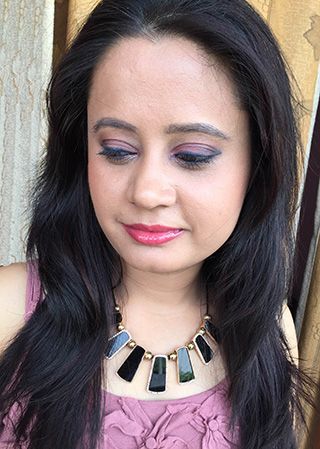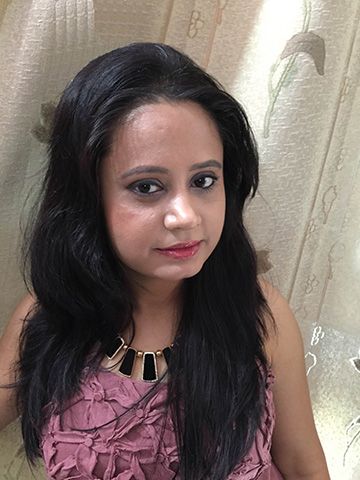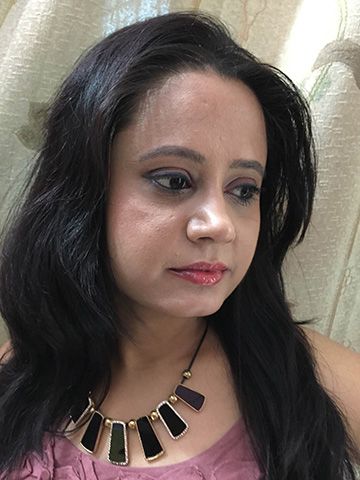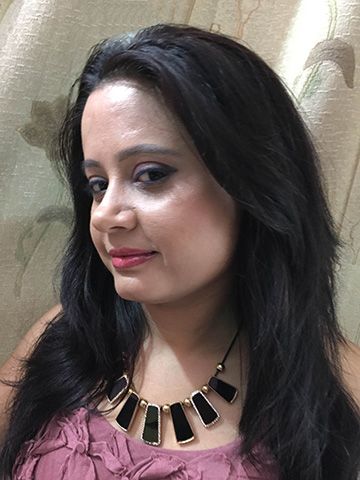 Products used to create this look
Primer: MUA matte perfect complexion balancing primer. I used this matte primer as the foundation was already dewy and I did not want entire makeup to look all messed up.
Foundation: Oriflame The One Illuskin foundation in shade natural beige. This foundation provides a dewy look so serves as an apt base if you are looking for glossiness.
Blush: L'Oreal Paris true match blush in shade true rose.
Lipstick: L'Oreal Color Riche Extraordinaire Lip color Coral Encore
Eye Shadow Palette: Zoeva Rodeo Belle Palette
Eyeliner: L'Oreal Super Liner Gel Intenza
Mascara: Oriflame The One Volume Blast Mascara
Kohl: MAC Technakohl Liner in shade graph black.
Concealer: Clinique quick corrector in shade honey.
You may also like reading these related topics:
Makeup Look: Go Matte Using L'Oreal Paris Cannes Collection
Makeup Look: Soft and Warm Budgetary Fresher Party Look
Makeup Look: Blue Eyes With Pink Lips
Makeup Look: Black Smokey Eyes With Fuchsia Lips
Makeup Look: Metallic Grey Smokey Eyes With Orange Lips