Hi Everyone,
With Cannes 2015 festival in full swing, it has become almost irresistible to not to try the glamorous makeup looks of these topnotch celebrities. While I was experimenting with one of their looks, I got to wear this beautiful lip gloss 'L'Oreal Color Riche Extraordinaire Lip color Coral Encore'. It came out so well on me that I just got glued to it. Since then I have worn it so many times so thought to share the review with you. Read on to know my take on this beautiful lip color.
What the product says:
Formulated with precious micro-oils and rich color pigments, L'Oréal Paris Color Riche L' Extraordinaire provides the ideal balance of color and care for perfect lips. This all in one product gives you the colour intensity of a lipstick, the magnifying shine of a gloss and the softness of a balm.
My Take on 'L'Oreal Color Riche Extraordinaire Lip color Coral Encore'
L'Oreal color riche extraordinaire lip colors or lip glosses come in 13 stunning shades. Every shade looks prettier than rest of them so you would be tempted to add all of them to your stash. The one that I am going to review today is Coral Encore – shade number 202. It is a beautiful coral shade with a hint of orange and pink. When worn in broad day light you would find it more on the lines of pink family but under flashlights it gives an impression of light orange shade. The good thing is both these impressions suit my skin tone, so I am wearing it often these days. Not to mention, it is a perfect summer lip shade with the exact hue and softness that is required on lips in this scorching weather.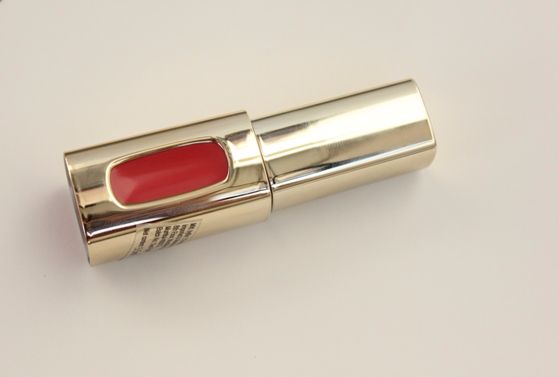 The glossy sheen is accompanied by shimmer, which is quite subtle. For the tiny shimmer particles, it can be worn to every formal and informal occasion. In fact, whatever shimmer it has it is soothing to the eyes; it does not at all look too loud or too gaudy. You can also use this lip color to invigorate the boring lipsticks, but make sure that the base lipstick is of similar shade. Plus, whenever I have to top it on other lipstick I always apply it using finger tips so as to avoid the applicator staining. Hence, whenever you are mixing lipsticks always do that using fingertips, doing so will preserve the original color of every lipstick.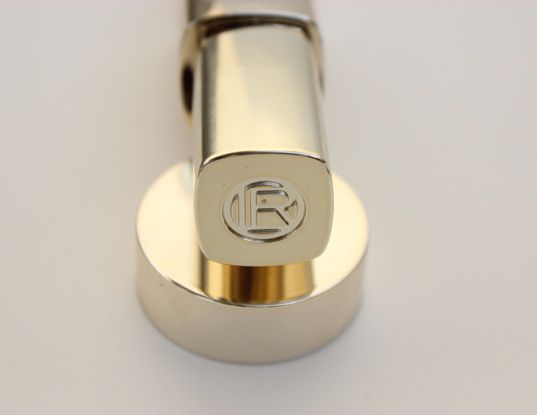 Talking about the packaging, this lip color comes in beautiful golden encase that bears couple of color indicators: one on the bottom and the second on the color holder. In case you have multiple shades, picking the desired one would not be a difficult task. The applicator is angular shaped and feels very soft on lips. The shape of the applicator ensures that color stays within lip boundaries without making too many efforts. In just one quick swipe, I am able to color my lips and that too impeccably. The light weight and spill proof packaging also makes it easily to fit in handbag or vanity case.
The color payoff is sheer to medium. In one swipe you will get the translucent coral color with all that seen but if your lips are slightly pigmented you should go for two swipes. It gives a beautiful pink/orange (depending on the lights) hue to lips. But if your lips are overly pigmented this shade would not be much useful except for the shine.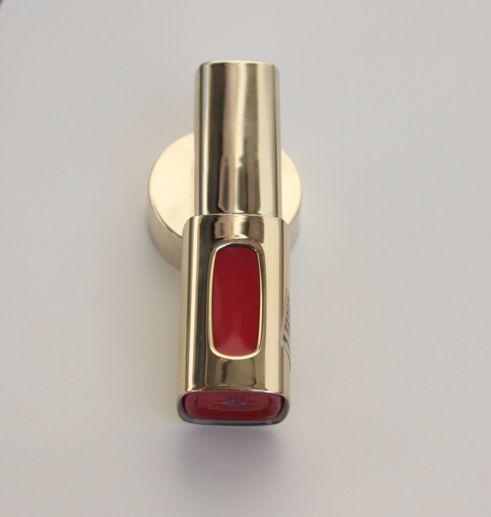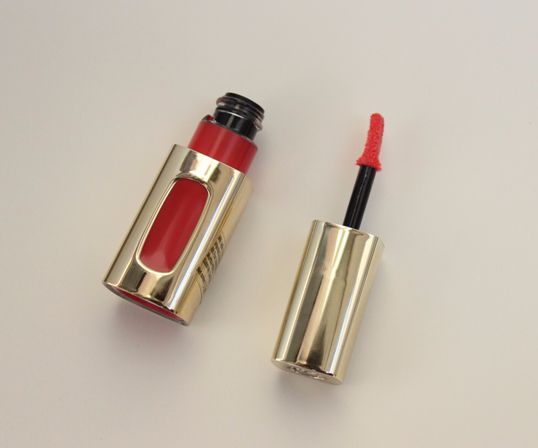 The texture is super creamy and light. In fact, it is really of the types of lip balms; feels feather light and non-sticky. The one thing that needs to be remembered while applying this lip color is that your lips should be well scrubbed. Once, I applied it on non-scrubbed lips and it made the dead skin deposits quite prominent. Rather they were so prominent that I had to wipe off the lip color, scrub my lips and then apply it again. Hence, make sure you have a clean slate before you actually start painting.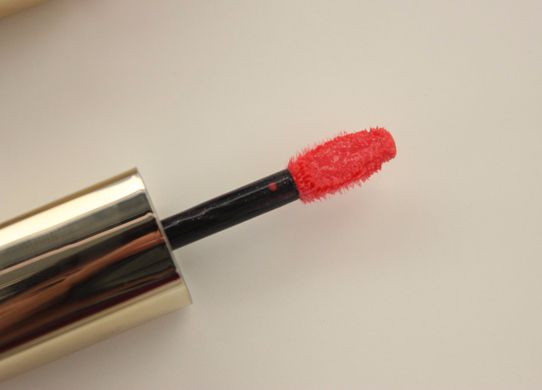 For longevity, as this is sort of a lip gloss so it stays on for 4-5 hours, which is quite above average than other lips glosses available in the market. The staining is even so you do not require touch ups. Unlike other lipsticks that bleed, the color riche extraordinaire lip color seldom does that. It stays intact and then just evenly disappears.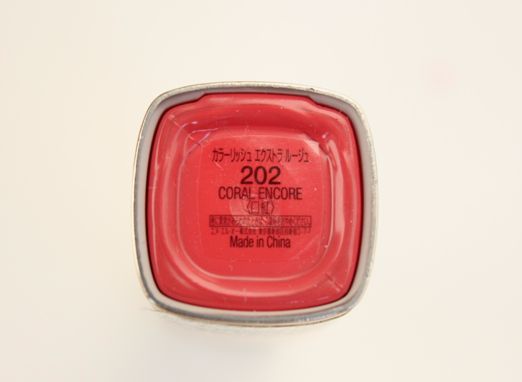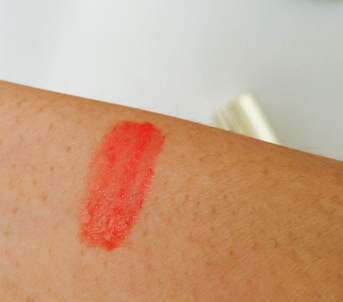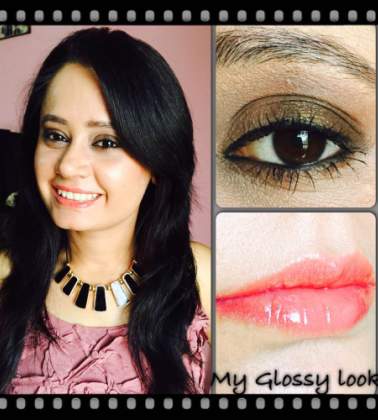 What I like about 'L'Oreal Color Riche Extraordinaire Lip color Coral Encore'
– Beautiful coral core that goes perfectly with no-makeup and makeup looks.
– It feels awesomely light on lips.
– Easily wearable shade.
– It can be topped up on dull lipsticks for sheen.
– It negligibly transfers to cups.
– Applicator is quite easy to use. You do not need to invest too much time in precision.
– It has non-sticky texture, so feel very comfortable.
– Classy golden packaging that is spill proof and travel friendly.
– It does not dry out lips, in fact when it is on lips feel quite moisturized.
– The glossy sheen stays on for 4-5 hours with no meals but intermitting snacking and drinking.
– It does not bleed or feather out.
What I do not like about 'L'Oreal Color Riche Extraordinaire Lip color Coral Encore'
– Sometimes it settles in fine lines so I have to rub the lips together to get the deposits out.
– Price could have been slightly lesser.
– Color payoff is not that great to cover pigmentation on lips.
Price of 'L'Oreal Color Riche Extraordinaire Lip color Coral Encore': INR 950 for 5.5 ml
BABE Rating: 4.5/5
Final Word: L'Oreal Color Riche Extraordinaire Lip color Coral Encore is a two in one product, which provides color and moisture to lips. The feather light non-sticky texture and subtle sheen makes it an optimum girlish product not only for summers but for every season of the year.
You many also like reading these related topics
L'Oreal Colour Riche Lipcolour Taffeta 861 Lipstick review
Oriflame The ONE Matte Lipstick Red Seduction Review Swatch
First Glimpse: Oriflame The One Matte Lipsticks, h2O+ Marine Toner, h2O+ Sea Mineral Scrub
Oriflame The ONE Matte Lipstick Pink Raspberry Review Swatch
Oriflame The ONE Matte Lipstick Wild Rose Review Swatches
Oriflame The One Matte Lipstick Molten Mauve Review Swatch
First Glimpse: Oriflame The ONE Longwear colour unlimited lipstick Swatches – All
Oriflame The ONE Color Unlimited Lipstick Violet Extreme Review
Oriflame The ONE Colour Unlimited Lipstick Mocha Intensity Review Swatch
Oriflame The One Color Unlimited Lipstick Endless Red Perfect For Office Goers
Oriflame The ONE Color Unlimited Lipstick Absolute Blush Review Swatch
Oriflame The One Colour Unlimited Lipsticks Review Fuchsia Excess, Pink Unlimited
Covergirl Lip Perfection Lip color Entwined lipstick review
Faces Go Chic Lipstick Rock Solid Shade Review Swatch
Revlon colorstay overtime Neverending Nude lip color review
Revlon Colorburst Lipstick – 030 Fuchsia Review
Revlon Colorburst Lipstick (Rosy Nude – 065) review
Revlon Plump Sexxxy Lipcolor Rose Passion Review
Revlon super lustrous lipstick creme mulled wine review