Oriflame The One Matte Lipstick Molten Mauve Review Swatch
Hi Everyone,
All this while I have been testing Oriflame The ONE colour cosmetics. The recent collection that I am testing is 'The ONE' matte lipstick collection. As I have said earlier, Oriflame has launched 10 lipstick shades in this category. Most of the shades fall in brown color family, very few have pink or red tinge in them. The shades differ in terms of pigmentation and bleeding, and that's it. The basic formula is as usual to provide moisture to lips. Read on to know how Molten Mauve differs from other shades.
My Take on 'Oriflame The One Matte Lipstick Molten Mauve'
Like all other Oriflame matte lipsticks molten mauve also come in a greyish-mauve packaging that bears Oriflame the one logo. There is no color coding to see the lipstick shade without uncapping, but definitely the shade name is mentioned on the hard case and plastic bullet holder. In case you have more than one lipstick from this range, spotting the name would make it easier for you to locate the desired lipstick.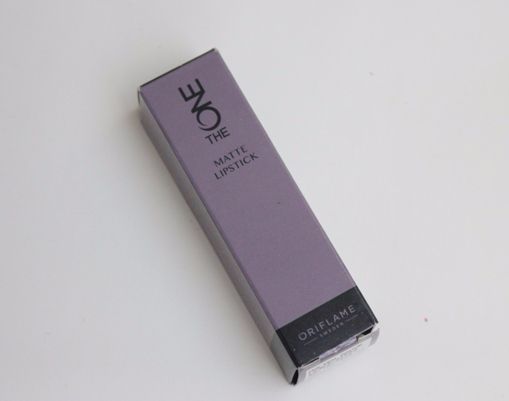 Molten Mauve is a bright mauve shade with black undertones. Under shade it looks sort of brown; when you come in light it gives an impression of bright wine shade. In my opinion, this is the kind of shade that suits all skin tones. For office wear, I find such hues little loud but if I wipe of the top layer with tissue paper it becomes quite wearable for office as well.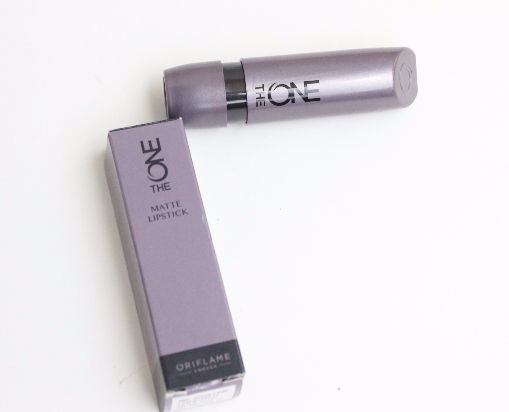 The texture is creamy smooth; the lipstick glides on to the lips like skates on ice. Plus, the pointed front helps in precise outlining, so precise that sometimes I do not even apply lip liner for outlining. The finish is not completely matte; in fact I would say it is semi-matte with slight sheen.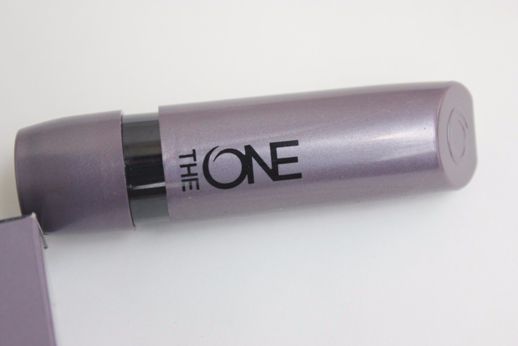 Formulated with intense pigmentation, it gives bold look to your personality. It does not settle into fine lines or even accentuate them. So, on the whole, it would be a good option to cover pigmentation and other lip flaws.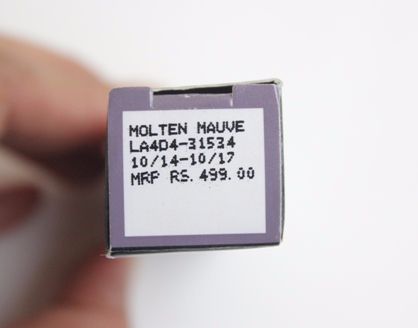 Even though it is a matte lipstick it provides proper moisture. Sometimes, when I wear this lipstick for 8 hours at a stretch, it does not make my lips feel strained or dry in that duration.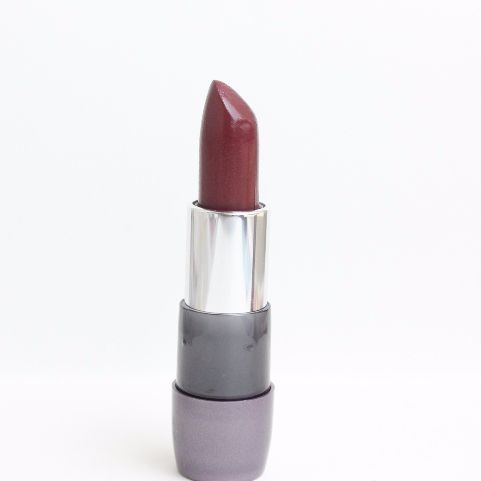 For the longevity, if you have to wear it for long it does require couple of touch ups. Being a dark color, it fades unevenly and makes lips look little awkward. To fill up that unevenness, it needs to be reapplied. Plus, like most of the lipsticks this one is also transferrable. To prevent lip marks on cups, ensure that you use the tissue paper technique. It will also safeguard that the lipstick stay on for longer.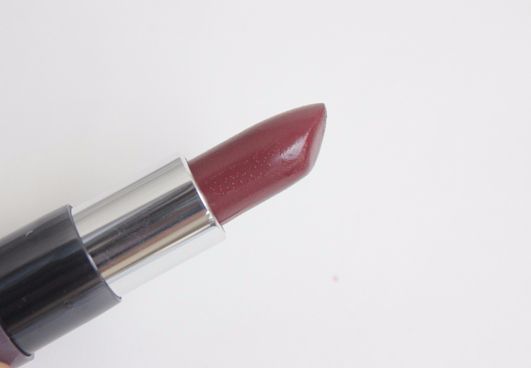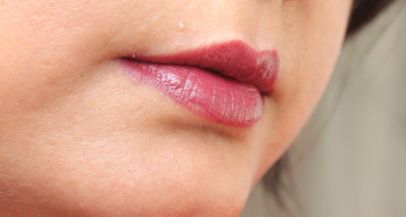 What I like about 'Oriflame The One Matte Lipstick Molten Mauve'
– Bright mauve shade with black undertones.
– It is such a color that would suit all skin tones.
– It keeps the lips moisture all day long.
– Conceals lip pigmentation.
– It does not accentuate fine lines.
What I do not like about 'Oriflame The One Matte Lipstick Molten Mauve'
– It does not entirely give a matte finish.
– It fades unevenly.
Price of 'Oriflame The One Matte Lipstick Molten Mauve': INR 499 for 4g.
Shelf life of 'Oriflame The One Matte Lipstick Molten Mauve': 3 years from date of packaging.
Final Word: Molten mauve is a bright shade that gives you a bold look. It's not at all a girly shade, so if you have the guts to pull off a strong headed look then you should go for this shade. The lipstick is moisturizing and pigmented so you can hide pigmented lips while providing them the dose of moisture.
You may also like reading these related topics
First Glimpse: Oriflame The One Matte Lipsticks, h2O+ Marine Toner, h2O+ Sea Mineral Scrub
Oriflame The ONE Matte Lipstick Pink Raspberry Review Swatch
Oriflame The ONE Matte Lipstick Wild Rose Review Swatches
First Glimpse: Oriflame The ONE Longwear colour unlimited lipstick Swatches – All
Oriflame The ONE Color Unlimited Lipstick Violet Extreme Review
Oriflame The ONE Colour Unlimited Lipstick Mocha Intensity Review Swatch
Oriflame The One Color Unlimited Lipstick Endless Red Perfect For Office Goers
Oriflame The ONE Color Unlimited Lipstick Absolute Blush Review Swatch
Oriflame The One Colour Unlimited Lipsticks Review Fuchsia Excess, Pink Unlimited
Covergirl Lip Perfection Lip color Entwined lipstick review
Faces Go Chic Lipstick Rock Solid Shade Review Swatch
Revlon colorstay overtime Neverending Nude lip color review
Revlon Colorburst Lipstick – 030 Fuchsia Review
Revlon Colorburst Lipstick (Rosy Nude – 065) review
Revlon Plump Sexxxy Lipcolor Rose Passion Review
Revlon super lustrous lipstick creme mulled wine review