Makeup Look: Go Matte Using L'Oreal Paris Cannes Collection
Hi Everyone,
With the soaring temperature, weekend outings have become unthinkable. Despite of happening Friday, I could not do much on the weekend. All my shopping plans foiled as I could dare to step out of the house except for Tanu Weds Manu Returns. Considering all the hype, especially the FB statuses of all my friends who have been watching TWMR I had to see it at all costs. Not to mention, the movie deserves all the applauding as not even a nanosecond bored me during the entire duration. I must say, it is a good entertaining movie.
Enough of the blabbering let me come to the subject of this post. I created this look using the L'Oreal Paris Cannes collection. What could have been a better utilization of time than experimenting with makeup! Nevertheless, this look is a lot different from the other looks I have created so far in terms of lip color and eye makeup. I am not accustomed to carrying such bold hues but the Arabian nights shade turns up so well that nobody can abstain from painting the lips with this beautiful dark wine lipstick. It is the kind of shade that would suit all skin tones. More detailed review on this lipstick is on the way 😉
For the bold lips, rest of the makeup had to be kept minimal. I went for a softer eye makeup- white highlighter on the inner corner, dark pink shade on outer corner and warm pink on the Centre of the lid. The colors were chosen to give them a gradual transition as look goes from outer to inner corner, and also to slightly match the shades with lipstick.
For the face, I did not do much except for basic primer and foundation, topped up with an earthy shade blush. Normally, I use this blush for contouring but because of the bold lip look I wanted to keep rest of the hues to sheer basics and that's why this blush is on my cheeks.
As far as the look goes, I like how it all turned up with soft eyes and bold lips. It was a new experience for me, though for my friends it was something unusual as they are not used to see me in this bold avatar. 😉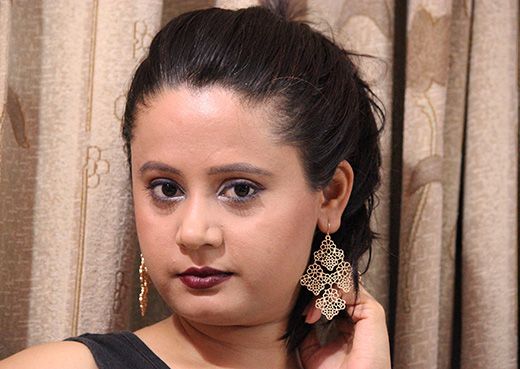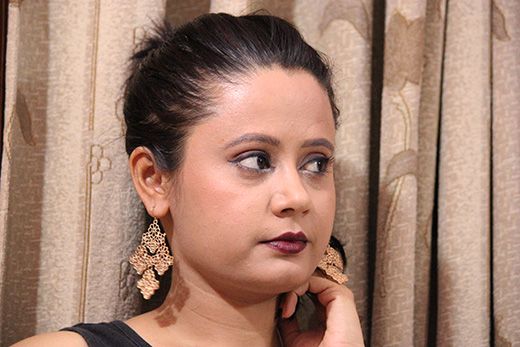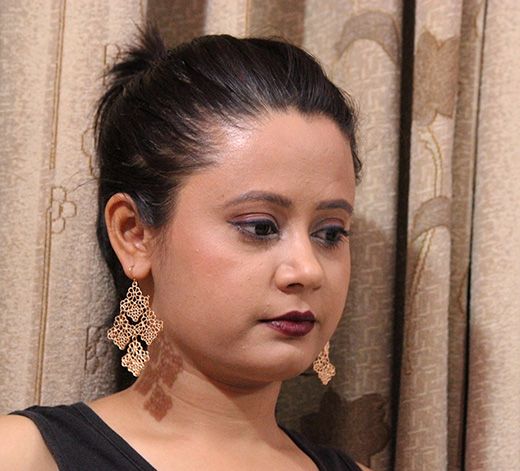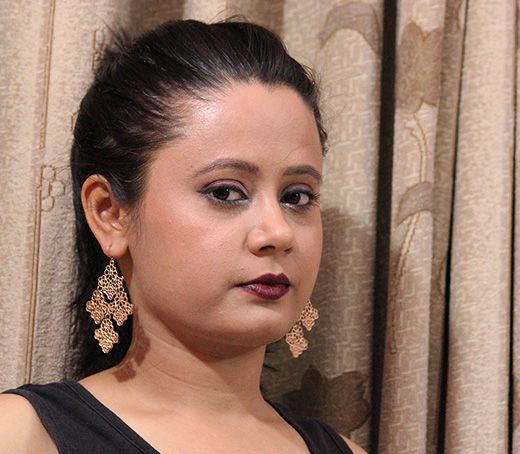 Face makeup product details:
Primer: MUA matte perfect makeup primer. I have used this primer as the theme was matte and I did not want to destroy it with sheen or glow.
Foundation: For base makeup L'Oreal paris infaillible in shade sable was used.
Blush: L'Oreal Paris true match blush in shade honey.
Lipstick: L'Oreal Paris Moist Mat Color Riche in shade Arabian Nights. Review in progress.
Compact powder: Covergirl smoothers pressed powder in translucent fair shade. This step is mandatory if you are looking for a matte look. Doing so would also help in restraining makeup meltdown and increasing its longevity.
Eye makeup product details:
Eye shadow:
Palette 1: Zoeva rodeo belle palette (Bang bang and Cactus flower shades)
Palette 2: Revlon eye shadow quad (White shade)
Mascara: Orfilame the one volume blast.
Upper lash liner: L'Oreal Super Liner Gel Intenza in shade sapphire blue. Review coming up.
Lower lash liner: Maybelline Eyestudio Vivid and Smooth Eye Liner in Ocean Blue shade.
Kohl: Mac technakohl liner eye-liner kajal in shade graph black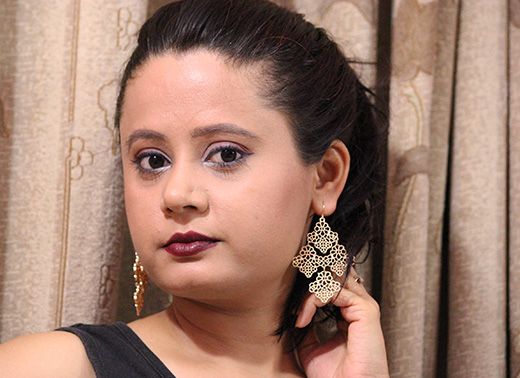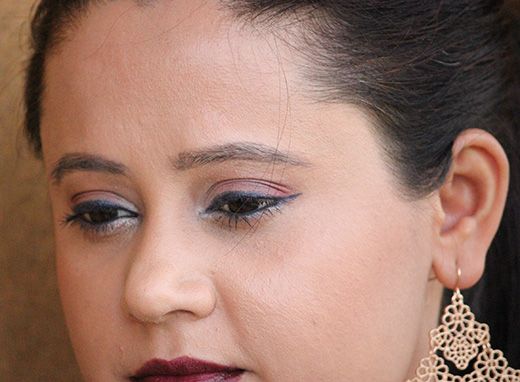 You may also like reading these related topics
Makeup Look: Soft and Warm Budgetary Fresher Party Look
Makeup Look: Blue Eyes With Pink Lips
Makeup Look: Black Smokey Eyes With Fuchsia Lips
Makeup Look: Metallic Grey Smokey Eyes With Orange Lips