Just like every art work, makeup also requires inspiration. That's the reason you see those 'Inspired makeup looks'. It's not that we get inspired only from celebrities or top-notch makeup artists; in my opinion nature is a giant source of inspiration. Whatever exists in this universe has capability to inspire others in one or other way. There is something unique in everybody that makes him/her special, and thus a source of inspiration.
I love rainy season, and when it rained this weekend, after a long time, I felt like it was the second best thing occurred to me in last couple of weeks (first best things was my sister's wedding ). To celebrate the drizzle, I picked up my makeup brushes and created this look. I used shades of blue and green to paint my eyes look like a peacock. Peacock looks way more beautiful when he dances amidst rain, I could not create an exact replica of his beauty and happiness but still I am happy with the way it turned out. The only thing I really wished to do was applying of pair of falsies but as I am not good at them so I just avoided them to save the entire look from spoiling. Irrespective of the length of falsies, I seldom succeed in properly gluing them along the shape of my lash line. If I had worn the lashes, I am utterly sure they would have looked like the open feathers of a happily dancing peacock. Nonetheless, if you know the tricks of wearing false eye lashes please do share them.
Rest of the makeup was quite toned down, except for the rosy pink lipstick. I know, I should have gone for a more subtle lip color but I did not want to stick to any makeup rule so went with what I liked. Finished the look with contouring, some highlighting and light earthy blush. Here is a quick breakdown of the products that were used to create this look.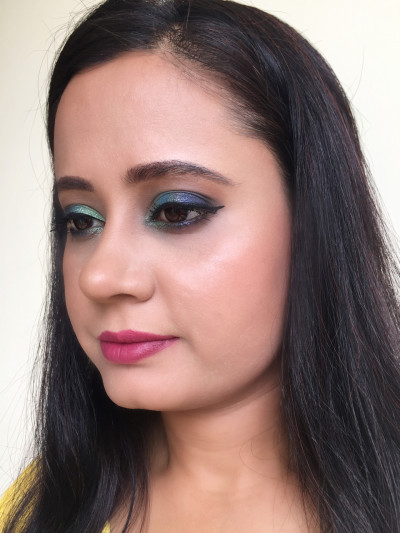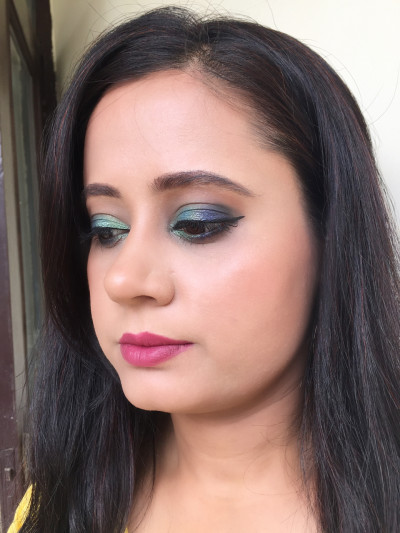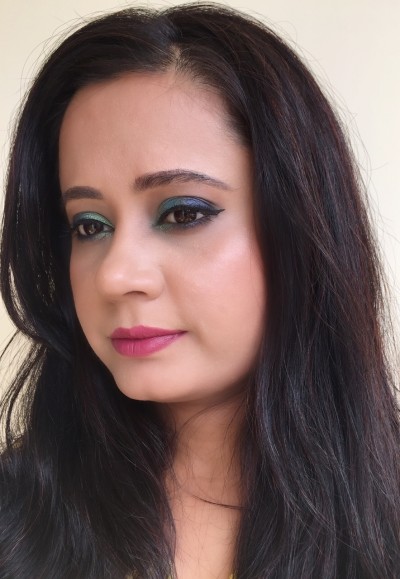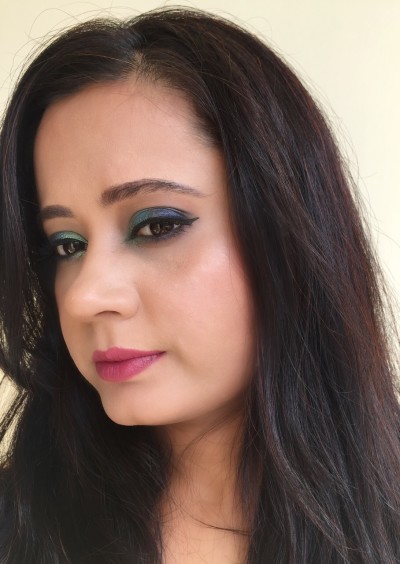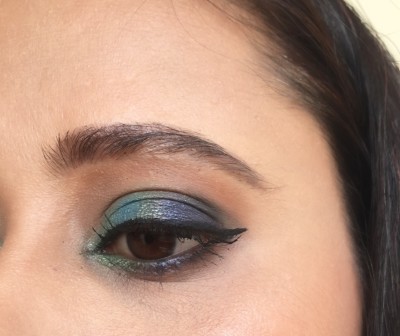 Makeup Breakdown
Base Makeup: Used Maybelline Fit me Foundation in shade warm nude and MAC pro longwear concealer in NC42. I did not apply any primer underneath as I was creating this look for artistic purpose and did not intend to wear it for long. To set the base, I used L'Oreal mat magique powder in shade N6 .
Eye Makeup: For eyes, I used two palettes Zoeva Rodeo Belle eye shadow palette and Revlon blissful girl. From Zoeva, I used the shades Yee haw, hot wind, rodeo ready and early sunrise, and from Revlon palette matte black and royal blur shades were used. Then I lined the eyes using Sugar Eye Told You So Waterproof Eyeliner in Black Swan shade and curled them up using Maybelline the falsies volum express mascara.
Lips & Cheeks: On my lips you see Sugar Cosmetics It's a pout time! Vivid Lipstick in shade breaking bare (review coming up soon). For contouring and highlighting, it was the Sleek Makeup face contour kit in shade medium and for cheeks it was the L'Oreal true match blush in shade honey.
To add more to the joy of rain, I sipped my favorite cup of coffee while watching the dreamy movie 'Music and Lyrics'. It was one of the leisured weekends I had in long time. Hope you too had fun enjoying the rain this weekend. Rest, I would be happy to know how you like this look.
You might also like reading these related topics
Makeup Look-Matte Brown Eyes With Muted Lips
Makeup Look-Blue Eyes With Contrasting Fuchsia Lips
Indian Festival Makeup Look #1 –Metallic Eyes With Bright Red Lips
Indian Festival Makeup Look #2–Fuchsia Lips With Hint Of Blue On Eyes
Indian Festival Makeup Look #3-Bright Green Eyes With Soft Pink Lips
Indian Festival Makeup Look #4- Golden Eyes With Violet Lips
Indian Festival Makeup Look #5- Brown Smokey Eyes With Natural Lips
Makeup Look-No Base Just Eyes And Lips
Makeup Look-Bold Red Lips With Black Smokey Eyes
Makeup Look-Casual Daily Wear With Winged Eye Liner
Makeup Look: Go Glossy Using L'Oreal Paris Cannes Collection
Makeup Look: Soft and Warm Budgetary Fresher Party Look
Makeup Look: Blue Eyes With Pink Lips
Makeup Look: Black Smokey Eyes With Fuchsia Lips
Makeup Look: Metallic Grey Smokey Eyes With Orange Lips