Hope you are enjoying the cold weather. This is my favorite season as I get to cuddle in cozy blankets, drink as many cups of mocha as I want, shop in open markets and dress up in colorful clothes. I love bright colors, and winter season is an excuse to wear them more often. Vibrant colors add life to the look and make me feel more confident and alive. I am not a specific color chooser- love every color as long as I know the style to carry it. Still, in my wardrobe one can easily spot a majority of fuchsia, royal blue, yellow and black outfits. As I have been getting attracted to these colors more often I feel I have mastered the art of styling them 😛
And, when it comes to makeup, I love experimenting with various colors and creating diverse looks. Today I am sharing with you the latest look I created this weekend. I know we should usually focus on just keeping either eyes or lips bold but this was an evening look so I did not care about the contrast and loud appearance (if it speaks of that). In fact I like how it turned out, and this contrast went very well with my blue outfit, which I wore for the evening. Hope you like it.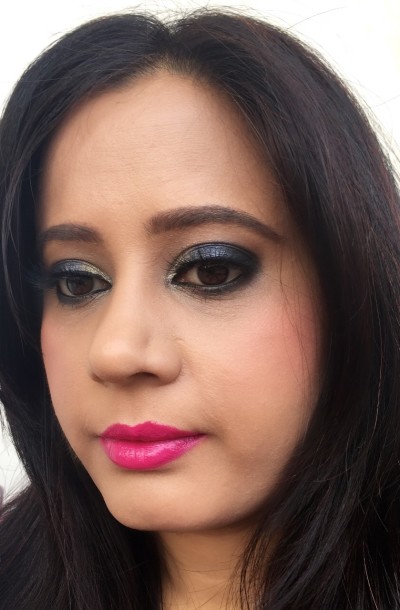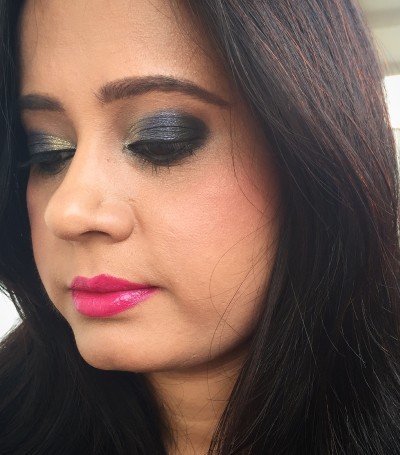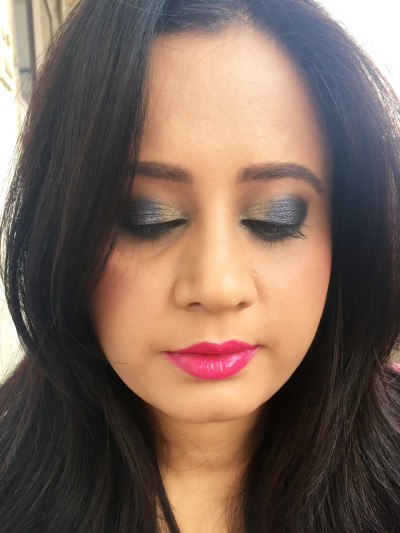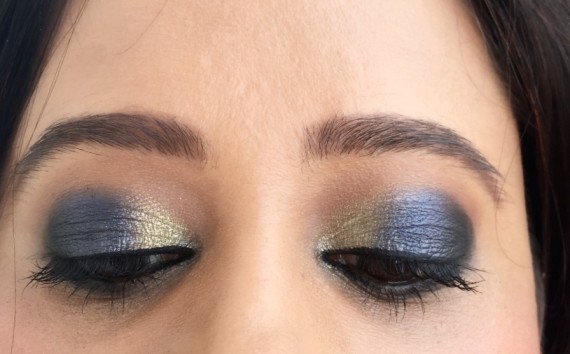 Here's the list of products that I used for this look:
Base Makeup: For base makeup I applied MUA matte perfect primer on well moisturized face. In winters it is essential to apply moisturizer underneath makeup as not doing so will make the skin look patchy and break the makeup. After the primer was set, I used L'Oreal Paris Infallible foundation to even out skin tone and prepare a good canvas for my makeup brushes.
Eye Makeup: Started with 'Rodeo Ready' shade from Zoeva Rodeo Belle eye shadow palette. Using a fluffy brush, I applied it on the crease focusing more at the outer corner. This shade provides a beautiful transition on Indian skin tones. Then I applied black kohl on outer V and smudged it gently. You can just use any black kohl as it is to deepen the intensity. After kohl, I smeared outer corner with black matte eye shadow, followed by blue eye shadow from Revlon blissful girl eye shadow palette. Applied the blue shadow till 2/3rd of the lid, and then used a shimmery yellow eye shadow on rest 1/3rd area. Once the lid is all laden with color, I softly blended the three eye shadows removing any harsh transitions. Post that, I completed the eye look using a thin lining of black eyeliner and black kohl at the waterline. I like to smudge the kohl as it gives a soft yet dramatic look.
Lips & Cheek: On my lips you see Revlon color burst lipstick in shade 030 fuchsia. It is a bright pink color with blue undertones, and has the capability to lift just any look. It really paired up well with this blue eye look as well. On cheeks, I used L'Oreal Paris True Match blush in shade true rose. It is a buildable blusher, so its pigmentation can be easily increased according to the occasion, which I did for this evening look.
So that's all, I did not apply any compact powder because my skin is already feeling slightly dry and I did not want to shorten the longevity of my makeup.
I hope you liked the look. Let me know if you want to see a specific makeup look or even a step-by-step tutorial.
You might also like reading these related topics
Indian Festival Makeup Look #1 –Metallic Eyes With Bright Red Lips
Indian Festival Makeup Look #2–Fuchsia Lips With Hint Of Blue On Eyes
Indian Festival Makeup Look #3-Bright Green Eyes With Soft Pink Lips
Indian Festival Makeup Look #4- Golden Eyes With Violet Lips
Indian Festival Makeup Look #5- Brown Smokey Eyes With Natural Lips
Makeup Look-No Base Just Eyes And Lips
Makeup Look-Bold Red Lips With Black Smokey Eyes
Makeup Look-Casual Daily Wear With Winged Eye Liner
Makeup Look: Go Glossy Using L'Oreal Paris Cannes Collection
Makeup Look: Soft and Warm Budgetary Fresher Party Look
Makeup Look: Blue Eyes With Pink Lips
Makeup Look: Black Smokey Eyes With Fuchsia Lips
Makeup Look: Metallic Grey Smokey Eyes With Orange Lips