Makeup Look-No Base Just Eyes And Lips
Hi Everyone,
As the title says, in this makeup look I have done the eyes and lips without creating any base. In my opinion, base is required when you need to wear makeup for long hours and/or you do not have even skin tone. I would rather spend my time in making my skin tone even than doing a makeup base for the flawless look. Undoubtedly, base helps in enhancing the longevity, controlling unnecessary sheen and intensifying the pigmentation of colors. If the look demands then you should definitely not skip the base part. On the other hand when I have to keep the makeup on for short durations, I skip base yet always apply moisturizer and dab slight compact powder to mattify my super oily skin. But if you are going for a party or need to wear makeup for long hours, I would recommend you to religiously follow the base makeup techniques.
Well, coming to today's look I have used Zoeva Rodeo Belle Eye Shadow palette on eyes.
1) First 'rodeo ready' on the crease and eye lid – from inner to outer corner.
2) Second 'early sunrise' above the crease till brow bone.
3) Third 'hot wind' on the outer corner, and lower inner corner.
4) On lower outer corner, I have matte black shadow from Revlon palette.
Finalized the look using 'Maybelline gel eyeliner' and 'Oriflame the one mascara', along with Cara K false eye lashes. I am donning these lashes often these days, so you can expect a review soon.
On my lips, it is 'Orange Icon' lipstick from Maybelline color show range. I love this shade as it is not a very bright orange but a soft coral one. It adds softness to the overall look; the detailed review on the lipstick will be up on the blog in a while. Till then, enjoy the pics.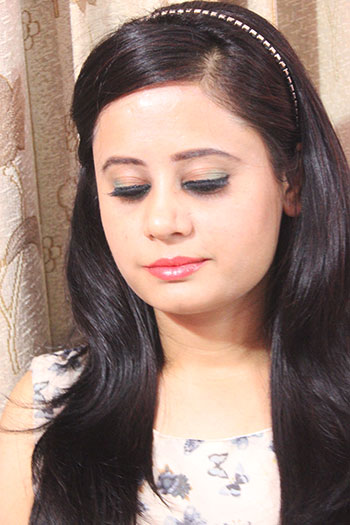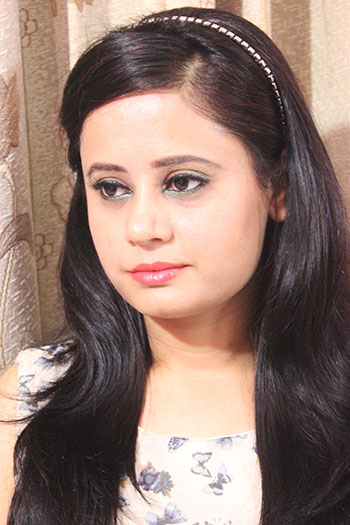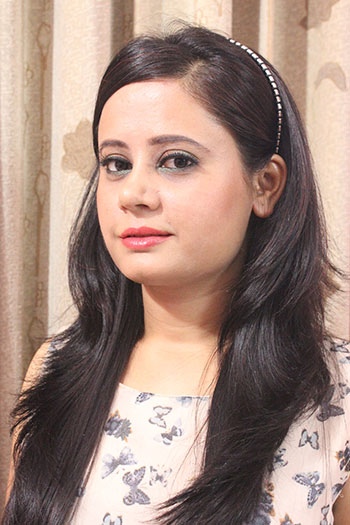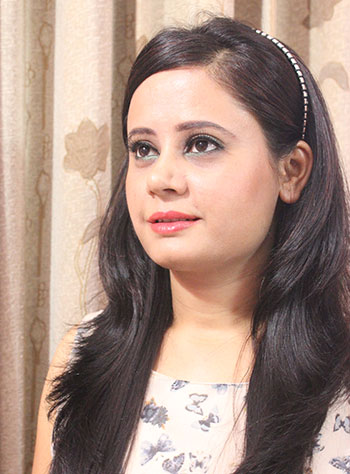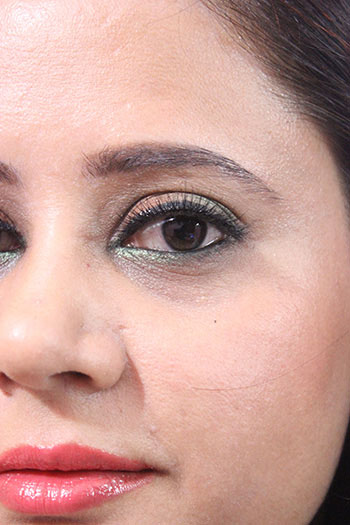 You may also like reading these related topics
Makeup Look-Bold Red Lips With Black Smokey Eyes
Makeup Look-Casual Daily Wear With Winged Eye Liner
Makeup Look: Go Glossy Using L'Oreal Paris Cannes Collection
Makeup Look: Go Matte Using L'Oreal Paris Cannes Collection
Makeup Look: Soft and Warm Budgetary Fresher Party Look
Makeup Look: Blue Eyes With Pink Lips
Makeup Look: Black Smokey Eyes With Fuchsia Lips
Makeup Look: Metallic Grey Smokey Eyes With Orange Lips