For Look #3, I focused on my eyes more. If you have been reading my blog for over a long time you would know that I love doing eye makeup. In the first two looks of 'Indian festival makeup look' series I kept the eye makeup toned down because the lips were too bright. But for how long I would have restrained myself from doing a bold eye look! So, for this third look I made my eyes stand out while keeping everything else to bare minimum. Well, it is not actually bare minimum but still quite muted if you compare with the eye makeup. 😉
I had never painted my eyes with deep green eye shadow before so was quite excited to see the outcome. To lift up the look even more, I used a pair of false eye lashes. This is quite an easy trick- if you want to make your eyes stand out, just don a pair of false eye lashes. The fuller and longer your lashes will be, the more dramatic your look will become.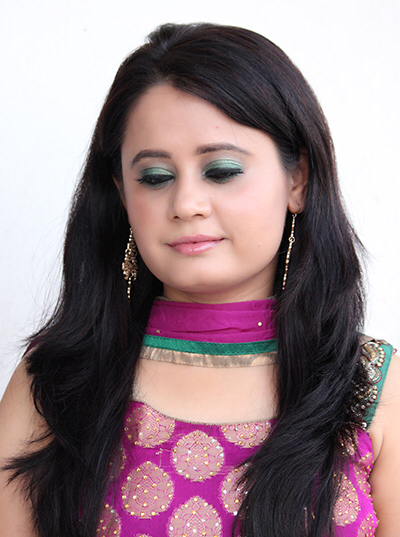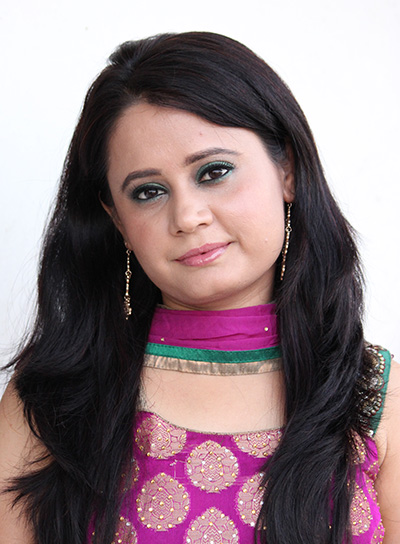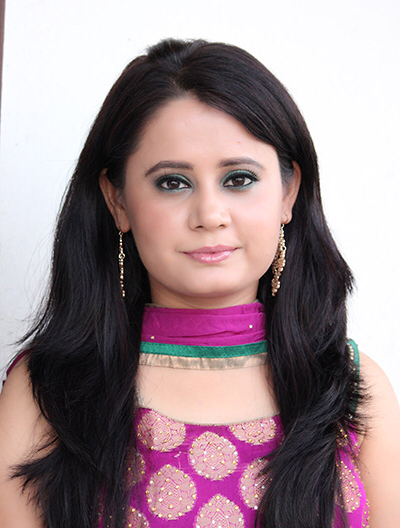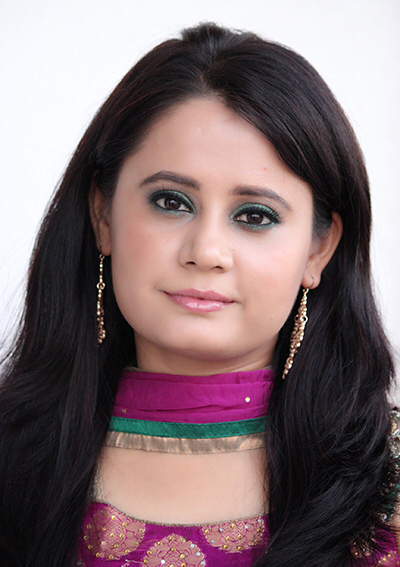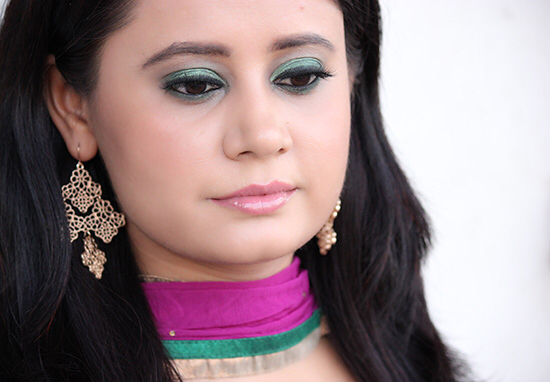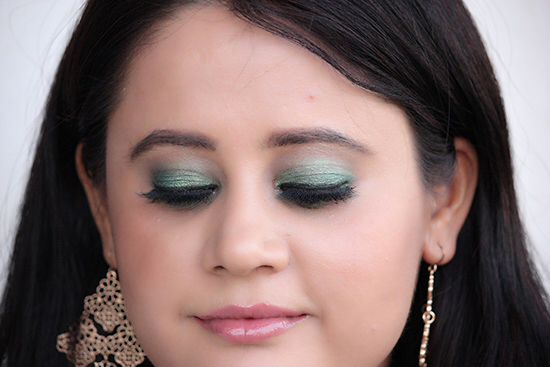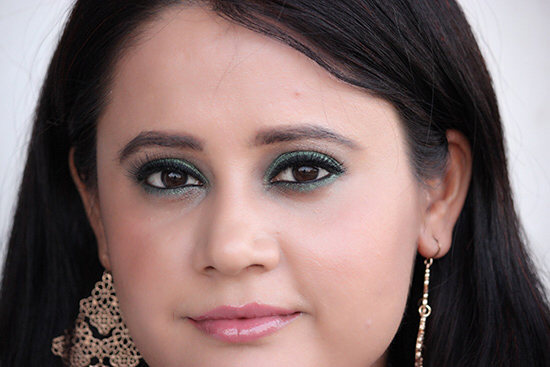 Well, for this look I used everything – right from the base makeup to false eye lashes. For base, I used my usual L'Oreal Paris foundation in sable sand shade, followed by Makeup revolution concealer in shade medium. After doing base, I moved to eye makeup. For which, I first covered my lid in thick layer of black kohl. You can use any kohl for that matter without worrying about doing it the right way. Once, the lid is smeared with kohl, pat green eye shadow (I used HOT WIND shade from Zoeva Rodeo Belle eye shadow palette) all over the black layer. Now, using a crease brush soften harsh edges carefully, without wiping of what you need. Afterwards, highlight the brow bone and do your eyebrows – I used Luscious perfect brow kit for brow grooming. Finally, I completed the eye look with a pair of false eye lashes from Cara-K. For cheeks, I used sleek makeup contouring kit and MAC All's good blush. As I had done bold eye makeup, so to maintain the color equilibrium I needed to keep my lips light. Hence, I used Maybelline colorsensational lipgloss in mirrored mauve shade. This is a very pretty daily wear shade, and one of my favorites too. Wait, the look is not over yet – finally I set everything using L'Oreal mat magique compact. My skin is super oily so I badly need this last step to increase the longevity and intactness of makeup. I bought this compact after reading a lot of positive reviews about it. It's almost getting out of the testing phase, so hopefully I will be able to post the review pretty soon. Stay tuned for that, and for the next 'Indian festival makeup look' post.
You might also like reading these related topics:
Indian Festival Makeup Look #1 –Metallic Eyes With Bright Red Lips
Indian Festival Makeup Look #2–Fuchsia Lips With Hint Of Blue On Eyes
Makeup Look-No Base Just Eyes And Lips
Indian Festival Makeup Look #4- Golden Eyes With Violet Lips
Indian Festival Makeup Look #5- Brown Smokey Eyes With Natural Lips
Makeup Look-Bold Red Lips With Black Smokey Eyes
Makeup Look-Casual Daily Wear With Winged Eye Liner
Makeup Look: Go Glossy Using L'Oreal Paris Cannes Collection
Makeup Look: Go Matte Using L'Oreal Paris Cannes Collection
Makeup Look: Soft and Warm Budgetary Fresher Party Look
Makeup Look: Blue Eyes With Pink Lips
Makeup Look: Black Smokey Eyes With Fuchsia Lips
Makeup Look: Metallic Grey Smokey Eyes With Orange Lips