I am bright color person, if allowed I will wear bold and quirky colors every day. And that is the reason I never let go an opportunity to add another colorful attire to my wardrobe. Though I seldom get an opportunity to wear them but whenever I do I like supporting it with full-fledged makeup.
For part 2 of Indian Festival Makeup Look I did not have to do a lot of effort. Recently, there was some family function wherein I was required to wear an ethnic outfit, and you know an ethnic outfit is incomplete without makeup… so became a source of look #2. For the function, I wore my favorite yellow suit that has a tinge of silver and blue in it. This is one of my favorite ethnic wears but I cannot wear it often as it is very gaudy. In fact most of my ethnic collection is like this so I keep waiting for such occasions to adorn them. Above all, yellow is one of my favorite colors and that is another reason why I like this outfit so much.
Choosing the right makeup colors is never a problem for Indian ethnic wears, you just have to do little color coordination and you are set to rock the look. A bright red lipstick would have easily gone well with yellow, but as I wanted to give a soft feminine side to it rather than a bold look, I decided to go on with a pink lipstick. In my opinion, even a dark pink lipstick keeps the innocent, feminine look alive but the moment you adorn a red lipstick it gives you a bold avatar – that makes people cringe with fear and I did not want my relatives to feel any of that… hehe. Well, let me know how you find this look. What lipstick would you have preferred with this outfit?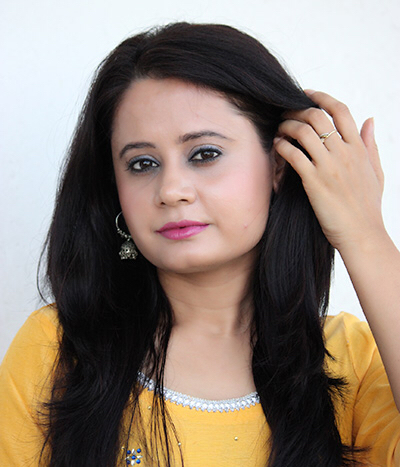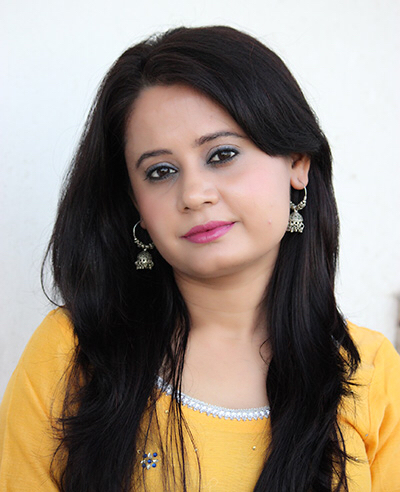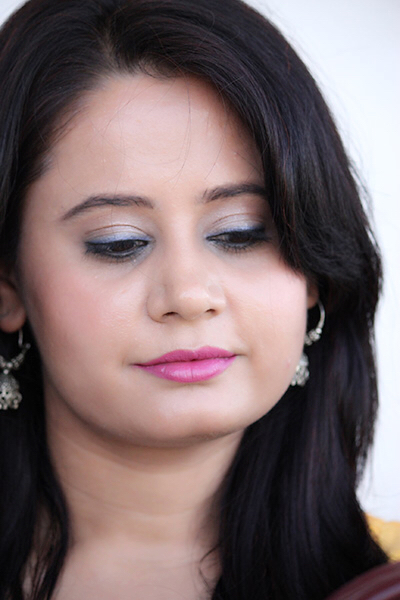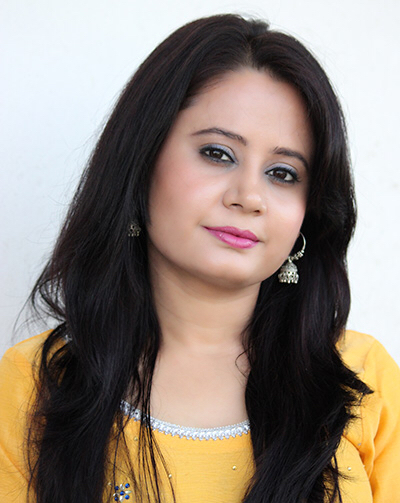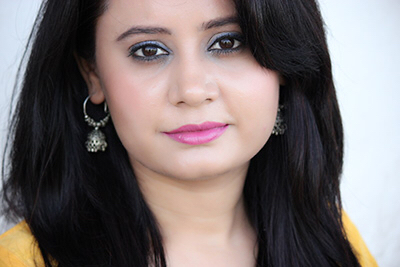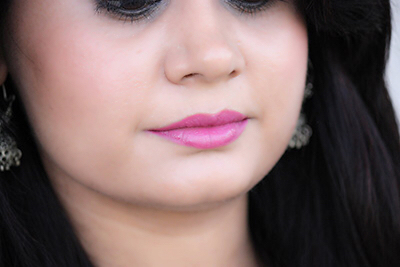 For this look, I did not apply a lot of foundation- just a thin layer to even out the skin tone. I did not even use any concealer as well, rather moisturized the under eye area using TBS Vitamin E cream. For eye makeup, I used silver and blue shades as both these colors were in my dress so I wanted to include them in the makeup as well. I used silver eye shadow as base, Maybelline ocean blue liner on upper lash line, followed by a thin layer of black eyeliner. For the lower lashes, I used Faces magneteyes kajal and smudged it to soften the harsh boundaries. For cheeks, I used sleek makeup contouring kit for contouring and L'Oreal true match blush in shade true rose for apple of cheeks. This is one of my favorite blushes as it gives the most natural looking pink cheeks. On my lips you see pink raspberry lipstick from Oriflame the one collection – again another favorite. To use all these products, I took help from the delicate beauties of Real Techniques core collection and eye enhancer brush set.
You might also like reading these related topics
Indian Festival Makeup Look #1 –Metallic Eyes With Bright Red Lips
Indian Festival Makeup Look #3-Bright Green Eyes With Soft Pink Lips
Indian Festival Makeup Look #5- Brown Smokey Eyes With Natural Lips
Indian Festival Makeup Look #4- Golden Eyes With Violet Lips
Makeup Look-No Base Just Eyes And Lips
Makeup Look-Bold Red Lips With Black Smokey Eyes
Makeup Look-Casual Daily Wear With Winged Eye Liner
Makeup Look: Go Glossy Using L'Oreal Paris Cannes Collection
Makeup Look: Go Matte Using L'Oreal Paris Cannes Collection
Makeup Look: Soft and Warm Budgetary Fresher Party Look
Makeup Look: Blue Eyes With Pink Lips
Makeup Look: Black Smokey Eyes With Fuchsia Lips
Makeup Look: Metallic Grey Smokey Eyes With Orange Lips