Hi Everyone,
Kajal is one thing I never step out of my home without. I do not like experimenting with kajals much as they have to be applied on the eyes. If I keep experimenting with them I may end up hurting my eyes eventually. For that reason, I have been using MAC Technakohl kajal for really long. I could not have switched to 'Faces Magneteyes Kaja'l if the MAC store was not out of stock of technakohl that day. Initially, when I started using Faces magneteyes I was apprehensive whether to apply it on the waterline. But after 2 weeks of usage many apprehensions are settled now. To know my complete opinion about this kajal read further.
My Take on 'Faces Magneteyes Kajal'
Face magneteyes kajal comes bodied in a cardboard case. The kajal pencil is tomato red in color. As red kajals are not to be found easily so if you have it in your vanity box it can be spotted in an instant. Believe me, it used to take me a lot of time to spot my black-bodied kajal pencil as most of the eye liners, kajals or lip liners come housed in black bodies. So if you have the faces kajal you won't have to spend much time in locating it.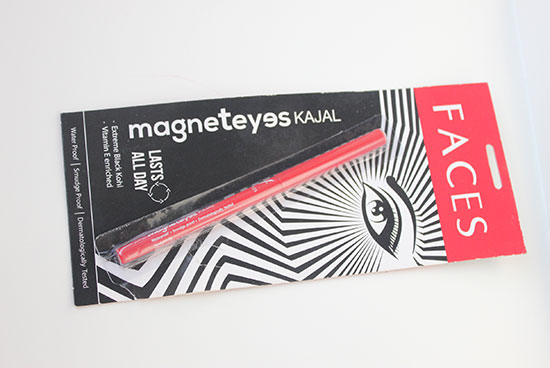 It is based on a retractable technology so you can easily twist it up and down. Even if you twist-up more lead you won't need to exert pressure on the tip to twist it back. It goes back on its own. The plastic is sturdy enough to protect the lead from breakage, and it has a good-grip cap that shuts with a click.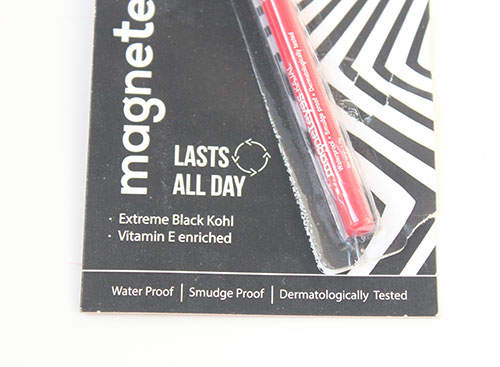 The texture is smooth and creamy. It glides on to the eyes without pulling the skin. It spreads evenly as you move the pencil so you do not even need to tag the kajal around. On waterline, as with other kajals, it is slightly difficult to apply. You may need couple of swipes to build up the pigmentation. Other than that it has a very convenient application that does not hurt the eyes.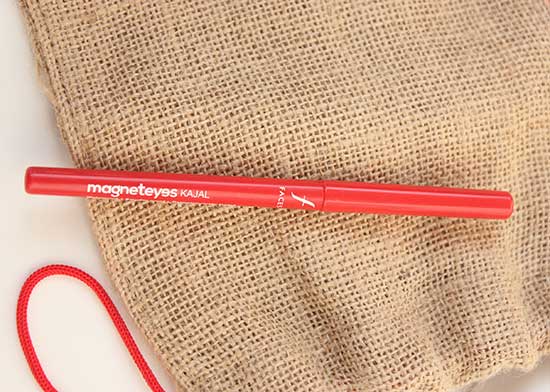 It is a jet black kajal that has an excellent pigmentation. The pigmentation is quite prominent even on a single swipe, but if you like bold eyes you can use multiple swipes to build up even more intensity. As I said earlier, on the waterline you may definitely need multiple swipes to make it set and show up.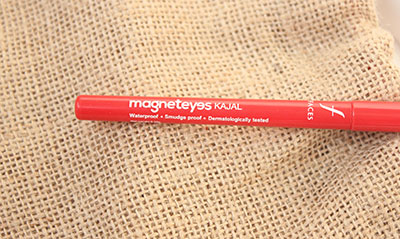 The staying power is about 4 hours. It stays intact, the way it has been applied, for that duration. Make sure you do not rub your eyes in that period because if you do that the kajal will disappear. But the good thing is it does that without creating any blackness around your eyes. You can always reapply it without worrying about wiping the mess from your under eye area.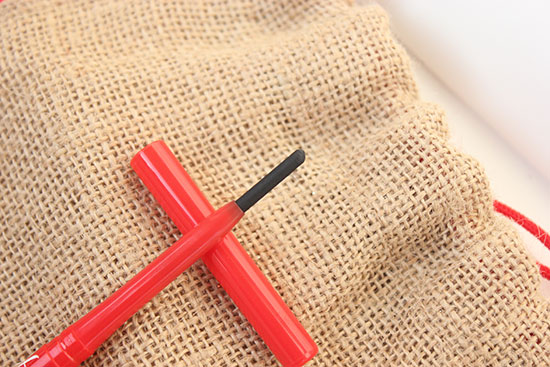 As long as you do not rub your eyes, this kajal does not smudge or melt down. It stays like that for good 4 hours and then just starts disappearing. For waterproof trait, I do not completely second that as it can be easily removed with water and does not even leave any traces behind- which in my opinion is a good property of a makeup product.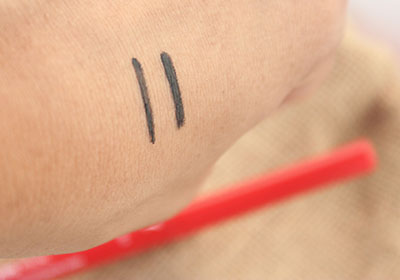 What I like about 'Faces Magneteyes Kajal'
– Based on retractable technology so very convenient to use.
– It does not waste any product as no sharpening is not required.
– Enriched with minerals and Vitamin E.
– Good pigmentation that makes it shows up well on eyes.
– Red color body makes it easy to spot.
– It glides on to the eyes smoothly with no tagging or pulling of skin.
– It does not smudge or melt down.
– It comes with an affordable price tag.
What I do not like about 'Faces Magneteyes Kajal'
– Staying power would have been little more.
Price of 'Faces Magneteyes Kajal': INR 175 you can buy it online from Flipkart.com
Shelf life of 'Faces Magneteyes Kajal'- Around 30 months from date of manufacturing.
BABE Rating: 4/5
Final Word: Enriched with Vitamin E, Face mangneteyes kajal has good pigmentation, creamy texture and convenient application. And all those things come at a very affordable price. So considering the price, the pigmentation and the staying power, this kajal gets a 'thumbs up' from BABE.
You may also like reading these related topics
Mac Technakohl Liner Eye-Liner Kajal Graphblack Review
Lakme Eyeconic Kajal Black review
Lotus Herbals Natural Kajal Review and Swatch