I always try to adhere to my skincare regime for that flawless and immaculate skin. But there are times when things go out of control, leading to acne scars, dark circles around the eyes or even blemishes. To tackle such irregularities, I rely on concealer. As the name says, a concealer hides the imperfections giving an even skin. While I was looking for a perfect concealer for my skin type and skin tone, I decided to give a try to MAC Pro Longwear Concealer NC42. Read on to know if this is the best concealer for me.
What the product says:
A lightweight fluid concealer that provides medium to full coverage with a comfortable natural matte finish. Gives a smoother, flawless-looking finish on skin. Helps to conceal flaws, dark spots, skin discoloration and under-eye circles.
– Long-wearing, 15 hours.
– Water-resistant.
– Transfer-resistant.
– Dermatologist tested.
– Ophthalmologist tested.
– Non-acne genic.
– Fragrance free.
– For all skin types.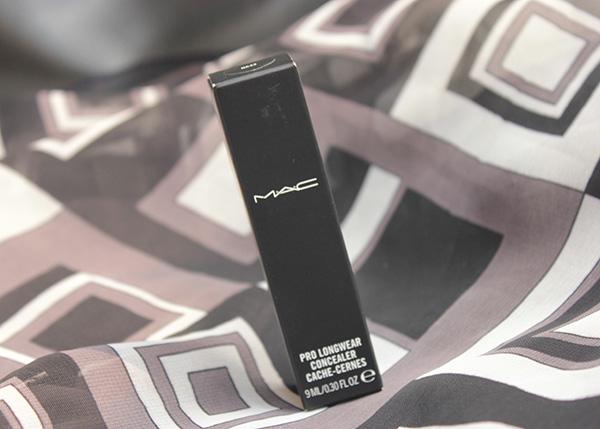 My Skin Type: Combination to oily
My Take on 'MAC Pro Longwear Concealer NC42'
MAC pro longwear concealer comes in a compact size. It is housed in a small pump-dispenser vial, which is further enclosed in a black carton. The carton has everything, right from price to shade number to ingredient list mentioned on it. The plastic tube is transparent and lightweight, and has shade number mentioned at the bottom. It has a black cap on top that closes with a sound, ensuring the content is sealed properly and will not be spilled all around. The only and huge problem with the packaging is that the pump dispenses a lot of product. No matter how careful I am while pressing it down, it always oozes out enormous quantity of the concealer. As this is a medium to high coverage concealer so a tiny drop of it is sufficient to conceal everything but the pump dispenses a big drop which leads to wastage. And, considering the price of this concealer I do not like seeing it getting wasted. I really wish there had been a workaround to take out just the required quantity.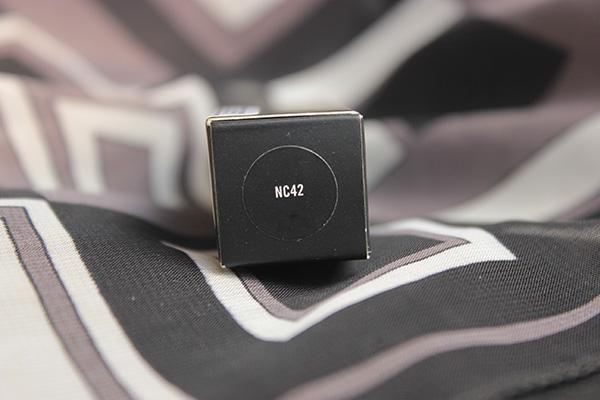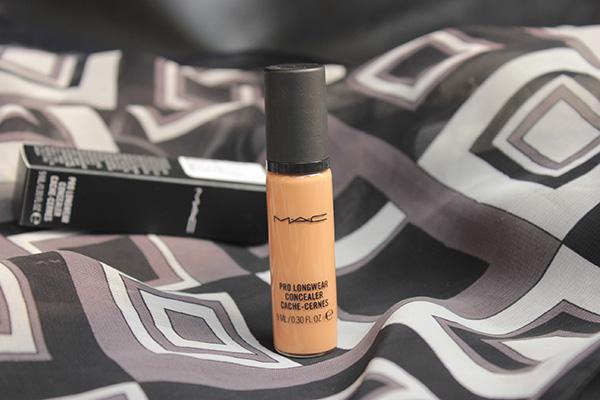 It is a fluid concealer but the consistency is not much runny. I can easily work with it using either finger- tips or a soft brush but when I have to apply the concealer on dark circles I mostly prefer finger over brush. It requires some effort in blending, once blended it settles nicely giving a matte finish. As the finish is matte, it does not necessarily need another layer of compact to set it but I always do that if I have to wear it for long hours.
With or without compact, if you have fine lines or wrinkles around the eyes this concealer will settle in. I have few lines near the lower lash lines and it settles into them pretty fast. This might be a huge concern if you have very prominent lines. Also, on dry skin the matte finish would not be ideal as it may lead to a broken-makeup look. You may try applying moisturizer and the look might stay intact in that case.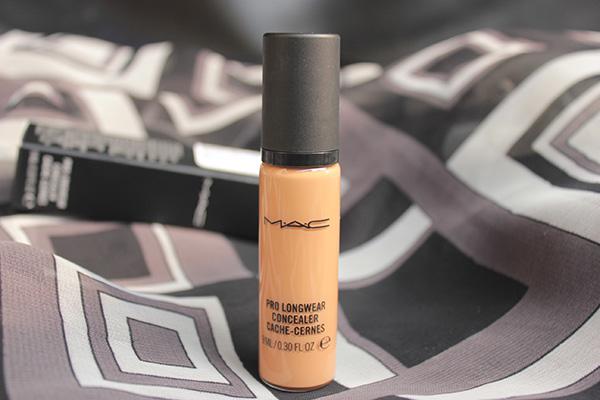 I have wheatish skin tone, and the shade NC42 is perfect for it. Even if you have slightly fairer skin tone this will go pretty well with it. NC42 has yellow tone which evens out my under eye areas without making it look grey or white. It covers 90%-95% of the pigmentation giving bright eyes that can easily carry any makeup look. If the pigmentation is less it can provide completely flawless look, and it does that on blemishes, acne-scars and all other uneven spots on the skin.
For the staying power, it claims to stay for 15 hours. I have not worn it for that long but yes it has never let me down in those 8-9 hours I have applied it to conceal the dark circles or spots on my face. On my oily skin, the matte finish of this concealer does not give a superficial look except for settling in some fines lines around the eyes. But if you have deep wrinkles or fine lines or very dry skin you may not like this concealer much.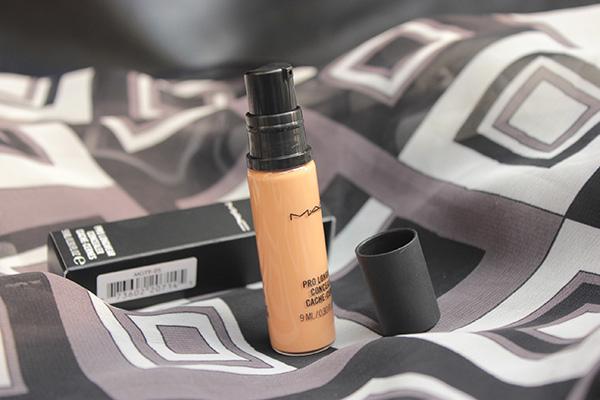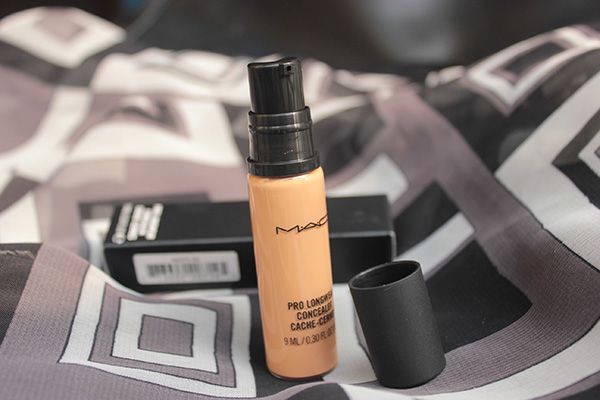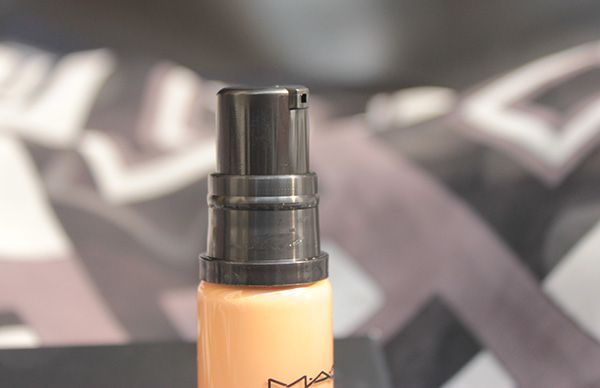 What I like about 'MAC Pro Longwear Concealer NC42'
– NC42 is a perfect match for my skin tone.
– Can be blended with finger-tips.
– Provides medium to high coverage.
– Matte finish.
– Little goes a long way.
– Compact, spill-proof packaging.
– Long shelf life.
– 16 shades to choose from.
What I do not like about 'MAC Pro Longwear Concealer NC42'
– Settles in fine lines.
– Pump dispenses more product than requried.
– High price tag.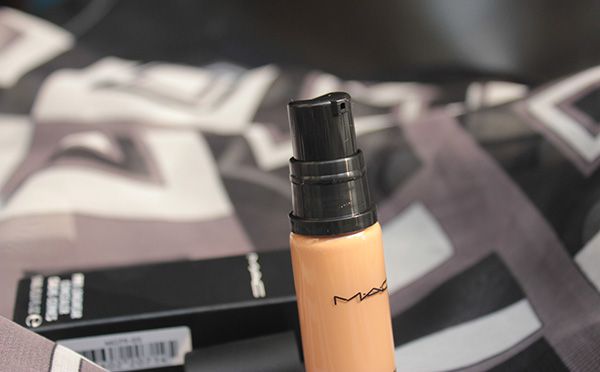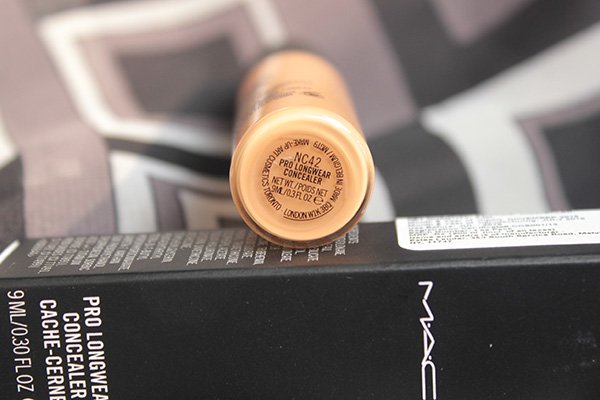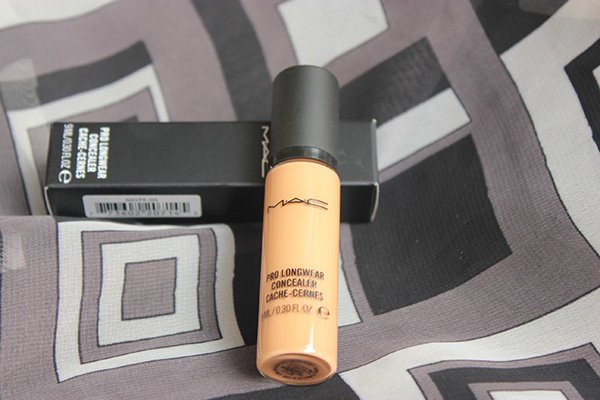 Price of 'MAC Pro Longwear Concealer NC42': Rs 1900 for 9ml
Shelf life of 'MAC Pro Longwear Concealer NC42': 3 years from date of manufacturing
Ingredients of 'MAC Pro Longwear Concealer NC42':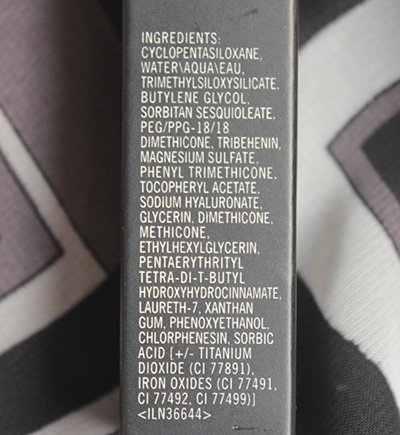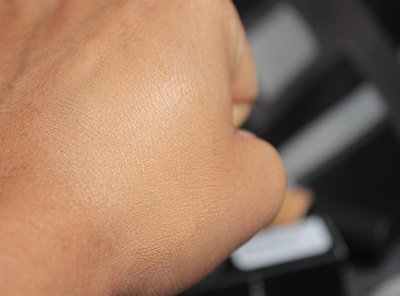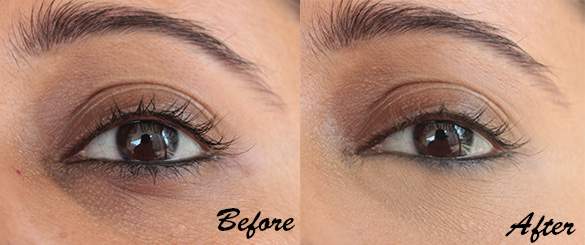 BABE Rating: 4/5
Final Word: If you have extreme dry skin or wrinkles you may not find it the best concealer available in the market as it settles in fine lines, and the matte finish might give a superficial look on dry skin. On the contrary, if you have oily skin with no or few fine lines you would absolutely love the effect of MAC Pro Longwear Concealer NC42. It evens out the skin tone and keeps it like that for long hours. You may need to invest in some time to blend it completely, but the effort is worth the outcome.
You might also like reading these related topics
Makeup Revolution Focus And Fix Liquid Concealer Review Swatch
Makeup Revolution London The Matte Effect Cover and Conceal MC 12 Darkest Review
Oriflame The ONE Illuskin Concealer Nude Pink Review Swatch