Since everybody has been raving about the beauty blender invention, I also wanted to have my hands on this miraculous beauty tool. But the price played a little deterrent factor; it was when the Pixiwoo sisters launched their version of the beauty blender I could actually get to use it. The Real techniques miracle complexion sponge is quite similar to the famous beauty blender and is much more in budget. Let's see how I find it performance wise, and the comparison between the two legends of makeup tools.
What the product says:
Optimize your beauty routine with the #1 branded makeup sponge*!
This versatile beauty tool was designed with a revolutionary foam technology to evenly blend makeup for a smooth, enhanced finish. Use damp for a dewy glow or dry for a full coverage.
– Rounded sides blend large areas of the face with a dabbing motion
– Precision tip covers blemishes and imperfections
– Flat edge for contouring around the eyes and nose
– Ideal for liquid foundation
– Latex-free
For best results, replace your makeup sponge every 1-3 months.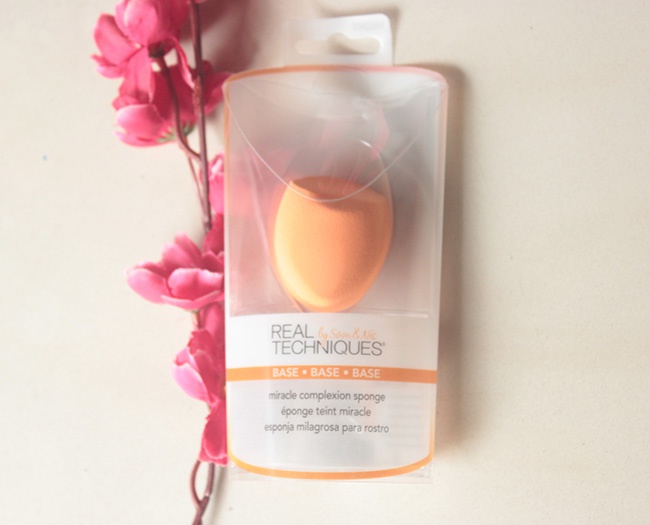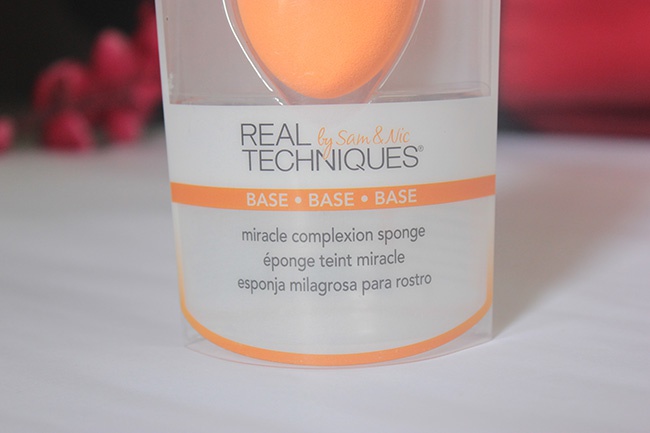 My take on 'Real Techniques Miracle Complexion Sponge'
Real techniques miracle complexion sponge comes packed in a solid plastic cover. The cover is transparent and has the usage instruction mentioned on it. Because of the transparency the bright orange colored sponge is the first thing anybody could spot in it. When I tore open the box, I carefully took out the sponge as I had heard it has a soft texture that can be damaged if any sharp thing such as the corners of the box or long nails poke into it. And, as it is my very first sponge I have been very careful while using it so far.
This miracle sponge is like the shape of a droplet. It is pointed on one side and the other side has a slanted flat surface. Unlike real techniques sponge, the beauty blender is even on both sides in the shape of a droplet. It does not have any flat end, and is more textured and soft as compared to the Real techniques sponge.
The sponge is mainly for applying liquid base makeup such as liquid foundation or concealer. It has to be dipped in water for couple of minutes before usage, so I take some tap water in a bowl and dip the sponge for couple of minutes. It absorbs water and become huge- almost 1.5 of the size of dry sponge. Then I squeeze the sponge to get rid of extra water, and while it is damp I take the foundation at the back of my hand and dab the sponge on it. It can be used in two ways – dabbing motion and sweeping motion. I prefer the dabbing motion as it gives finer application without any streakiness.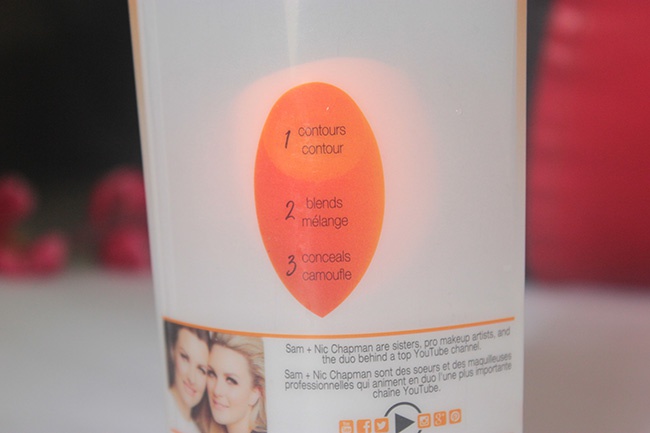 I have used for liquid foundation and concealer application and for me it works best for foundation. I use the flat surface for covering cheeks and forehead, and the pointed side for areas under the eyes and nose joints, etc. I feel for application under the eyes, a brush does better job as I am able to see where the concealer is being applied. After getting damp the sponge becomes huge in size and hinders the vision so I cannot actually see how the concealer is being applied. But still if I cover the areas rightly it gives non-streaky finish. So what I do is, I first use brush to apply concealer on the under eye area and then blend it using the sponge. It works best that ways.
And yes, it does absorb require more product as compared to a brush. I normally need one pump of foundation but with the sponge I end up taking almost 2 pumps. I do not mind the extra product that is getting used because I love the flawless natural finish it provides. Ideally, brush strokes have to downward and that was my biggest concern of applying foundation using brush. If someone applies foundation on regular basis, the downward strokes can lead to pre-mature sagging of skin. But using the sponge in dabbing motion does not have any such negative effect.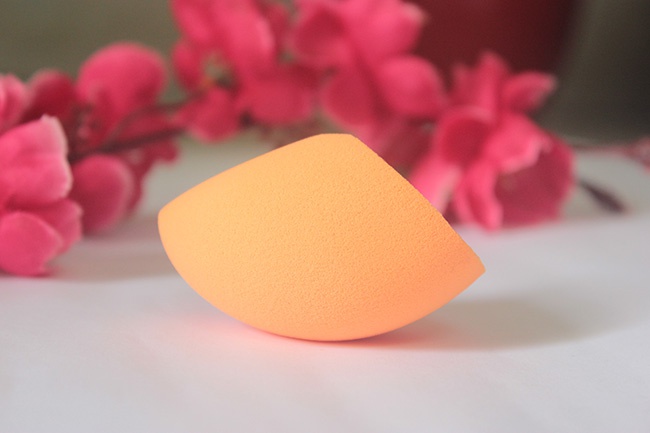 I did not need to invest in any sponge cleanser. It can be easily washed using a shampoo or body wash. All it needs is tender handling, lots of shampoo and water. While I wash, I keep rubbing the stains exerting minimum pressure and squeezing the sponge to ooze out the soapy liquid. The stains are easy to remove, and thus do not lead to any bacterial growth. After cleaning, I place it on a clean towel and it takes a day to completely dry. I wash it after every use so that it does not become home to bacteria, and this is recommended as well.
I have heard people using the sponge for creamy blushes as well but I have not used it for any other application except foundation and concealer. It works best with liquid products and I intend to keep it using for them only.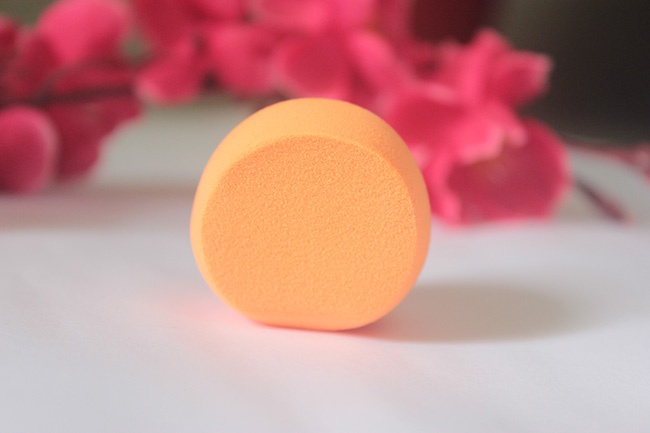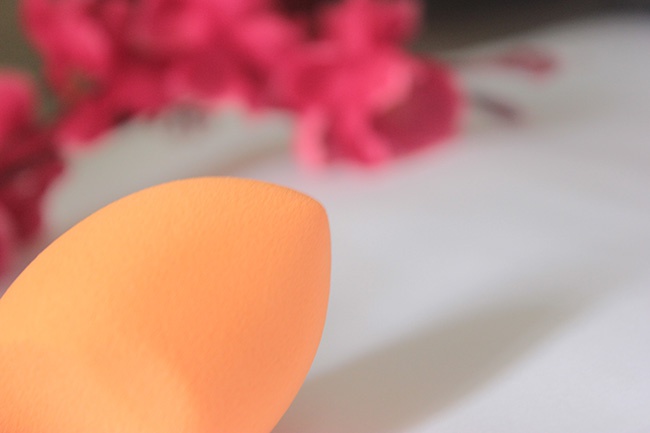 What I like about 'Real Techniques Miracle Complexion Sponge'
– Gives fine, non-streaky application.
– Thoughtfully shaped to reach every nook and cranny.
– Convenient to use.
– Easy to wash.
– Reasonably priced.
– It has the right texture – neither too soft nor very sturdy.
What I do not like about 'Real Techniques Miracle Complexion Sponge'
– It has to be used clean, for lazy people like me washing it after every use might be a tough task.
Price of 'Real Techniques Miracle Complexion Sponge': USD 6
BABE Rating: 4.5/5
Final Word: Overall, I love how my base makeup turns out after using the Real Techniques Miracle Complexion Sponge. Its flat and pointed sides help in providing coverage in every corner. For areas under the eyes, I prefer applying the concealer using a brush first and then blending it using the sponge. With a price tag of USD 6, I think this is quite a deal especially for those who do not like using brushes for base makeup.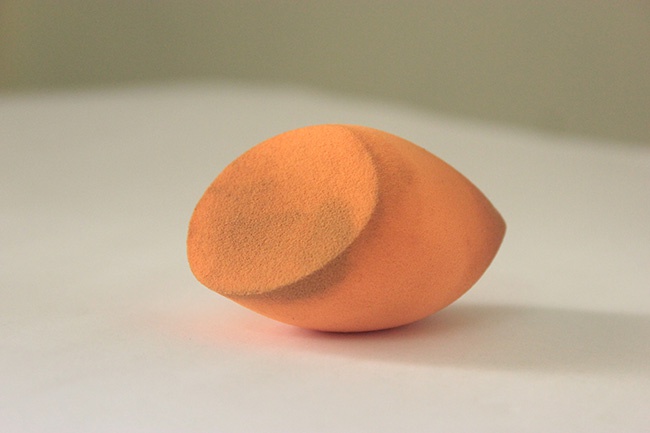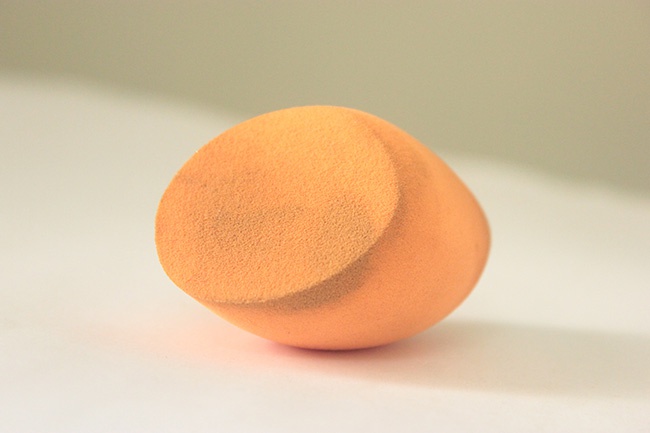 You might also like reading these related topics
Real Techniques Core Collection Makeup Brush Set Review-Part1
Real Techniques Core Collection Makeup Brush Set Review-Part2
Real Techniques Your Eyes Enhanced Starter Set Review–Part 1
Real Techniques Your Eyes Enhanced Starter Set Review–Part 2
Eyeshadows And Makeup Brushes from Luxie Beauty
Basic Makeup Brushes For Beginners
How To Deep Clean Makeup Brushes At Home