Real techniques core collection set is from Samantha Chapman and Nicola Chapman, who are the Pixiwoo sisters. These makeup brushes are designed by Chapman sisters for makeup enthusiasts. I know, I am late in hopping on these brushes but they are not so easily available in India. You can get them online but the prices are quite high. So I had to wait to get them at reasonable price. Now that I have got them, I have been using them for last couple of weeks. That gave me ample time to experiment with the brushes and write a review on them.
To start with, let's take a look at what all this set contains in brand's own words.
Panoramic case: Dual carrier and stand keeps brushes organized on your counter or on the go.
Detailer Brush: Precision cut to effortlessly conceal problem areas; or, it can be used with lipstick for long-lasting shape and definition.
Pointed foundation brush: It can be used with liquid foundation to build custom coverage.
Buffing Brush: Ideal for full coverage application of powder and mineral foundation.
Contour Brush: Delicately applies highlighter to contour or create sheer, soft-focus finish.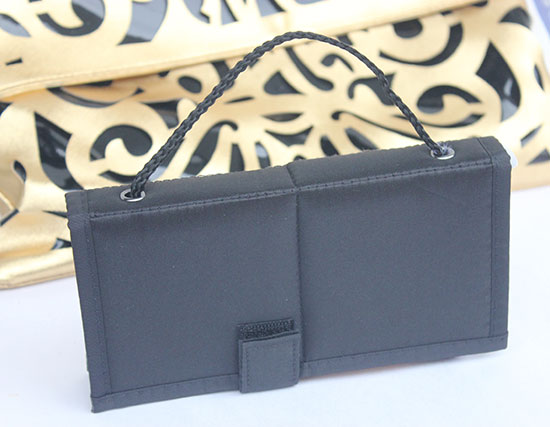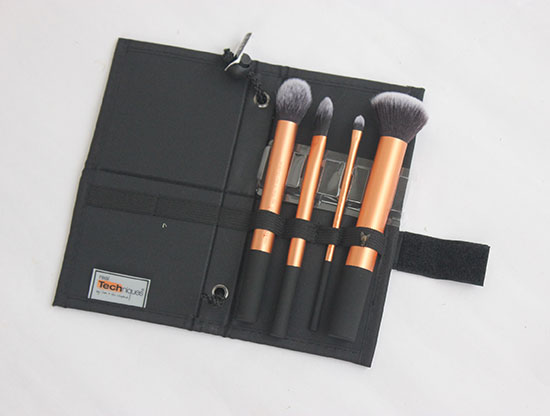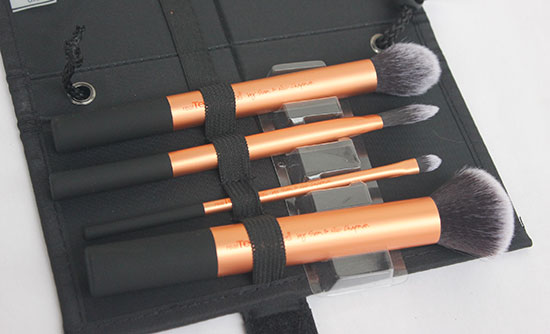 These are synthetic brushes with long handles that have a non-slippery black covering at the ends. The density of bristles varies depending upon the purpose they are designed for. These are face brushes, for base makeup to be more specific. If you are working with powder products then shed off your worries of fallout. These bristles take up powder products well, reducing the fallout to minimum. Plus, they are easy to clean, so you do not have to waste much time in doing that repetitive exercise.
Coming to the review of each brush, I will be covering just two of them today. There are so many photographs of these brushes from different angles that it was impossible for me to put all of them together in just one post. So, the other two brushes will be covered in part2.
The two brushes for today are: pointed foundation brush and contour brush.
Pointed Foundation Brush- It is a flat brush with pointed tip. It is designed to be used for liquid foundations. I find this brush ok to work with as I have a small face. But for some people this may not be an ideal brush for liquid foundation. Saying that does not mean you cannot use this brush at all, in fact it can be used to cover under eye area, area around the nose or mouth. It provides precise application so better make use of it in concealing if not applying foundation.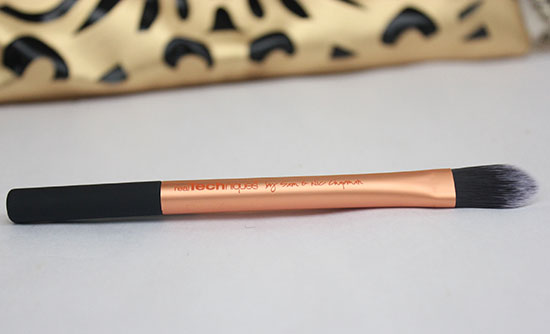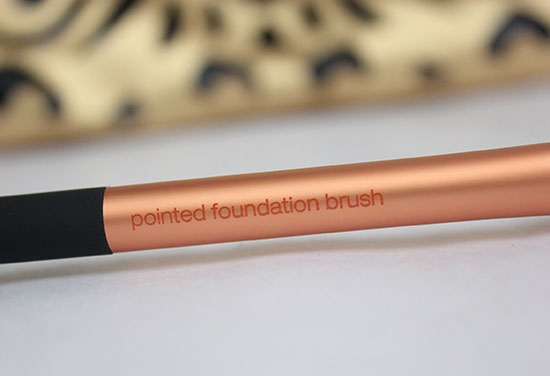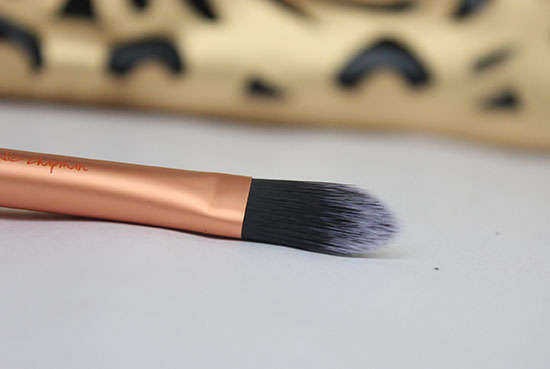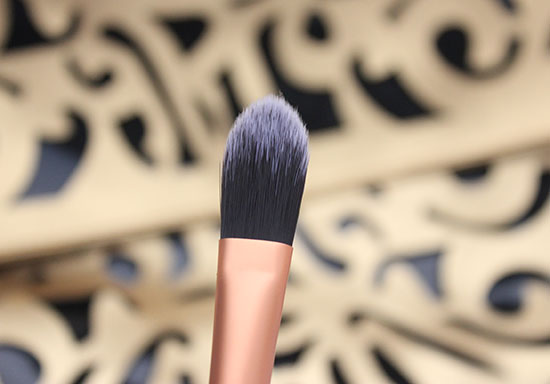 Contour Brush- It is a dome shaped brush, and that makes it easily reach in the hollows of cheeks. It can be used for contouring your cheek bones as well as the jaw line. Not only that I have also been using it for applying blush and highlighting some areas on my face. It works great with powder products so it can also be used to set the concealer on under eye area. It gives a smooth finish without any harsh lines.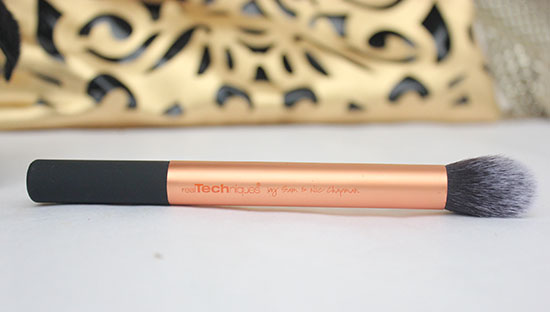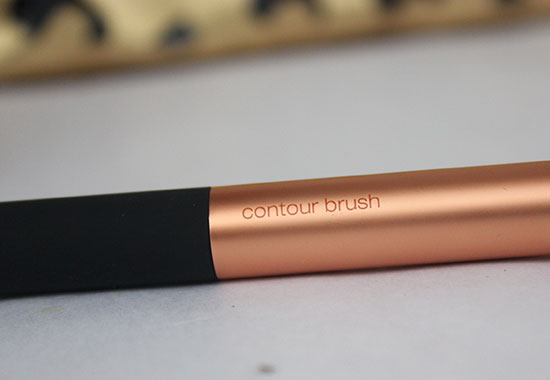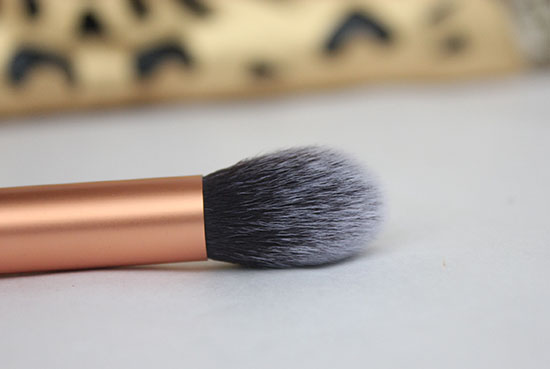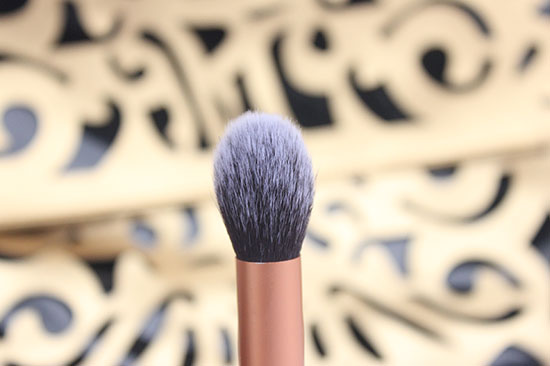 Price of 'Real Techniques Core Collection Makeup Brush Set Review': It is priced differently at online stores; you may get between INR 1440 to INR 2999.
So that's all on this set for today. I will soon share part 2 of this review that will cover the 2 brushes and final verdict.
You may also like reading these related topics
Real Techniques Core Collection Makeup Brush Set Review-Part2
Real Techniques Your Eyes Enhanced Starter Set Review–Part 1
Real Techniques Your Eyes Enhanced Starter Set Review–Part 2
Eyeshadows And Makeup Brushes from Luxie Beauty
Basic Makeup Brushes For Beginners
How To Deep Clean Makeup Brushes At Home