Brushes play an important part in creating an impeccable portrait. Similarly, to paint the canvas of your face you ought to have good brushes. In this technology driven era, pixels and flashlights are things that matter; to get a picture perfect makeup you not only need to perfect the art of blending but also use some good tools.
In order to improve my makeup skills, I have been eyeing on good makeup brushes for quite long. Real techniques starter sets were what I wanted to start with but could not have my hands on them as they are exorbitantly priced in India. Fortunately, I managed to get them from the US at even less than half the Indian price. The deal was good, so I did not waste any time in grabbing it. Since I have the brushes now, and I have been using them for last couple of weeks I feel I should share my experience with you. I had to divide this review in two parts as there are too many photographs (from different angles), and I did not want you to miss any of the angles.
Let's talk about the case first. All the eye brushes are packed in black Velcro case. I find the case design very innovative as it does not only serve as a brush case but also as a brush stand. To make a stand, you need to tighten the toggle and wrap it around the hook. You can loosen the toggle to close the case vertically, which will then hold the brushes when you travel. It is a perfect brush case with dual uses.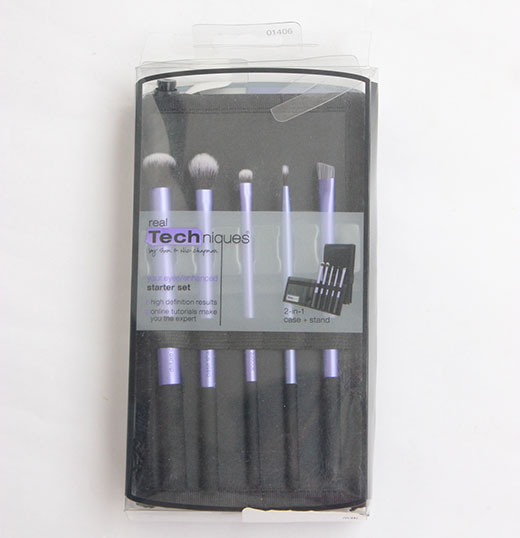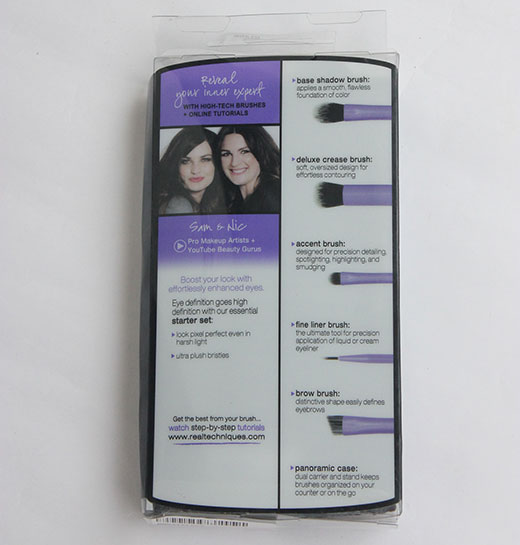 Now let's talk about the brushes. This set has five brushes:
1) Base shadow brush – Applies a smooth flawless foundation of color.
2) Deluxe crease brush – Soft, over-sized design for effortless contouring.
3) Brow brush – Distinctive shape easily defines eyebrows.
4) Fine liner brush – The ultimate tool for precision application of liquid or cream eyeliner.
5) Accent brush – Designed for precise detailing. spotlighting, highlighting and smudging.
The two brushes I will be covering today are: base shadow brush and brow brush. But before I start talking about the brushes let me give you some brief about the quality of these brushes. These are mauve colored sleek brushes that have slightly rubbery black ends so as you do not lose the grip while working with them. The plastic used in the designing of these brushes is non-sweaty so they do not get slippery. I have used the slippery ones as well, and believe me if you have sweaty palms the situation just gets aggravated. The more non-slippery grip you have the better is the outcome.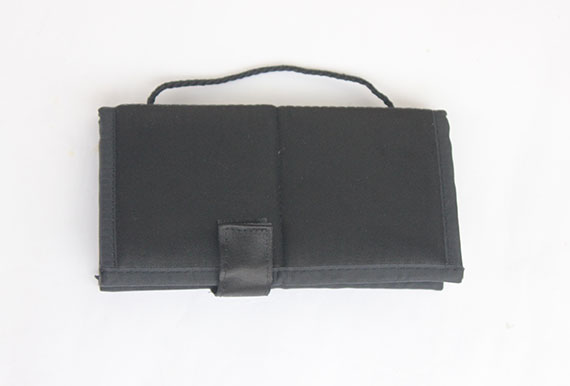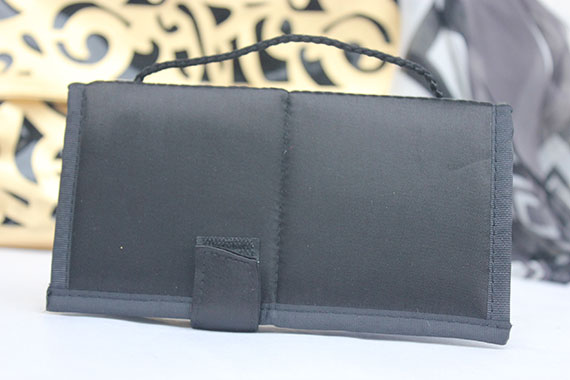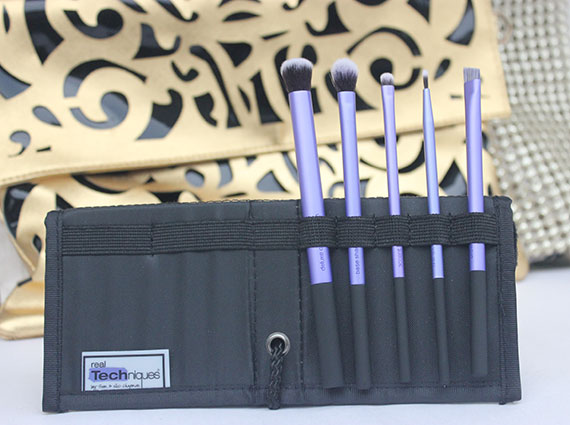 These brushes have pure synthetic brushes. That being said, by using these brushes you are not aiding cruelty against animals.
Base Shadow Brush: This one is a tapered brush which is a bit flat. Though the brush is supposed to be used for base eyesahdows, yet I find it more useful when I have to work around the crease. It fits into the crease perfectly. I seldom use to apply base eyeshadows. It picks up eyeshadow easily with minimal fallout, and gives an even application. The bristles are soft so does not hurt. Because of the slight pointed tip, I find it helpful when I have to work between big boundaries. It works better though when you blend your eye makeup or when you wish to soften up harsh lines.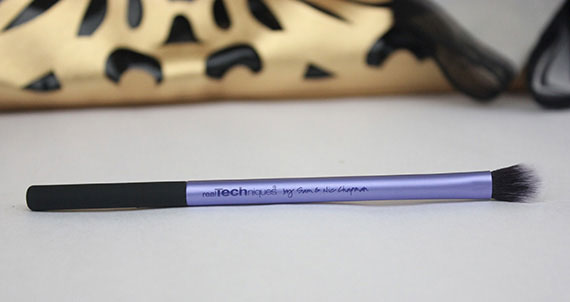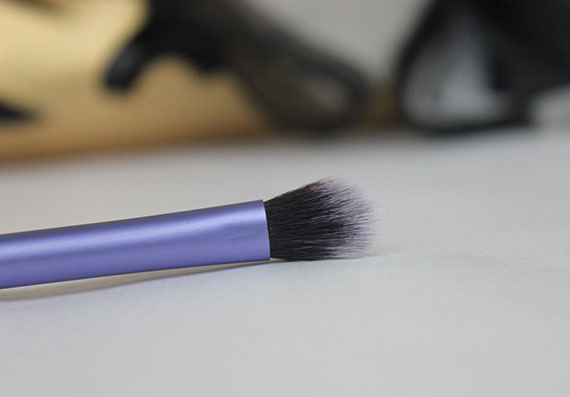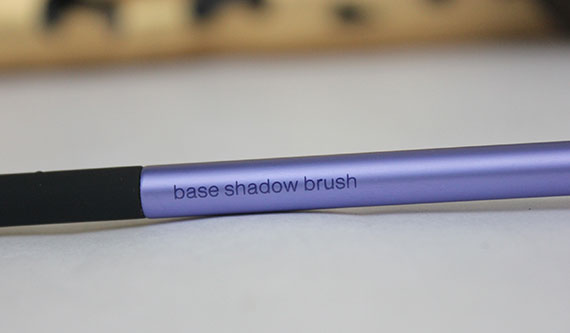 Brow Brush: This is my second favorite brush in entire set (the most favorite brush will be in Part 2). Its bristles are soft yet stiff enough to exert the essential pressure for perfect brow definition. I use this brush to define the brows and then fill the gaps. It gives your brows a light color, thus making them appear more natural instead of the look that is too stenciled and harsh. As it is an angled brush it can also be used to line up both upper and lower lash lines, especially if you want to do a winged liner you should use this brush. Also, because of the angle this may be used as a lip brush.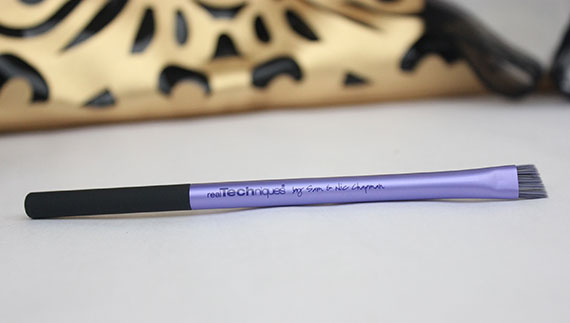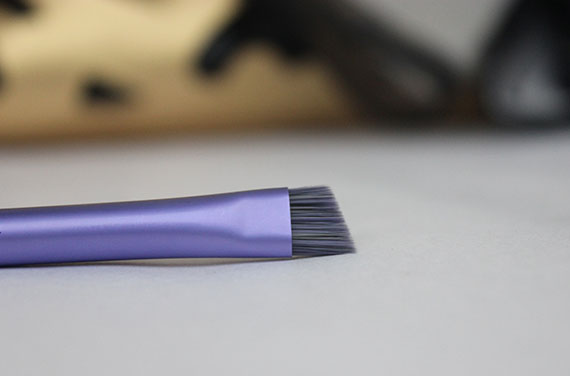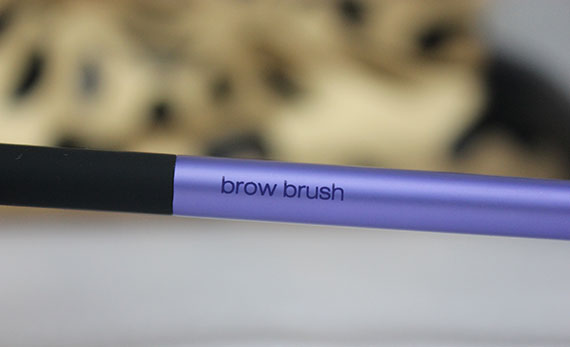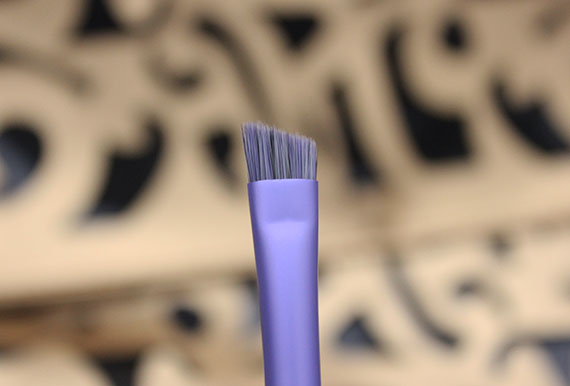 Price of 'Real Techniques Your Eyes Enhanced Starter Set': Different price at different online portals, you may get it between INR 1440 to INR 2199.
In my opinion, this brush set is a great value for your money, considering you get five brushes and a dual carrier and stand for a price that isn't so exorbitant. For the final verdict, please go through part 2. And, I will soon post Part 2 of this review, stay tuned !
You may also like reading these related topics
Real Techniques Your Eyes Enhanced Starter Set Review–Part 2
Real Techniques Core Collection Makeup Brush Set Review-Part1
Real Techniques Core Collection Makeup Brush Set Review-Part2
Eyeshadows And Makeup Brushes from Luxie Beauty
Basic Makeup Brushes For Beginners
How To Deep Clean Makeup Brushes At Home