As you know, I have combination/oily skin which break out easily and because of this acne prone condition I choose my products very carefully. I prefer to go for only few selected brands making exceptions once in a while. After trying out the face shop white seed blanclouding white moisture cream, I decided to try Vichy Aqualia Thermal Light Cream I have used Vichy products , and as they performed good on my skin so I was intrigued to try their new launch. Since I have been using this cream for over four weeks now I feel it is time to pen down its review.
What the product says
Aqualia Thermal skincare light cream recharges dry & dehydrated skin with intense hydration, using 97% naturally derived ingredients, including Hyaluronic Acid, fortifying Vichy mineralizing water, and plant sugar mannose. Skin is instantly dewy-fresh, feels comfortable, stays hydrated for up to 48 hours and are as reinforced even under climate variations, stress, or pollution.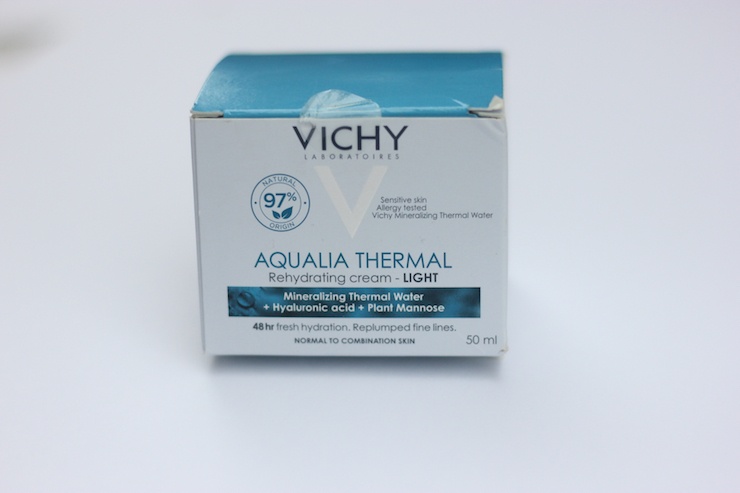 My take on 'Vichy Aqualia Thermal Light Cream'
This cream comes in a blue glass jar that is quite heavy; I would say a lot heavier considering it just contains 50ml in terms of quantity. It is easily available in all pharmacies and drug-stores, and if you are lucky you will also see an offer with it. I bought mine when Shopper drug mart was running 10% discount on it. It has 1 year shelf life, but I hardly expect it to last that long. I use it twice a day (morning and evening) and it has already come half way down. It does not contain SPF so when I apply it in the morning I make sure to apply another layer of sunscreen on top of it.
I have a combination skin, my T-zone is a bit greasier during the summer, while my cheeks are comparatively dry. In cold season my face lacks hydration resulting in flaky skin on the cheeks and around nostrils. This led to go for Vichy Aqualia Thermal Light Cream as it is made exclusively for people like me.
It has semi-runny consistency with very mild fragrance. It's easy to spread and seeps into the skin really fast. Because of these things I have to take more quantity (as compared to other face creams) to cover my entire face and neck are and that's why it is emptying fast. Well, I do not mid buying it again considering it does the moisturization job pretty well. Instantly, after the application the skin feels healthy and well-hydrated. Thankfully, it does not make the skin greasy and a home for bacteria growth which always results in acne. It is an absolutely light-weight cream and makes a good makeup base as well. Even when I wear it underneath the primer I do not see it messing up with the base.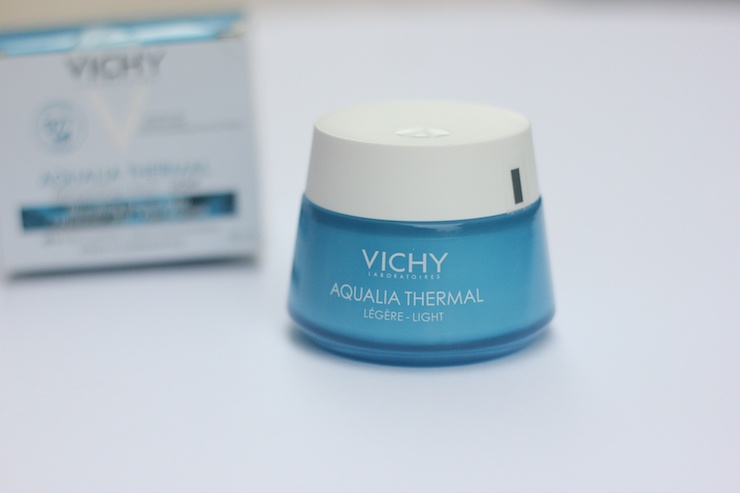 Since I have started using this cream, my skin looks way better than how it used to be a few weeks ago. I can see it has become plump and glowing, and there are no more signs of dryness around the nose & cheeks. I also believe, it has reduced those fine lines that were started to appear on some areas of my face. I am using it as a night cream too to double the effects. And, I real hope if I keep giving my skin the required nourishment it will stay youthful for a long time.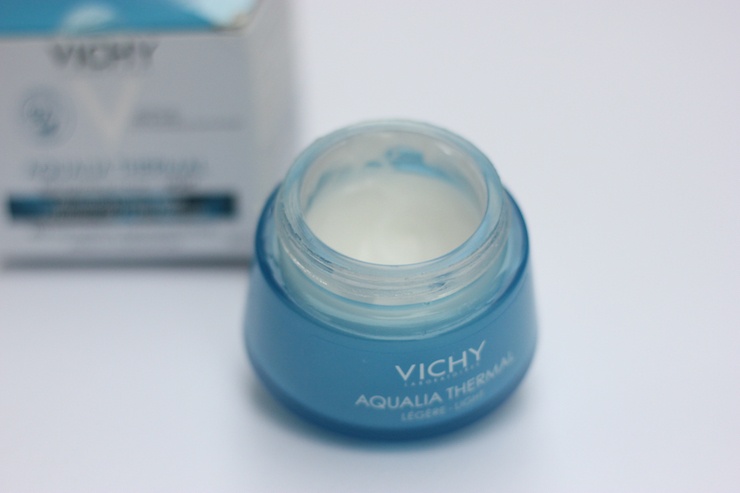 Things I like about 'Vichy Aqualia Thermal Light Cream'
– Absorbs fast.
– Lightweight and mildly fragrant.
– Non-greasy formula.
– Provides long-lasting hydration.
– Helps fight dryness and fine lines.
– Does not cause skin breakouts.
– Makes skin well-nourished and healthy.
Things I do not like about 'Vichy Aqualia Thermal Light Cream'
– As claimed by the brand, it does not provide 48hr hydration. 8-9 hours is the longest time it works on me.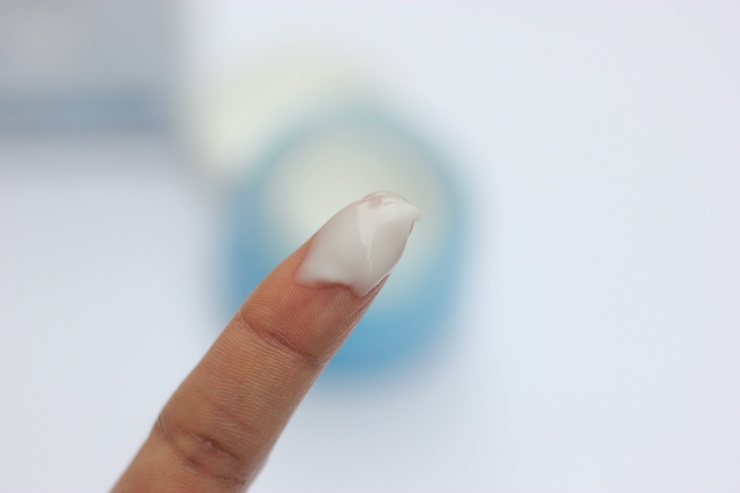 Price of 'Vichy Aqualia Thermal Light Cream': CA 39.95 for 50ml
BABE Rating: 4/5
Final Word: If you are looking a decent moisturizer for your combination/oily skin go for this one. It provides the required hydration without causing greasiness and acne. It doubles up as night cream thus intensifying the benefits.
You might also like reading these related topics
Oily Skin? Here Are The Best Moisturizers For Oily Skin That Worked For Me!
10 Face Moisturizers-Day Creams With SPF 24+ Available In India
Elucent Anti Ageing Day Moisturizer Review
Elizabeth Arden Visible Difference Skin Balancing Lotion SPF 15 Review
Innisfree Orchid Enriched Cream Review
Organic Harvest Activ Blush Shine And Glow Cream Review
Himalaya Herbals Oil-Free Radiance Gel Cream Review
The Body Shop Vitamin C Daily Moisturizer SPF 30 Review
The Body Shop Seaweed Mattifying Day Cream Review, Swatch
The Body Shop Tea Tree Skin Clearing Lotion
Olay Total Effects 7 in one Anti-Ageing Day Cream Review
L'Oreal Paris Skin Perfect Anti-Aging Whitening Cream Age 40 Plus Review
L'Oreal Paris Skin Perfect Anti Fine Lines and Whitening Cream for age 30 plus Review
L'Oreal Paris Skin Perfect Anti Imperfection Whitening Cream For Age 20 plus Review
L'Oreal Paris Youth Code Youth Boosting Cream Day For Early Signs Of Ageing
The Nature's Co Marshmallow Day Cream Review