Korean skincare is known for its contribution in providing glass-like skin. So far, I have tried a couple of Korean skincare brands and have been pretty satisfied with them. Recently, when my moisturizer was about to get over I planned ahead and ordered a few products from the "The Face Shop" brand, the face shop white seed blanclouding white moisture cream in one of them. I have been using it for a couple of weeks now and ready to present my experience with it .Without much ado lets quickly go through the review.
What the product says
The White moisturizing cream uses the Clouding effect for brighter skin. The product's white, elastic texture is achieved through Cloud Processing, a method inspired by the actual formation of clouds. The compound of brightening ingredients: White Lupin Seed, which contains a natural brightening substance, and White Daisy Flower extract, which helps reducing dullness, makes the skin look bright and clear.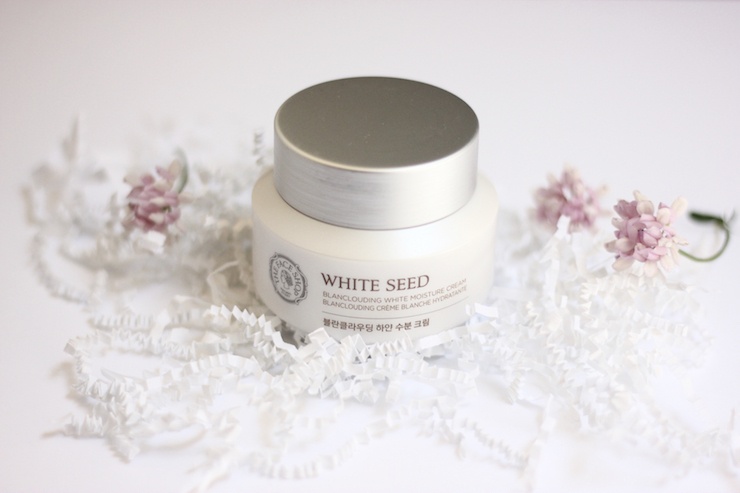 My take on 'The Face Shop White Seed Blanclouding White Moisture Cream'
The cream comes in a round hard plastic tub. It has a screw-open cap so the contents are secure and sealed properly. The outer hard cover that consists the tub contains the ingredient list together with the usage instructions. It is a 50 ml that so can be carried in handbag during air-travel but since it is heavy I won't suggest doing so, even transferring the contents in not a reasonable option.
The cream is white in color with soft whipped-cream like texture. It has a mild fragrance that gives a refreshing feel. The fragrance dissipates into the air after a few minutes of application which makes me feel it will be tolerable for sensitive noses as well. Formulated without 7 additives: parabens, tar colorant, animal-sourced ingredients, mineral oil, talc, polyacrylamide, paraffin, it feels extremely light on the skin. The soft texture makes it penetrate into the skin in no time leaving the surface non-oily yet soft. I have oily, acne-prone skin that gets greasy very quickly so I avoid using heavily formulated moisturizers. I am glad that this does not make my oily skin oilier and thus does not promote the acne breakouts.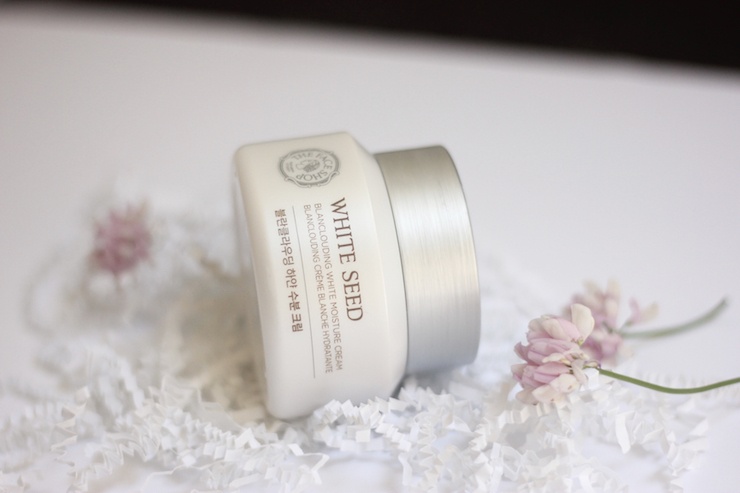 I apply it before going to bed, on top of my regular moisturizer. In terms of hydration, it's not always keeping the skin hydrated. When I get up in the morning I saw white dry flakes on a few areas on my face and this is the case when I have an oily skin. I am not sure how much hydration it would provide to normal-dry skins. But for sure, in winters you would need to do give your skin some more food in addition to this moisturizer.
White Lupin Seed is the primary ingredient of this cream. It is a natural brightening ingredient that reduces dullness of skin and makes it appear more luminous by controlling melanin formation. It makes the skin even clearing out the mild dark spots. The stubborn acne marks obviously take more time to completely go away so I am not expecting an overnight miracle. Other than that, my skin looks clear and bright just in a two weeks' span.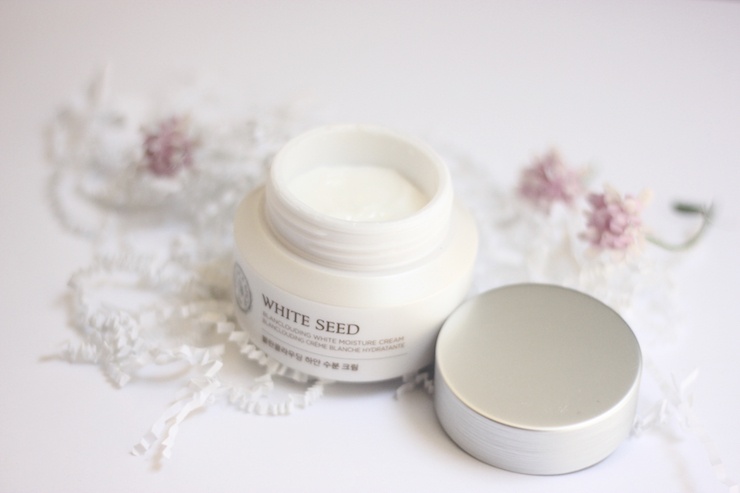 Things I like about 'The Face Shop White Seed Blanclouding White Moisture Cream'
– Light texture that feels light.
– Non-greasy formula.
– Makes the skin even and clearer.
– Does not cause breakouts.
– Comes in a spill-proof packaging.
– Completely penetrates into the skin.
– Mildly scented.
Things I do not like about 'The Face Shop White Seed Blanclouding White Moisture Cream'
– Does not provide enough hydration.
– A bit pricey.
Price of 'The Face Shop White Seed Blanclouding White Moisture Cream'- CAD 44 for 50ml cream
BABE Rating- 3.75/5
Final Word- If you are looking for a brightening mild moisturizer you can give this a try. It would work better for oily skin people. But if you have dry skin you might not be able to keep the skin non-flaky in case this is the only moisturizer relied upon. Of course, every has different prioritized concerns so you can give it a pick or no-pick depending it on the list.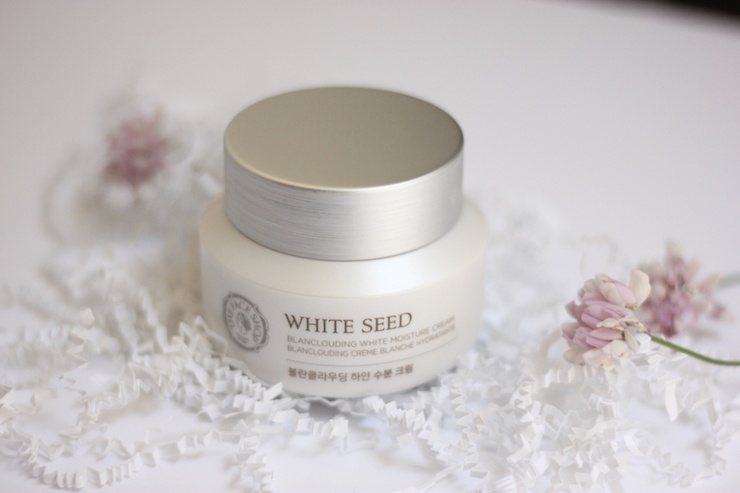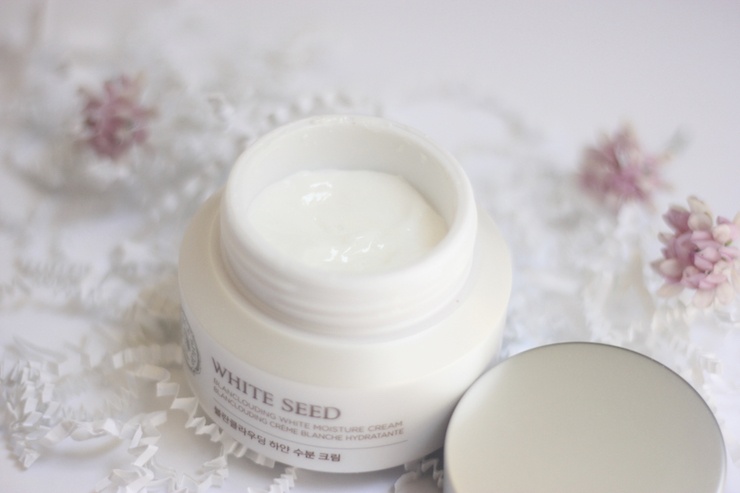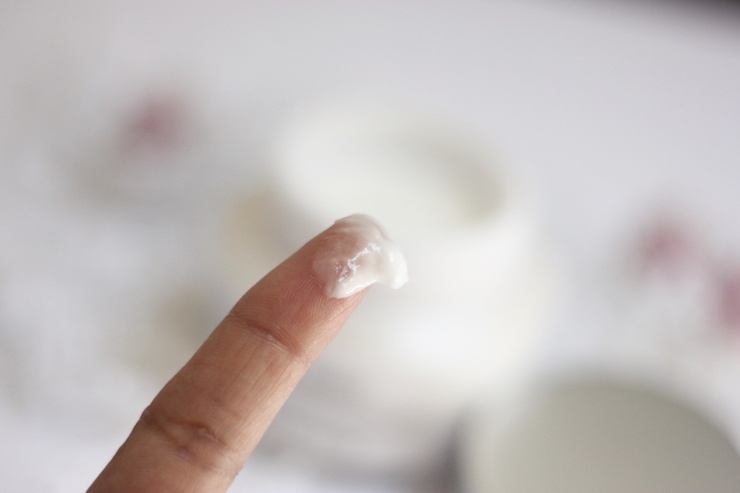 You might also like reading these related topics
Elucent Anti Ageing Day Moisturizer Review
Elizabeth Arden Visible Difference Skin Balancing Lotion SPF 15 Review
Innisfree Orchid Enriched Cream Review
Organic Harvest Activ Blush Shine And Glow Cream Review
Himalaya Herbals Oil-Free Radiance Gel Cream Review
The Body Shop Vitamin C Daily Moisturizer SPF 30 Review
The Body Shop Seaweed Mattifying Day Cream Review, Swatch
The Body Shop Tea Tree Skin Clearing Lotion
Olay Total Effects 7 in one Anti-Ageing Day Cream Review
L'Oreal Paris Skin Perfect Anti-Aging Whitening Cream Age 40 Plus Review
L'Oreal Paris Skin Perfect Anti Fine Lines and Whitening Cream for age 30 plus Review
L'Oreal Paris Skin Perfect Anti Imperfection Whitening Cream For Age 20 plus Review
L'Oreal Paris Youth Code Youth Boosting Cream Day For Early Signs Of Ageing
The Nature's Co Marshmallow Day Cream Review