Hope you have had a wonderful weekend. Since the temperature has plummeted to an all-time low of this winter, I do not feeling like getting out of my cozy comforters. What could have been a better utilization of this time than writing posts for BABE! Couple of months back when TBS was running discounts/offers, I stocked some of the skincare products. My today's post is about 'The Body Shop Vitamin C Daily Moisturizer SPF 30 Review'. Read on to know my experience with it.
What the product says:
Hydrate and enhance your skin's natural radiance while protecting it from damaging UV rays with a lightweight, easily-absorbed lotion.
Best for: Dull skin
How it works:
– Contains Amazonian camu camu berry, which is known to have one of the highest contents of vitamin C in nature. Vitamin C encourages collagen production, improves elasticity and protects against damaging environmental aggressors.
– Sunscreens provide medium-level, broad-spectrum UVA and UVB sun protection.
– Community Trade sesame seed oil softens skin and strengthens skin's natural defense system.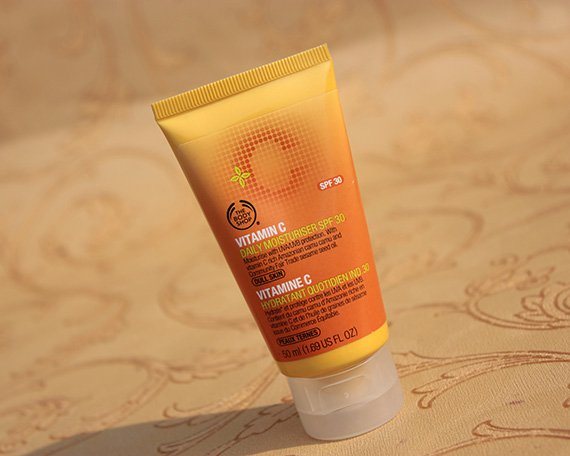 My Skin Type: Combination to oily
My Take on 'The Body Shop Vitamin C Daily Moisturizer SPF 30'
It comes in an orange flip-open tube. The packaging material is made of soft plastic so it is easily squeezable, and does not become hard in cold weather. The cap closes properly hence prevents the product from leaking out. Moreover, it is a lightweight and compact tube which can fit in any corner of handbag so no problem in carrying it around. I would say, it is a decent looking tube with everything but the benefits mentioned on it.
The moisturizer is white in color, and has citrus fragrance. The fragrance is quite mild and would not bother even those who have sensitive noses. In fact, I feel this is a refreshing fragrance especially for summer season. The texture of this moisturizer is semi-thick, just a slight squeeze on the tube takes out the required quantity, which is also the size of a raisin. As such less quantity is sufficient for one time usage so I hope this tube will last for a good time.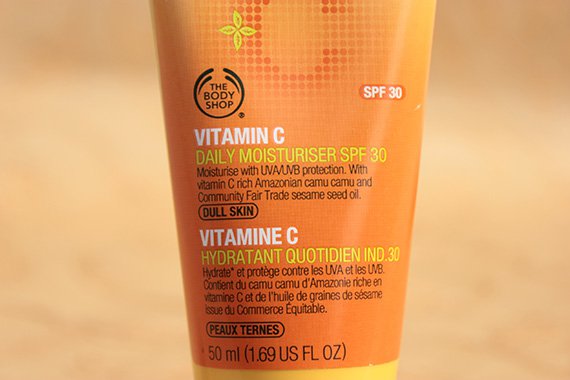 As far as the usage is concerned, I dot it all over my cleaned and toned face, and gently spread it in upward direction using the fingertips. Being of smooth texture, it is easy to spread and penetrates into the skin in no time. The only thing it leaves on the skin is a layer of bleak shine that also dissipates after couple of minutes of application. I am bestowed with oily skin that oozes excess oil (unwanted oiliness) but fortunately this moisturizer does not over-activate the sebum glands. Post the short-lived sheen is gone the skin looks normal and moisturized in a healthy way after application.
The primary reason I purchased this moisturizer is its sun protection factor. I do not like layering creams on daily basis so I was looking for something that would provide moisture as well as sun protection. It fulfills that objective very well and that too without leaving a white cast. Unlike other sunscreens, it is non-sticky and lightweight, and does not even cause any greasiness.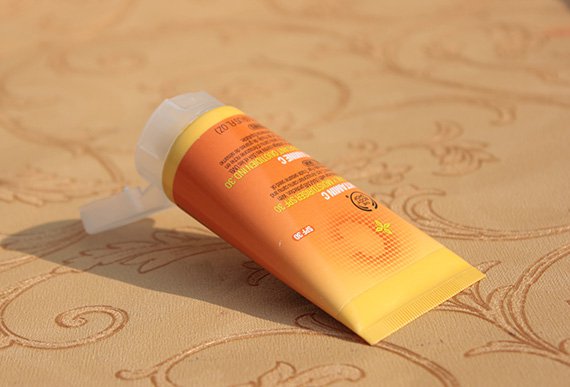 For the efficacy, it makes the skin moisturized and healthy. Even in winters, since I have started applying this cream, I do not see any dry patches on my face. But if you expect it work on other skin issues such as blemishes, dark spots, etc you would be little disappointed as it does not show its magic in clearing the skin. Plus, I have not witnessed substantial glow on my face since it usage. But as per the claims, this would be best suited for dull skin so if you have that concern you might see better results.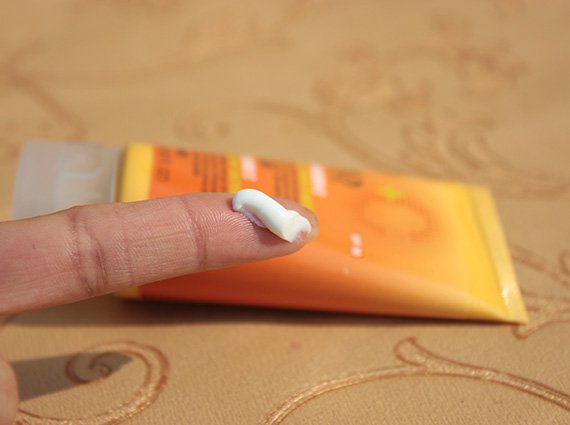 What I like about 'The Body Shop Vitamin C Daily Moisturizer SPF 30'
– Non-sticky and lightweight.
– Doubles up as moisturizer and SPF.
– Does not make the skin greasy.
– Does not leave any white cast.
– Spill-proof travel friendly packaging.
– Mild citrus(y) fragrance.
– Protects the skin from UVA & UVB rays.
– Does not cause any skin breakouts.
– Easily penetrates into the skin.
What I do not like about 'The Body Shop Vitamin C Daily Moisturizer SPF 30'
– Adds temporary shine which then dissipates after few minutes.
– It does not add any substantial glow to the skin.
– High price-tag.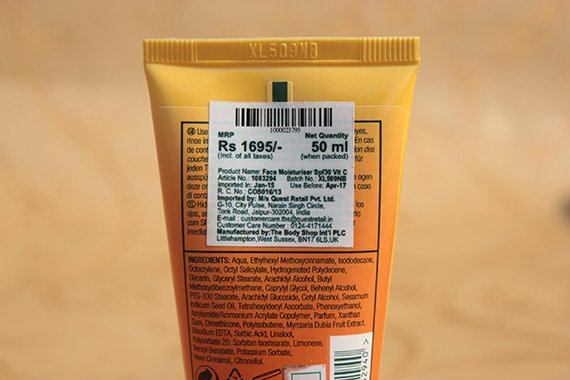 Price of 'The Body Shop Vitamin C Daily Moisturizer SPF 30': Rs 1695 for 50ml
Online Availability: The Body Shop Vitamin C Daily Moisturiser SPF 30 from flipkart
Ingredients of 'The Body Shop Vitamin C Daily Moisturizer SPF 30':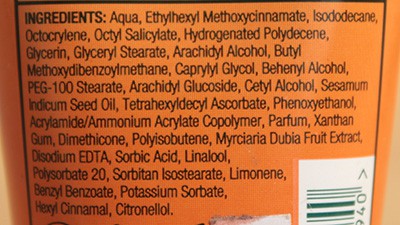 Shelf life of 'The Body Shop Vitamin C Daily Moisturizer SPF 30': Around 2 years
BABE Rating: 3.75/5
Final Word: Formulated with vitamin C and sesame seed oil, The Body Shop Vitamin C Daily Moisturizer SPF 30 makes the skin soft and moisturized. It protects the skin from harmful UVA/UVB rays and keeps it hydrated all day long. In addition, unlike other sunscreens it does not leave any white cast, and feels lightweight and non-sticky. It works as a basic moisturizer and sunscreen but if you expect it to add glow to your skin or tackle other skin issues you might be disappointed unless you have dull skin. On the contrary, if you do not like layering creams on your face and are looking for a basic moisturizer, you should give this a go.
You might also like reading these related topics
The Body Shop Seaweed Mattifying Day Cream Review, Swatch
The Body Shop Tea Tree Skin Clearing Lotion
Olay Total Effects 7 in one Anti-Ageing Day Cream Review
Olay Natural White Rich All-in-one Fairness Day Cream Review
L'Oreal Paris Skin Perfect Anti-Aging Whitening Cream Age 40 Plus Review
L'Oreal Paris Skin Perfect Anti Fine Lines and Whitening Cream for age 30 plus Review
L'Oreal Paris Skin Perfect Anti Imperfection Whitening Cream For Age 20 plus Review
L'Oreal Paris Youth Code Youth Boosting Cream Day For Early Signs Of Ageing
The Nature's Co Marshmallow Day Cream Review