Irrespective of the season, we should always keep our skin moisturized. I know a lot of beauties who skip moisturizer in summer season but in my opinion no matter how hot or humid the weather is we should always feed our skin with proper nutrients. As the season changes, we need to change our skin care products to get the maximum efficacy out of them. A heavy moisturizer should not be a pick for summer season as it will make the oilier and can also cause acne or pimples. Similarly, a light weight moisturizer might cause flakiness in winter season. So you need to understand your skin needs and invest in right products at right time. Few weeks ago, I shared my summer skin care army and today I am reviewing one of those products- 'Organic Harvest Activ Blush Shine And Glow Cream'. Let's go through my experience with this product.
What the product says:
Drench your flawed skin in this happy potion for an everlasting rejuvenated effect! The glamorous blend of Beet root extract and Bearberry with a trace of Iris root extract helps the skin retain back the moisture and elasticity, thereby, conceals skin imperfections and adds natural freshness, moisture to the skin. The exotic aroma and smooth texture of this product will leave your skin feel delighted throughout the day!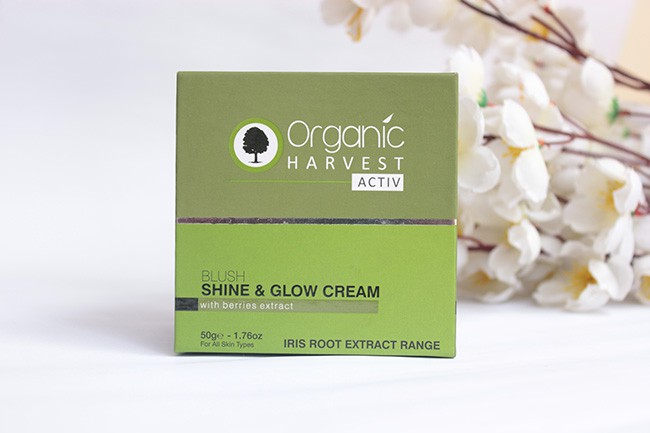 My skin type: Combination to oily
My take on 'Organic Harvest Activ Blush Shine And Glow Cream'
Organic harvest shine & glow cream is packed in a fancy way. The green colored box contains the glass jar in which the cream is housed. The cardboard box is sturdy and gives a feeling as if I am opening a jewelry box. The box bears details such as what to expect from the cream, warranty note etc. The one unique thing about this cream is that if you are not satisfied with the quality of the cream, you can send it to the address given on the box and the brand will either replace the product or refund full money. The only disclaimer to warranty note is the product should not be used more than 50%.
Considering the elaborative text on box, I was expecting a complete ingredient list but that could not be found either on the product or on the website. Only key ingredients are disclosed but that might not be sufficient for some who avoid certain ingredients in skin care products. I wish the brand publishes the complete ingredient list as it will help the users in taking more informed decisions.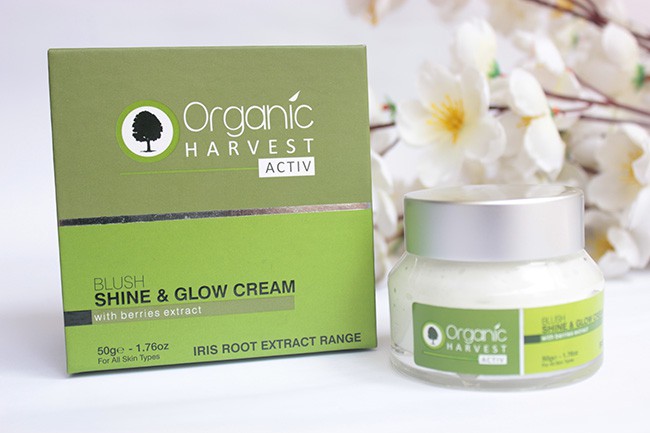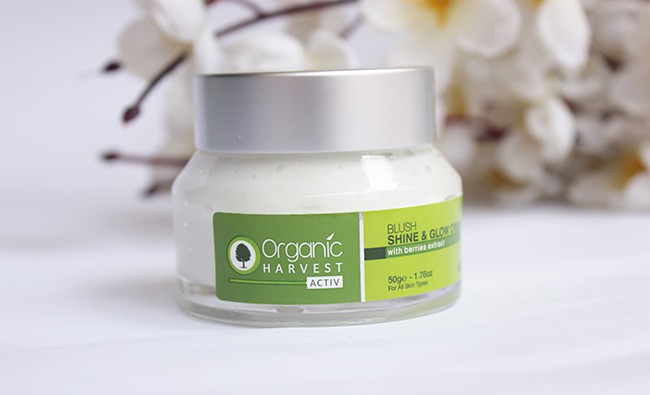 The actual product is housed in a heavy glass jar. Due to the compact shape, it becomes a good fit in any pouch or handbag. It is a white colored cream with mild fragrance, which dissipates into air after couple of minutes. The texture of the cream is like that of a whipped cream – fluffy and lightweight. It makes the cream easy to apply and spread. I dot it all over the face & neck, and then spread in upward direction. It quickly absorbs into the skin without leaving any oily impression. Since the texture is not heavy, it feels light as if nothing is applied on the skin. Ever hours after application, I do not see any shiny layer on my skin which usually surfaces with most of the creams. It is doing its job without causing unnecessary shine.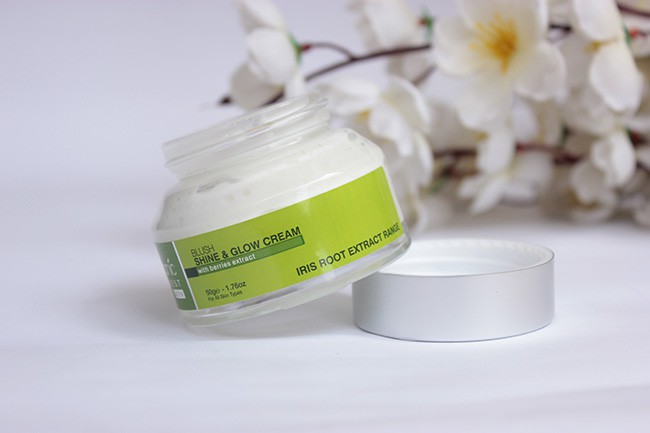 For efficacy, it keeps my oily skin aptly moisturized. Dry skin people might face an issue with its moisturizing ability. On my skin, it provides a healthy natural glow, evens out skin tone and does not cause skin breakouts. Being oily, my skin is very prone to breakouts but this cream did not show any such signs. Rather, since I have started using it, my skin looks healthy and moisturized.
It does not contain SPF factor so that requires slathering another layer of sunscreen to protect the skin from UVA/UVB rays. The absence of SPF also makes it usable for night time. As nothing specific is mentioned regarding the usage time so I think it can be used anytime day or night as far as someone is ok to apply sunscreen on top of it if it is used as a day cream.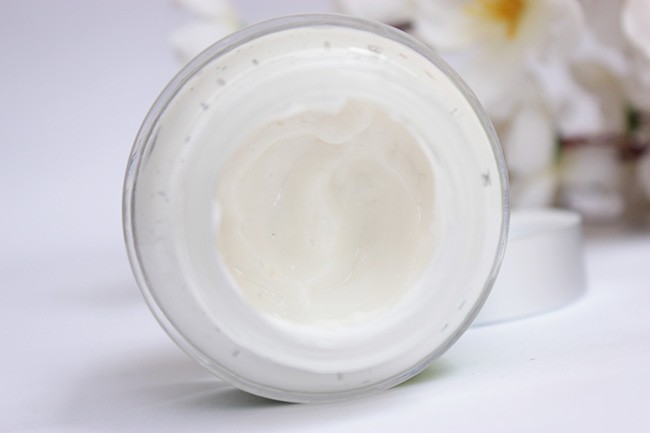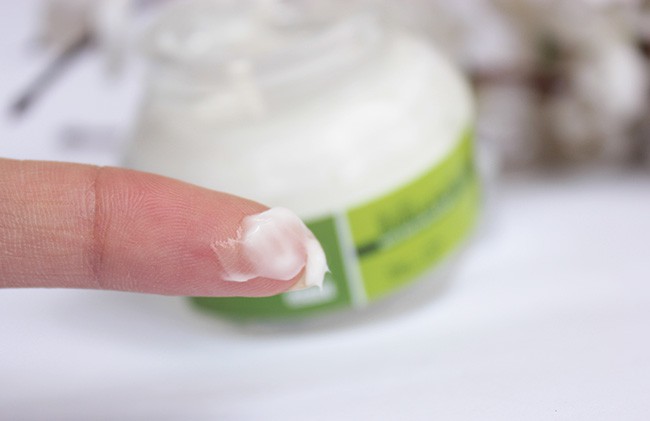 What I like about 'Organic Harvest Activ Blush Shine And Glow Cream'
– It does not make the skin greasy.
– Quickly penetrates into the skin.
– Makes the skin even and provides a radiant glow.
– It does not cause skin breakouts.
– Mild, non-bothering fragrance.
– Feels light on skin.
– Keeps the skin moisturized.
What I do not like about 'Organic Harvest Activ Blush Shine And Glow Cream'
– Complete list of ingredients is not disclosed.
– It does not have SPF.
– Price is on higher side.
Price of 'Organic Harvest Activ Blush Shine And Glow Cream': Rs 1495 for 50g
Shelf life of 'Organic Harvest Activ Blush Shine And Glow Cream': 2 years from manufacturing date.
Ingredients of 'Organic Harvest Activ Blush Shine And Glow Cream'
Hydrolyzed Corn starch, Beet root extract, Mica, Bearberry extract, Iris root extract and Pro Vitamin B5.
BABE Rating: 4.25/5
Final Word: Organic Harvest Activ Blush Shine And Glow Cream does exactly what it says. It makes the skin radiant and healthy without any sticky feel. It works nicely on my oily skin and maintains a nice balance between moisture and glow. As it does not have SPF so I need to apply sunscreen separately, other than that I find it working decently for me, especially in this summer season when day creams usually make oily skin oilier. Overall, I am satisfied with the efficacy and quality of this cream. If price is not a concern, you should give it a try.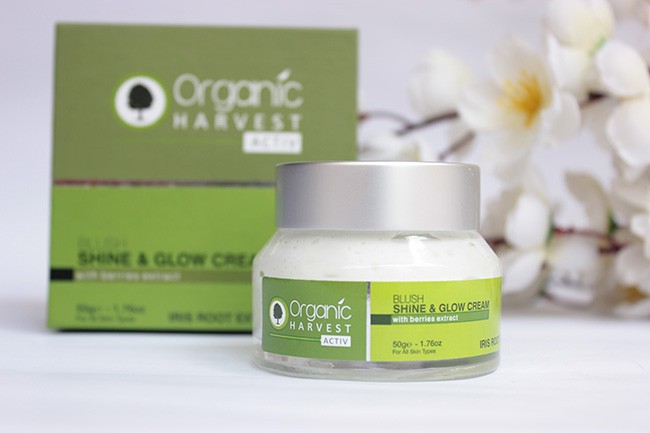 You might also like reading these related topics:
Himalaya Herbals Oil-Free Radiance Gel Cream Review
The Body Shop Vitamin C Daily Moisturizer SPF 30 Review
The Body Shop Seaweed Mattifying Day Cream Review, Swatch
The Body Shop Tea Tree Skin Clearing Lotion
Olay Total Effects 7 in one Anti-Ageing Day Cream Review
Olay Natural White Rich All-in-one Fairness Day Cream Review
L'Oreal Paris Skin Perfect Anti-Aging Whitening Cream Age 40 Plus Review
L'Oreal Paris Skin Perfect Anti Fine Lines and Whitening Cream for age 30 plus Review
L'Oreal Paris Skin Perfect Anti Imperfection Whitening Cream For Age 20 plus Review
L'Oreal Paris Youth Code Youth Boosting Cream Day For Early Signs Of Ageing
The Nature's Co Marshmallow Day Cream Review