With changing seasons, our skin needs change too, and that's why I replace my skin care products to cater those needs. For this summer season, I decided to include more of organic products, hence most of the products that are a part of this season's skin care routine are new, and you would see their reviews some time soon. Organic products are believed to do more good than damage to skin tissues, and that was main reason I went for these products. But they are still in initial phase of testing, so I won't be able to comment on their efficacy yet but in next couple of weeks I am sure I will be ready with their detailed reviews. Stay tuned to know my experience with my new almost-organic skin care routine. I am calling it an 'almost-organic' routine as it still comprises few products that have chemicals, and because my experience with these or similar products was good so I am continuing using them.
While you go through the list, please keep in mind that I have oil/combination skin so these products are chosen to tend the needs of that skin type. Some of the main problems my skin has been growing through are open pores and unnecessary shine. Thankfully, no pimples this time otherwise I would have included more salicylic acid products. Well, without wasting more time, let's have a look at the products.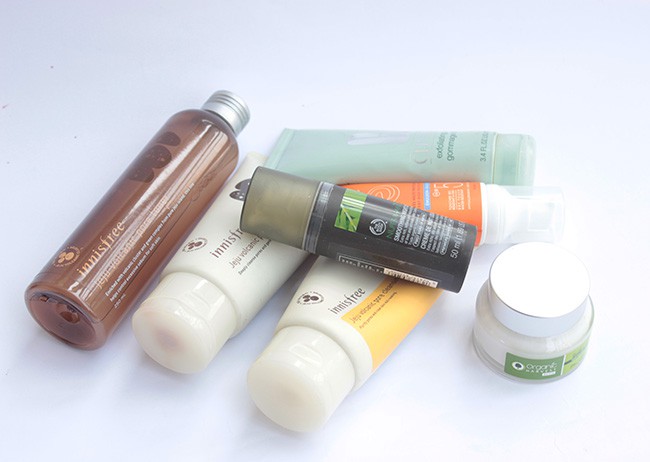 Innisfree Jeju Volcanic Pore Cleansing Foam: For my oily skin, I like foaming cleansers in summers. They take care of the extra shine and provide the glow it needs. As the name says, Innisfree pore cleansing foam is made with Jeju volcanic scoria to absorb sebum and purify pores. I have been using this product for last couple of weeks, and I like the abundant foam and refreshing feel it provides. But to know the efficacy you will need to wait for some more days.
Innisfree Jeju Volcanic Pore Toner: This product is again chosen keeping the open-pore problem in mind. As the title suggests, Innisfree Jeju Volcanic Pore Toner is from the same family as the cleansing foam. This toner is also made with Jeju volcanic scoria and removes excess sebum. I am counting on it to keep my skin matte and pores unclogged. During the last few weeks of usage I have seen it delivering what I need but I will soon publish a detailed review.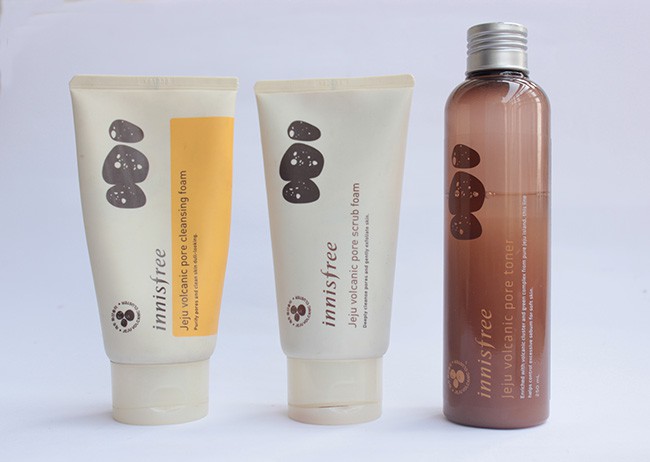 Innisfree Jeju Volcanic Pore Cleansing Scrub: Well, it is not only the daily skin care routine that matters, weekly/bi-weekly skin care routine is also equally important. Scrubbing and exfoliation removes dead skin and triggers new cell formation resulting in healthy youthful skin. In line with the pore cleansing foam and toner, I added the pore cleansing scrub. This is a very mild scrub; so far, I have used it for couple of times only. I will test it more before publishing the full review.
Clinique Exfoliating Scrub: Well, I have already published this scrub's review. It is good exfoliator for oily skin and I am totally satisfied with it. It contains salicylic acid that keeps pimples at bay. Though its usage instructions say that it is a daily exfoliator but I use it twice a week only. It clears the skin, unclogs pores and reduces blemishes. In short, it is absolutely great for summers. You can check the detailed review here or by clicking the title.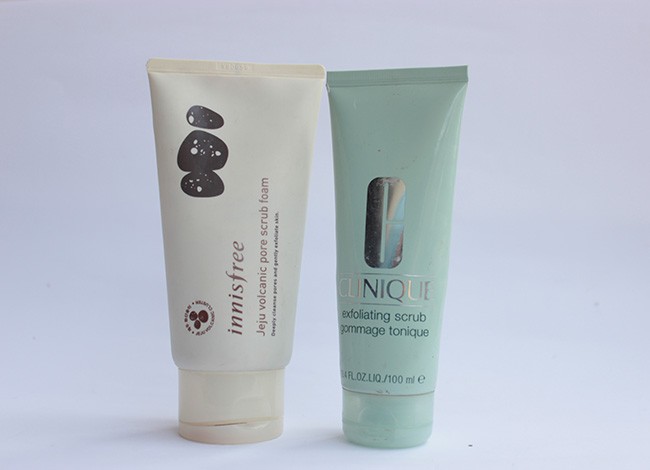 Organic Harvest Activ Blush Shine and Glow Cream: This cream is different from my oil-skin oriented product list. I did not want to take the entire glow from the skin using just mattifying products so added this 'Shine and Glow' cream to the regime. The cream is a blend of Beet root extract and Bearberry with a trace of Iris root extract that helps the skin in retaining back the moisture and elasticity. It also claims to conceal skin imperfections and add natural freshness, moisture to the skin. I have been using it for last few days only and already started liking it. I want it to provide a long term effect so I will use it for another couple of weeks and let you know the results.
Eau Thermale Avene Very High Protection Emulsion – SPF 50: Irrespective of the season, sunscreen is a part and should be a part of our skin care routines. In summers, I prefer to go with high SPF factor as when the sun is at its peak it can cause more damage to the skin. Hence, to shield the skin from scorching summer heat I bought this sunscreen. I have used its cream version (you can check the review here) but that used to make my skin greasy and white so I went for the emulsion version this time; will share the review by next month.
The Body Shop Nutriganics Smoothing Night Cream: Night cream is also important irrespective of the season. It helps in repairing the skin while it is at rest. I have using TBS Nutriganics night cream for quite a while now. You can check its review here or click on the title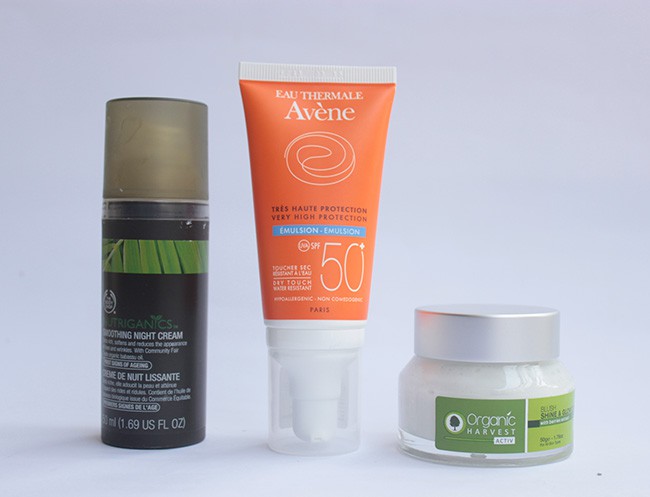 So, this is my summer skin care routine-Oily Combination Skin. What is your skin type? And, what products are you using this season?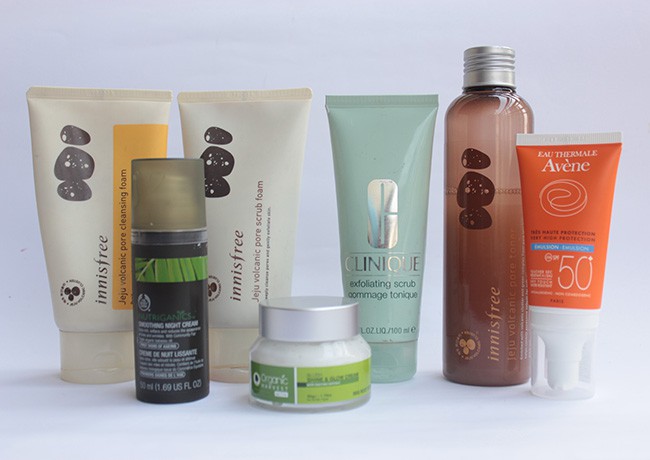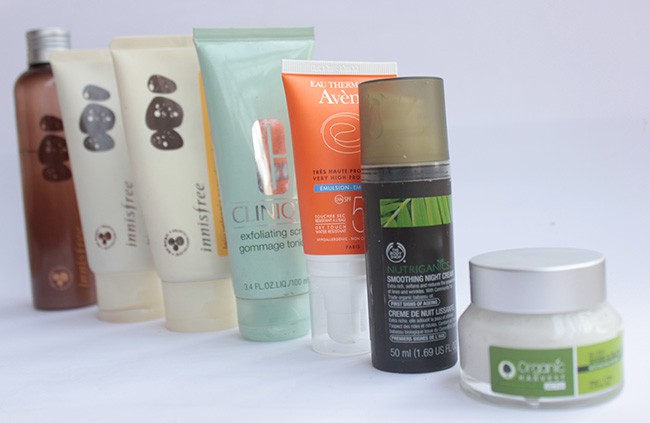 You might also like reading these related topics:
7 Morning Rituals For Healthy Younger Looking Skin
My New Summer Skin Care Routine For Hydrated Supple Skin-2015
5 Skin Care Tips For Healthy And Glowing Skin
5 'Instant Glow' Skin Care Tips From Kitchen
Revise daily skin care routine