After a long tiring day, just as your body needs food and rest so does the skin. Obviously when you sleep like the body skin is also at rest, but what about the food? How will your skin be energized and recovered to combat yet another day? To take care of these skin care needs, we have specially formulated night creams in the market that feed the skin with nourishment and also address specific skin care concerns such as dullness, anti-ageing, acne, blemishes, etc. Today I will talk about The Body Shop Nutriganics Smoothing Night Cream which claims to reduce the appearance of fine lines and wrinkles. Let's have a look at my experience with this cream.
What the product says
Our certified organic range has been created for the first signs of ageing. This night cream hydrates, softens and smoothes skin while you sleep.
• Moisturizes for up to 12 hours
• Skin feels plumper and more toned
• Reduces the appearance of lines and wrinkles
• 98% of ingredients are of natural origin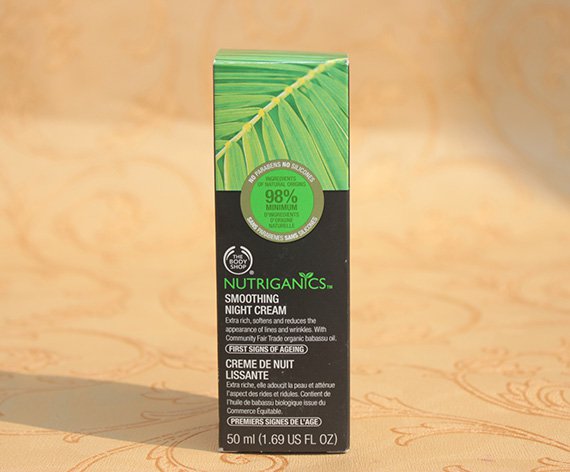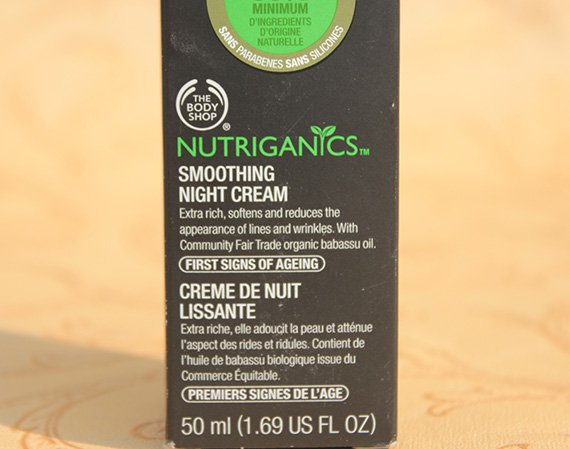 My Take on 'The Body Shop Nutriganics Smoothing Night Cream'
The night cream is housed in a cylindrical plastic bottle, which is further packed in a carton that has all the details such as ingredient-list and efficacy mentioned on it. The olive color opaque bottle and the translucent cap give it a classy look. It has a pump-dispenser so the usage is convenient but its drawback is if you happen to take out more-than-required product you won't be able to put it back. But from travelling perspective, the packaging is safe to carry and does not lead to spillage.
The cream is off-white in color with undetectable fragrance. I could not relate this fragrance specifically to anything but it smells more like herbs. The texture is smooth and soft, hence does not require any effort in massaging. Moreover, the semi-runny consistency makes it easy to dot the cream all over the face and spread evenly.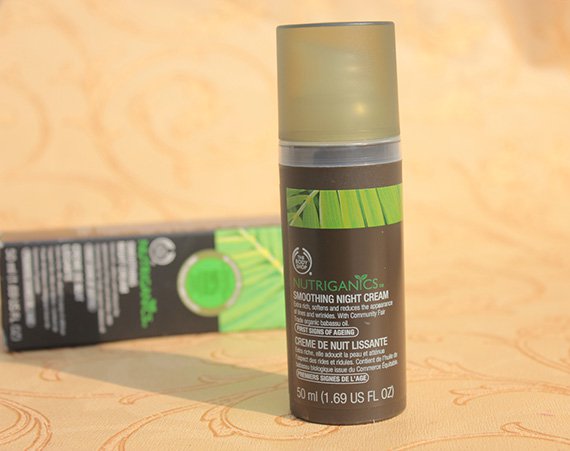 It has to be applied on clean face. If you are using a toner, give couple of minutes of gap before applying the night cream. Usually, I take just one pump to cover face and neck but when my skin in going through extreme dry phase I press it down twice to replete the skin with required moisturizer. Then, dot it all over face and neck, and spread evenly so as it reaches every nook and cranny. As it has cream base so it does not immediately sink into the skin instead takes 2-3 minutes to completely pass through the topmost layer. The good thing is it does not leave any greasiness or flimsy oil layer, which I think would have been a concern for my oily skin.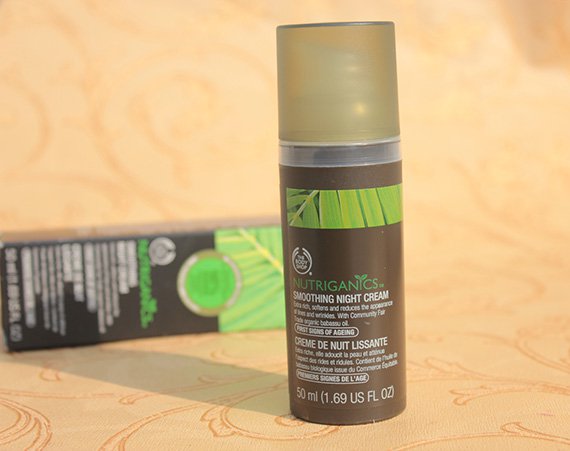 This cream has been specially formulated to take care of first signs of ageing. In my opinion, the best time to start using anti-ageing cream is late twenties when ageing can be easily deferred. But once you get those stubborn fine lines and wrinkles it becomes difficult to get rid of them unless you find a miraculous product. Speaking along those lines, this cream is beneficial in deferring fine lines but if you already have them it does not do much diminishing immediately. However, consistent usage of this cream along with healthy diet might help to see prominent results. In addition to that, it helps in rejuvenating skin by replenishing it with proper moisture. Skin feels healthier and clearer next morning. Besides, it also works on acne spots making the skin even. Whatever uneven skin tone I had earlier, seems to be becoming even and clear as I keep using this night cream.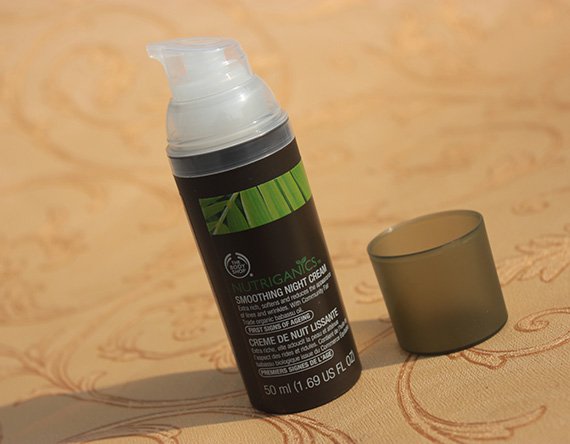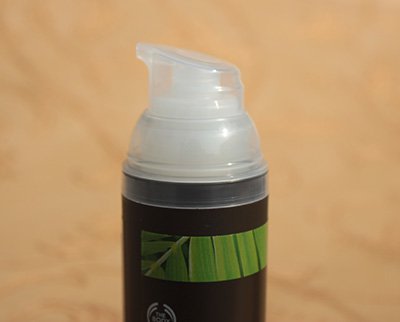 What I like about 'The Body Shop Nutriganics Smoothing Night Cream'
– Easy to use.
– Does not require much effort in spreading.
– Makes the skin soft and healthy.
– Helps in making skin even.
– Does not leave any greasy feel.
– Does not feel heavy.
– Does not cause any skin breakouts
– Travel-friendly hygienic packaging.
What I do not like about 'The Body Shop Nutriganics Smoothing Night Cream'
– It does not cause considerable diminishing of fine lines.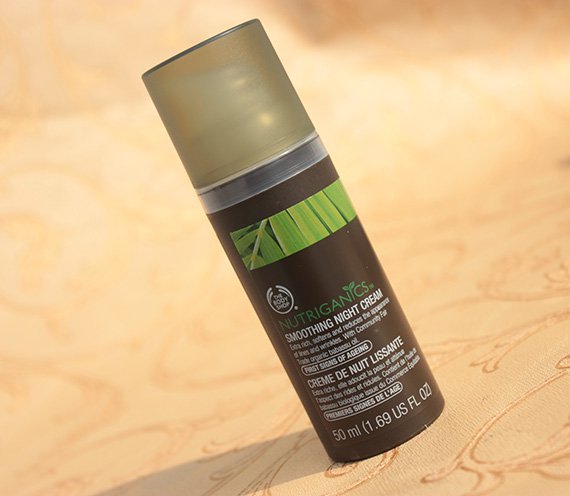 Ingredients of 'The Body Shop Nutriganics Smoothing Night Cream'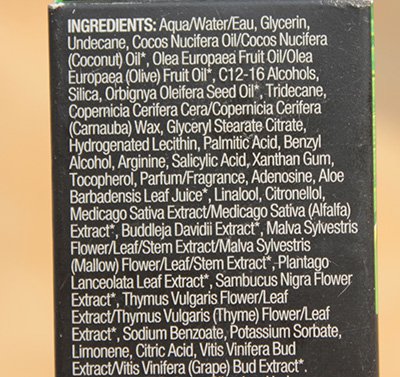 Price of 'The Body Shop Nutriganics Smoothing Night Cream': Rs 1795 for 50ml
Shelf life of 'The Body Shop Nutriganics Smoothing Night Cream': around 3 years
BABE Rating: 4/5
Final Word: If you are in mid or late twenties, I would suggest using 'The Body Shop Nutriganics Smoothing Night Cream' as it will help in deferring fine lines and wrinkles. In case you are looking a quick reduction in current wrinkles you would need to keep some patience as substantial results will be visible after long and consistent usage only. Nonetheless, it does contribute in improving skin tone and overall skin health. It makes skin look plumper and fresh every morning. You can give it a shot for an improvement in overall skin health as well.
You might also like reading these related topics:
The Body Shop Seaweed Clarifying Night Treatment Review
Himalaya Herbals Revitalizing Night Cream Review
Spawake Moisturising Fairness Cream For Night Review
Forest Essentials Night Treatment Cream Jasmine and Patchouli Review
JAFRA Beauty Dynamics Balancing Night Cream Review Swatch
L'Oreal Paris Youth Code Youth Boosting Cream Night Review
Olay Natural White Rich All In One Fairness Night Cream Review
The Nature's Co White Tea Night Cream Review