Hello Everyone,
How are you all doing? I am totally enjoying Delhi's monsoon these days. I love the fragrance of soil when it rains. Rains give me a reason to sip an extra cup of coffee and eat pakoras without feeling guilty about it. Another thing which I am loving these days is SHOPPING. As this is my birthday month, so I am busy in shopping all those items which were in my wish list from such a long time. I keep on adding one or two new things daily in that list.
What The Product says
It is a night time moisturiser that nourishes and recovers your skin overnight with nutrient-rich sea minerals and Vitamin E. It continuously moisturises for 8 hours* to sleep off the damaging effects of environmental stress such as UV rays, dryness and pollution.
Beautiful skin is created at night as the skin metabolism is most active while we sleep. This happens because there are less factors to interrupt the skincare process making night the ideal time to care for your skin.
My Take on 'Spawake Moisturising Fairness Cream for Night'
I have already reviewed three products of Spawake on BABE. I liked its face wash a lot but had an average experience with its day cream and cold cream. The last product which I received was "Spawake Moisturising Fairness Cream for Night". All products from this range claim moisturizing effect and they also claim the fairness effect by lightening your skin tone. I agree with the moisture part, all the products which I have used actually moisturize the skin really well. But the claim of fairness is temporary. Skin does look fairer after the use but only for few hours.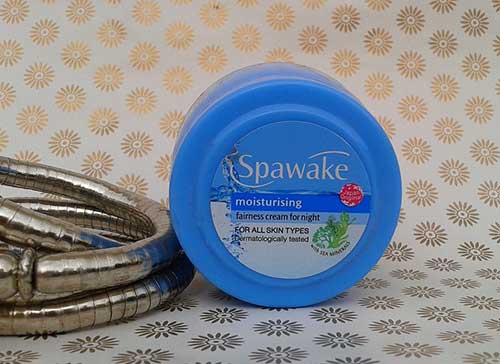 Like other creams from Spawake, it also has sweet floral fragrance which instantly refreshes the mood. Infact its fragrance was one of the reasons which forced me to try this cream. It comes in an opaque blur colour tub. To save the product from spilling, an inner white lid is also there which makes it suitable in case you want to carry it while travelling. The cream has gel like consistency which is neither too thick nor too runny. Couple of drops is more than enough for the entire face and neck. We should never forget to apply moisturiser on our neck before hitting the bed, it helps in making our neck firm and removing the tan.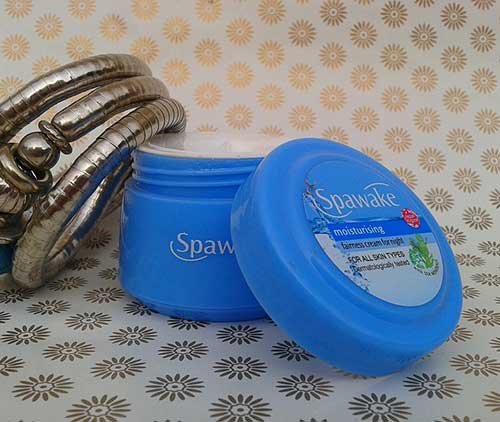 I massaged my face lightly in anti-clockwise direction for couple of minutes. My skin looks sticky and oily in the beginning but soon all the oil vanishes leaving behind flowing skin. I complete my night skin care regime by applying eye cream under my eyes. Skipping eye cream is another mistake which we all usually do. Eye creams helps in soothing our eyes and reduces fine lines and dark circles.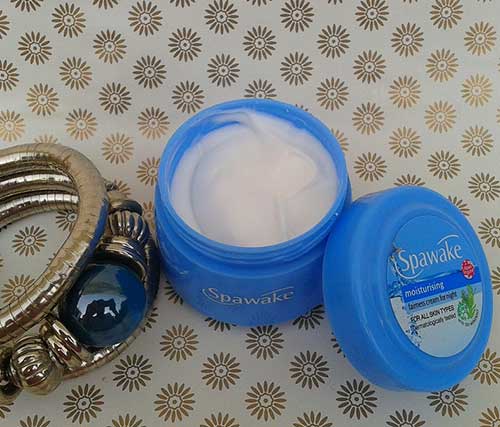 I started noticing the difference from the very first use. I woke up with a fresh and glowing face. My skin was looking relaxed and radiant and it remained that way till the evening. It has been around a month that I am using this night cream and results are visible. These days I often get compliments for this healthy glow. It has also helped in removing my tanning and has actually made my skin a shade fairer.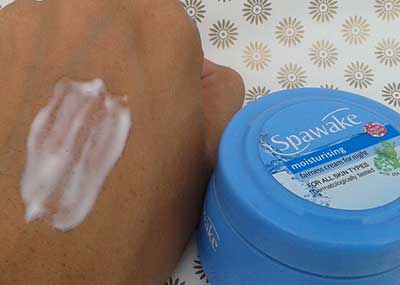 The issue of SPF which I faced with other two creams, is not valid in this case, as we don't need any SPF during the night. Thought it is a dermatologist recommended product but it does contains lots and lots of scary chemicals in its ingredient list which damages our skin in a long run. Another thing which bothers me a bit is that it makes my face oily after application.
What I Like about 'Spawake Moisturising Fairness Cream for Night'
– It contains Sea Minerals and Vitamin E.
– It does not make my face oily.
– It controls the oil for 5-6 hours.
– It does not make my complexion dark.
– Only a small amount is required for a single use.
– It is very affordable.
What I do not like about 'Spawake Moisturising Fairness Cream for Night'
– Skin looks oily in the beginning.
– It contains paraben.
– Availability is also an issue.
Price of 'Spawake Moisturising Fairness Cream for Night': INR 129/- for 25 gm and INR 249/- for 50 gm
Shelf Life of 'Spawake Moisturising Fairness Cream for Night': 36 Months from the date of manufacturing
BABE Rating: 4/5
Final Words: Overall it the best product from Spawake I have used so far. It fulfils all its claims and helps me to wake up with a more beautiful face every morning. I am loving all the attention and compliments I am getting these days. I am totally enjoying using this cream and have no intention to switch to another brand. I am going to use it until I won't spot something more tempting in the market. But if you are someone who tries to avoid chemicals and parabens then this product is not you.
You may also like reading these related topics
Forest Essentials Night Treatment Cream Jasmine and Patchouli Review
JAFRA Beauty Dynamics Balancing Night Cream Review Swatch
L'Oreal Paris Youth Code Youth Boosting Cream Night Review
Olay Natural White Rich All In One Fairness Night Cream Review
The Body Shop Seaweed Clarifying Night Treatment Review
The Nature's Co White Tea Night Cream Review
The Body Shop Nutriganics Smoothing Night Cream Review
Himalaya Herbals Revitalizing Night Cream Review