I am reviewing another Innsifree Orchid product today. I got it couple of months back but did not find the summer season suitable to start the testing. Now, as my skin was getting little dry I started using this cream. It's been one month since I am using it , and now it is time for the review.
What the product says
An anti-aging cream made with Jeju orchids to give you younger, healthier skin
1. Precious Orchid Elixir™- A superior antioxidant ingredient extracted from Jeju orchids makes skin glowing and radiant while strengthening.
2. All-in-one care for elasticity, brightening, and nourishing. By providing full nourishment, it tightens skin, reduces wrinkles, and brightens your overall skin tone.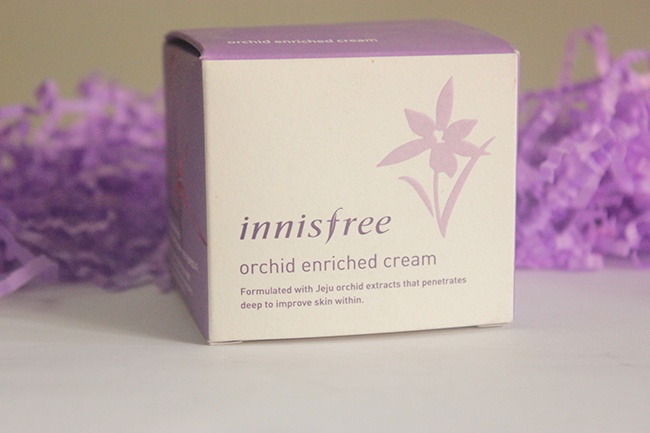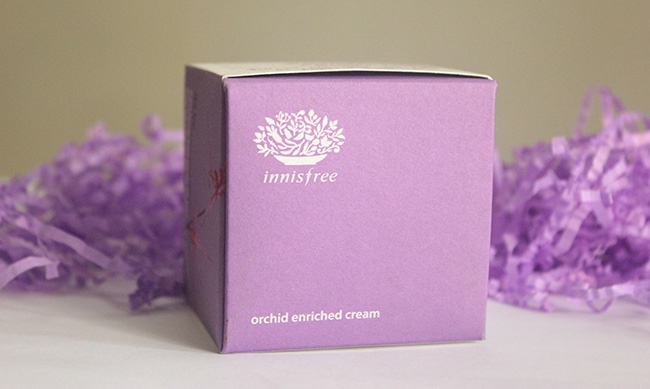 My take on 'Innisfree Orchid Enriched Cream'
I have used other products from Innisfree Orchid range, and all these products are specifically formulated using the Orchids that grown on Jeju Island in harsh winters. According to Innisfree, these special type of Orchids benefit the skin manifolds and that's the reason they have been chosen as the main ingredient of this range.
The Innisfree Orchid enriched cream comes in a 50ml plastic tub without a spatula. The violet colored is quite eye catching and looks classy in the cosmetic cabinet. Though it seems heavy but it is absolutely lightweight, and that being said it can be easily carried while travelling. The contents are saved from spilling using another lid on top of the opening.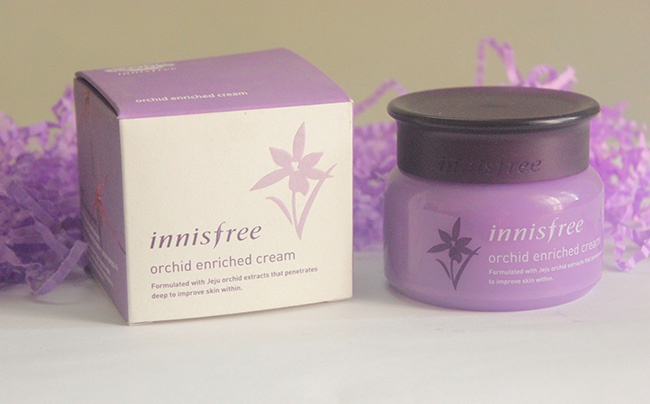 It is an intense cream with light floral scent. Of all the Innisfree Orchid range products I have used, this one has the best scent. It reminds me of spring season when flowers bloom and make the surroundings fragrant. The heavy gel like texture of the cream makes it difficult to spread and thus takes time in penetrating into the skin. On my oily skin, it leaves a sticky feel behind along with visible shine. But I think it would be ideal for dry skin or even when the oily skin is going through a dry phase.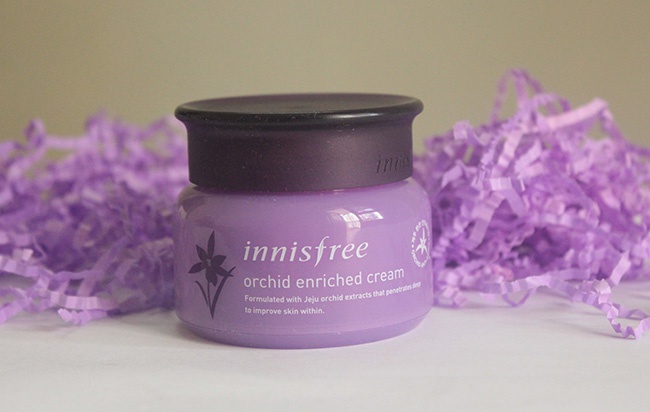 It does not have SPF factor, so if you have to use it during the day you will need to slather another layer of SPF. For oily or acne prone skin, I do not recommend it being used as a day cream as the thick texture can become home to bacteria and might cause acne/pimples. However, its thick texture is good for night time usage. For initial couple of days I used it as a day cream but when I did not see it working well on my skin I switched applying it as a night cream. I do not mind the stickiness and shine from a night cream as I know nobody would be able to see that and as I do not have to step out of the house so there are less chances of making the skin a bacteria-breeding ground.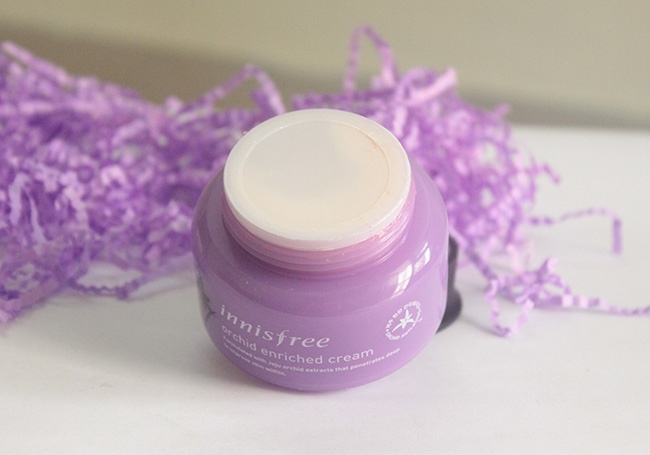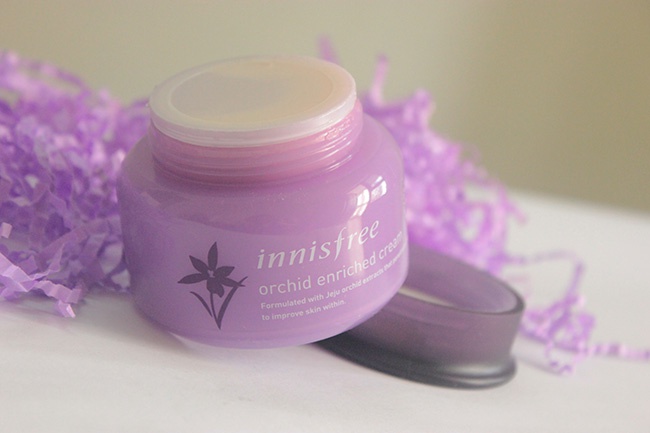 When used as night cream, I got better results as my skin is replenished with moisture and plumpness when I wake up the next morning. It repairs the skin, tightens it and gives visible firmness. I love the softness it has brought to the skin. And I feel that in winter season, it will give even better results as my skin sometimes get dry watches in cold weather.
But if your skin is very much acne prone and can't stand intense creams then you should not try using this one. It is ideal for dry skin, and works best as night cream.
What I like about 'Innisfree Orchid Enriched Cream'
– Wonderful floral scent.
– Lightweight packaging which is easy to carry.
– Moisturize the skin well.
– It will work best on dry skin.
– It works better as a night cream.
– Firms the skin and tightens it up.
What I do not like about 'Innisfree Orchid Enriched Cream'
– Heavy texture that requires effort in spreading the cream.
– Not a good summer option for oily skin.
– It does not have SPF.
– It does not provide remarkable difference on wrinkles and fine lines.
– It takes time in penetrating into the skin.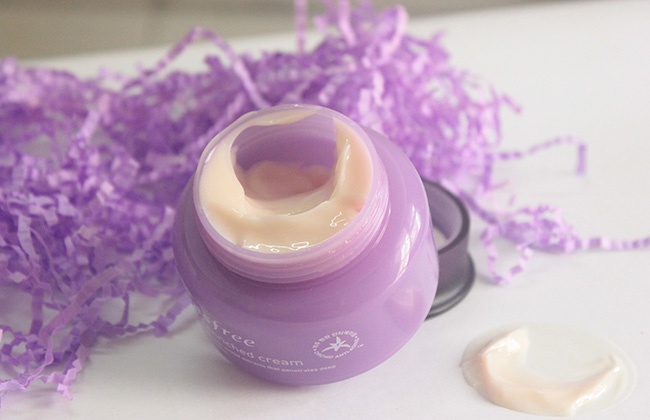 Price of 'Innisfree Orchid Enriched Cream': Rs 2900 for 50ml
BABE Rating: 3.75/5
Final Word: Overall, I love Innisfree Orchid Enriched Cream as night cream. Its heavy texture does not allow it to work on my oily skin during day time so I find it optimal for the night time usage. It fills the skin with moisture and adds plumpness. I love the soft and glowing feel it has brought to the skin. For dry skin beauties, the day and night time usage might give better results but for acne prone skin it is a big NO.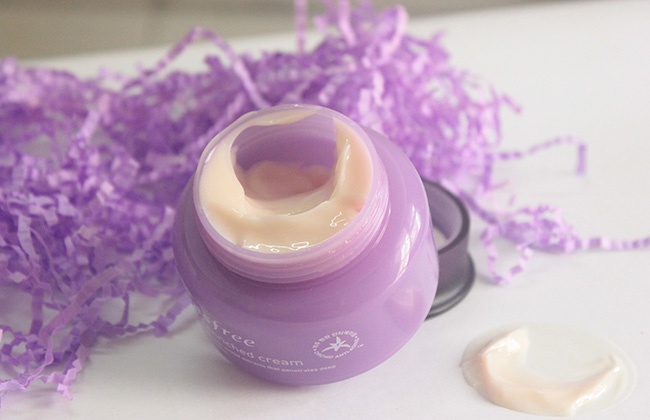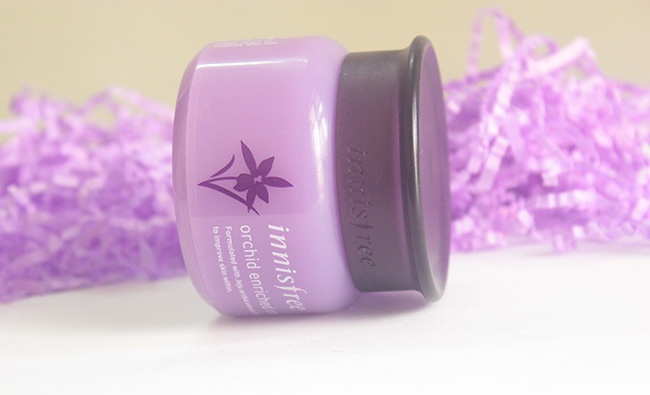 You might also like reading these related topics:
Innisfree Orchid Eye Cream Review
Innisfree Jeju Daphne Blossom Hand Cream Review
Organic Harvest Activ Blush Shine And Glow Cream Review
Himalaya Herbals Oil-Free Radiance Gel Cream Review
The Body Shop Vitamin C Daily Moisturizer SPF 30 Review
The Body Shop Seaweed Mattifying Day Cream Review, Swatch
The Body Shop Tea Tree Skin Clearing Lotion
Olay Total Effects 7 in one Anti-Ageing Day Cream Review
Olay Natural White Rich All-in-one Fairness Day Cream Review
L'Oreal Paris Skin Perfect Anti-Aging Whitening Cream Age 40 Plus Review
L'Oreal Paris Skin Perfect Anti Fine Lines and Whitening Cream for age 30 plus Review
L'Oreal Paris Skin Perfect Anti Imperfection Whitening Cream For Age 20 plus Review
L'Oreal Paris Youth Code Youth Boosting Cream Day For Early Signs Of Ageing
The Nature's Co Marshmallow Day Cream Review