Like a face cleanser, eye cream is a part of my daily skin care regime. Under eye skin is delicate and requires special care. Besides, diet and sleep hours play significant role in keeping up the health of this skin. If eye area is not healthy I look sleepy and tired all day even though I do not feel the same inside have done several posts on what we should be eating to retain a healthy glow and sparkling eyes. You can check these articles in the skin care section. Today, I will share my experience of Innisfree Orchid Eye Cream.
What the product says:
An anti-aging eye cream made with Jeju orchids that offer you younger and healthier skin
1. Precious Orchid Elixir- A superior antioxidant ingredient extracted from Jeju orchids makes skin glowing and radiant while strengthening.
2. Plentiful nutrition makes the skin texture healthier by reducing wrinkles, increasing elasticity, and improving the skin tone.
3. Grips the skin and makes the eye areas smoother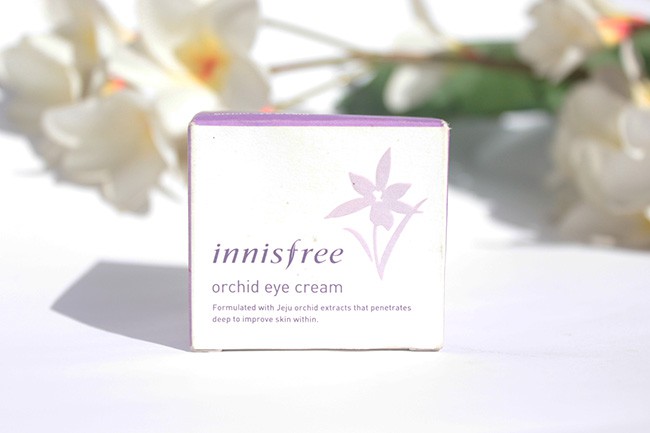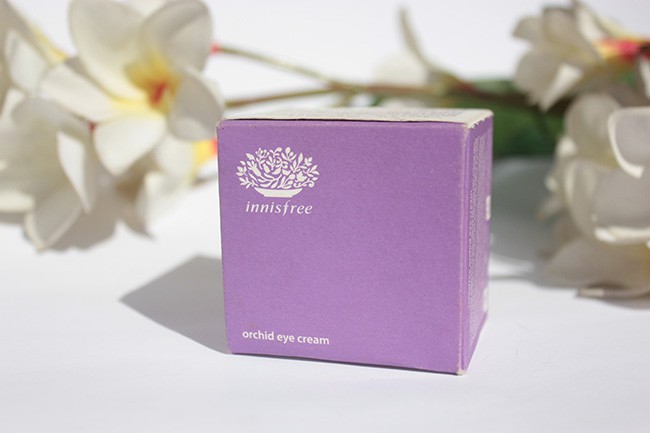 My Take on 'Innisfree Orchid Eye Cream'
Innisfree orchid eye cream is housed in a classy round plastic jar. The mauve color jar is supported with a screw cap that ensures safe packaging without spillage. It is a lightweight packaging so can be easily carried around inside the handbag. Most of the information is written in a Korean language but whatever is imperative to know about the cream is also translated in English. So, if you want to know about the usage instruction or benefits you can spot that info in English.
It is a white color eye cream with thick consistency. It has a creamy and soft texture that makes it easy to apply and dab until most of it is absorbed into the skin. The fragrance is mild, and has a flowery tinge to it. Personally, I do not like applying strong fragrance cream on the under eye area. I believe the fragrance comes from preservatives or chemicals and the stronger it is the more it will be harmful for that delicate area. I might be wrong but because of this self-made rule I prefer going for lighter creams/gels for eye area.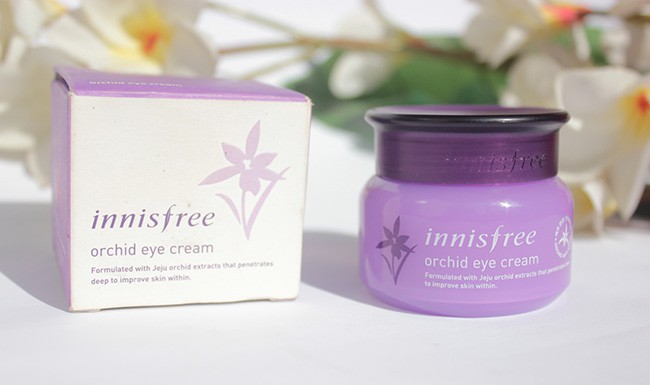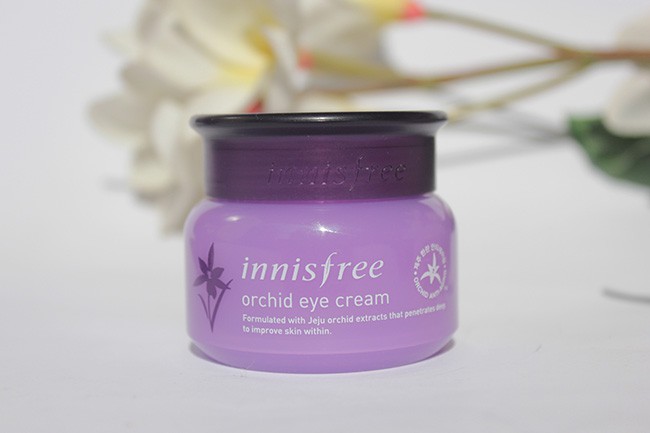 This Orchid eye cream is formulated with Jeju Orchids extracts; the flower blossoms in coldest conditions and alleged to have numerous skin benefits. One of the benefits is that it triggers the nutrients to penetrate deep within the skin thereby benefitting the upper layers. I have been using this cream for over 1.5 months now, and I see visible improvement in my skin around the eyes. The pigmentation of dark circles keep varying though, as it depends not just on the external cream but other factors such as sleeping time, stress level and food intake. And, neither was I expecting it to work wonder to reduce the under-eye-area pigmentation. Keeping that aside, it has made the area below the eyes healthy and hydrated. The difference was noticeable after one week itself; still I kept using it in order to see what else it will do. It also helps in reducing the puffiness if it surfaces once a while. In case of persistent puffiness I would pay more attention to my diet and sound sleep.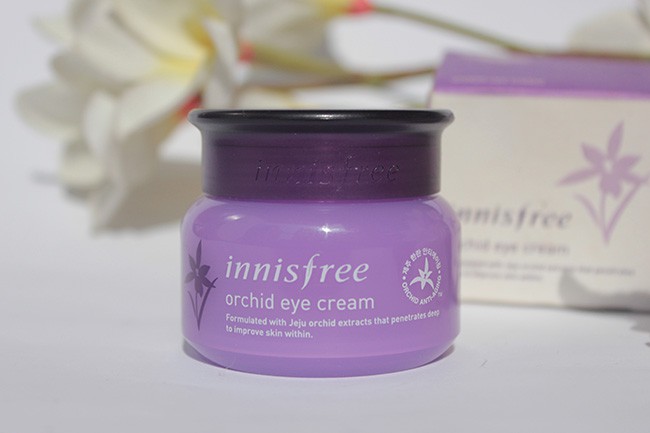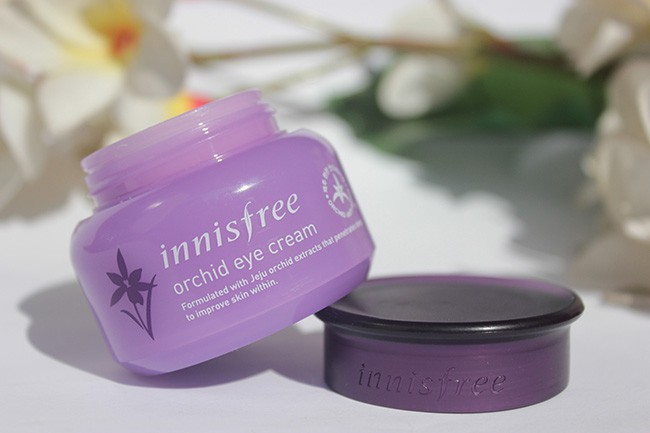 I use this cream twice a day – morning and night on clean face. Just a small quantity (less than pea size) is sufficient to cover both eyes. I always use ring finger to apply eye cream. I have seen many people rubbing their under eye area to make the cream go deep into the skin. You do not have to treat your skin that way (not just under eye area but any part of your face), as doing so will cause premature ageing, making the benefits of any cream futile. Ring finger puts the least pressure, which is the required scale of pressure to be put on that soft area, and so is the best tool for eye care application. Plus, do not drag the cream rather pat and lift. This will prevent tagging of the gentle skin while spreading, and will do more good. Even if the cream does not completely seep into the skin, I just leave it like that to do its job.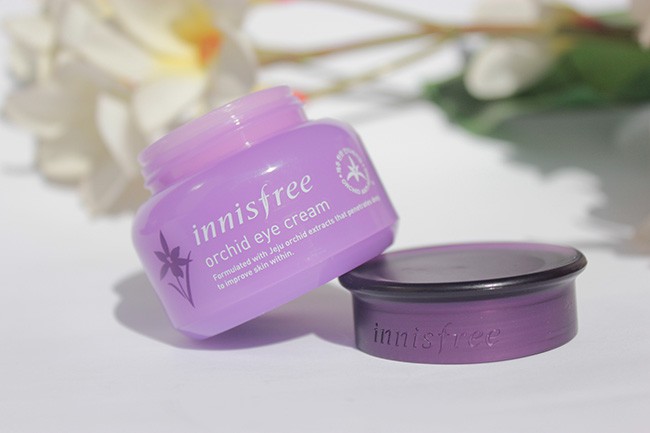 What I like about 'Innisfree Orchid Eye Cream'
– Makes the under eye area healthy and hydrated.
– Reduces puffiness.
– Lasts long as just a bit of it is required for every single use.
– Mild flower(y) fragrance.
– It does not cause any stinging sensation.
What I do not like about 'Innisfree Orchid Eye Cream'
– A spatula would have been better.
– It does not work much in reducing the pigmentation but that's not a con for me as I have explained above.
Price of 'Innisfree Orchid Eye Cream': Rs 2000 for 30ml
Shelf life of 'Innisfree Orchid Eye Cream': For best results, use within 30 months from the manufacture and 12 months from opening
Ingredient list 'Innisfree Orchid Eye Cream'

BABE Rating: 4/5
Final Word: Overall, Innisfree Orchid eye cream imparts health and hydration to the delicate under eye area. It is a light cream with mild fragrance. It does not work incredibly in reducing dark circles. But if that is the major concern area for you, you might also want to improve the diet and quality of sleep. Lastly, just a tiny quantity convers the under eye areas, making the expensive jar last long.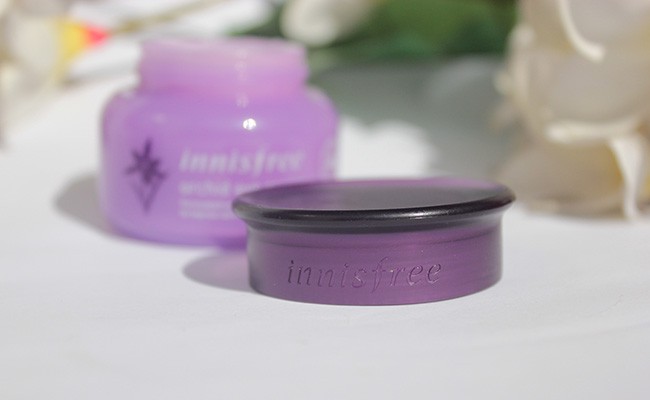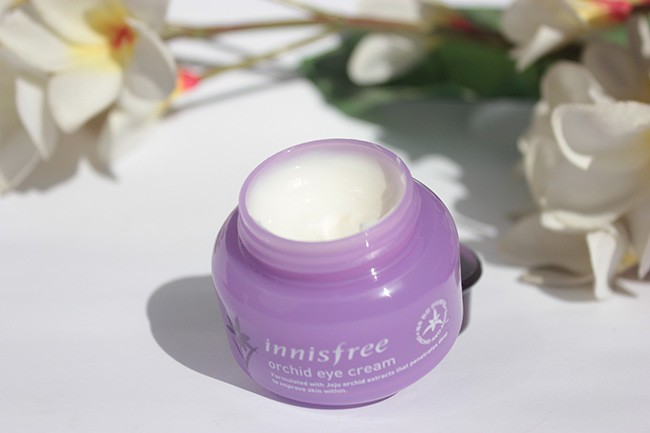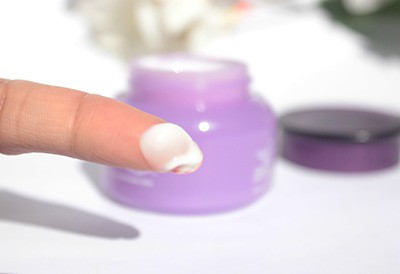 You might also like reading these related topics:
Forest Essentials Intensive Eye Cream With Anise Works Well On Under Eye Area
Olay total effects 7-in-1 anti ageing eye cream review
The Body Shop Vitamin E eye cream Review
The Natures Co White Rose Under Eye Gel Review