My hands are not the softest so I love experimenting with different hand creams. Trying new hand creams is less-risky as compared to trying new face products, and that's the reason why I do not hesitate in going for a new one most of the times. Today I am going to review the 'Innisfree Jeju Daphne Blossom Hand Cream'. Let's see how I impressed I am with this soothing-looking cream.
What the product says:
Innisfree, the pure island where clean nature and healthy beauty coexist in harmony. Innisfree is a natural brand that shares the benefits of nature from the pristine island of Jeju allowing for vibrant beauty and pursues an eco-friendly green life to preserve the balance of nature. The Jeju hand cream comes with deep moisturizing property with a sweet scent of Jeju Daphne blossom. This custard cream will provide immediate relief to the dry hands.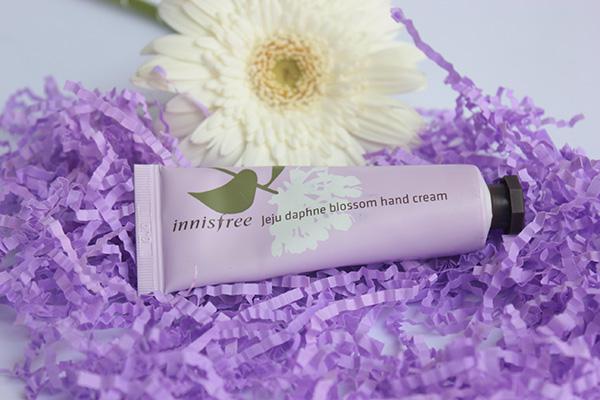 My Take on 'Innisfree Jeju Daphne Blossom Hand Cream'
The hand cream is housed in a squeezable lavender tube. I am not sure if the packaging material is metal or plastic, but as it feels quite soft compared to a metal tube so I am assuming it is made of plastic. The outlet has small brown cap which works on screw mechanism. This is a light-weight spill-proof hand cream so can be easily carried in handbags. Plus, it has the complete ingredient list mentioned on it, so you can check if the ingredients will suit your skin type.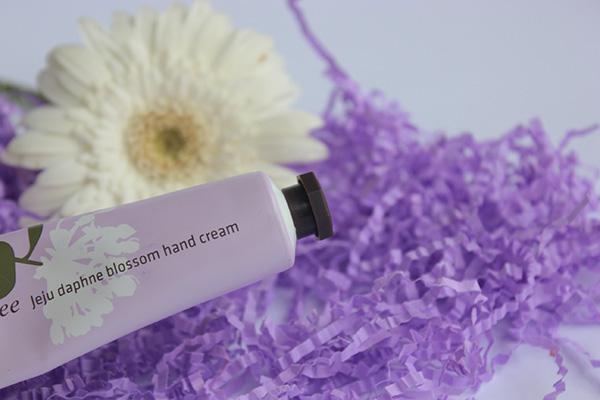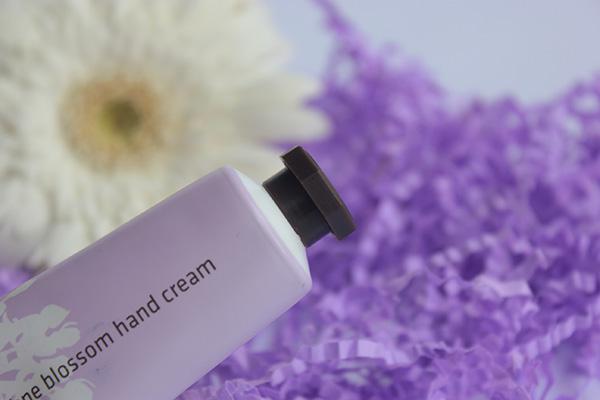 The texture looks grainy but is absolutely soft. It can be easily spread without much effort. The cream has pleasant lilac fragrance that feels quite prominent in the beginning but starts fading after 30 minutes and completely vanishes after an hour. I do not mind applying fragrant hand creams but if you do, you won't like this a lot. Rather in summers, I think the pleasant fragrance of this cream will be refreshing.
It is a light cream that absorbs into the skin – I won't say completely but it gets 80% into the skin immediately and the rest of it takes some time to penetrate. It feels light on the skin but slightly sticky. Even though it does not get immediately absorbed, it does not leave oily impressions on the things you touch. You can start working the moment you apply it, and it keeps on absorbing into the skin at the backend.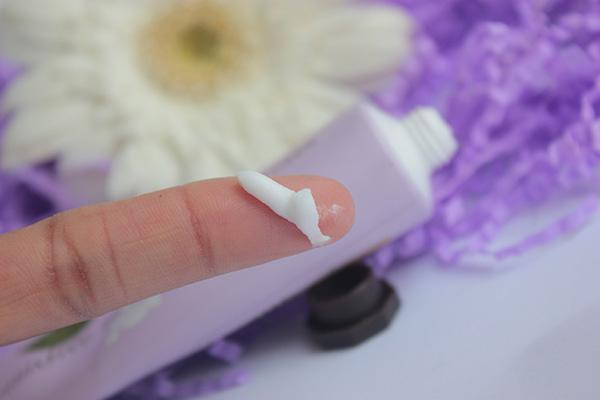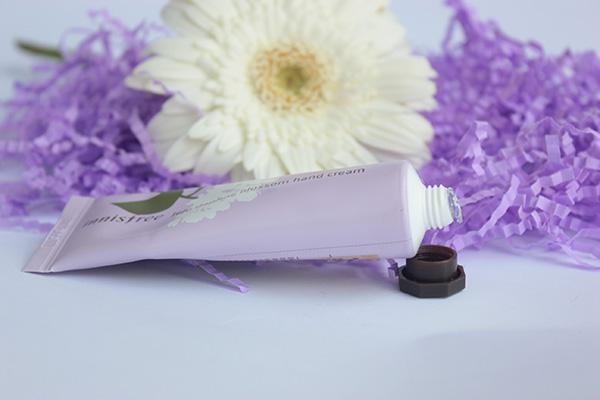 As far as the efficacy is concerned, it keeps the hands moisturized for 2-2.5 hours after which it calls for reapplication. It does not lead to any permanent healing, but yes it does make the hands feel soft temporarily. If you have extreme dry hands or you are looking for a permanent hand-softener you will be slightly disappointed. On the contrary, if you do not expect those things from your hand cream but just casual moisturizer then this will be a good cream for you.
Usually, I do not write on shelf lives as those are pretty much same for every product but this one deserves a special mention. It has long shelf life of 4 years. This is the first time I have ever seen a product with this long life. The irony is this is a very small tube – just 30ml, so the long shelf life will not be beneficial unless you want to stock it up.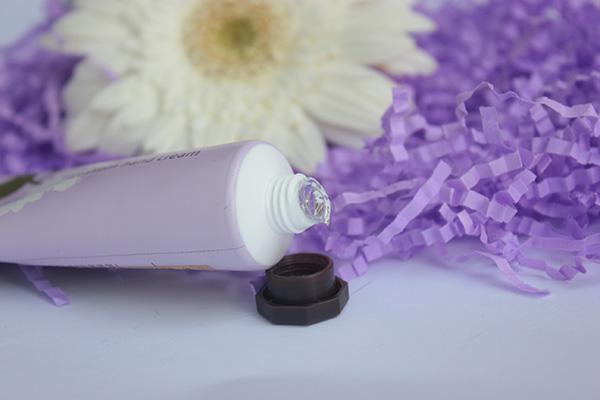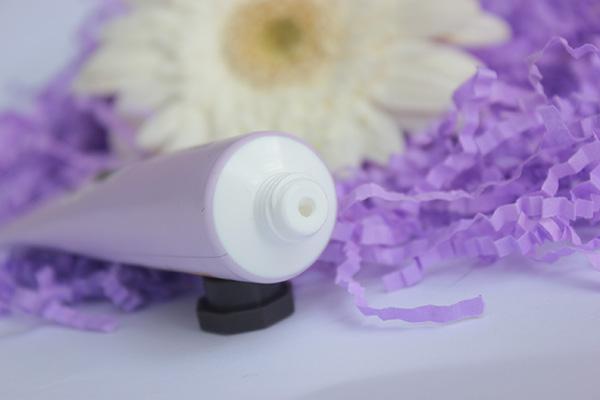 What I like about 'Innisfree Jeju Daphne Blossom Hand Cream'
– Long shelf life, it would be useful if the cream comes in bigger sizes.
– Nice lilac scent.
– Easy to spread.
– Easily absorbs into the skin.
– Convenient to carry along.
– It feels light.
– Non-transferrable.
– Makes hands feel soft.
What I do not like about 'Innisfree Jeju Daphne Blossom Hand Cream'
– Exorbitant price considering product-quantity.
– No permanent effects.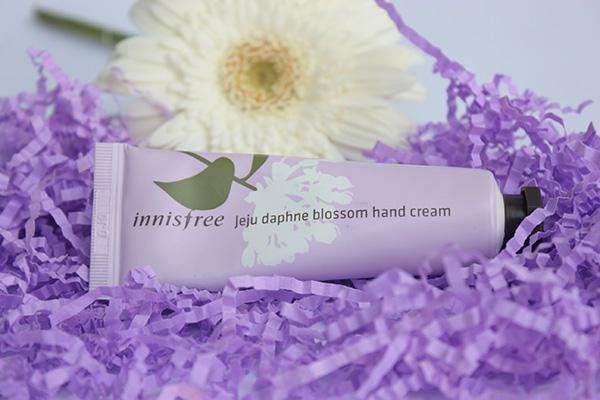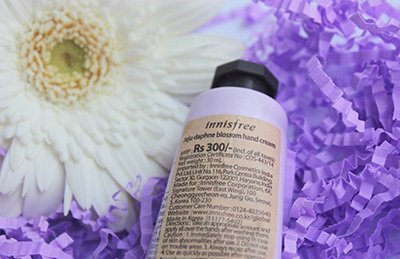 Price of 'Innisfree Jeju Daphne Blossom Hand Cream': Rs 300 for 30ml
Shelf life of 'Innisfree Jeju Daphne Blossom Hand Cream': 4 years from date of manufacturing
BABE Rating: 3.5/5
Final Word: Innisfree Jeju Daphne Blossom Hand Cream is a good moisturizer. It makes the hands fragrant and keeps them moisturized for good 2 hours. It is a light hand cream so can be applied frequently for healthy looking hands. It does not cause any permanent healing but your hands can enjoy this non-sticky moisturizer and its pleasant fragrance. Considering the quantity, the price tag in on a higher side but if you do not mind that and are looking for a casual moisturizer you can go for this hand cream as it moisturizes and makes hands fragrant.
You might also like reading these related topics
Balance Me Rose Otto Hand Cream Review
Balance Me Super Moisturizing Hand Cream Review
Blossom Kochhar Aroma Magic Hand cream review
Eva Pretty Nails Hand and Nail Manicure Kit Review
Neutrogena Norwegian Formula Hand Cream Is Perfect For Dry Hands
The Body Shop Hemp Hand Protector Review