Hi Everyone,
Super moisturizing hand cream is my second product from Balance me. The first one was also a hand cream with rose fragrance. I was completely bowled over by the fragrance, and of course the performance was good except the penetration time it took in seeping into the skin. The super moisturizing hand cream too has good fragrance but completely different from the rose otto hand cream. Rest you will come to know when you read further.
My Take on 'Balance Me Super Moisturizing Hand Cream'
Balance me super moisturizing hand cream comes in a yellow color plastic tube with screw-open cap. The color of the tube is tempting enough for me to bring it home. It is a very attractive mango color; I love mangoes, here you know why I like the color of this hand cream so much. Well, the packaging is easy to use, hygienic and travel friendly. You do not need to exert too much pressure to get the product out- a slight push is enough to do that. Being based on screw-open mechanism, it is safe to carry during travel as well.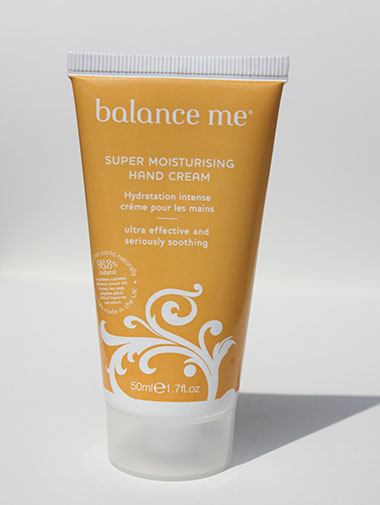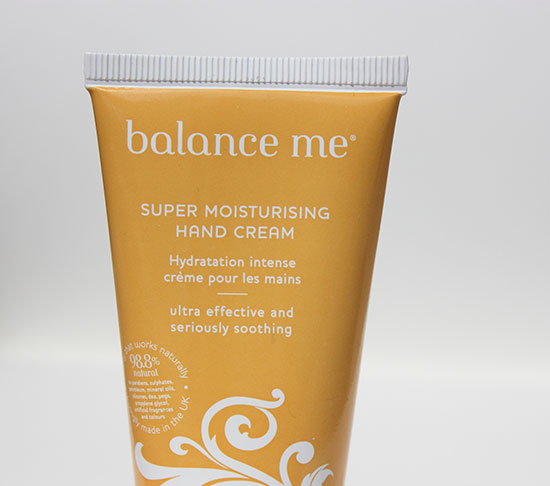 The texture of the cream is soft and creamy. It has thick but soft consistency that can be easily slathered. Because of the consistency, you can always keep a check on the quantity oozed and take out the exact quantity required. It has refreshing herbal fragrance that is slightly strong but once the cream is applied on hands the intensity of the fragrance lessens.
The creamy penetrates into the skin after a couple of minutes without making hands sticky or greasy. Hands feel softer and healthier after every application. As it comes in a convenient packaging, so I will carry it in handbag and reapply whenever required.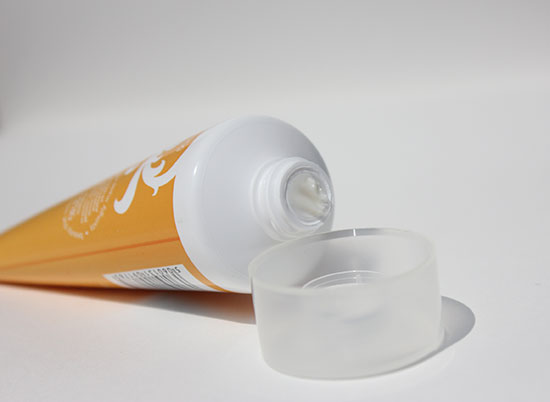 It has a rich cream base that contains an uplifting blend of renowned ancient skin conditioners benzoin and yarrow essential oils, shea butter (rich in essential fatty acids and vitamins), soothing lanolin and smoothing kukui nut oil. These luxurious ingredients are believed to work together to transform even the driest hands, leaving them soft and smooth. Since I have started using this hand cream, my hands have become softer. They do not look lifeless anymore; instead always look moisturized and fuller.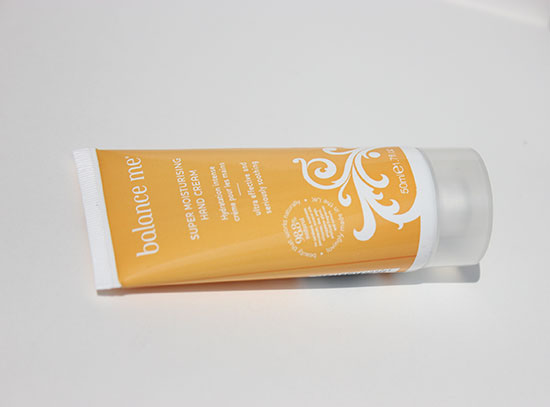 Considering the quantity, it is somewhat heavy on the pocket. But if you prefer natural hand creams and have way drier hands, you may want to give this a shot.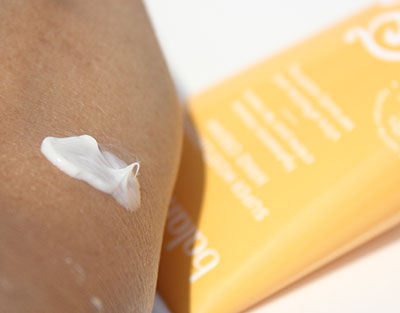 What I like about 'Balance Me Super Moisturizing Hand Cream'
– Hygienic and easy to use packaging.
– Formulated with 98.8% natural ingredients.
– It does not make hands sticky or greasy yet keeps them moisturized.
– Herbal fragrance that is good for herbs lovers.
– It keeps hands moisturized without any heavy feel.
– It effortlessly penetrates into the skin.
What I do not like about 'Balance Me Super Moisturizing Hand Cream'
– Heavy on the pocket.
– Not available in India.
Price of 'Balance Me Super Moisturizing Hand Cream': Approx. INR 1020 for 50ml.
BABE Rating: 4/5
Final Word: Balance me super moisturizing hand cream would be a good option for organic lovers. It contains minimal chemicals, has soothing herbal fragrance, moisturizes & heals hands and is packed in a convenient manner.
You may also like reading these related topics
Balance Me Rose Otto Hand Cream Review
Blossom Kochhar Aroma Magic Hand cream review
Eva Pretty Nails Hand and Nail Manicure Kit Review
Neutrogena Norwegian Formula Hand Cream Is Perfect For Dry Hands
The Body Shop Hemp Hand Protector Review
Innisfree Jeju Daphne Blossom Hand Cream Review