Hi Everyone,
I like experimenting with hand creams as they tend to be less risky. My recent hand cream was from 'Balance me' – it is a UK brand started by British sisters Clara & Rebecca in 2005. They started with making their own products from kitchen. Soon the demand for these organic products rose sky high, which encouraged the sisters to expand the business to a greater scale. As said, most of the products are organic with cute packaging, and those were the primarily reasons why I got allured to 'Balance me rose otto hand cream'. To know the detailed review, you should read further.
My Take on 'Balance Me Rose Otto Hand Cream'
Balance me rose otto hand cream comes in a soft plastic tube that has screw open capping. Owing to the quality of the plastic you can squeeze every last drop of the cream. The pink color tube is attractive, had I spotted it on a shelf I would have bought a couple of them. Fortunately, I bought it from an online marketplace that ships its products to India.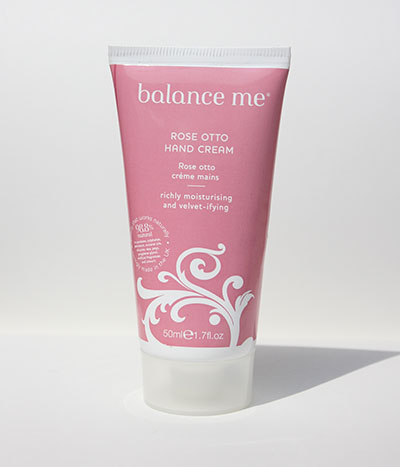 Speaking of texture, rose otto cream is off-white in color and has thick texture. Personally, I prefer soft texture hand creams as it is easier to slather them on hands without investing much time and hard work. On the contrary, creams with thick texture demands of time and patience. Because of this texture, rose otto cream takes time in seeping into the skin. It does not make my hands greasy, but as I do not keep on rubbing it so it does remind me of an unfinished job.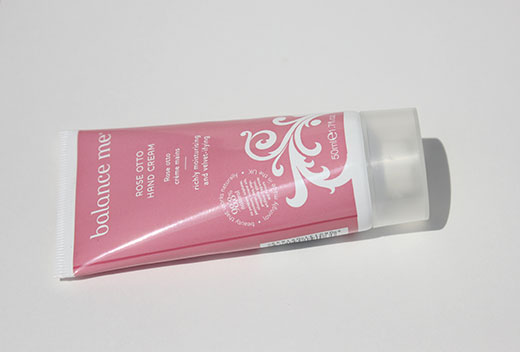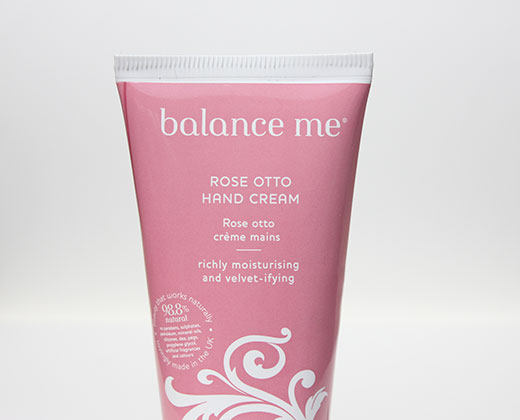 For moisture, it does satiate the moisture thirst of hands but for a short duration only. I need to keep applying this cream as shortly after the application my hands again become stretchy and dry. Also, as it has soothing rose fragrance I do not mind redoing the application but yes considering its exorbitant price its usage should have been more economical.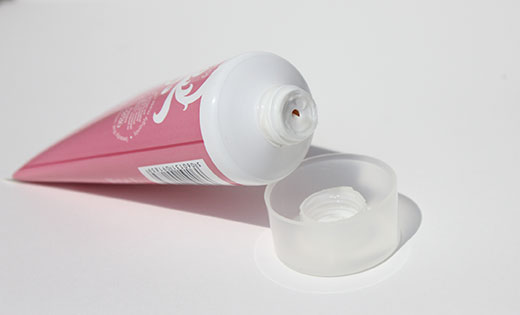 The good thing is that it claims to be 98.8% natural. In this age when it is difficult to find organic skin care products in the market, the 'balance me' hand cream asserts to contain no parabens, sulphates, artificial fragrances, colors, silicones, propylene glycols, etc.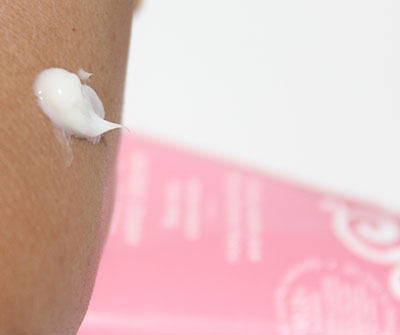 What I like about 'Balance Me Rose Otto Hand Cream'
– It comes in a cute packaging.
– Pleasant rose fragrance.
– Easy to carry.
– 98.8% natural- it does not contain any parabens, sulphates, etc.
– It does not make my hands sticky.
– Available in two sizes: 50 ml and 100 ml.
What I do not like about 'Balance Me Rose Otto Hand Cream'
– Thick consistency that makes it difficult to spread.
– Expensive for that quantity.
– It takes some time in penetrating into the skin.
– It is not easily available in India.
Price of 'Balance Me Rose Otto Hand Cream': Approx. Rs 980 for 50 ml
BABE Rating: 3/5
Final Word: If you like roses and organic skin care products you can give a try to 'Balance Me Rose Otto Hand Cream'. If you do not have extreme dry hands or do not live in that sort of climate it can probably become your go-to cream. It is wee bit expensive but there is high probability that you can fetch a good deal in the online sale period.
You may also like reading these related topics
Balance Me Super Moisturizing Hand Cream Review
Blossom Kochhar Aroma Magic Hand cream review
Eva Pretty Nails Hand and Nail Manicure Kit Review
Neutrogena Norwegian Formula Hand Cream Is Perfect For Dry Hands
The Body Shop Hemp Hand Protector Review
Innisfree Jeju Daphne Blossom Hand Cream Review