Today, I am reviewing another product from Elcuent- Elucent anti ageing day moisturizer. If you remember, I am testing their anti ageing range. I have already published my experience with Elucent anti ageing gentle cleanser. If you like you can click on the provided hyperlink to go through the review. In the meanwhile, let's see my experience with the day moisturizer.
What the product says
State-of-the-art triple action moisturiser visibly reduces wrinkles with 4% AHAs; helps maintain skin hydration by reducing water loss from the skin whilst improving skin texture and tone with vitamin B3 and E. Helps protect against the damaging effects of the sun with a broad spectrum SPF 50+ sunscreen. Use Elucent Anti-Ageing Day Moisturiser as your first line of defence against the visible signs of ageing.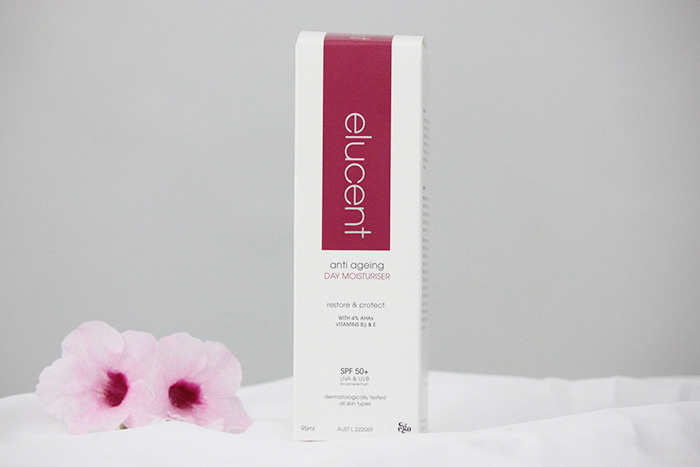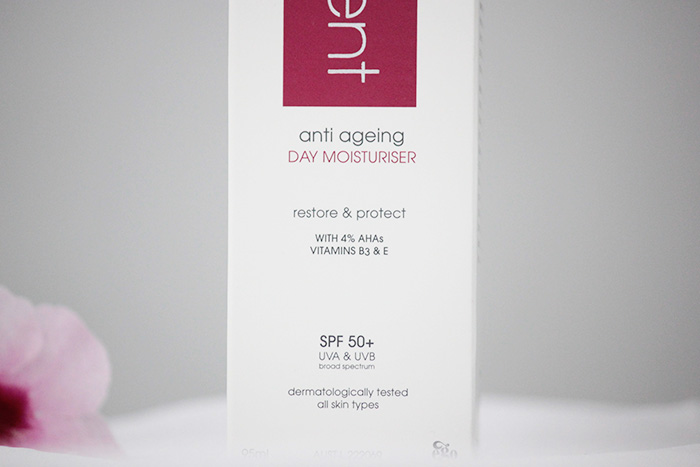 My skin type: Combination/oily
My take on 'Elucent Anti Ageing Day Moisturizer'
First things first, Elucent Anti ageing day moisturizer comes in a white colored cardboard box that houses a plastic dispensing bottle. The cardboard box contains all the required details such as usage instructions, what to expect from the moisturizer, ingredients, etc. The bottle inside the cardboard box is based on pump dispensing mechanism. The transparent cap provides visibility to the nozzle and shuts properly so that it does get loose when packed with other goodies. Overall, I find the packaging quite hygienic and easy to use. And as the quantity of the moisturizer is just 95ml so I hoping that it would be safe to carry in cabin baggage as well.
The moisturizer is white in color with medium viscosity and mild medicated fragrance. The texture is smooth and because of the appropriate consistency, it is easy to spread as well. In just a few strokes of fingertips it reaches every corner of the face and neck. The medicated fragrance is not much of a concern as it goes into thin air soon after the application. That might be a problem for those who do not like fragrant skin care products but if you can tolerate it for few minutes you would be good to reap the benefits of this moisturizer.
I have combination to oily skin, so I am always very choosy when it comes to moisturizers. Reason being, my skin has a tendency to break out and become greasy if it does not like the moisturizer so I am always on the lookout of moisturizers that provide the apt hydration yet keep the skin non-greasy and free from zits. I am glad that my skin loves Elucent Anti ageing day moisturizer. It penetrates into the skin soon without leaving any greasiness behind. I have been using this product for over three weeks now and I am happy that it has not caused skin breakouts. The other amazing feature that I like about this moisturizer is that it contains broad spectrum SPF 50 sunscreen. I never skip applying sunscreen; even when a moisturizer is not infused with it I apply an exclusive second layer of sunscreen. This sometimes gets tricky as applying two creams can cause the skin to become greasy, and thus darkens the complexion. As Elucent day moisturizer acts both as a moisturizer and sun protector, I am relieved that I do not have to apply two creams anymore. The other upside is that it does not leave any white cast, which usually every other sunscreen does. In fact, it gives such a natural hydrated look that nobody can figure out if I have applied a cream on my face or not.
As far as the efficacy is concerned, it keeps the skin hydrated and moisturized all day long. Though I experience slight tingling sensation when I apply this moisturizer but subside within 30-40 seconds and after that my skin feels normal. It contains 4% AHAs that help in restoring the supple of the skin and gives it a younger look. As they say, every good thing has its cons, so where the presence of AHAs at one side make the skin young on the other side it also makes the skin more sensitive to sunlight. Even though this moisturizer contains SPF 50 sunscreen, it is recommended that you should not be staying in the sun for long hours.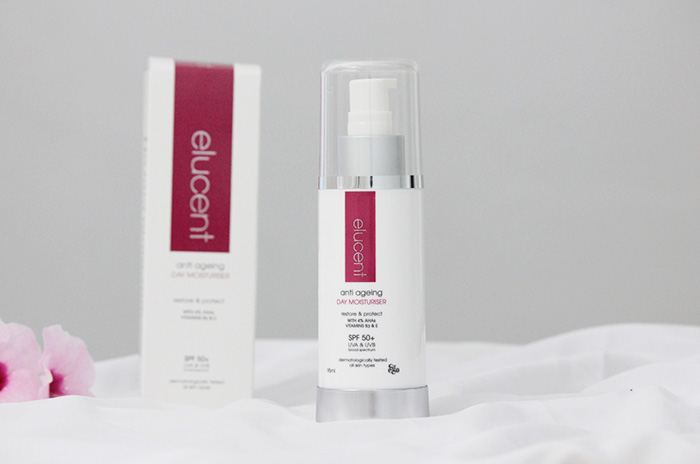 Things I like about 'Elucent Anti Ageing Day Moisturizer'
– It contains SPF 50 that helps in protecting the skin from sun damage.
– It does not make the skin look greasy or sticky.
– It does not leave any white cast on the skin.
– Provides the required moisture and hydration all day long.
– It does not cause any skin breakouts on my acne prone skin.
– The mild medicated fragrance dissipates into the air in no time.
– This moisturizer does not require the need of applying a separate SPF cream.
– Comes in hygienic packaging.
– Easy to spread and penetrates into the skin in no time.
Things I do not like about 'Elucent Anti Ageing Day Moisturizer'
– Initially, it stings a little but the sensation stays on for a brief time only.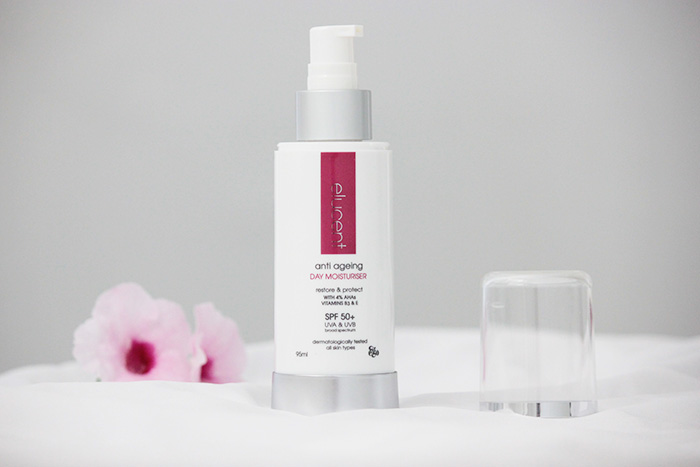 Price of 'Elucent Anti Ageing Day Moisturizer': Around 50 AUD
Ingredients of 'Elucent Anti Ageing Day Moisturizer'
Actives (% w/w): Bemotrizinol 1.5, Butyl Methoxydibenzoylmethane 2.0, Methylene Bis-Benzotriazolyl Tetramethylbutylphenol 1.0, Octyl Methoxycinnamate 4.0, Diethylamino Hydroxybenzoyl Hexyl Benzoate 1.0.
BABE Rating: 4.75/5
Final Word: Elucent anti ageing day moisturizer is an ideal combination of moisturizer and sunscreen. It keeps the skin hydrated and protects it from harmful sun rays. Being formulated with 4% AHAs, it helps in restoring the suppleness and giving it a healthier look. However, as AHAs make the skin sensitive to sun so one should avoid prolonged sun exposure. This is the only precaution that one has to take to reap the benefits of this 2-in-1 moisturizer. In my opinion, if you are looking for an anti-ageing moisturizer + sunscreen then you should end the search here 
Disclaimer: This is an editorial review. The product is sent by the brand for consideration. However, my review is genuine and I am not being paid for publishing my experience with this product.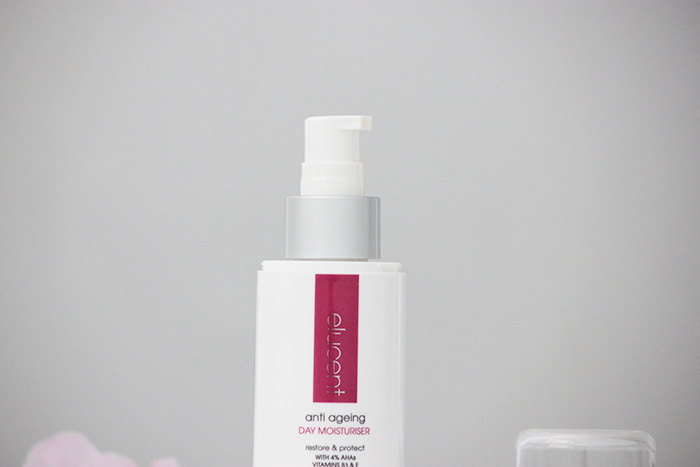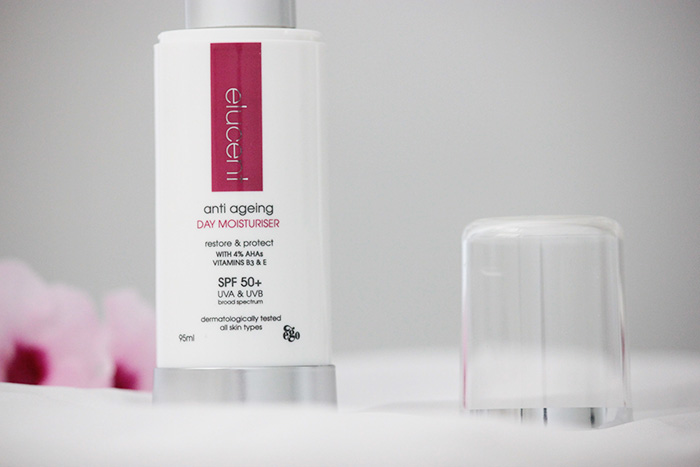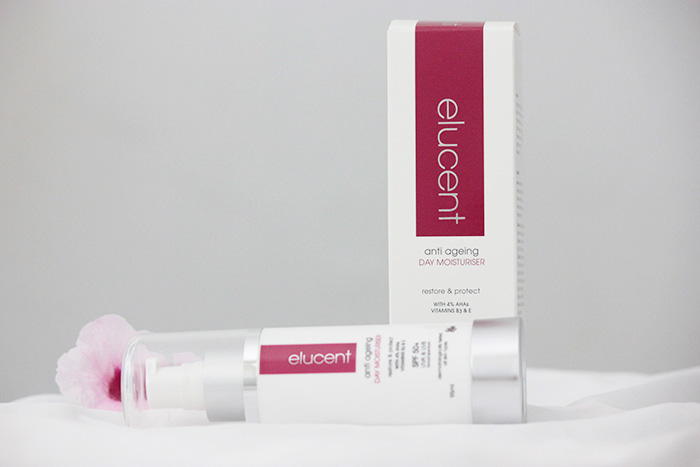 You might also like reading these related topics:
Elizabeth Arden Visible Difference Skin Balancing Lotion SPF 15 Review
Innisfree Orchid Enriched Cream Review
Organic Harvest Activ Blush Shine And Glow Cream Review
Himalaya Herbals Oil-Free Radiance Gel Cream Review
The Body Shop Vitamin C Daily Moisturizer SPF 30 Review
The Body Shop Seaweed Mattifying Day Cream Review, Swatch
The Body Shop Tea Tree Skin Clearing Lotion
Olay Total Effects 7 in one Anti-Ageing Day Cream Review
L'Oreal Paris Skin Perfect Anti-Aging Whitening Cream Age 40 Plus Review
L'Oreal Paris Skin Perfect Anti Fine Lines and Whitening Cream for age 30 plus Review
L'Oreal Paris Skin Perfect Anti Imperfection Whitening Cream For Age 20 plus Review
L'Oreal Paris Youth Code Youth Boosting Cream Day For Early Signs Of Ageing
The Nature's Co Marshmallow Day Cream Review