I have been thinking to try a face serum formulated with hyaluronic acid for quite a long time so when I was sent this Purito Pure Vitamin C Serum I got really excited to try it out. Still, it took me two weeks to get started with it. My skin was going through a bad phase and I wanted to give it enough time to heal and recover in order to start testing this face serum. Since my skin had become a home to acne scars, dryness and inflammation, I had a lot to check the efficacy of Purito serum. Let's see how it performed on my dull & dry skin.
What the product says
The balance of the natural ingredient in this serum makes it safe and suitable for all skin types, even oily and acne prone skin. This serum's ingredients include Ascobic acid, Adenosine and White flowers complex which helps soothe and smooth blemishes & acne.
Builds collagen, diminishes fine lines and wrinkles, lightens age spots, minimizes pore size, brightens skin, lessens dark circles, puffiness under the eyes and fades acne scars.
My skin type: Combination/oily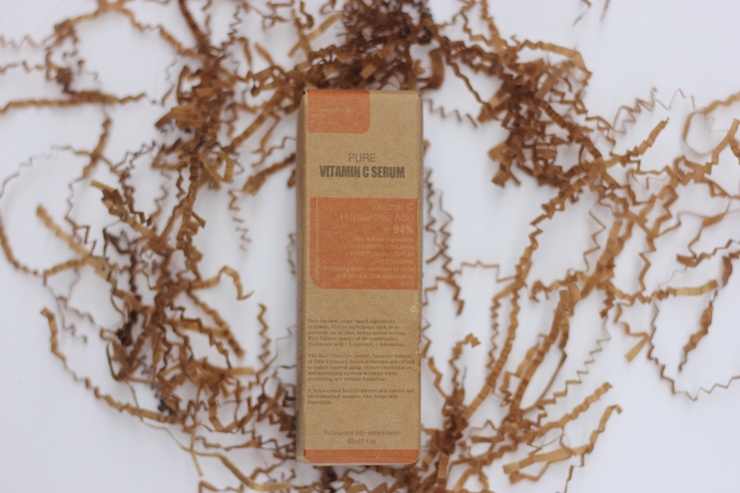 My take on 'Purito Pure Vitamin C Serum'
The serum is packed in a brown colored plastic bottle that has a transparent cap. It is a pump dispensing bottle which is very convenient to use and also helps in maintaining the hygiene. Since it is spill-proof and the quantity is below 100 ml you can carry it during air-travel as well.
I love Korean products but they also have all the product details mentioned in Korean language. Luckily, this one has the usage instructions in English so I could easily make an effective use. I use it once a day in the morning on clean and toned face. It is light brown in color with no fragrance at all. The viscosity is higher than that of water and that makes it easy to pour on the palm without any dripping. I take one pump on my palm, and dot the serum all over my face and neck. Massage it using fingertips and let it sink into the skin.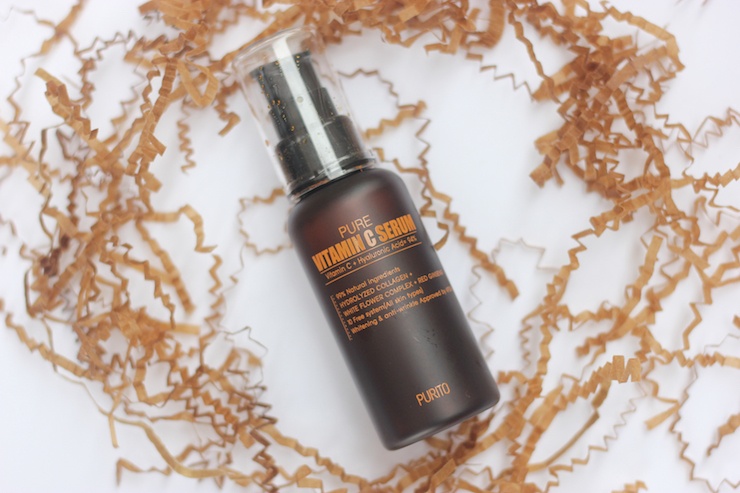 Once the serum is completely absorbed into skin, which it does quite quickly I apply my Vichy Aqua Thermal Light Moisturizer. This is an absolutely light-weight and non-sticky serum, and I am happy that my oily/combination skin loves it. As I said before, I started using the serum just after my skin went through a bad acne breakout. There was dullness and acne scars on the usual clean canvas. Fortunately, this serum worked as a miracle and all the scars were gone in just two weeks of time. As claimed by the brand, it also worked in improving the brightness. Now, my face is glowing and scar-free. There is almost no sign of dullness or dryness, and that makes me count on this product for the oncoming winter months.
Hyaluronic acid is a powerful moisture-binding ingredient that keeps skin plump and hydrated. And, because the skin gets required hydration it looks young. With that being said, this serum does help in diminishing the fines lines and reducing the sagging, thereby giving the skin a youthful look. On top it maintains the moisture level and thus curbs acne breakout. The ascobic acid and white flowers extracts build collagen and increases skin elasticity which defers aging in the long run.
Overall, I am very happy with performance of this serum and I am happily continuing its usage.
Things I like about 'Purito Pure Vitamin C Serum'
– Helps with wrinkles.
– Increases vibrancy and brightens complexion.
– Reduces dark circles.
– Hydrates skin.
– Firms and smoothens skin.
– Fades acne scars.
– Suitable for oily skin.
– Non-greasy and light-weight.
Things I do not like about 'Purito Pure Vitamin C Serum'
– Absolutely nothing.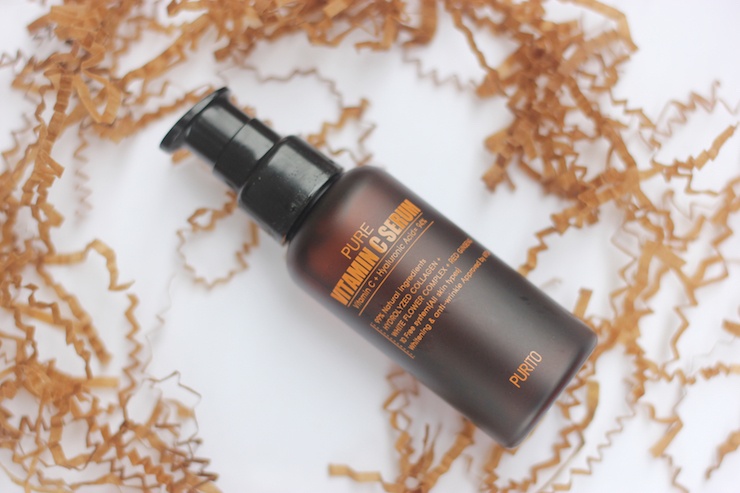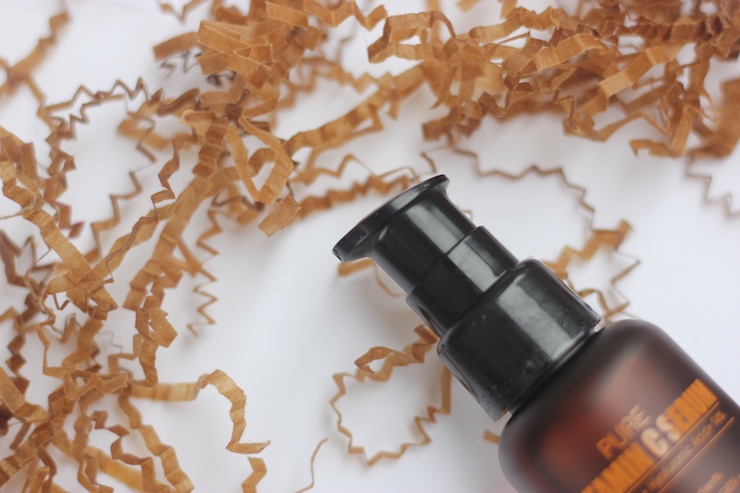 Price of 'Purito Pure Vitamin C Serum'- $19
BABE Rating: 5/5
Final Word: If you are worried about aging, dullness or dryness I would highly recommend Purito Pure Vitamin C Serum serum. It takes care of all those concerns and makes the skin shine in the glory of proper hydration and plumpness. If it works so well on my oily/acne prone skin, I can't imagine how efficient it will be on normal and dry skin.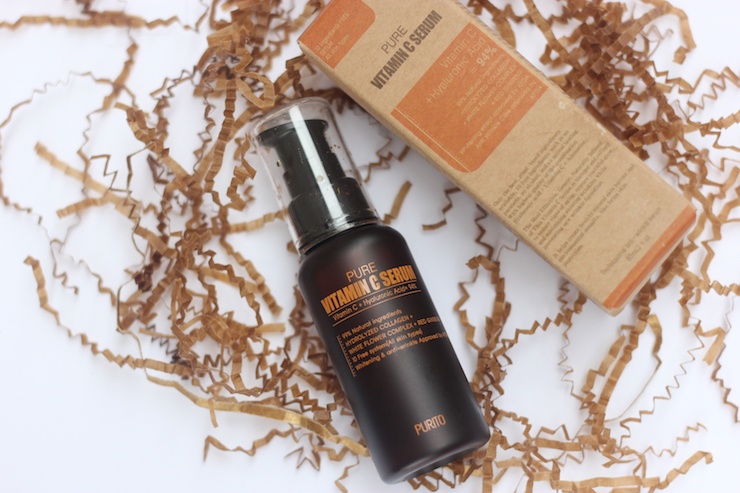 You might also like reading these related topics
Clinique Moisture Surge Hydrating Supercharged Concentrate Review
Elucent Anti Ageing Serum Review
Votre Face Serum Review
Organic Harvest Activ Blush Shine And Glow Serum Review
Richfeel Skin Logix Whitening Advanced Night Repair Serum Review
Just Herbs Rejuvenating Beauty Elixir Facial Serum With Gotukola Indian Ginseng Review
Wild Natural Body Care Rosehip And Hibiscus Facial Serum Review
Ben & Sera 15 Days Anti-Wrinkle Taeng Taeng Project Serum Review
L'Oreal Paris Youth Code Youth Booster Serum Review
Innisfree The Green Tea Seed Serum Review