Just Herbs Rejuvenating Beauty Elixir Facial Serum is my first product from the brand. I have heard a lot of good things about this brand, and as I personally prefer organic and herbal products over chemicals so I got quite excited when I saw this facial serum in one of the 2015 Fab Bags. This is my second bottle of this Elixir facial serum, so I think I am very much in a position to put forth my experience with it. Read on to know the details.
What the product says:
This multi-tasking night serum is a synergistic blend of treasured Indian herbs to nourish and restore a natural glow and youthfulness to tired, ageing and pigmented skin. Plant polyphenols, carotenoids and flavonoids present in these precious botanicals prevent and reverse free-radical and DNA damage and block the inflammatory changes that result during the skin ageing process.
Liqorice root and Nagkesar form a perfect harmony adding lightening, brightening and skin nourishing properties to this serum.
Use a few drops at bed time or add it to your Just Herbs creams or gels to boost their effect.
•Suits all skin types
•Fragrance-free
•Free from petrochemicals, parabens, SLS/SLES PEG/PPG, Genetically modified ingredients(GMO) and other synthetic ingredients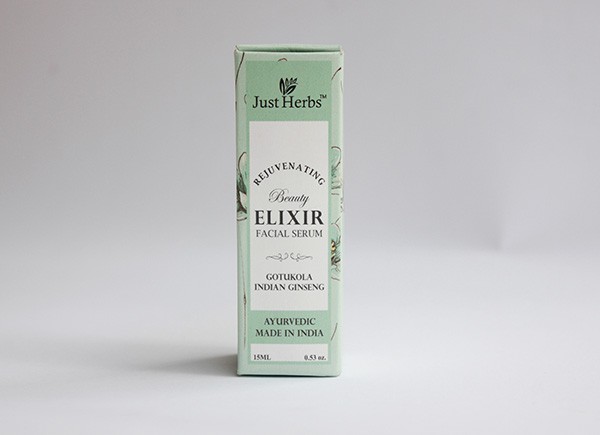 My Skin Type: Combination – oily
My Take on 'Just Herbs Rejuvenating Beauty Elixir Facial Serum With Gotukola Indian Ginseng'
Just Herbs rejuvenating facial serum comes in a glass bottle with a dropper. The quantity of the serum is 15 ml so it is a handy glass bottle that can fit anywhere on your shelf or luggage, in case you are planning to carry it for travel. The dropper has a golden rim, and fits perfectly on to the bottle after couple of rotations, ensuring no slippage. Overall the packaging is attractive and convenient. My only concern is with the dropper, which sometimes gets blocked.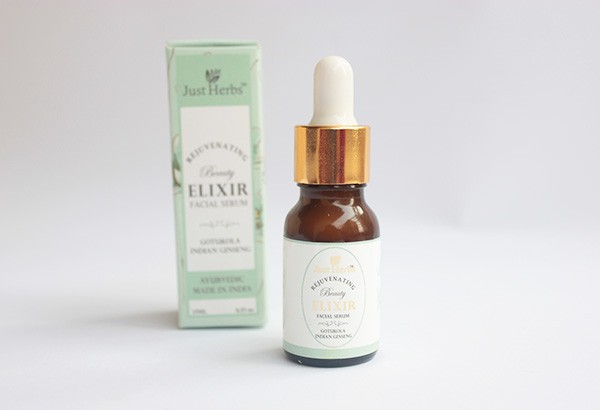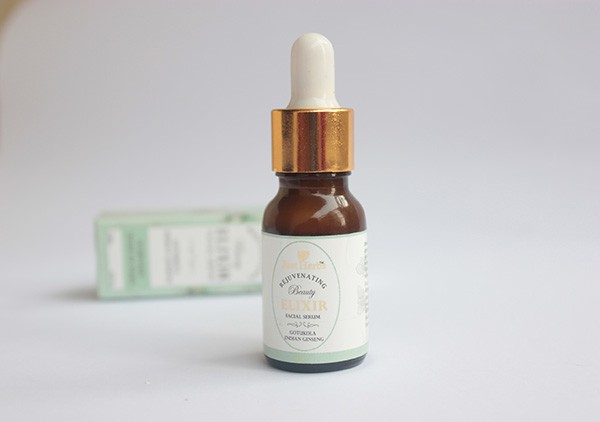 This is neither cream based nor oil. It is water based facial serum that is infused with a blend of Indian herbs and cold pressed oils. It has semi-runny consistency, and because of the herbal blend this consistency is not even throughout the entire bottle. It has some thick content as well that gets stuck in the dropper and hampers it usage. In that case I directly pour it on the palm, but if the blockage is not cleared then either I have to keep using it by pouring on the palm or revert to the dropper by clearing out the contents using a sharp pin.
Being formulated with numerous herbs and oils, this facial serum has a medicinal yet herbal smell. I am actually unable to relate it to anything, but I am sure that you won't like it at first go, though over time you will get used to it. The good thing is this is not a long lasting fragrance, and dissipates into the air after couple of minutes of application, so if you can stand it for a while you can reap the benefits.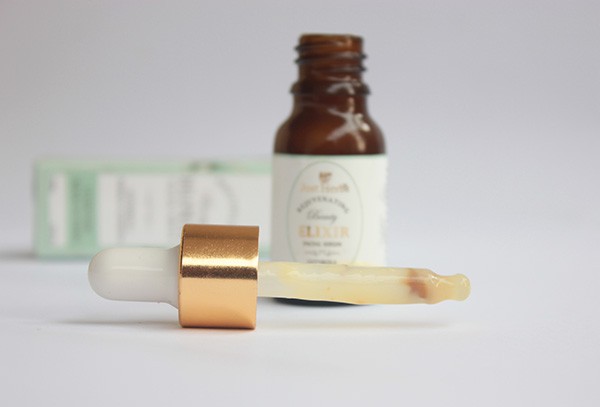 For usage, the instructions on the leaflet say that it should be used at bed time either alone or by adding it other night creams/gels. Since I have started using facial serums, I have been using them individually without mixing with other night creams. In my opinion, this shows the efficacy of the product without interfering with night creams' effects. But if you are sure that mixing will boost the effect you should always do that. Anyways, so I apply this facial serum on a clean and toned face before going to bed and before applying the night cream. If the dropper is unblocked, I take a huge drop of it on the palm and dot it all over the face and neck, afterwards spread it gently on the skin. In case the dropper is blocked, I keep taking it out on need basis until everything I want is covered with serum. Well, as it is water based serum so it does not leave the skin greasy. But that does not mean that it sinks into the skin immediately rather it takes couple of minutes to disappear.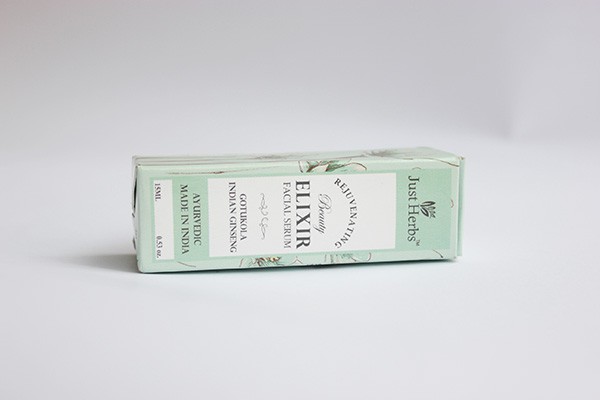 Now let's talk about the results. I had heard a lot about this facial serum and that was the reason I bought its second bottle even before using the first one. It did some magic for couple of skin issues like dullness and uneven skin but it was not able to show its magic on fine lines and spots. Undoubtedly, skin looks clear and moisturized in the morning, and the consistent usage has brought considerable improvement and healthy glow. If you have oily skin you can also skip the night cream as this facial serum does that job for you, but normal – dry skin people should follow this with a moisturizing night cream otherwise their skin can go dry.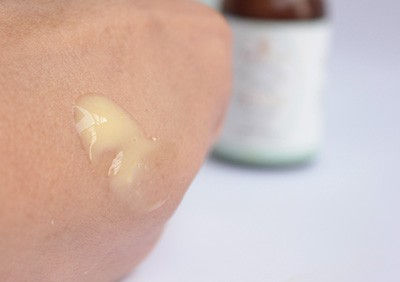 What I like about 'Just Herbs Rejuvenating Beauty Elixir Facial Serum With Gotukola Indian Ginseng'
– It does not feel greasy.
– It does not cause breakouts.
– Evens out skin tones.
– Gives a healthy glow.
– Combats dryness but to an extent.
– Compact, travel-friendly packaging.
What I do not like about 'Just Herbs Rejuvenating Beauty Elixir Facial Serum With Gotukola Indian Ginseng'
– Serum particles get stuck in the dropper, not allowing pumping out anything.
– It does not work on fine lines.
– It does not contribute much in lightening spots and blemishes.
– It does not have pleasant fragrance.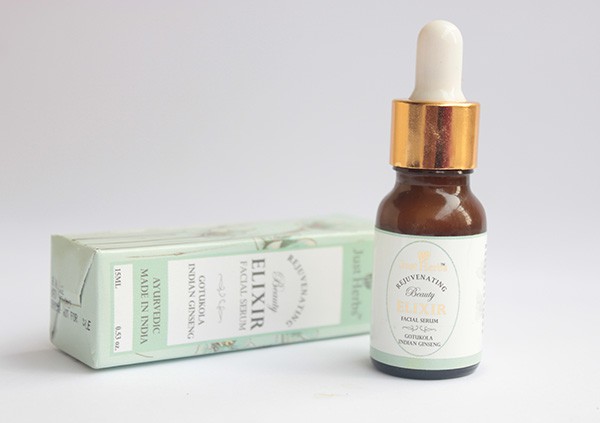 Price of 'Just Herbs Rejuvenating Beauty Elixir Facial Serum With Gotukola Indian Ginseng': Rs 985 for 15ml
Shelf life of 'Just Herbs Rejuvenating Beauty Elixir Facial Serum With Gotukola Indian Ginseng': 3 years
BABE Rating: 3.75/5
Final Word: Formulated with numerous herbs and cold pressed oils, Just Herbs Rejuvenating Beauty Elixir Facial Serum has an impressive ingredient list. It is ideal for oily skin as it has a water base that helps keeping the skin grease-free yet moisturized. It overcomes dullness, imparting a healthy glow on clear skin. Overall, it is a decent facial serum that evens out skin tones, moisturizes and rejuvenates it.
You might also like reading these related topics
Wild Natural Body Care Rosehip And Hibiscus Facial Serum Review
Ben & Sera 15 Days Anti-Wrinkle Taeng Taeng Project Serum Review
L'Oreal Paris Youth Code Youth Booster Serum Review
Innisfree The Green Tea Seed Serum Review