Hello Beautiful Ladies,
First things first-"Happy New Year", I hope you all had a blast at New Year's Eve. Today, I am going to share a review on 'Rosehip and hibiscus facial serum'. I discovered this product on an online website last year, and luckily I got it as my birthday gift from a friend. In my opinion, serum is not just for anti-ageing, everybody can use serum according to his/her needs and I think people in 20's should start using facial serum to prevent pre-mature ageing. Any ways, let's find out whether this 'Wild Natural Body Care Rosehip And Hibiscus Facial Serum' serum really worked for me.
What the product says
This super light and easily absorbed serum is packed with naturally rejuvenating nutrients to enhancer radiance and counteract the effects of aging and combat the enemies of your skin .The concentrated key ingredients also contain geranium essential oil which tines skin and gives a lovely rose like scent. Rosehip oil reduces the appearance of scars, fine lines& restores moisture balance whilst Hibiscus has antioxidant properties and balances the skins delicate pH. This serum is packed with natural skin firming 7 rejuvenating nutrients to enhance radiance and counteract the effects of ageing.
Benefits
– Reduces fine lines and scars
– Protects skin from damage and ageing with antioxidants
– Balances pH level and hydrates skin
– Nourishes with pro-vitamin A and Vitamins B3, B5, C & E
– Suitable for vegan users
– Suitable for all skin types including sensitive skin
– Free from artificial fragrance that harms sensitive skin

My Skin Type: Oily
My Take on 'Wild Natural Body Care Rosehip and Hibiscus Facial Serum'
When I got this product I decided to do some research about the brand so I came to know that Wild Products is a Singapore based company that offers a range of natural and organic body care and health care products. These include soaps, essential oils, facial serums etc. The company claims to provide natural beauty products at affordable prices, and it was one of reasons why I went for this facial serum.
The serum comes in a white bottle with a pump dispenser which gives it a nice look. The cap fits tightly, so you do not need to worry about any leakage and can carry it along while travelling. The dispenser dispenses the right amount of serum so no problem of using excess amount than required. The only concern that I find with this bottle is that you cannot see how much product is left inside, and this sometimes does not allow me to replace my facial serum timely.
This facial serum is almost transparent with little bit runny consistency and soft gel like texture. It does not have strong fragrance, so people with sensitive noses will face no issue. All I need is two pumps for the whole face and neck, and as soon as I apply the serum it gets absorbed into the skin. I don't have to rub the serum on for long time as it easily sinks into the skin. The other good thing is it does not leave any oily residue or anything of that sort.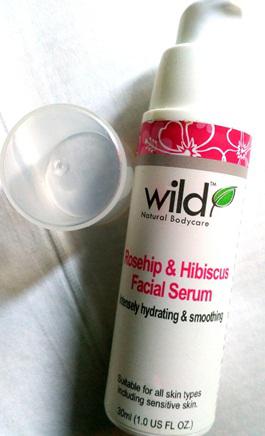 For efficacy, this serum didn't show results for almost 2 weeks and the only instant effect that I could saw was that my skin looked smoother and glowing but for a short period only. While I was getting disappointed with this product, my sister suggested trying it for few more days. I tried it for another week and voila it showed its true color. It worked YES!! The acne marks on the cheeks reduced and the darkness near the jaw region diminished. So now I can say that the serum is effective when used for a long duration.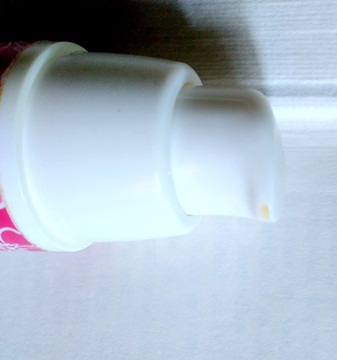 The serum has moisturizing effect also; it makes the skin soft, smooth and supple. But people with dry skin will not see that much effect of moisture. Moisturizing effect is okay for people with normal or combination skin. In normal weather, this serum does not call for an extra layer of moisturizer but in winter season moisturizer is must as otherwise skin will get dry. One important thing, after applying serum, give your skin at least skin 3 to 5 minutes break and after that only apply another product.
It is an effective serum at an affordable price as compared to other facial serums available in the market. The effect of this serum is long lasting. I would say if you have oily skin you should give it a try because it does not cause any breakouts. It is good for acne marks and blemishes as well, if you have any of these skin issues go for this serum.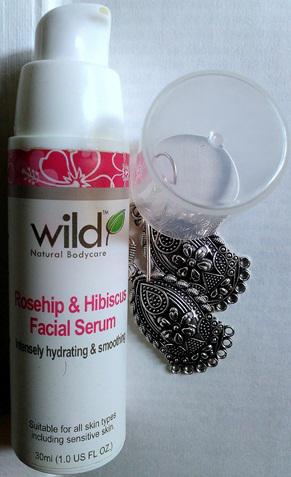 What I like about 'Wild Natural Body Care Rosehip and Hibiscus Facial Serum'
– Based on pump dispenser, which is a hygienic way to use it.
– It reduces acne marks.
– It makes skin soft, radiant and smooth.
– It has pleasant fragrance.
– Quickly penetrates into the skin.
– Does not leave any oily residual or greasiness.
– Does not cause skin breakouts.
What I don't like about 'Wild Natural Body Care Rosehip and Hibiscus Facial Serum'
– It takes some time to show its effects.
– It comes in an opaque bottle that does not allow seeing the remaining contents.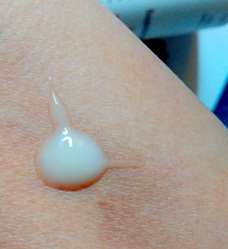 Price of 'Wild Natural Body Care Rosehip and Hibiscus Facial Serum': Rs 1400, I got it for Rs 813.
Ingredients of 'Wild Natural Body Care Rosehip and Hibiscus Facial Serum' : Aloe Barbadensis (Organic Aloe Vera) Juice, Kosher Vegetable Glycerin, Hibiscus Sp. (Hibiscus) Flower Extract, Emulsifying Wax Nf, Rosa Mosqueta (Rosehip) Seed Oil, Dimethylaminoethanol (Dmae Bitartrate), Methylsulfonylmethane (Msm), Tocopherol (Vitamin E), Phenoxyethanol, Ascorbyl Palmitate (Vitamin C Ester), Niacinamide (Vitamin B3), Calcium D Pantothenate (Pro Vitamin B5), Beta Carotene (Pro Vitamin A), Lecithin, Xanthan Gum (Polysaccharide Gum), Rosmarinus Officinalis (Rosemary) Oleoresin, Azadirachta Indica (Neem) Oil, Pelargonium Graveolens (Geranium) Essential Oil, Tetrasodium Edta, Citric Acid.
Shelf life of 'Wild Natural Body Care Rosehip and Hibiscus Facial Serum': 3 years from date of manufacturing
BABE Rating: 4/5
Final Word: It is a wonderful product at an affordable price. If consistently used over a period of time it gives good results. It works on acne scars and blemishes, and I am glad I found this product. It is worth every penny because it does what is says. One should try this product to see the results. I am happy with this serum. It is 70% organic and if you want to use fewer chemicals for your skin, you should give this a try.
Author: Veena Singh
You might also like reading these related topics
Ben & Sera 15 Days Anti-Wrinkle Taeng Taeng Project Serum Review
L'Oreal Paris Skin Perfect Anti Fine Lines and Whitening Cream Review
L'Oreal Paris Youth Code Youth Booster Serum Review
L'Oreal Paris Youth Code Youth Boosting Cream Day For Early Signs Of Ageing
Just Herbs Rejuvenating Beauty Elixir Facial Serum With Gotukola Indian Ginseng Review