Votre Face Serum
Today, I am going to review Votre Face Serum. I received this miraculous product in the Fab Bag and I am happy that I got it. I love using serums but not all of them perform great on my combination to oily skin. But talking about today's subject, I have been using this serum for quite some time and I like how it performs on my skin. If you will go through the review you will get to know in detail why I like this serum.
What the product says:
This Aqua rich revitalizing (PM) serum enriched with virgin cold pressed oils, Herbal blends & innovative Molecules! It helps to brighten the complexion and reduce fine lines.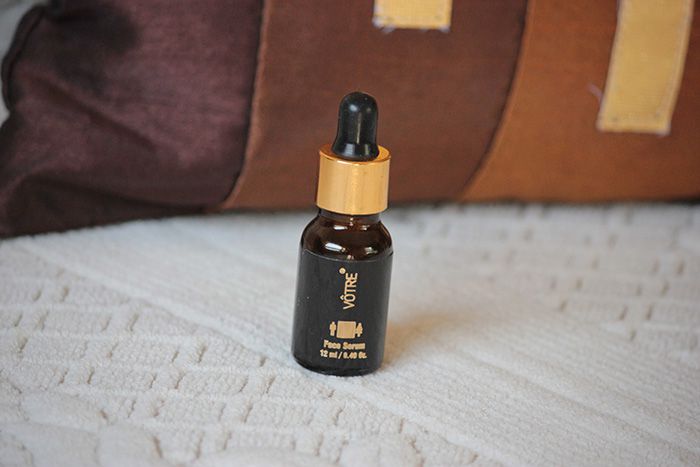 My skin type: Combination to oily.
My take on 'Votre Face Serum'
It comes in small brown glass bottle with a dispensing dropper. The packaging is quite compact and can easily fit in your handbag (pocket as well :P). Though the glass looks sturdy still you need to be careful with bottle since you would not want to drop it accidentally and waste the expensive serum. The dropper makes it easy to control the amount of serum dispensed and does so hygienically. Because of the translucency, it becomes easier to keep a check on the quantity left and timely order another bottle.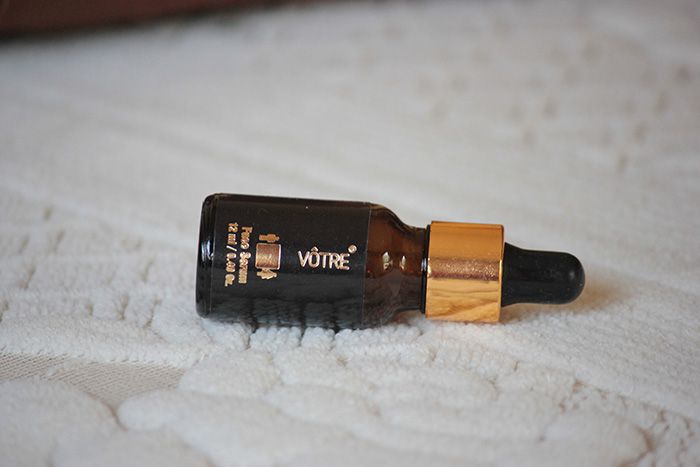 Votre face serum is a smooth milky white liquid with medium viscosity. It has herbal fragrance that is quite easy to bear and subsides minutes after the application. It is lightweight, non-sticky serum that quickly absorbs into the skin (within seconds) leaving behind nothing but softness. I have combination to oily skin that really likes this serum as it does not make it over-shiny and oily. Usually, I have to be very careful with new skin care products as they cause pimples and acne but since I have started using this serum I do not have to worry about skin breakouts.
I apply this serum every morning and night after cleaning and toning my face. Couple of drops are enough to cover entire and neck area and that makes the bottle last for about a month. As far as the efficacy is concerned, it makes the skin soft and supple. When I apply this serum at night time, I follow it with night cream. The night morning my skin looks bright and clear. After two weeks of regular usage, I also noticed that there is a visible difference in the stubborn acne scars, which had been there for quite long time. I do not have any fine lines yet, but looking at the suppleness it is adding to the skin I am assuming it will do well in that arena as well.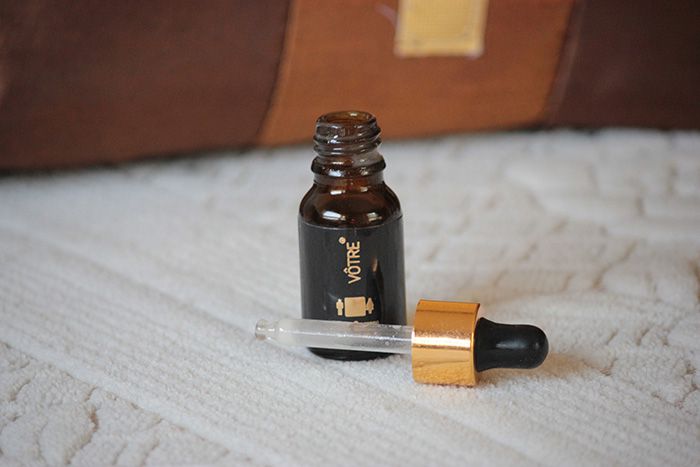 Now, as winters are starting I am relying on this serum for adding that extra but of moisture to my skin. Reason being, I had some dryness on my cheeks and forehead that is also gone since I have started using this serum. Overall, I think this is an effective serum for all skin types as it enhances the skin health and adds glow.
What I like about 'Votre Face Serum'
– Quickly absorbs into the skin.
– Does not leave any oily residue behind.
– Does not break out the skin.
– Hygienic and easy to use packaging.
– Suitable for all skin types.
– Makes skin soft and supple.
– Light in texture.
– Makes skin clean and clear by reducing acne scars and blemishes.
What I do not like about 'Votre Face Serum'
– Bit expensive.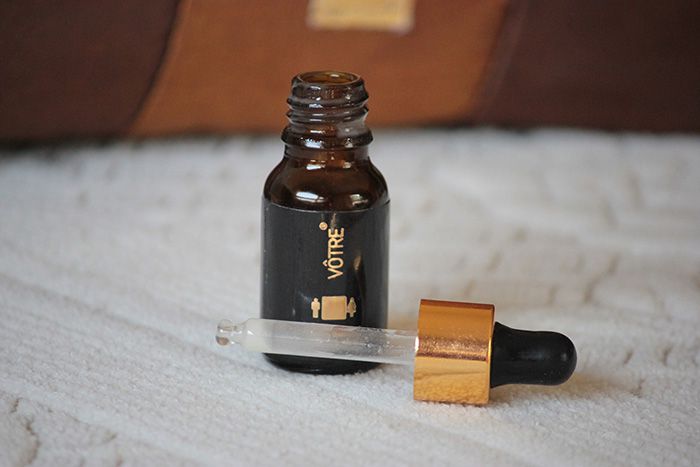 Ingredients of 'Votre Face Serum'
Simmondsia chinensis (Jojoba oil), Glycyrrhiza glabra (Licorice extract) , Pelargoneum Roseum (Geranium oil), Olea Europaea (Olive oil), Prunus dulcis (Almond oil), Citrus sinensis (Orange peel extract), Prunus brigantine(Apricot oil ), Citurs limon (Lemon extract), Rosa canina(rosehip oil),Base Q.S.
Price of 'Votre Face Serum': Rs 1670 for 12 ml
Online Availability: Votre Face Serum
BABE Rating: 4.5/5
Final Word: Formulated with skin beneficial ingredients, Votre face serum makes the skin bright and supple. It works on stubborn scars giving clean and clear skin that feels soft and looks healthy. It does not break out the skin so I am hoping it will work well on all skin types. If you are ok with the price tag you should definitely include it in your daily skin care routine.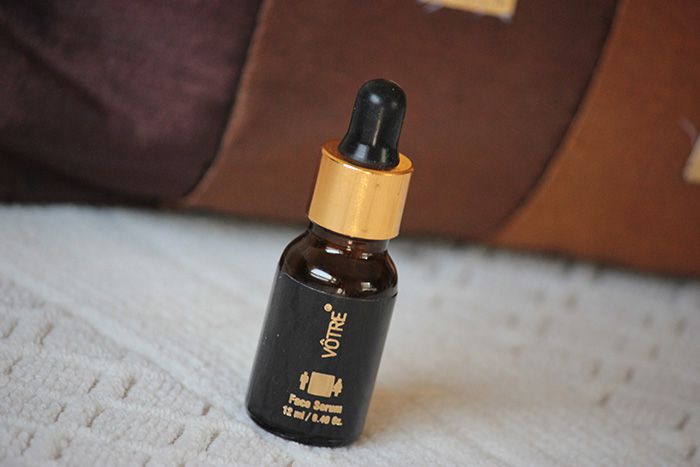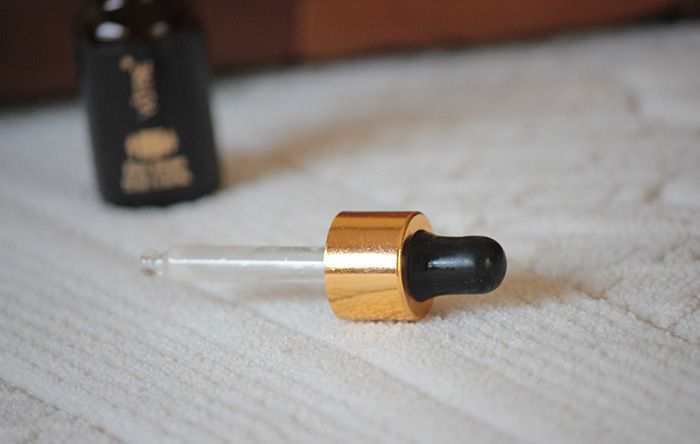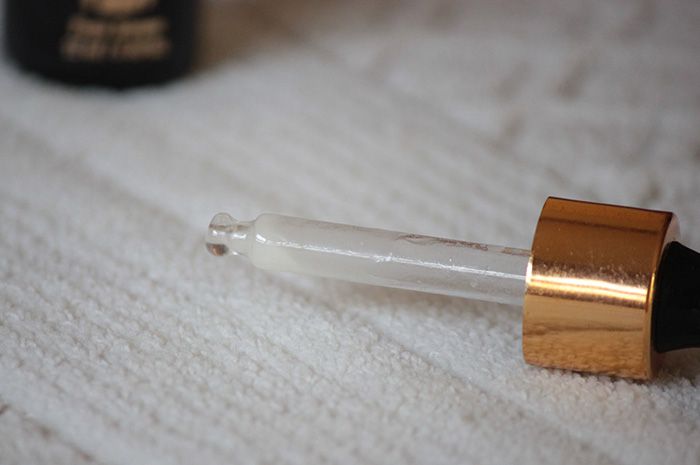 You might also like reading these related topics:
Organic Harvest Activ Blush Shine And Glow Serum Review
Richfeel Skin Logix Whitening Advanced Night Repair Serum Review
Just Herbs Rejuvenating Beauty Elixir Facial Serum With Gotukola Indian Ginseng Review
Wild Natural Body Care Rosehip And Hibiscus Facial Serum Review
Ben & Sera 15 Days Anti-Wrinkle Taeng Taeng Project Serum Review
L'Oreal Paris Youth Code Youth Booster Serum Review
Innisfree The Green Tea Seed Serum Review