I am too lazy when it comes to cleaning the brushes. Till the time I do not have every single brush dirty I do not indulge in the cleansing job and since brushes take 2-3 days drying I prefer keeping two sets so that when one is drying I still have the other set to keep going. To simplify the cleansing job, I bought the Real Techniques Brush Cleansing Palette which is sole survivor these days in terms of time and effort. Let's see my experience with this palette in detail.
What the product says
Great makeup application starts with a clean brush. The brush cleansing palette helps sweep away makeup, oil, and impurities from bristles to give you truer, more consistent color application.
Performance-grade silicone: lightweight and ergonomically designed to fit comfortably over your hand
Exclusive multi-textured surfaces: designed to gently work between the bristles for enhanced deep cleansing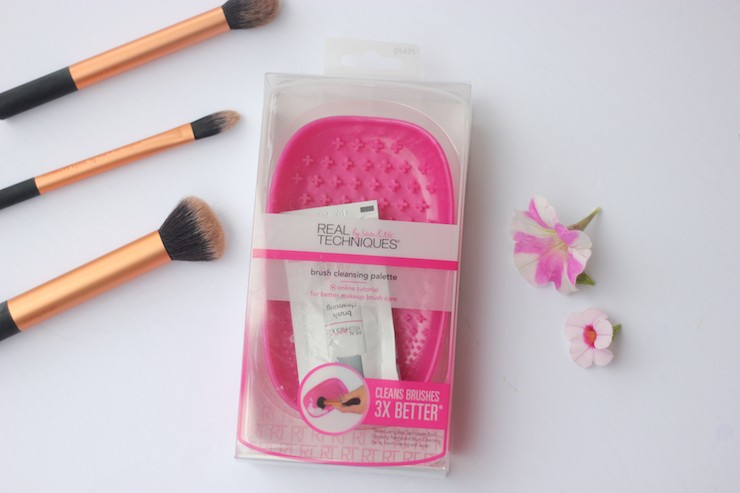 My take on 'Real Techniques Brush Cleansing Palette'
The bright pink color of this cleansing palette always reminds me to clean the brushes. I mean the colour is so bright and lively that you cannot ignore the reminders. Clean bristles provide the most hygienic and perfect makeup application, and since my skin is acne prone I need to ensure that everything that goes on my face does not trigger bacterial growth. The Real Techniques brush cleansing palette is made of good quality silicone. It is durable yet soft enough to clean the bristles without damaging them. There is a convenient handle at the back of the palette. You can easily slip it on your fingers for a strong grip while the cleaning is in progress.
The surface is multi-textured- plus, stars and many other protruding shapes to suits all brush types. The density of these shapes also varies- few are closer and densely create to clean small brushes, few are spaced at medium distances for flat brushes and few are sparingly distant to thoroughly clean fluffy brushes. This design makes it one cleansing palette for all sorts of brushes. Here is a quick step by step cleansing process:
Step 1: Slip hand into the palette and squeeze a drop of the brush cleansing gel or shampoo onto the tool. Add warm water to the palette.
Step 2: Swirl brush into the gel and water across the various surfaces until the brush is clean. Rinse bristles thoroughly, being careful to not fully immerse the base of the bristles. Squeeze out the excess water.
Step 3: Rest your brushes across the surface of the tool to dry. You can also gently squeeze the bristles using a cotton cloth or a tissue paper. This will get rid of the excess water and result in speedy drying.
Since the cleansing is done very quickly and effortlessly I do not feel laid back to keep my makeup tools bacteria-free. Also, there is no shedding off the bristles as the base of the brushes is saved from immersing into the water. The brushes stay clean and last for long. Plus, the palette also acts as a holder for the later drying part.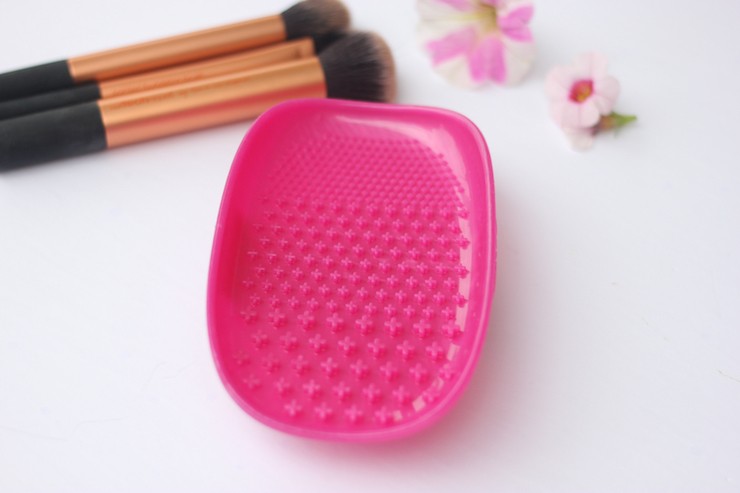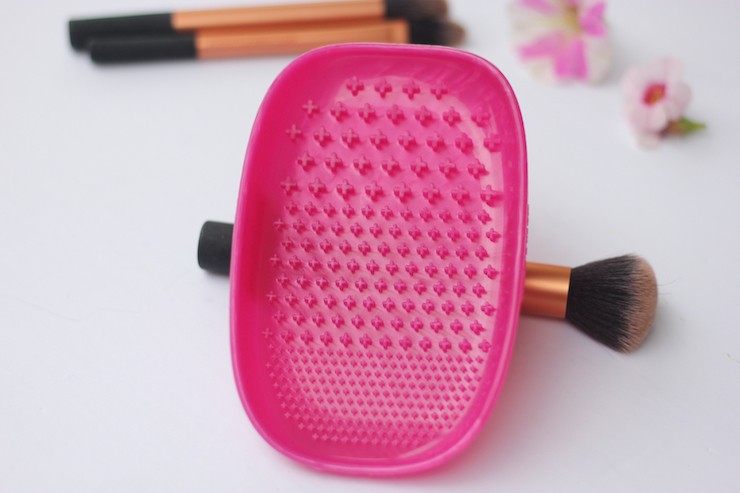 Things I like about 'Real Techniques Brush Cleansing Palette'
– Made of good quality silicone.
– One palette for all sorts of brushes.
– Thoroughly cleanse the brushes without damaging the base.
– Easy to hold.
– Serves as a brush holder for drying.
– Bright pink color serves as a cleansing reminder.
Things I do not like about 'Real Techniques Brush Cleansing Palette
– Absolutely nothing.
Price of 'Real Techniques Brush Cleansing Palette': USD 15
BABE Rating: 5/5
Final Word: No matter if you wear makeup daily or occasionally your brushes should always be clean and germ-free. And to do that, you need a good brush cleansing palette. In my opinion, the Real techniques brush cleansing palette is an affordable investment that will last for long and provide nice results in less effort & time.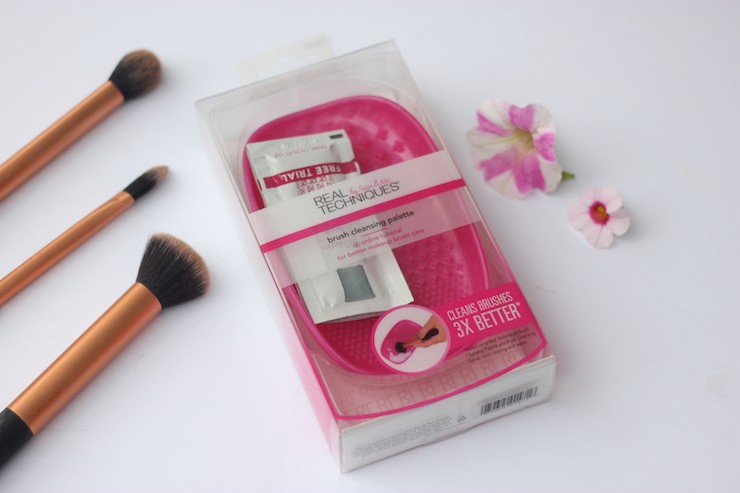 You might also like reading these related topics
EcoTools Full Powder Brush, Micro Blending Brush And Perfecting Blender Duo Sponge Review
Real Techniques Miracle Diamond Sponge Review
Real Techniques Miracle Complexion Sponge Review
Real Techniques Core Collection Makeup Brush Set Review-Part1
Real Techniques Core Collection Makeup Brush Set Review-Part2
Real Techniques Your Eyes Enhanced Starter Set Review–Part 1
Real Techniques Your Eyes Enhanced Starter Set Review–Part 2
Eyeshadows And Makeup Brushes from Luxie Beauty
Basic Makeup Brushes For Beginners
Platinum Beauty Makeup Brushes Review, Price