A flawless base is the key to perfect makeup and to get the base right you need to apply your foundation immaculately. When you browse the makeup world you will find n number of tools that claim to give the perfect foundation finish. Personally, I have used foundation brushes and sponges to apply the foundation but I prefer sponge to brush. Well, today, I am reviewing a revised version of sponge that is called the "Diamond Sponge". Yes, it is ' Real Techniques Miracle Diamond Sponge '. Keep reading to know my experience with it. But before we jump to that lets read what the brand claims.
What the product says
This multi-faceted miracle diamond sponge is uniquely designed to work with multiple products on different areas of your face. No two Miracle Diamond Sponges are alike—each has its own unique swirl design.
– Pointed tip covers small imperfections
– Larger flat sides function as a wedge to apply makeup to larger areas like your forehead and cheeks
– Smaller flat sides are great for precision contouring around your eyes, mouth, and brow bone
– Top works great to buff and blend out your makeup for a flawless finish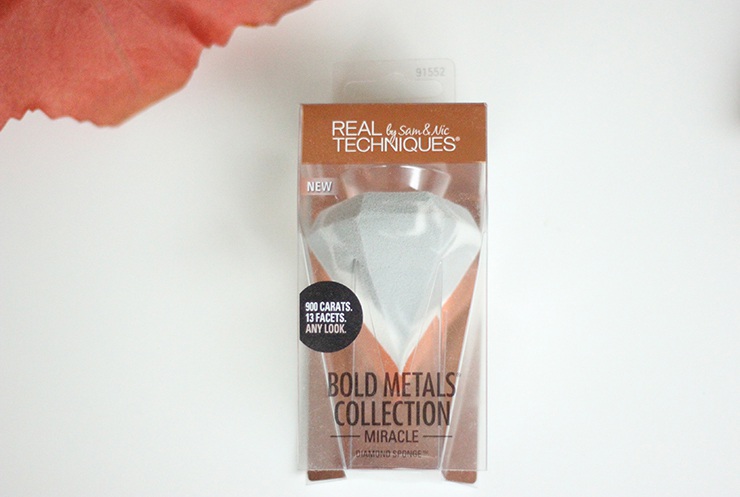 My take on 'Real Techniques Miracle Diamond Sponge'
Let's talk about the packaging first. It comes packed in a transparent hard-plastic case. The placement of the sponge inside the case resembles that of a big solitaire. The presentation is so beautiful that my eyes got wide open when I saw it for the first time. The back side of the case contains some description about the sponge and the usage instructions. The only drawback of the case is that it cannot be used to store the sponge. I will have to store it in a separate pouch to avoid any wear and tear.
Now, coming to the technicalities! Since the sponge is in the shape of a diamond so it has 13 facets. Of these 13 facets- 6 larger side facets, 6 small facets and 1 flat top in the shape of a hexagon. The tip of the sponge is quite sharp and pointed. It is a latex-free sponge so there are minimum chances of skin allergies. Just an FYI, latex-free sponges tend to be more expensive as these are made from synthetic rubber that is safe for all skin types and also functions no-less-than the latex sponges.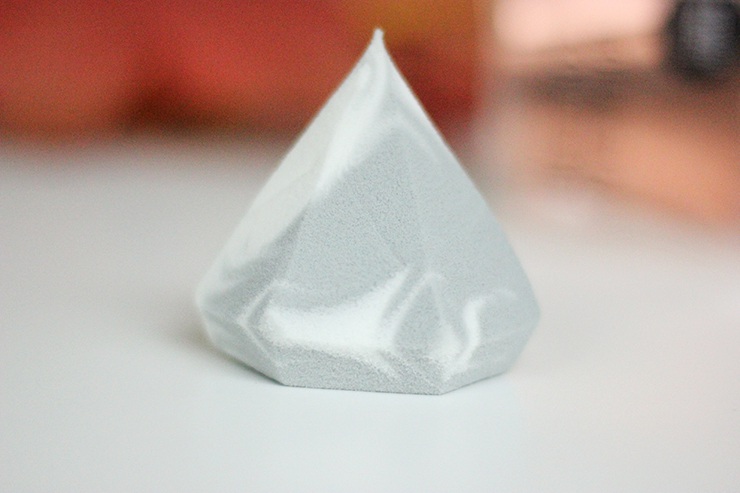 Unlike the Real Techniques complexion sponge, the miracle diamond sponge is two-colored. It is a beautiful combination of white and gray that looks like a marble art. My only concern with this artistic work & color combination is that it will require a lot of effort to get thoroughly cleaned which is again a good thing as it will prevent the formation of bacteria. Lots of cleaning work ahead!
For the usage, I find this sponge quite convenient as it can reach every nook and cranny of my face easily. Now I can apply foundation on the sides of my nose, near the brows and under the eyes without making any uncomfortable poses. The smaller facets easily reach areas like under eye, top of brows, sides of nose and corners of the mouth. The larger side facets are good to target contouring areas like below the apples of the cheek, sides of nose bone and forehead. The flat side is perfect to blend everything once the foundation is applied. I have even used the pointed tip to apply concealer just on top of my inner eye corner. It does a good job but the only problem is it is too fragile and due to that I think it might get torn soon.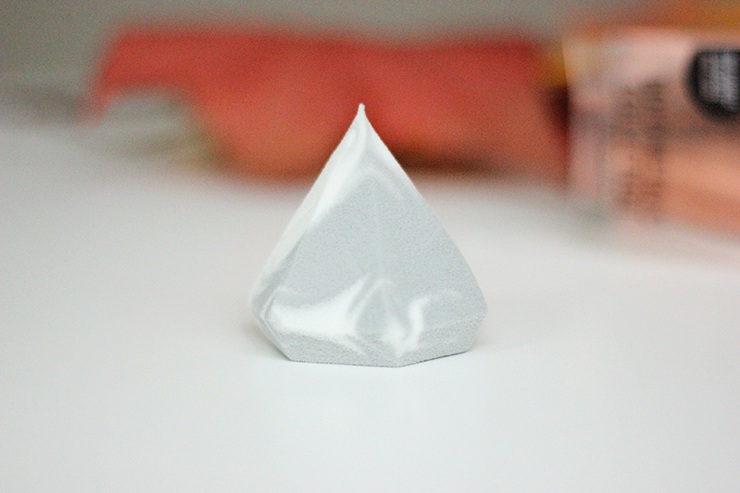 The sponge gives an even non-streaky finish that looks natural. I can also control the coverage depending upon if I use it wet or dry. For the dewy application, I use it wet and for medium to full I prefer it dry. Obviously, it consumes more product when dry but I am ok with that as the finish comes out natural. This sponge is suitable for liquid and creamy products. I use it to apply liquid foundation, liquid concealer, and creamy contour, and it does a pretty fine job.
The primary difference between Real Techniques Miracle Diamond Sponge and Complexion Sponge lie in the shape. Where diamond sponge can be used to reach the unreachable areas easily, with the miracle sponge reaching certain areas is a tough task. Given the pricing of both the sponges is almost similar, I would recommend going for the diamond sponge.
Things I like about 'Real Techniques Miracle Diamond Sponge'
– 13 facets to work with different products on different areas of the face.
– Works well with liquid & creamy products.
– Good to apply various products such as foundation, concealer and contour.
– Gives non-streaky finish.
– Makes the blending job easy.
– Designed to work with multiple products on different areas of your face.
– Results in a poreless, flawless finish on the skin.
– Easy to use.
– Latex-free.
Things I do not like about 'Real Techniques Miracle Diamond Sponge'
– The pointed tip is too soft and delicate.
– Requires serious effort to make it squeaky clean.
Price of 'Real Techniques Miracle Diamond Sponge'- AUD 24.99
BABE Rating- 4.5/5
Final Word- Real Techniques Miracle Diamond Sponge is a multi-purpose sponge that does a great job of applying concealer and foundation. It is equally good with liquid and creamy formulas as it gives fine non-streaky application. It does not require any effort to blend the products and provides a natural look. If you are tired of cakey, streaky makeup base I would highly recommend using this sponge.
Disclaimer- This is an editorial review. The product is sent by the brand for consideration. However, my review is genuine and I am not being paid for publishing my experience with this product.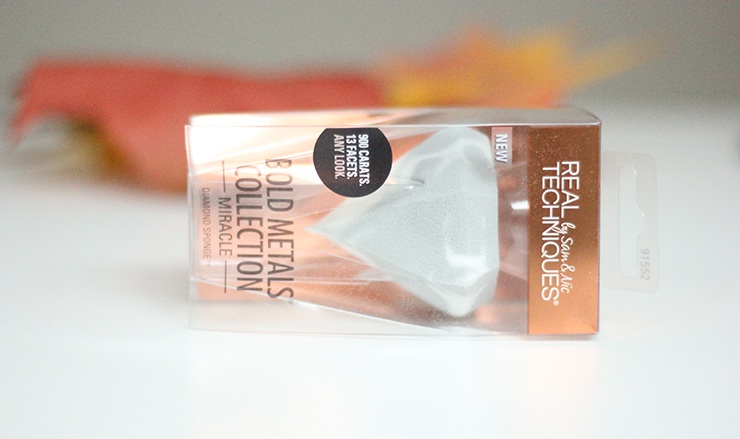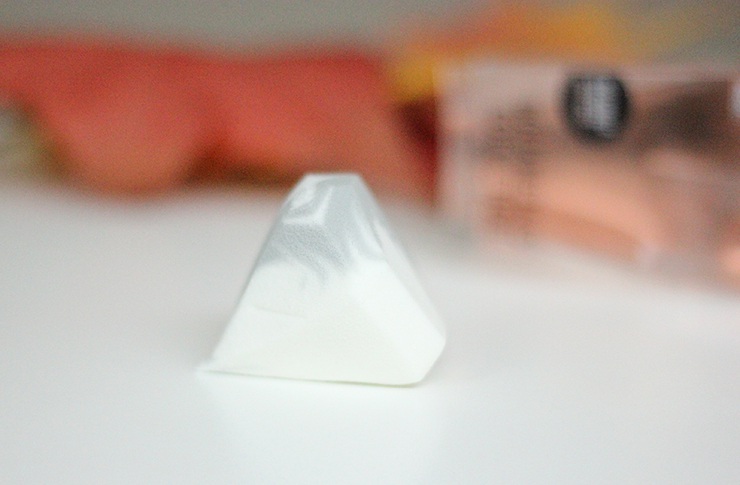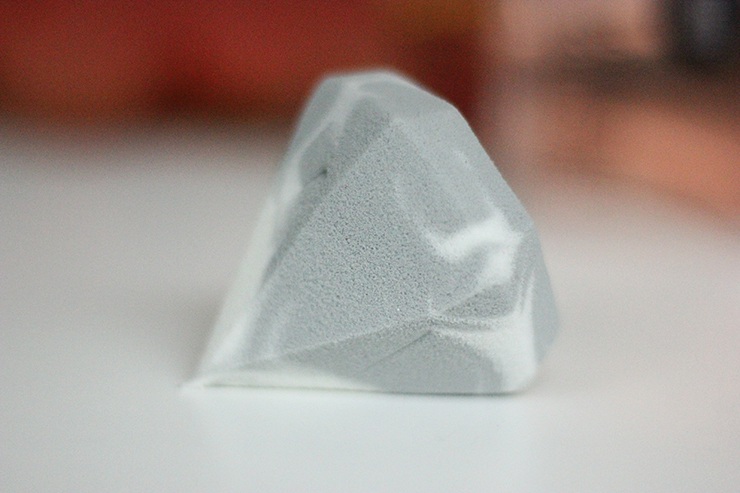 You might also like reading these related topics
Real Techniques Miracle Complexion Sponge Review
Real Techniques Core Collection Makeup Brush Set Review-Part1
Real Techniques Core Collection Makeup Brush Set Review-Part2
Real Techniques Your Eyes Enhanced Starter Set Review–Part 1
Real Techniques Your Eyes Enhanced Starter Set Review–Part 2
Eyeshadows And Makeup Brushes from Luxie Beauty
Basic Makeup Brushes For Beginners
Platinum Beauty Makeup Brushes Review, Price