Hope you are enjoying the monsoon season. I love it when raindrops touch earth and create a heavenly fragrance. The fragrance of wet-mud rejuvenates the senses and instantly lifts up the mood. I wish it rain every other day, and keep up the happy mood 🙂 Do you also feel like that?
Coming back to the post, I am reviewing Maybelline color show lipstick 'Mysterious Mocha'. This is one of the three shades I bought few days ago. If you follow me on Instagram you would know that. I have already reviewed one of the shades 'Pop of pink'; you can check its review. The other two shades are mysterious mocha and bold crimson. Today, I am sharing my experience with Mysterious mocha, let's go through it.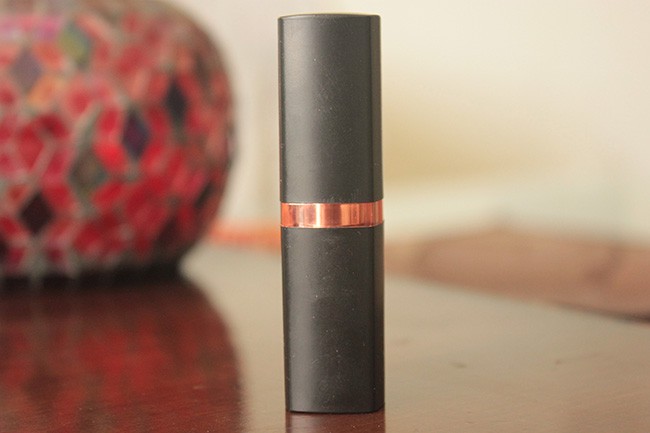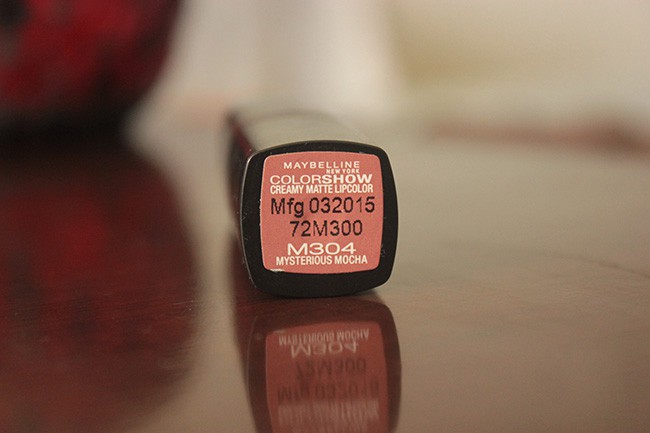 What the products says:
Show off your colorful side with the Color Show Lipsticks now in 12 Matte shades
Here's why you will love it:
-Enriched with ultra-care hydrating formula
-12 matte, moisture rich shades
-Lip color doesn't fade in extreme heat and humidity
-Shades stay true without drying up your lips
-Non-sticky & soft texture allows the lipstick to glide easily
My take on 'Maybelline Color Show Lipstick Mysterious Mocha'
This lipstick comes in black matte case with a luminous rim at the center. Other than the rim entire look is black, there is nothing written or engraved on the packaging except the bottom, which has the shade name and number on a color coded sticker. The packaging is not very sturdy, so one needs to be careful while handling it as otherwise an accidental throw can just cause damage to the bullet.
Mysterious Mocha is a neutral shade towards the brown side. This is a nice shade if you love brown(ish) neutrals; I prefer pink neutrals as I think they brighten up the complexion taking off the exhausted look. Brown-neutrals show up well either if worn on fair-very fair complexion or if paired with bold eyes. These are ideal for daily wear, especially when one wants to keep the look to bare minimum.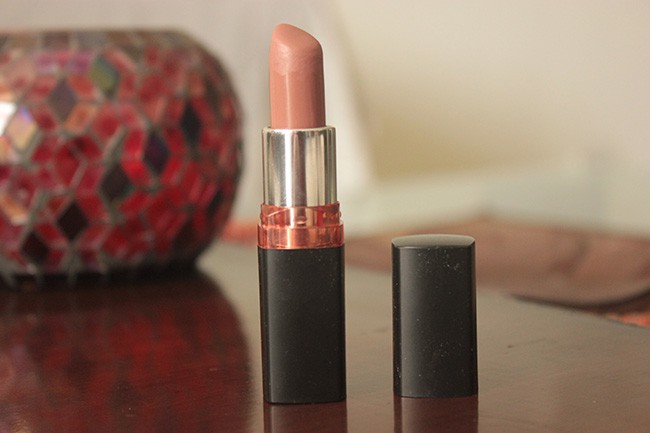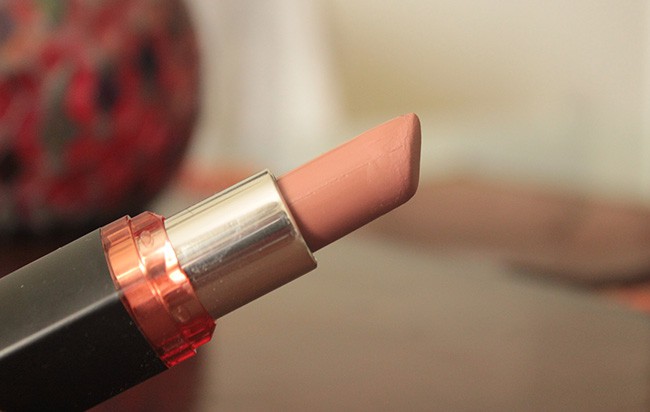 It is quite pigmented, and provides 80-90% opacity in just two swipes. It is a buildable shade so will be good for pigmented lips. But it may not show up well on dark complexions and can even make the wearer look darker. It has matte finish, which I love the most, and because of that the brown tone subdues a little making the shade easy to carry. Even if matte this lipstick is pretty comfortable to wear. Unlike other matte lipsticks, it does not dry out the lips and make them crave for moisturizer. In fact it keeps the lips hydrated while maintaining the matte look. The other advantage of matte finish is that the lipstick does not move from its place and neither does it bleed, and that too without applying the lip liner. On the contrary, I find it accentuating the lines on the lips. It does not settle in the lines though but make them prominent. It might be because of the shade as I did not experience this with other color show lipsticks.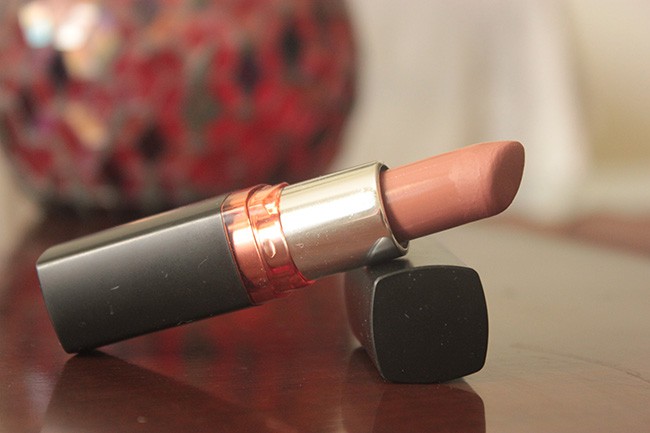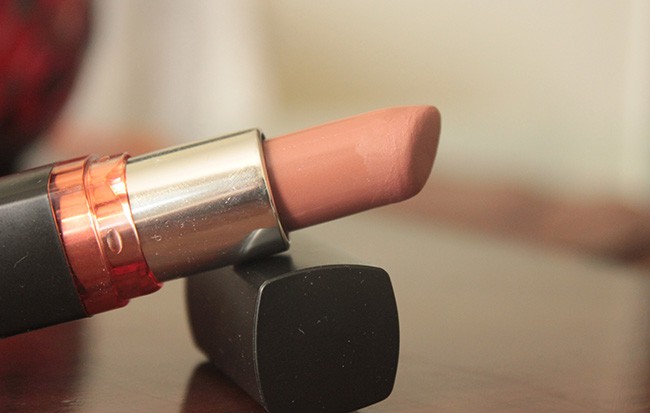 It stays on for good 4-5 hours and fades evenly. It does not leave any stain on the lips or even if it does it is not very prominent. I seldom need to re-apply this lipstick but when I do I do not wipe off the residuals rather I can easily build up the shade on previous application. If you are wondering why I am mentioning this, it is because I have had a bad experience with Maybelline color show pop of lipstick as it is difficult to re-apply and accumulates at the center of lips. Thankfully, Mysterious mocha is doing well on these parameters.
What I like about 'Maybelline Color Show Lipstick Mysterious Mocha'
– Moisturizing formula that does not dry out lips.
– It does not bleed.
– Daily wear shade, pairs up well with bold eyes.
– Affordable price.
– Nice matte finish.
– Does not feel sticky and heavy.
What I do not like about 'Maybelline Color Show Lipstick Mysterious Mocha'
– Shade may not suit all skin types.
– Accentuates fine lines.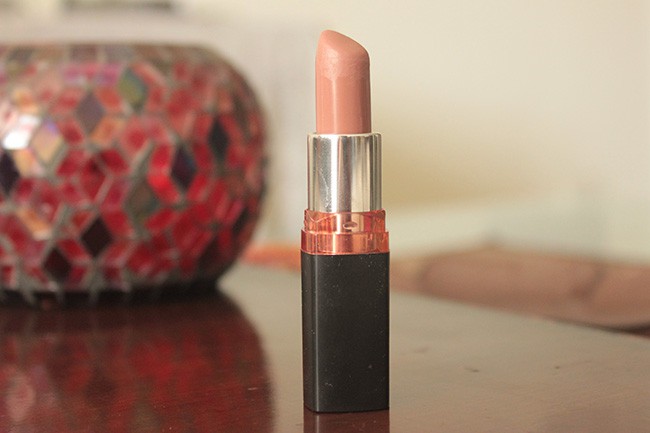 Price of 'Maybelline Color Show Lipstick Mysterious Mocha': Rs 325
BABE Rating: 3.75/5
Final Word: Enriched with hydrating formula, Maybelline color show lipstick mysterious mocha keeps the lips hydrated and at ease. Its brownish neutral shade gives a natural look, and the matte finish keeps it in place for long hours giving a sophisticated look. This shade would be best for fair-very fair complexions, and bold eye makeup. It is a daily wear shade and would be appropriate if you want to downplay the look. I would not suggest this shade for dark to wheat-ish complexions as I believe that neutral pink will go well with these complexions.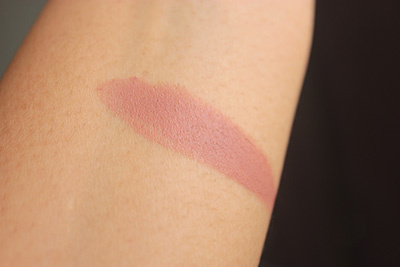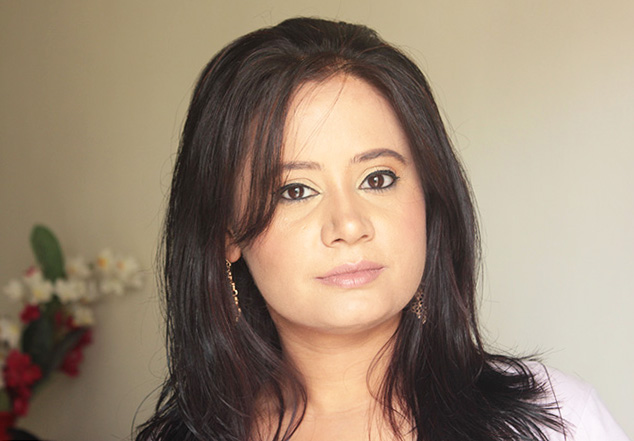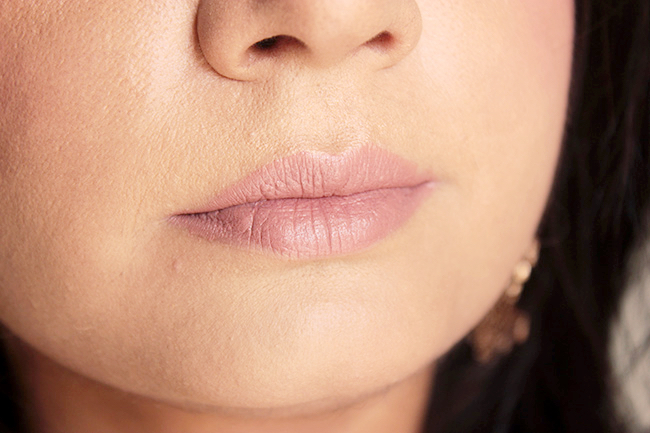 You might also like reading these related topics:
Maybelline Color Show Lipstick Pop Of Pink Review Swatches
My 6 Favorite Pink Lipsticks For Summers
Flormar Deluxe Shine Gloss Stylo Lipstick D31 Review Swatch
Maybelline Color Sensational Lip Gradation Coral 1 Review Swatches FOTD
Oriflame The ONE Color Unlimited Lipstick Violet Extreme Is My New Love
Maybelline Color show Lipstick–309 Caramel Custard Review
Maybelline Color Show Lipstick Cherry Crush Review Swatch
Maybelline Color Show Lipstick Orange Icon Review Swatch