Today's post is about Maybelline color sensational lip gradation lip colors. I have heard a lot about these crayons, and wanted to give them a try. These lip crayons are designed keeping in focus the latest 'ombre lips' trend. I will be reviewing shade Coral 1; without further blabbering let's go through my experience with this new age lip color.
What the product says:
Go Bold Or Graded And Sexy On Your Lips With The New Color Sensational Lip Gradation
It's time to experiment with your lip makeup. For the sexy, bold and adventurous woman, Maybelline New York brings international trends with the newest Lip Gradation. Available in 8 bright, matte shades, this double-sided lip product will inspire you to experiment with your looks and bring out your unique style and personality. The color stick at one end will give a gorgeous pop of color while the cushion blender tool at the other end will give a sexy, graded look. For a complete trend-on look, apply color on the centre of your upper lip and use the sponge smudger to extend the color to the outer edges till the contours of your lips or use it as a matte lip color or a lip liner.
Here's why you will love it:
– 8 bright, matte shades
– Easy to apply
– Fun, flirty, versatile way to color your lips
– Innovative product with cutting edge technology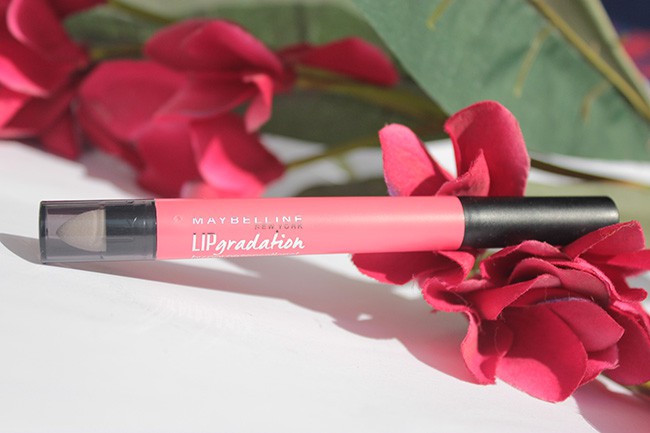 My Take on 'Maybelline Color Sensational Lip Gradation Coral 1'
Color sensation lip gradation lip colors come in double-side packaging. One side contains the lip color and is based on retractable mechanism, and the other side contains a white sponge smudger. Both the ends are protected with their respective caps, and the retractable control of the lip pencil is at smudger end so if you have to open or close the pencil you need to twist the black casing anticlockwise and clockwise respectively. I always forget from where to twist as usually these types of pencils have control at the center. Nevertheless, the tube is color coded – I won't say it is the closest match to the shade but if you have more colors from this range the color coding will at least simplify the selection for you.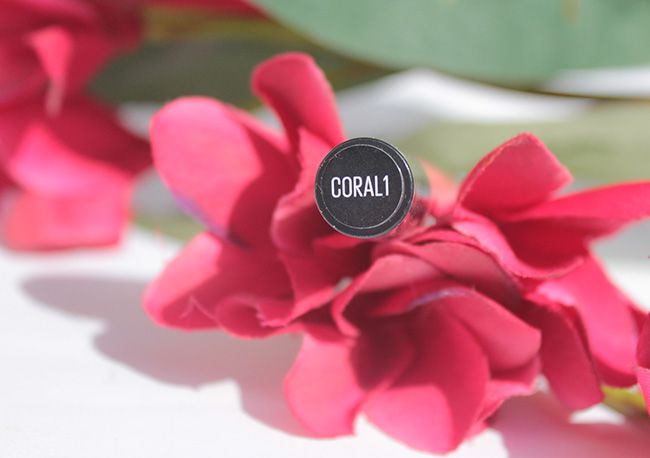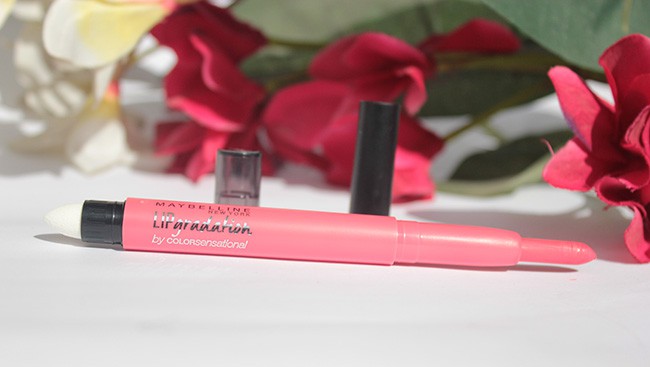 Lip gradation lip colors are available in 8 more shades – Coral 2, Red 1, Red 2, Pink 1, Pink 2, Orange 1, Mauve 1 and Fuchsia 1. Most of the shades are bright so will uplift the look making the wearer look happy and confident. Maybelline should also include some neutral shades to diversify the range even more. Anyways, as the name says Coral 1 is a nice coral shade with a hint of pink. It is a fluorescent lipstick that on one side will raise your confidence sky-high yet on the other side will not go well on all skin tones. It is best suited on fair to medium complexions; dark complexions might look darker with this fluorescent lip color.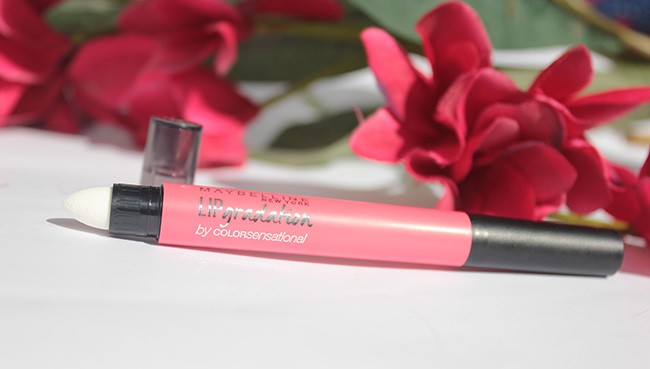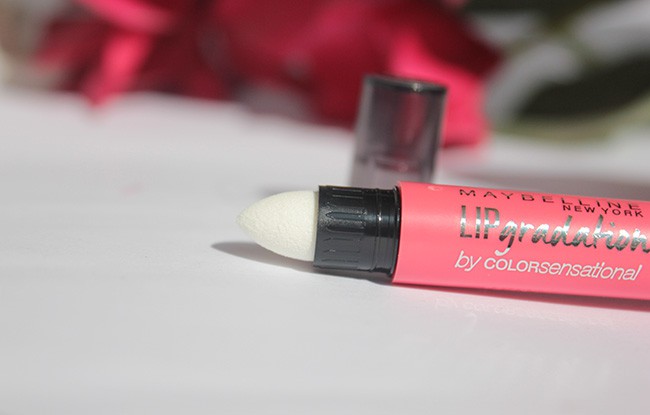 Being a sleek lip crayon, it can be used as lip liner as well. The sharp tip of the crayon helps in precisely outlining the lips. Once outlined, lips can be filled in using the same or different lipstick. If you want to wear the graded look, swipe the crayon on the center and spread it using the smudger. The soft sponge is easy to work with and spreads the lip color flawlessly. It does not poke or feel hard against the lips. You can also wear this lipstick sheer matte or topped up with a transparent lip gloss. The only thing to remember is if it suits your complexion you can wear it 'n' number of ways, and if it does not suit you it will give washed out look irrespective of the application type.
It has creamy formula that makes the application easier, and after a while sets it to give the matte finish. The lip crayon is soft and spreads like butter on a hot toast. The lipstick does not settle into fine lines, and feels light throughout the wear time. It sets in fast, so you have to fill to expedite the application time. Otherwise, once set you won't be able to fill in the patchiness. No matter how many times you swipe the lipstick to fill the void it will remain as is. The mantra is to make it right in the first go, and once done it will stay like that all day long. It is a highly pigmented lipstick which gives the full coverage in single swipe. If you get it right in one go you won't even need to go for the second swipe.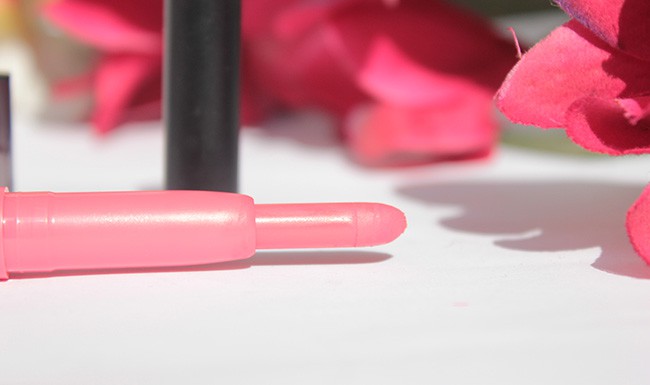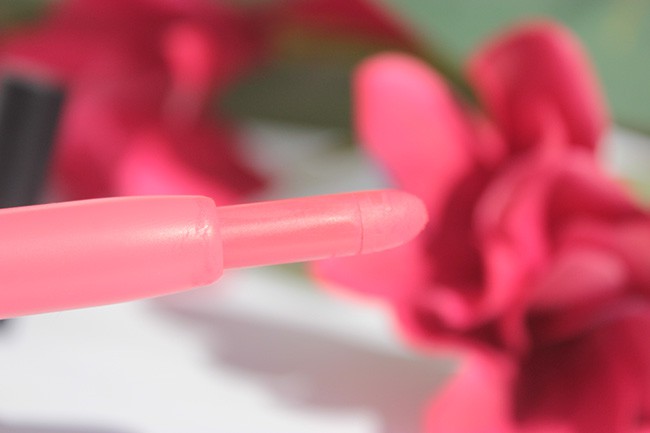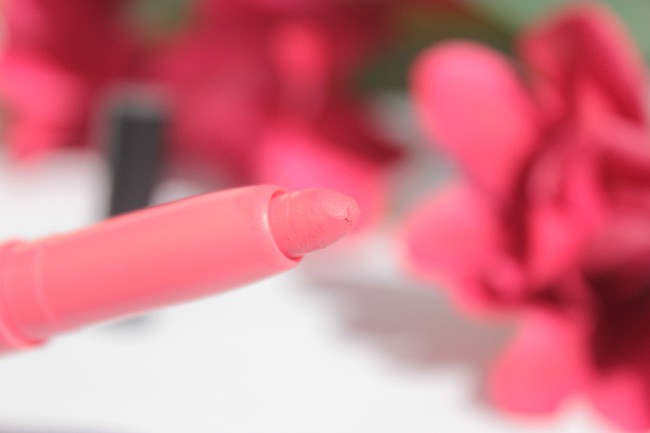 Now, let's talk about the gradation effect, which is a new (not that new but still ) trend in makeup world. Graded lips do not have the same color intensity. It is maximum at the center and decreases as you move out or vice versa. And that's why Maybelline has provided a cushion applicator at other end to extend the color to lip corners and give it a defused look. But as the lipstick dries out quickly, it is difficult to get a prominent gradation effect. I prefer to use it as a normal lipstick and it looks great that ways.
Being matte, it does not easily get transferred and that makes it stay long. On me it easily stays for 6-7 hours, after which it fades still leaving prominent pink stain on lips. Matte lovers will love the finish. The only drawback is that it makes the lips dry. To lessen dryness, you should exfoliate the lips and moisture them the night before.
What I like about 'Maybelline Color Sensational Lip Gradation Coral 1'
– Sharp tip makes it easy to apply.
– Can be used as a matte lipstick, lip liner and base to a glossy look.
– Non-transferrable.
– Excellent staying power.
– Lifts up the look.
– Does not feather out.
– Leaves an even pink stain.
– Feels light.
– Highly pigmented.
– Nice matte finish.
What I do not like about 'Maybelline Color Sensational Lip Gradation Coral 1'
– Sets too fast.
– Reapplication is slightly difficult.
– Might not suit dark complexion.
– Feels drying after couple of hours of application.
– Might not be a right shade for office wear (again, it depends on work culture).
Price of 'Maybelline Color Sensational Lip Gradation Coral 1': Rs 500 for 1.25g
BABE Rating: 4/5
Final Word: Overall, I love the formula and finish of Maybelline Color Sensational Lip Gradation Coral 1. It is a bright shade that can uplift the look- adding brightness, freshness and confident. It needs quick application otherwise the result may not come as expected. Plus, you should try the tester first to see if the shade would suit you. If it suits it will make a nice addition to your lipstick collection.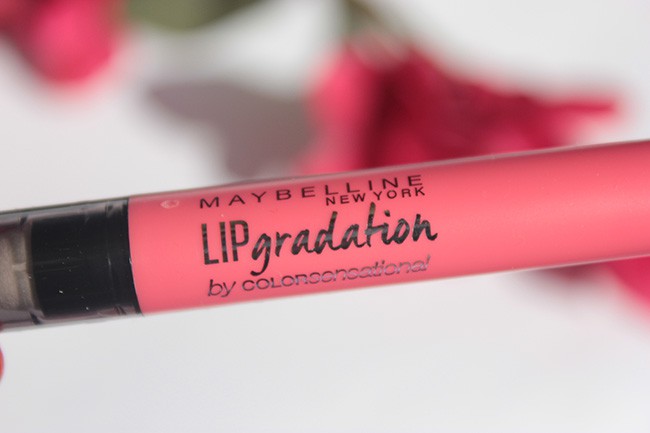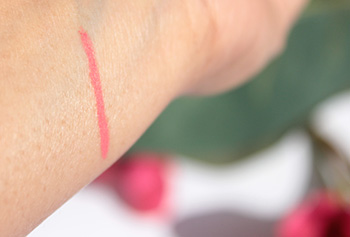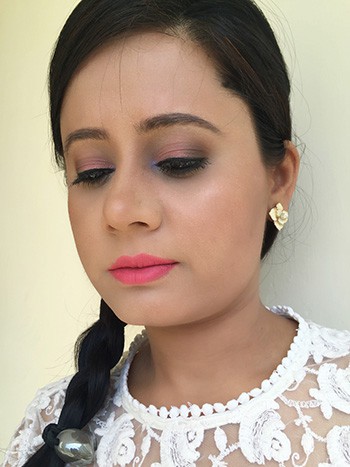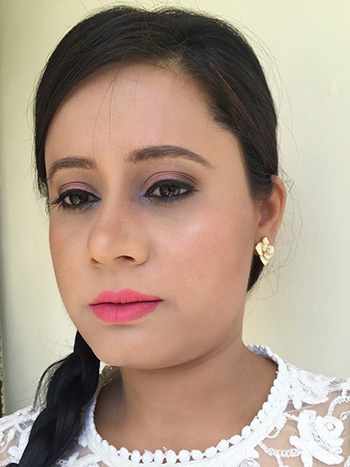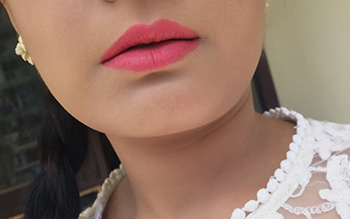 You might also like reading these related topics:
Maybelline Color Sensational Bold Matte Lipstick Mat 2 Review Swatches
Maybelline Color Sensational Lipstick Hooked On Pink Review Swatches
Maybelline Colorsensational Moisture Extreme Lipstick Forever Plum Review Swatches
Maybelline Color Show Lipstick Cherry Crush Review Swatch
Maybelline Color Show Lipstick Orange Icon Review Swatch
Maybelline Colorsensational High Shine Lip Gloss Mirrored Mauve Review And Swatches