From tinted lip balms to lip glosses to lipsticks, anything that adds color to the lips has the capability of lifting up the entire look. All you need is the right shade for the right color coordination. In today's review I will put forth my experience with 'Maybelline Color Sensational Lipstick Hooked On Pink'. This range was launched couple of years back, but this is now that I am doing a review of one of those lipsticks. The lipstick has been lying in my stash for long but somehow I skipped doing a write-up on it.
What the product says:
Get the perfect pout with Maybelline's Color Sensational Lip Color.
With crisper color and a creamier feel, this lip color looks rich and stunning. Available in 20 different shades, you'll surely find a lip color to suit every outfit, occasion and look.
Here's why you'll love it:
• Has pure pigments for crisp, rich color
• Enriched with honey nectar for a creamier feel
• Available in 20 elegant shades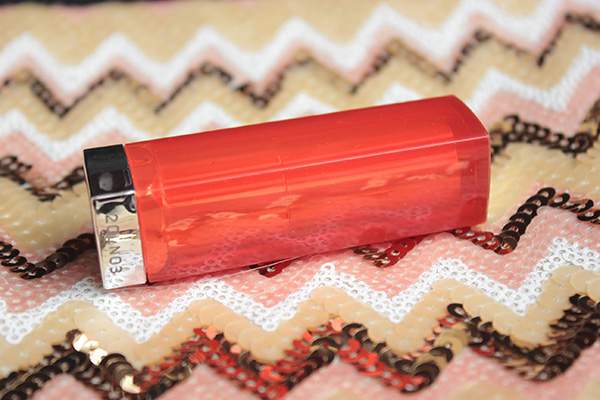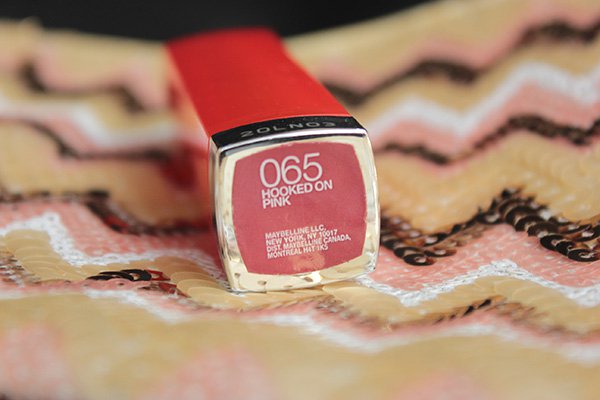 My Take on 'Maybelline Color Sensational Lipstick Hooked On Pink'
Maybelline color sensational lipstick comes in a rectangular shape with silver base and translucent cap. The packaging material looks fragile so the lipstick has to be handled with extreme care. The bottom bears the shade name and number on a color coded base. Though color of the base matches with the lipstick shade but still I would recommend trying out the shade before making the final purchasing decision.
A total of 20 shades are available in this collection, the shade 'Hooked on pink' is dusty rose shade. It is appropriate for most of the skin tones, and can be worn both at day and night times. It gives a soft feminine look that adds confidence and beauty to the persona. It is a matte shade that has a bit of glossiness but no shimmer. The subtle gloss in this shade makes it go well for parties and professional meets.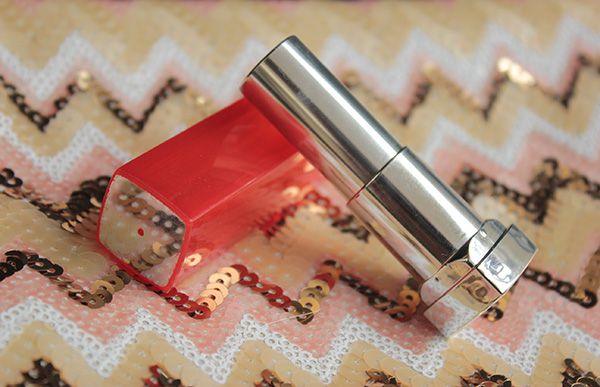 The texture of this lipstick is soft and creamy. It glides on to the lips smoothly without settling into fine lines. Though the texture is creamy but it does not make the lipstick feel sticky or heavy on the lips. This is one thing that I prefer in lipstick-texture as I cannot stand those lipsticks that feel heavy or sticky. Feather-light lipsticks feel comfortable and can be worn for long hours.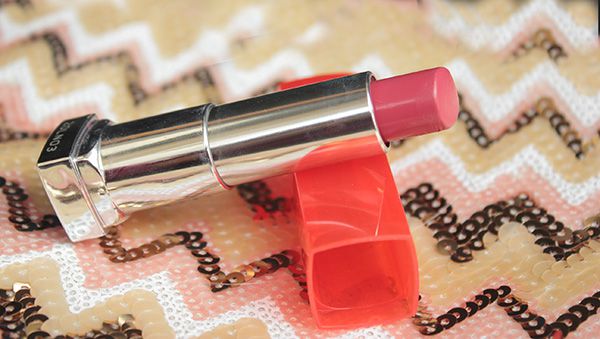 As far as the pigmentation is concerned, it gives good color payoff in two swipes. The coverage is from medium to high so it will be a nice option for pigmented lips. Even when it starts fading it does not completely go off; it leaves a subtle pink color on the lips. Even when you are in a party where you cannot reapply the lipstick this mild pink color will upkeep the look saving you from an entirely washed-out appearance.
For the staying power, the creamy texture of this lipstick does not obstruct the longevity. It stays on for good 3-4 hours with intermittent meals. If you wear it on top of a lip liner the staying power can be further extended to an hour or so. The whole time it keeps the lips colored it also keeps them moisturized. This is a good thing in cold weather as it does not require me to slather another layer of a lip balm. But if your lips are over-dry or flaky you should use a lip balm underneath to keep the lips moisturized for a long time.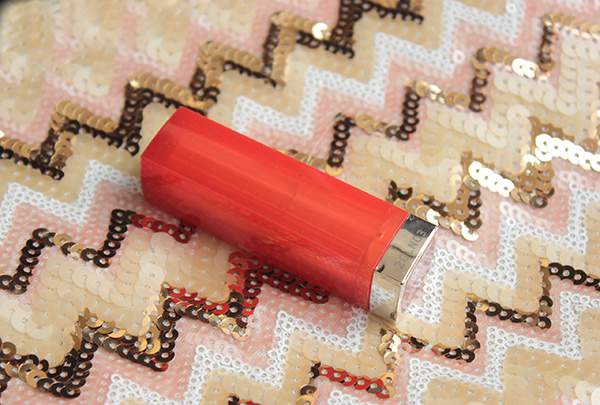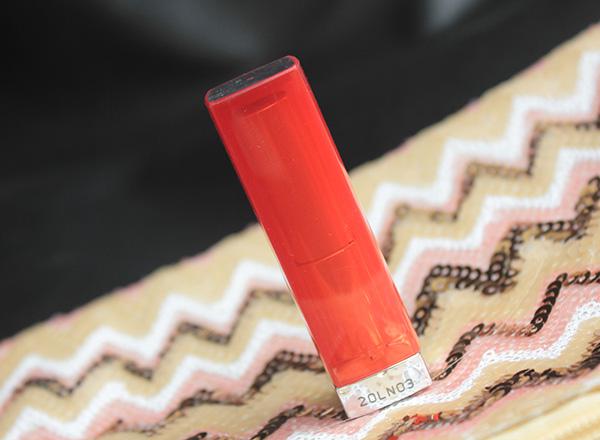 What I like about 'Maybelline Color Sensational Lipstick Hooked On Pink'
– Soft creamy texture.
– Easily glides on to the lips.
– Does not feel heavy or sticky.
– 20 stunning shades to choose from.
– Nice color payoff.
– It does not settle into fine lines.
– Decent staying power.
What I do not like about 'Maybelline Color Sensational Lipstick Hooked On Pink'
– Might not suit dark skin tones.
– Depending upon your lip condition you may need to wear a lip balm underneath.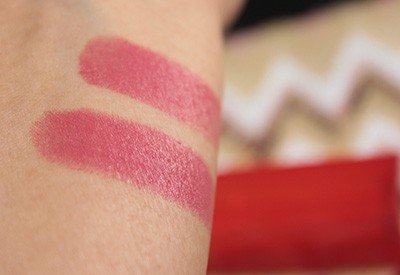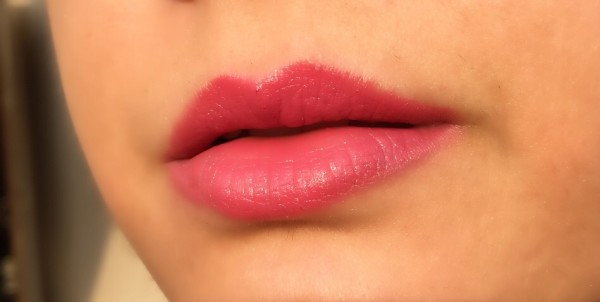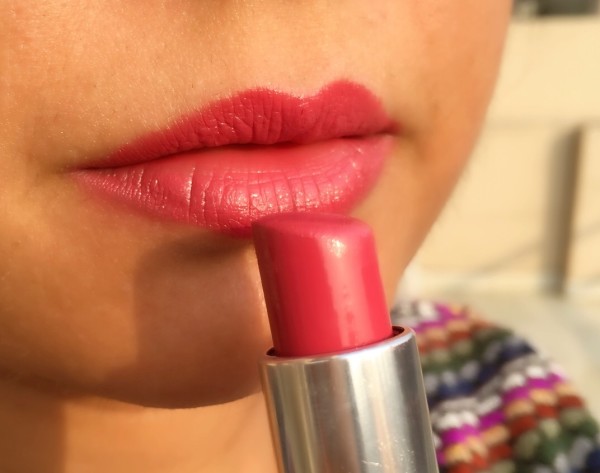 Price of 'Maybelline Color Sensational Lipstick Hooked On Pink': Rs 417
Online Availability: Maybelline Color Sensational Moisture Extreme Lip Color from flipkart
BABE Rating: 4.25/5
Final Word: Enriched with honey nectar, Maybelline Color Sensational Lipstick Hooked On Pink feels soft and creamy on the lips. It keeps the lips moisturized and at-ease. The rich color payoff is a huge plus for pigmented lips. The subtle hue of pink after good 3-4 hours makes it a decent option for long time wear. Moreover, its longevity can be extended to another hour by using a lip liner underneath. Overall, the texture, pigmentation, finish and longevity of this lipstick make it an ideal option for all times.
You might also like reading these related topics:
Maybelline Color Sensational Bold Matte Lipstick Mat 2 Review Swatches
Maybelline Colorsensational Moisture Extreme Lipstick Forever Plum Review Swatches
Maybelline Color Show Lipstick Cherry Crush Review Swatch
Maybelline Color Show Lipstick Orange Icon Review Swatch
Maybelline Colorsensational High Shine Lip Gloss Mirrored Mauve Review And Swatches